THE POWER OF SHUN (November / BACK NUMBER 2016)
"Mushrooms—the Taste of Autumn"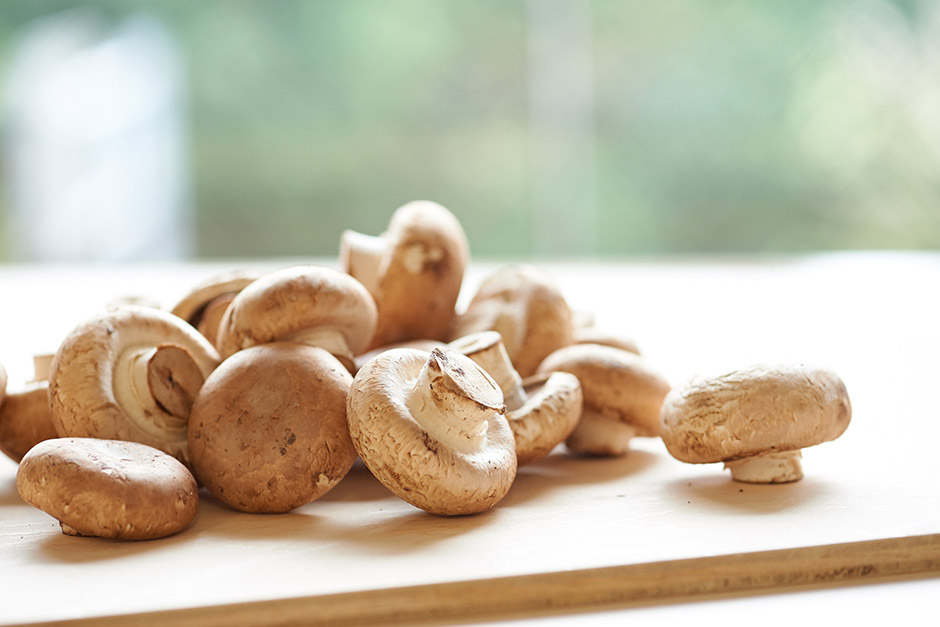 In this edition, a connoisseur will talk about the charms of a particular seasonal vegetable.

Ayako Yajima runs a greengrocer in Kagurazaka, Tokyo, named Suika, where she sells seasonal vegetables from all over Japan. She is also an advocate for eating food that makes people happy. This time we asked her about how to choose good mushrooms, the taste of autumn, and how best to eat them.
The autumn harvest season offers an array of delicious mushrooms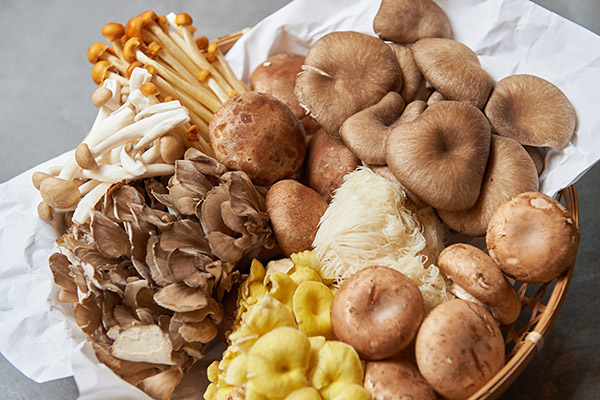 Mushrooms are one of the foods people think of when they hear the word autumn.
Nowadays, mushrooms are grown on hotbeds with chemical fertilizers, are available in abundance and edible mushrooms are in the market all year around for an affordable price. However, natural mushrooms, such as matsutake mushrooms, that grow in the mountains are best eaten in the autumn.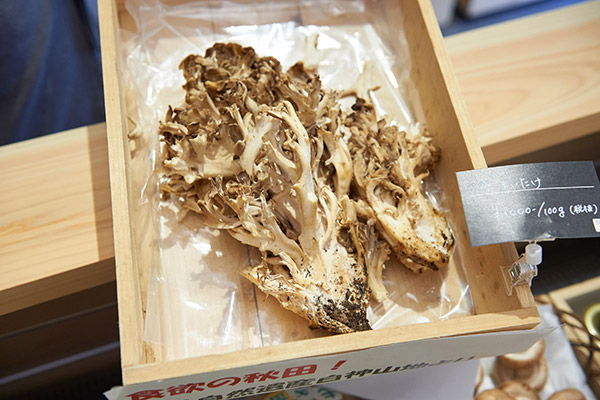 As we go deeper into the season, we visited Yajima's store Suika for an interview. The store had many varieties of mushrooms on display, from familiar mushrooms like shiitake and shimeji mushrooms, to rarely available, natural maitake mushrooms.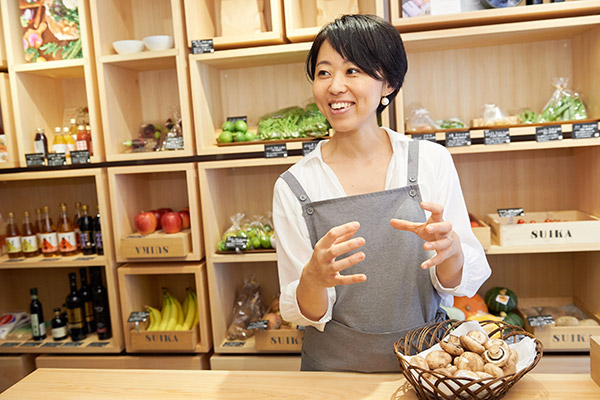 "Natural mushrooms are rare and expensive, but I highly recommend them because of their refined aroma and flavor that you can only enjoy during this season. If you buy a lot and have some mushrooms left over, you can keep them for three to four days in a refrigerator, wrapped in paper towel or newspaper so that they do not get soggy. You can see that we also sell pickling brine. You can enjoy mushrooms for a longer time if you pickle them", says Yajima.
How to pick out tasty mushrooms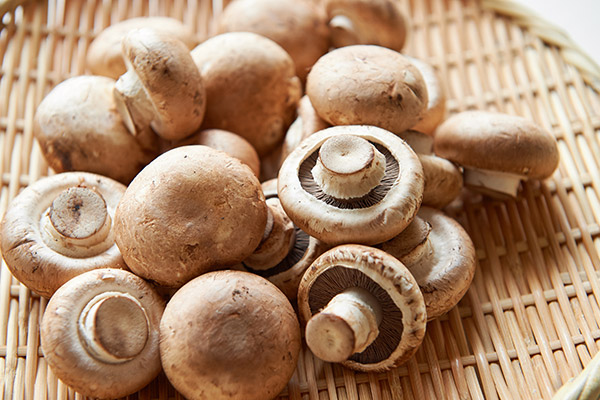 Of the many varieties of mushrooms, Yajima recommends us button mushrooms for this article.
She says the taste of button mushrooms ultimately depends on the bed they grow on.
In ancient Europe, button mushrooms grew naturally on the manure in stables.
Based on this history, the mushroom farm Yajima sources their mushrooms from apparently has hay made from Australian wheat delivered from Kyoto Racecourse to make their mushroom bed.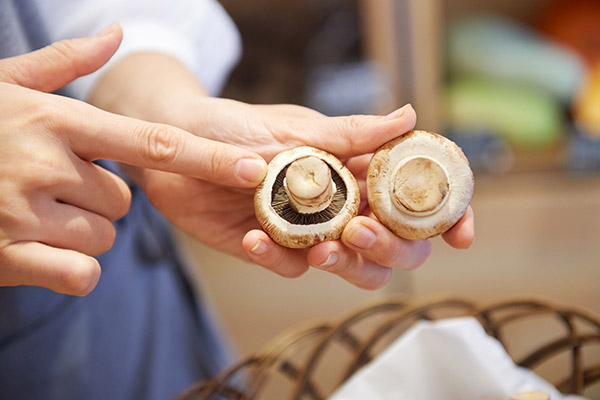 Mushrooms reach their harvesting season when it rains for a long time in the autumn.
The key is appropriate temperature and humidity. When both of them are spot-on, the mushrooms grow rapidly. This means mushrooms also have about two weeks of peak season in early spring in addition to autumn.
The key to selecting good mushrooms:
・Round and shapely mushrooms. Size does not really affect the taste.
・Choose tight and dense ones if you are eating them fresh.
・Choose ones with open caps if you want to enjoy their aroma.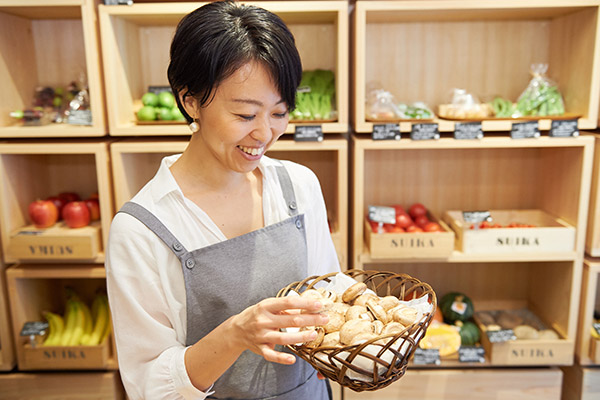 "If you have tight and dense young mushrooms, it is best to just slice them and put on top of salads so you can enjoy their freshness. If you have mushrooms with slightly open caps, they are starting to spore and have a strong flavor. You can enjoy that flavor the most by stir-frying them well or simmering them", says Yajima.
Gnocchi with mushroom sauce with a seasonal flavor
Yajima taught us how to make gnocchi with mushroom sauce, perfect for autumn dinners. Gnocchi is ball-shaped pasta made with potatoes and wheat flour.
The best mushrooms for the mushroom sauce are fully mature brown mushrooms. The ones with open caps, that are slightly darkened, have a stronger flavor and best for cooked dishes. You can enjoy the mushrooms' flavor by putting the slowly sautéed sauce on the gnocchi.
Mushrooms are a well-balanced, good-for-you food
As with all other mushrooms, button mushrooms are a balanced food. They are low in calories yet have a great taste, texture and offer a great sense of satisfaction. They also contain healthy nutrients like vitamins, insoluble fiber and minerals.
The gnocchi with mushroom sauce in this article is really filling even though it contains no meat. Why not enjoy the season's taste this autumn, using mushrooms in part of your cooking?
 / 
Photographer
: YUTA SUZUKI