THE POWER OF SHUN (June / BACK NUMBER 2018)
Summer Vegetable: Bitter Gourd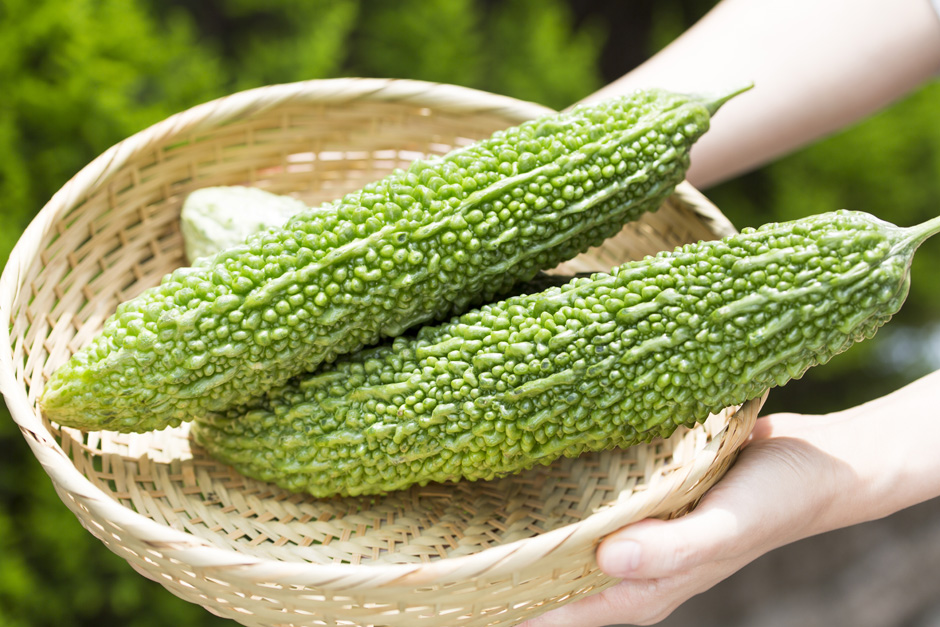 The food series, A Connoisseur Speaks on Seasonal Foods, introduces a variety of wonderful seasonal foods from Japan.
Ayako Yajima, who runs a fruit and vegetable shop, Suika, which is in Tokyo's Kagurazaka district and has an array of seasonal vegetables from around Japan, told us how to pick out good bitter gourds and the best way of enjoying them. She opened a new affiliated store Yaoya Suika this past March in Yokohama, Kanagawa.
Shipping starts when the rainy season is over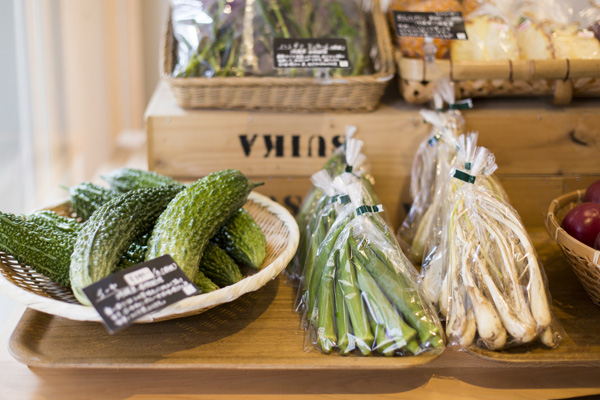 With its bright green, warty skin and unique bitterness that lingers on, bitter gourds from tropical regions are a rather unique vegetable. It is called goya in Okinawa and is also known by other names such as bitter melon and tsurureishi (which means "vine lychee" in Japanese). Lately they are mostly labelled goya at supermarkets and grocery stores, making it the most common name. Also an increasing number of households are growing the bitter gourd, which is a plant that grows on a vine, as a "green curtain" to block the summer sunlight.
"In the last 10 years or so, bitter gourd has become a familiar vegetable in the Kanto region. Our customers come to our store for it, saying they miss the vegetable's bitterness in the summer," says Yajima, the founder of Suika.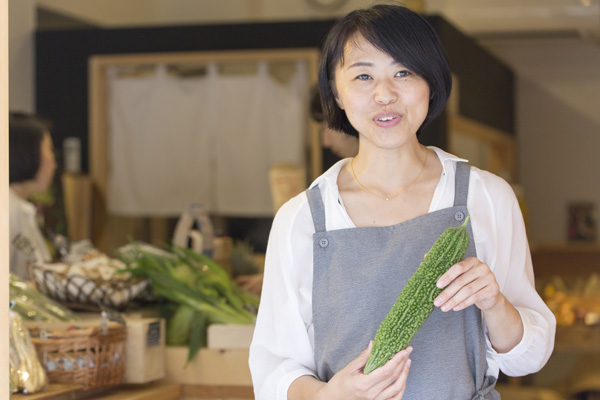 In Yajima's hand is a great bitter gourd, about 30 centimeters long. The bitter gourds in her store we saw that day, had all come from an organic farm in Okinawa.
"They seem available all year round for restaurants, but their peak season is really the summer! They are at their best from June to August. If you have an Indian summer, you can enjoy them until early September. The ones you see in June are mostly from Okinawa, because that is where the rainy season is over before anywhere else. They are strongly associated with Okinawa but the ones you see in July are often from farms in Kanto."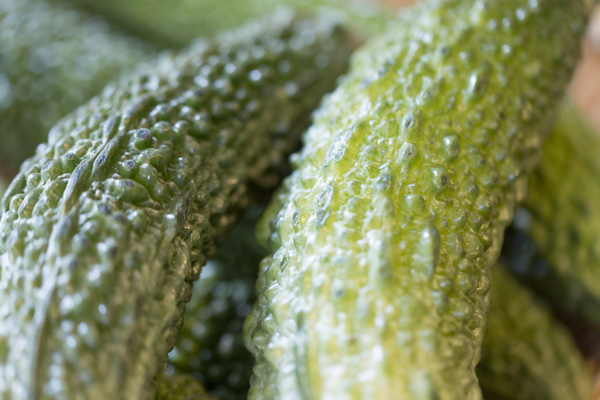 There are several types of bitter gourds, including the short and sturdy Abashi goya, the long and slim medium-long goya and the white goya. According to Yajima, "the white goya is not very bitter and fit for children, but there is not that much difference between the green varieties. You don't have to worry about them." How open-minded, just like the spirit of Okinawa.
The hidden medicinal power of bitter gourds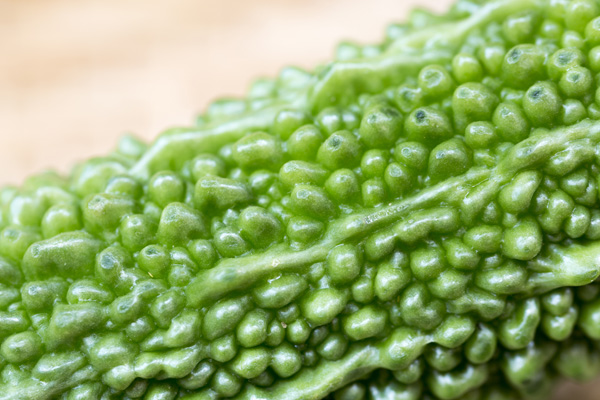 Since ancient times, bitter gourds had been a prized vegetable in China and India for its medicinal properties. People either like it or dislike it because of its unique bitterness, which comes from a nutritional substance momordicin, which protects the lining of our stomach and intestines and promotes appetite. Bitter gourd also contains five times more vitamin C than tomatoes and cucumbers. The vitamin C in the bitter gourd is also more resilient when heated.
"I would like everyone to have bitter gourd to nurture strength to survive the hot summer. The bitterness in the bitter gourd promotes appetite, and its potassium has a diuretic effect so it lowers internal body heat. It is a perfect vegetable for the summer. I wouldn't recommend it for winter though, because it causes your body to be cold."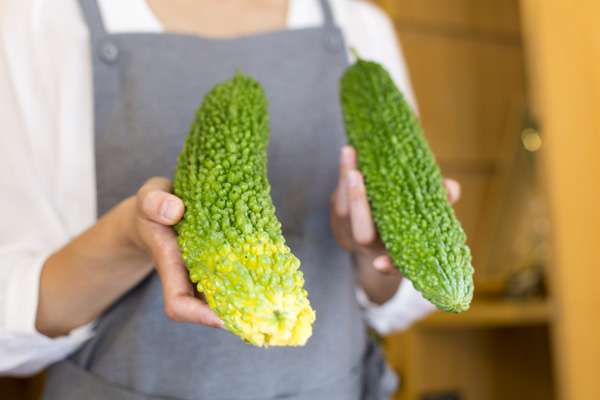 According to Yajima, you cannot really go wrong with bitter gourd in terms of taste. You don't have to be picky about them as long as you pay attention to a few things. We asked Yajima how to pick out good ones.
Tips for choosing bitter gourds in peak season
・Choose ones that feel heavy.
・Choose ones with a firm surface.
・Choose ones that are bright green.
"You can choose bitter gourds of any size, according to the dish you are preparing. As you heat it the skin gets more and more yellow. Be careful because it will then lose its bitterness, its greatest asset. Also, although this is true for any vegetables, vegetables from faraway places can be scarred during transport so make sure to check their appearance."
It is best to use up a bitter gourd in one round of cooking because they tend to go off fairly quickly. According to Yajima, if you want to keep bitter gourds refrigerated, it is best to wrap them in a piece of newspaper and wrap further in a plastic bag so that it does not get exposed to cool air.
Bitterness can be arranged for many dishes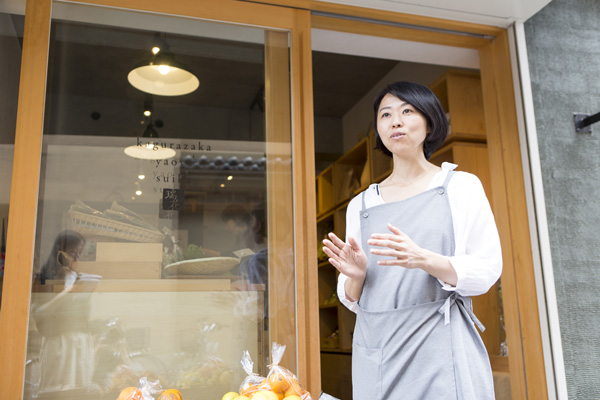 The best-known dish of bitter gourds is goya chanpuru, a regular local dish of Okinawa stir-fried with pork, tofu and eggs. But maybe the dish is too well known, making people think bitter gourd cannot be arranged in many other ways. We asked Yajima if she has any recipe to recommend.
"Bitter gourds go well with oil and make a perfect stir-fry dish. You could also make a dish like green pepper filled with meat. Or, you can prepare a salad, with sliced bitter gourds, sliced onions and pickled plum dressing."
This time Yajima devised for us a stir-fry recipe that includes vitamin-loaded ground pork, potassium-rich bitter gourds and eggplants, which are perfect for the summer.
According to Yajima, fresh bitter gourds can be sprinkled with salt to ease bitterness.
When we asked her for other favorite recipes, she said bitter gourd juice is a surprisingly well-received.
"You toss bitter gourds, satsuma orange juice and a bit of honey in a mixer to make juice. When I served it at an event it went down very well. Bitter gourd is stuck with the image of goya chanpuru, but it really depends on how you use it. You can build on its bitterness to accentuate your dish."
Bitter gourds are a well-rounded summer food, in terms of taste, nutrition and their heat-lowering property. It would be fun to experiment with our own bitter gourd recipes this summer.
Bitter gourd
Source:Ayako Yajima, fruit and vegetable shop, Suika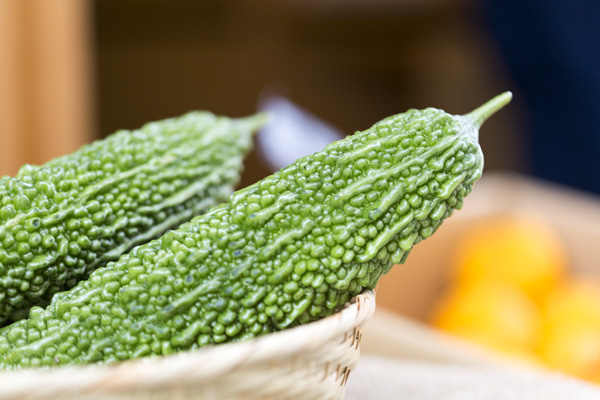 Peak Season
June through August
Tips
Ones that feel heavy
Ones with a firm surface
Ones that are bright green
How to enjoy them
They go well with oil. They make a perfect stir-fry dish.
You could also make a salad. Toss thin bitter gourd slices with onions and pickled plums.
Put it in a mixer with sweet fruit to make juice.
 / 
Photographer
: CHIE MARUYAMA