RECIPE (June 2019)
Naked Pineapple Shortcake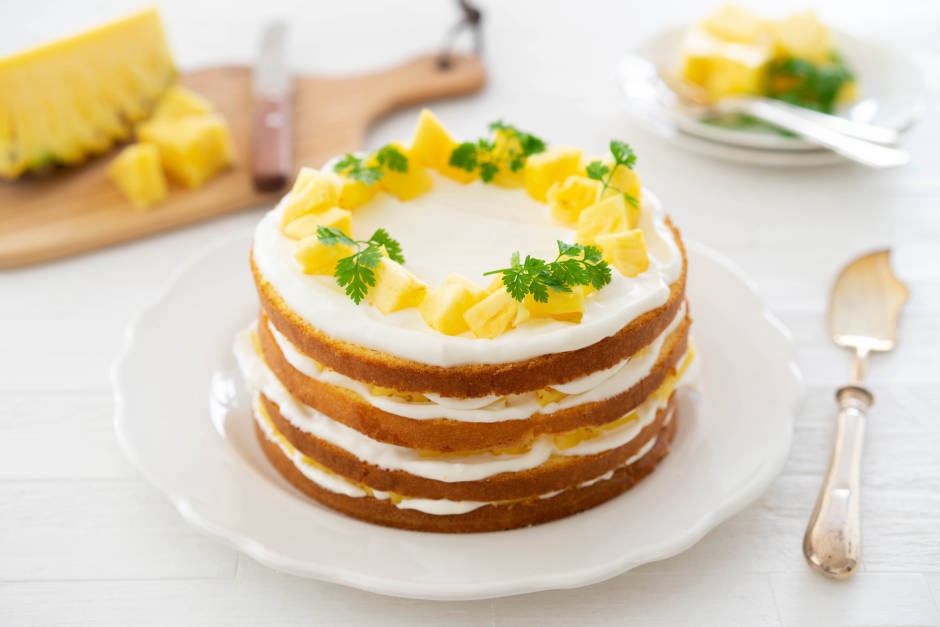 This article will explore domestic pineapples, how to select them, and an early summer recipe featuring a rich amount of the fully ripe fruit.
Ingredients
Dough
Eggs

2 eggs

Granulated sugar

70g

Cake flour

70g

Milk

25ml

Butter

20g
decoration
Whipping cream

200ml

Granulated sugar

20g

Pineapple

1/2 fruit

Chervil and mint

An optimal amount
Directions
Fit a parchment sheet into the cake pan.

Cut the pineapple. Cut away the top and bottom parts of the fruit and divide into eight equal parts, cutting away the skin and core. (The core can be used for Snack pineapples.) Slice the pineapple to be used for layering in 5 mm slices, and dice parts for decoration.

Mix the eggs and granulated sugar into a bowl. Place the bowl on hot water and heat the egg mixture up to 40 degrees Celsius.

Combine milk and butter into another bowl. Place the bowl on hot water and allow the butter to melt.

Use a handheld mixer on high power and mix the egg mixture for four minutes. Create a mixture firm enough that a toothpick will stand when inserted.

Mix with a handheld mixer on low power for about one minute, until the texture is even.

Add the sifted flour and fold the mixture until the flour is dissipated.

Add a small amount of the mixture to the bowl holding butter in Step 2 and mix.

Return the mixture into the bowl in Step 5 and fold in the mixture.

Fold approximately 50 times to create a runny mixture.

Pour into the cake pan.

Bake at a preheated oven at 180 degrees Celsius for 30 minutes. Remove from oven when done and place on a wire rack to cool.

Cut into four one-centimeter slices.

Mix the cream and granulated sugar mixture in an ice bath for eight minutes using a handheld mixer.

Spread the whipped cream on the cake sponge.

Arrange the sliced pineapples, but leave the center area open to allow for easier cutting afterwards.

Spread the whipped cream evenly.

Repeat the process.

Decorate with diced pineapples and chervil to finish.
A useful tips
・The sponge batter will mix better if the egg mixture is around 40 degrees Celsius. Lower temperatures will cause difficulty in mixing and less fluffy sponges. On the other hand, an excessively high temperature will create a sponge with a rough texture. ・Use premade sponge cakes sold at stores if baking a sponge base is too much trouble. ・Whipped cream mixtures tend to separate if warmed. Make sure to chill the mixing bowl in an ice bath while whisking. ・Slice the pineapples evenly so the cake will remain level when the fillings are sandwiched.
Recipe from : con-fectionery researcher marimo