THE POWER OF SHUN (July 2016)
Jute Mallow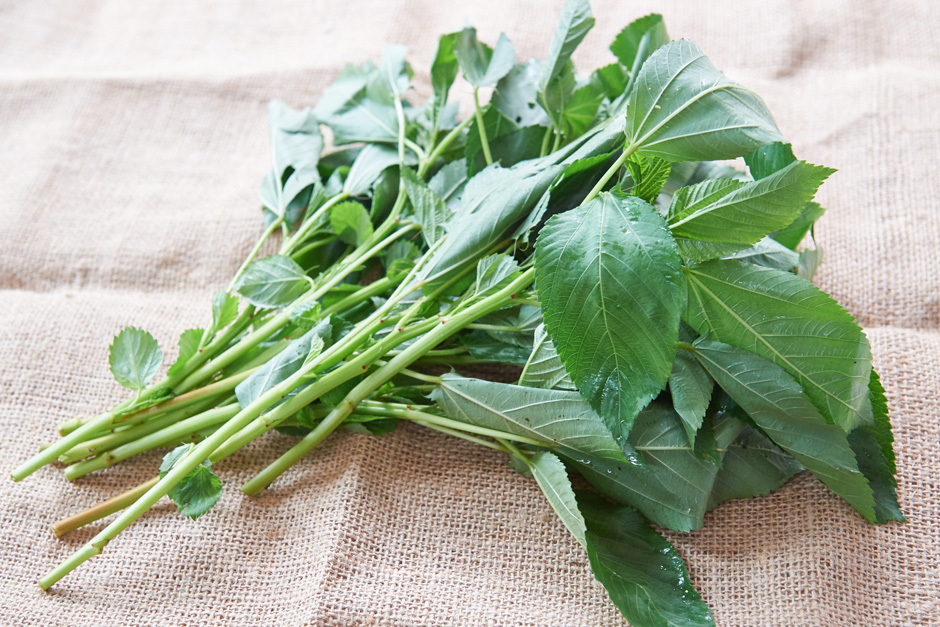 A connoisseur of seasonal vegetables explains their appeal.

We spoke with Ayako Yajima about how to choose and eat jute mallow, which is delicious in the current season. Yajima runs a fruit and vegetable shop called Suika that sells a full range of seasonal vegetables from around Japan in Kagurazaka Tokyo, as well as offering information on food that makes people healthy.
Seasonal vegetables are your friends during summer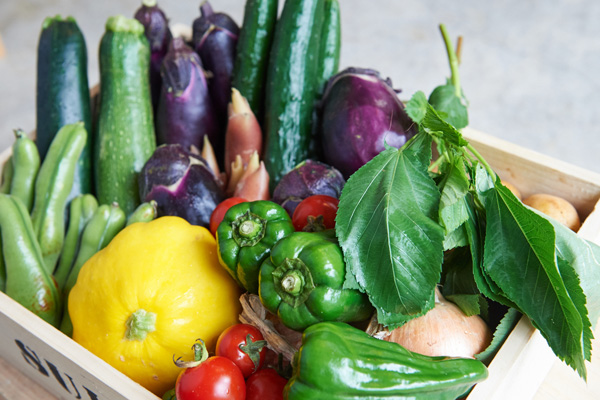 The ancient lunar calendar divided the year into 24 seasons according to the position of the sun.
Summer in the lunar calendar has six separate seasons of roughly two weeks, each one heralding a visible change in the environment. The six summer seasons start on May 6 with rikka, followed by shoman, boshu, geshi, shosho and taisho. The cycle of seasons delineated by the lunar calendar governs the growth cycle of vegetables and the needs of the human body.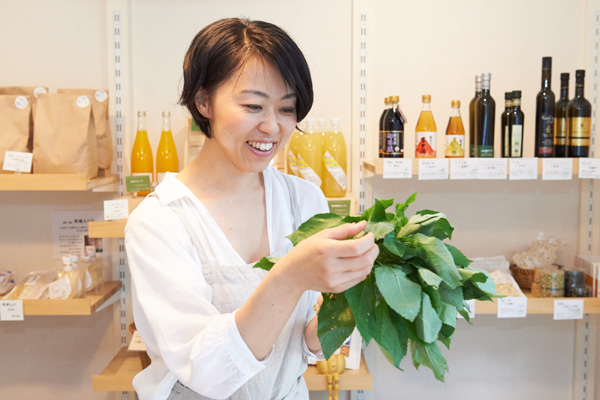 In the heat of summer, for example, we tend to have less appetite, while we also produce more sweat and become dehydrated and lethargic. Summer vegetables help to address these physiological challenges.
"Summer vegetables such as cucumber and eggplant have high moisture content," explains Ayako Yajima. "This helps us to rehydrate and also brings the body temperature down. Others such as okura and jute mallow are smooth and easy to eat and provide nourishment while also fortifying mucous membranes in the body. They give you a lift and are perfect for summer. If you find that the summer heat affects your digestion, I recommend eating vegetables boiled or grilled rather than raw, because raw vegetables put a bigger load on the digestive system."
Jute mallow is your best friend in beating the heat of summer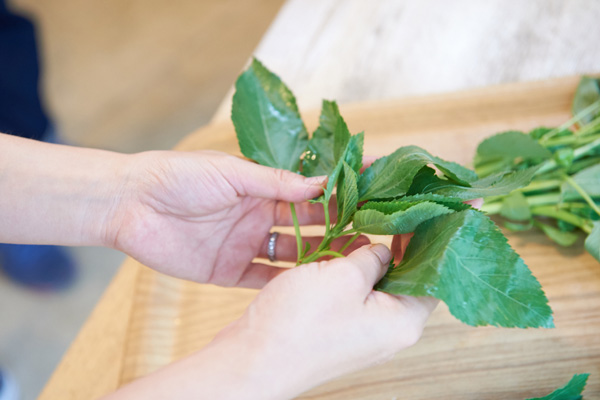 Jute mallow hails from Africa and is known as the food of kings in Arabic. In ancient Egypt it was highly valued for its nutritional content.
Jute mallow is in season between mid-June and mid-August. The harvest begins down south in Okinawa and tracks north following the rainy season weather front.
~How to spot the best jute mallow~
・ Thick yet soft with healthy, taut leaves
・ Nicely symmetrical vein patterns on the underside of the leaves
・ Rich in color, but more like a gossamer moss green than bright green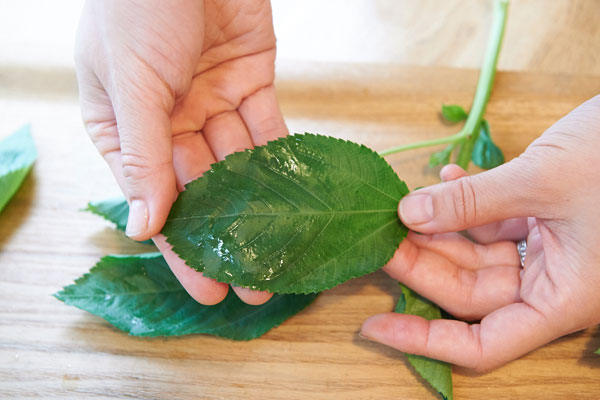 The jute mallow leaves need plenty of sunlight to grow thick and strong. And nutritious jute mallow is the perfect antidote to the enervating heat of summer.
"Jute mallow is rich in mineral calcium and vitamins," says Yajima. "It is also high in iron, making it the ideal summer vegetable for women who are low in iron. Like okura, it has a sticky consistency, which helps to protect the digestive tracts and mucous membrane that are affected during the hot summer months. It is easy to swallow and is perfect as a pick-me-up during summer."
Survive the summer with jute mallow stew!
We asked Yajima to share her favorite recipe for delicious nutritious seasonal jute mallow.
"My favorite dish is a Sudanese stew called Moroheiya, which is full of spices that stimulate the appetite. Sudan is near the equator and much of their cuisine is designed to stave off the heat.
"The trick with preparing Moroheiya is to cut the jute mallow as thinly as possible. This accentuates the natural stickiness and makes it easier to eat during summer, when we tend to have less of an appetite. Moroheiya is also very good for the digestion," she adds.
Choosing the right foods for your body during summer
The long hot summer months can affect your appetite, so it is important to ensure that the food you do eat contains plenty of nutrition. According to Yajima, you should try to tailor your diet to how you are feeling at the time.
"If you drink too much cold water, for instance, it can make you feel queasy," notes Yajima. "Hot drinks or soups containing ginger or cinnamon are a good remedy for that. Indian-style curries are also great. For people who tend to have a reduced food intake during summer, I would recommend nice easy-to-eat dishes such as surinagashi, gazpacho and dashi from Yamagata that contain lots of different food groups."
Seasonings and spices are another good way to stimulate the appetite, while nutritious foods such as miso (fermented soybeans), umeboshi (salty plums) and pure rice vinegar are also highly recommended.
So this summer, monitor yourself closely and try out some recipes with seasonal vegetables. You'll find that they make you feel better on the inside!
 / 
Photographer
: YUTA SUZUKI