RECIPE (July 2016)
Moroheiya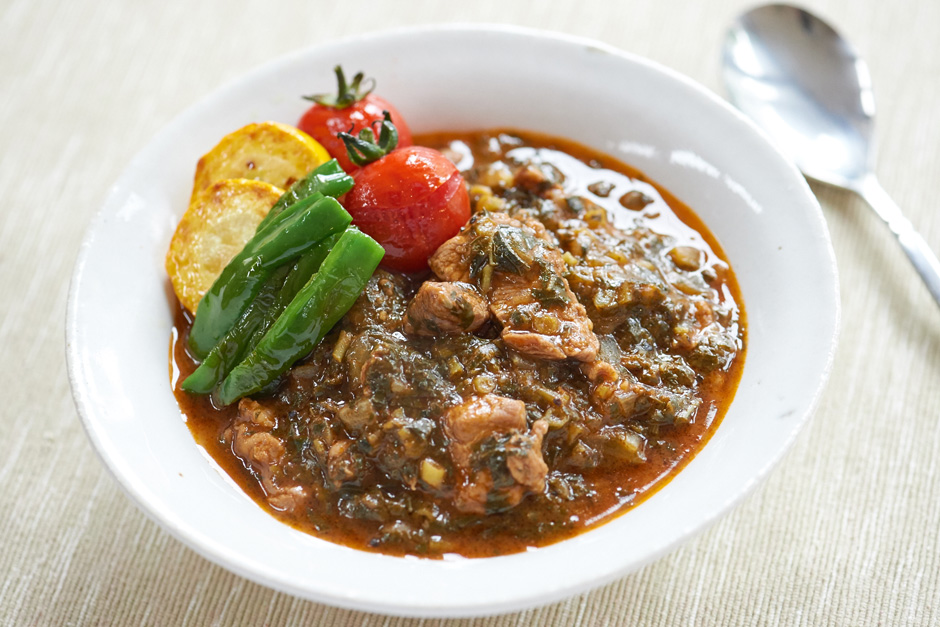 Moroheiya
Ingredients (Serves: 2)
Jute Mallow

1 bunch

Medium onion (cut finely)

1

Lamb (thinly sliced and cut into bite-size pieces)

150 – 200 g

Tomato paste

2 tbsp (or use 200 g fresh or whole tinned tomatoes)

Garlic

1 clove

Olive oil

2 tbsp

Salt

Appropriate amount

Sprigs of coriander

About 15 (as preferred)

Black pepper

Appropriate amount

Summer vegetables

As preferred
Directions
Pour 1 tbsp of the olive oil into a saucepan and fry the onion. Add a pinch of salt then cover briefly on low heat to sweat the onion. Now remove the lid and fry the onion until it browns slightly.

Add the lamb, stir briefly then replace the lid and steam gently.

Separate the jute mallow leaves from the stalks.Finely chop the remainder of the stalks and the leaves. Remove the tough bottom third of the stalks and discard. (You may use a food processor for this.)

Meanwhile, add the remaining olive oil to a separate pan and fry the garlic on low heat to make the garlic oil.

Add the coriander and tomato paste to the lamb and season with salt and pepper, then add the jute mallow and 200 ml of water.

Wait until the mixture thickens slightly, then add the garlic oil, replace the lid and simmer on low heat for about 20 minutes. * Take care to avoid over-thickening the stew. It should reduce down without catching on the bottom of the pan. Add water if it seems too dry.

Once the stew has developed a rich brown color, add extra salt to taste then serve. To add another dimension to this delicious stew, top with some of your favorite summer vegetables fried in olive oil!
A useful tips
The key to making Moroheiya is to chop the jute marrow finely, for this brings out the sticky texture as it simmers. The smooth sticky texture makes jute marrow easier to swallow, and it also helps protect the digestive organs and mucous membrane and revitalizes the body in the summer heat. By chopping Moroheiya into small pieces, the stickiness comes out sufficiently when it is simmered.
Recipe from : Ayako Yajima (Fruit and Vegetable Shop Suika)