THE ROOTS OF SHUN (July 2021)
Originally an Offering to the Gods. The History of the Beautiful, Silk-Like Nikko Yuba.
Nikko, Tochigi Prefecture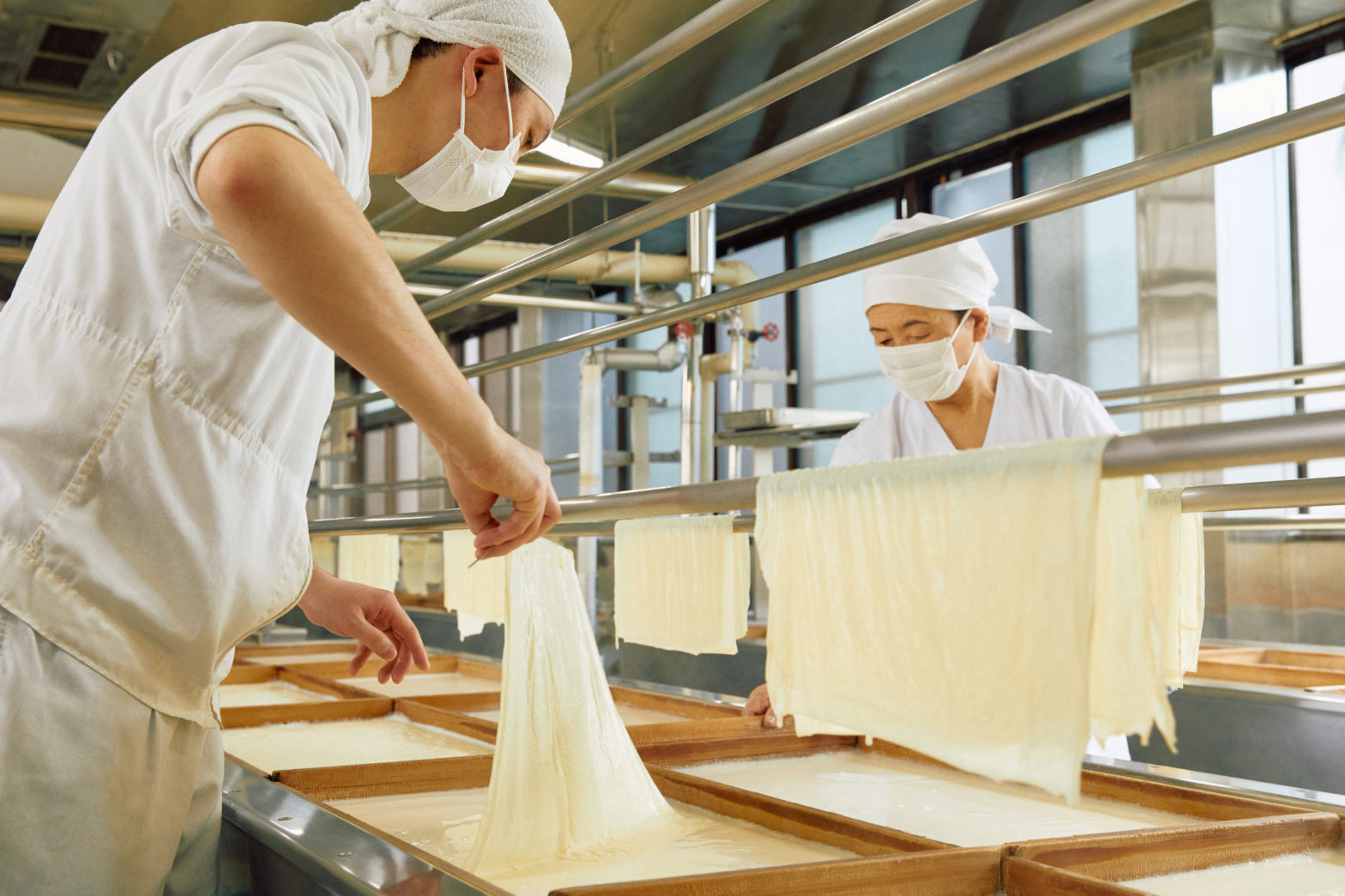 (Month information was collected: April 2021)
Nikko is home to the World Heritage site, Toshogu Shrine, the mausoleum of Tokugawa Ieyasu. The culture of eating yuba (soy milk skin) is deeply rooted in the old Nikko city, and it is believed that its roots also go back to the city's temples. We visited a Nikko yuba manufacturer, Ebiya Chozo, to explore the history of Nikko yuba.
Nikko's yuba culture spread from the city's temples and shrines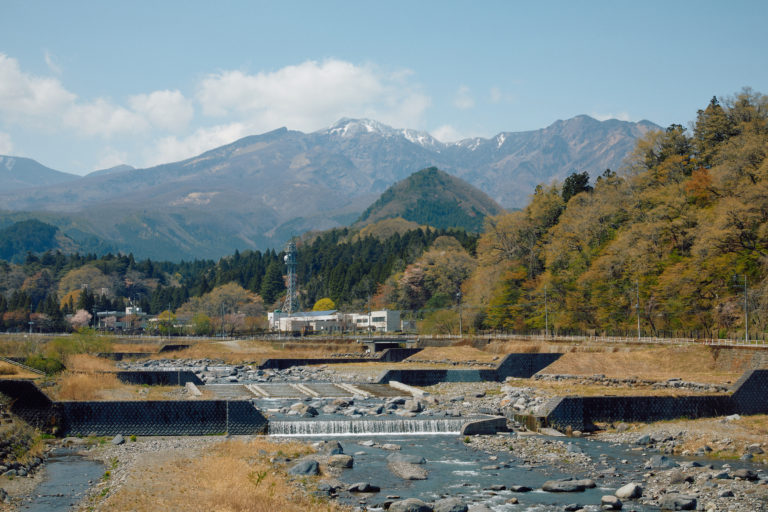 Surrounded by majestic mountains, Nikko is a holy site of mountain worship founded by Shodo Shonin in the Nara period (710–784). The three mountains, Nantai, Nyoho and Taro, are revered as gods, and they are dotted with temples and shrines. Registered World Heritage sites, including Rinnoji Temple, Toshogu Shrine and Futarasan Shrine, are visited by people worldwide and have become Nikko's pilgrimage sites.
Nikko yuba has been handed down from generation to generation in Nikko. Ebiya Chozo is a yuba manufacturer that has been producing yuba since 1872.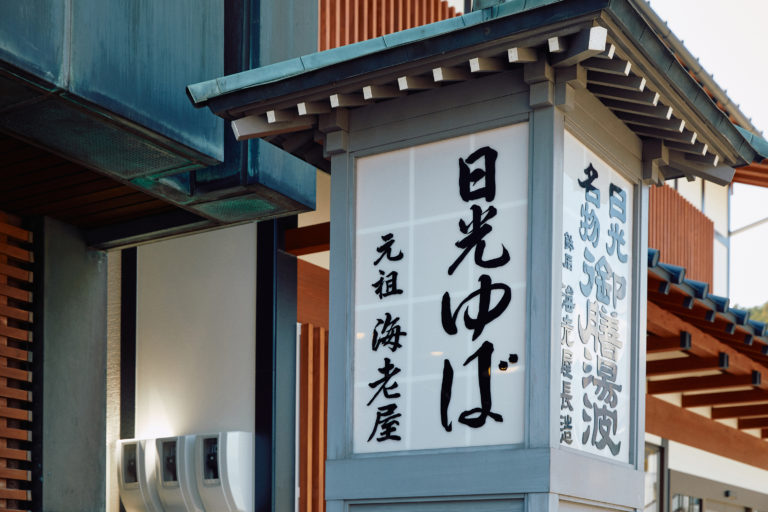 "Nikko yuba began as an offering to temples and shrines. A rolled yuba called shinomaki yuba was offered by placing it on a pedestaled bowl, and it was cooked after the festival for everyone to enjoy. Yuba is also a Buddhist vegetarian ingredient," says the sixth-generation head of the business, Naoki Mori. He says that yuba, made with water flowing down the sacred mountains, gradually turned from an offering to a food enjoyed at home, and it took roots in the local food culture. He also says that it is an essential ingredient for cooking dishes for New Year's day and celebrations.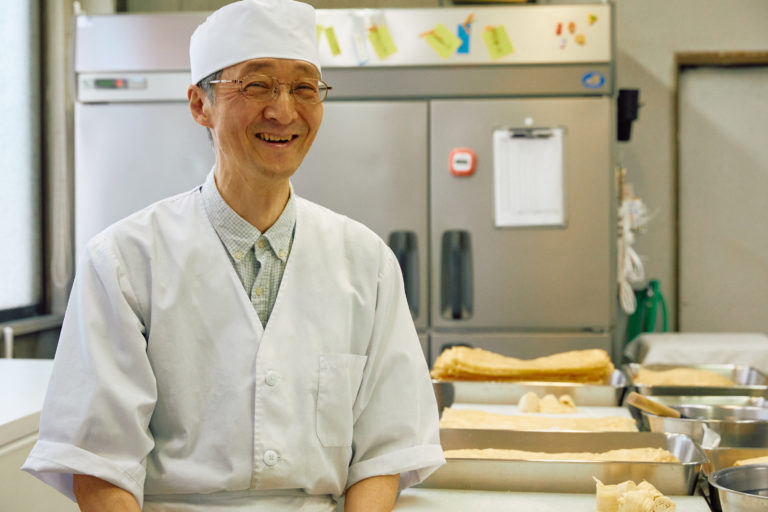 Naoki also told us another interesting story about the name yuba. It is said that yuba was brought into Japan by envoys to China in the Nara period and came to be called yuba from the Edo period (1603–1867). Today, yuba is spelled "湯波" in Nikko and "湯葉" in Kyoto, but there is a theory that the original spelling was "湯婆".
"It's '葉' (leaf) in Kyoto and '波' (wave) in Nikko. Don't you think they epitomize the character of the locality?" says Naoki, smiling.
Emperor Taisho also enjoyed the flavor created by the historic Ebiya Chozo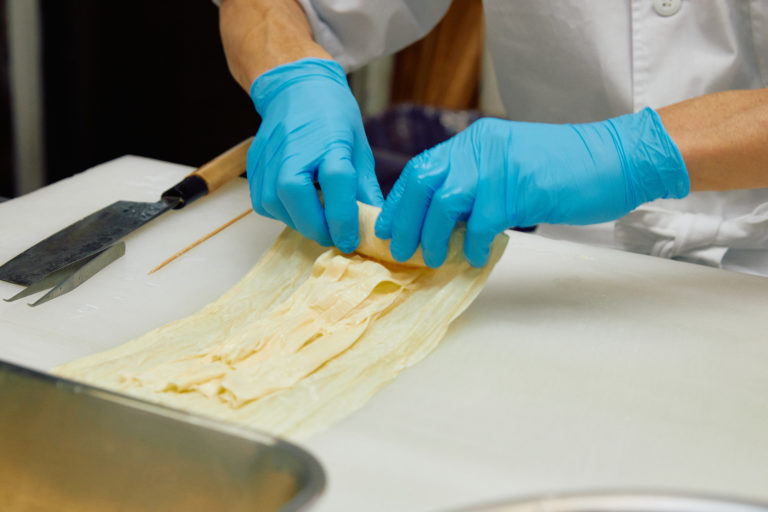 Ebiya Chozo's shop and factory are on the path that runs from JR Nikko Station to Toshogu Shrine. Old wooden signage carved with the words "元根 御湯波所(元祖日光湯波所)" tells its history.
Ebiya Chozo's yuba was used in Emperor Taisho's much cherished Sannai and Tamozawa imperial villas in addition to temples and shrines. Among the different types of yuba, the large straw bale-shaped taguri yuba is a famous piece produced in response to a direct order from the emperor's daizenshiki (the person responsible for preparing the emperor's meals).
"It appears that Emperor Taisho was a bit fragile. So, I think yuba was included in the menus to nourish him, as it is easy on the stomach among soybean products," says Naoki. The traditional taguri yuba is always made by Naoki or Toshikazu, the fifth-generation head of the business.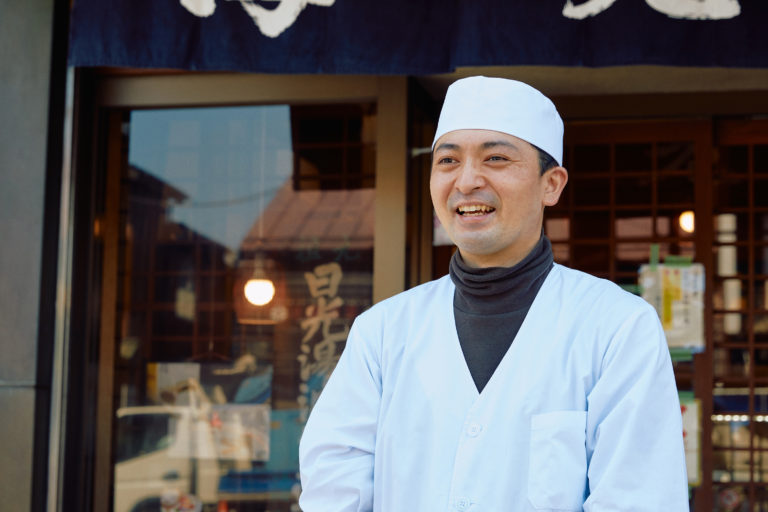 Naoki's son and seventh-generation successor, Keiichi, showed us around the factory. As Keiichi said, "It's very hot" — the inside was filled with thick steam. It is because soy milk is constantly boiled in steam at 90 degrees Celsius. The overwhelming heat will cause you to faint in the summer unless you take frequent breaks.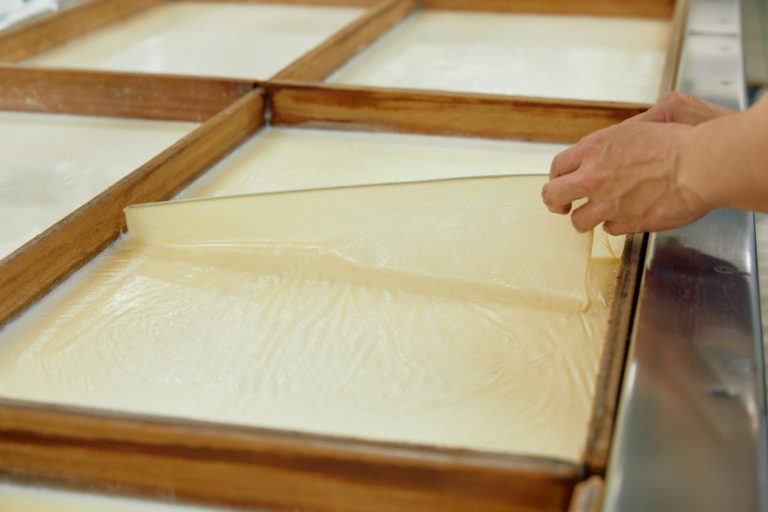 Wooden frames containing soy milk are lined up on a large stainless steel tray filled with hot water. A thin film begins to form on the surface when the soy milk is double-boiled, producing beautiful yuba. Keiichi checks the thickness by gently pressing it with his fingers. When it achieves the right thickness, he slides in a thin skewer-like metal stick on the soy milk's surface to quickly pull up the yuba and hang it over a metal pole. The series of movements is economical and enjoyable to watch.
"Under our conditions, it takes about 30 minutes to make a single sheet of yuba. It isn't efficient by any means, but that's what it takes to make tasty yuba. The first yuba you get has a honey-like sweetness," says Keiichi.
It goes without saying that the key to making yuba lies in how the soy milk is made. The area where Ebiya Chozo is located is blessed with pristine water that wells up from Mount Nyoho. This sacred natural mineral water is used abundantly for the soy milk and bain-marie. Domestically grown medium soybeans are carefully selected for their good balance of protein and fat content. Those grown in Yamagata Prefecture, Hokkaido and Akita Prefecture are the mainstream today.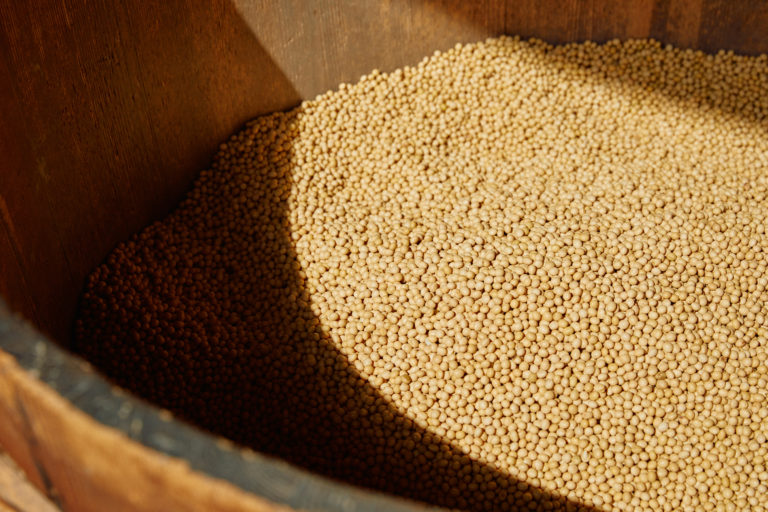 Preparations begin at four every morning. Soybeans soaked from the previous day are crushed and cooked. Naoki says that they used to add a defoaming agent to get rid of the large amount of foam produced in the cooking process, but they have stopped the practice completely. This is where Naoki's commitment shines regarding dramatically changing the flavor of the yuba.
"The soy milk evaporates as foam as well, so the yield is poor, and the work is time-consuming as the milk will foam while straining the beans. But when I tried yuba made without the defoaming agent, it tasted amazing. We don't make changes to where we shouldn't, but we will make changes where we can," says Naoki. Thus, the shop is ever-evolving.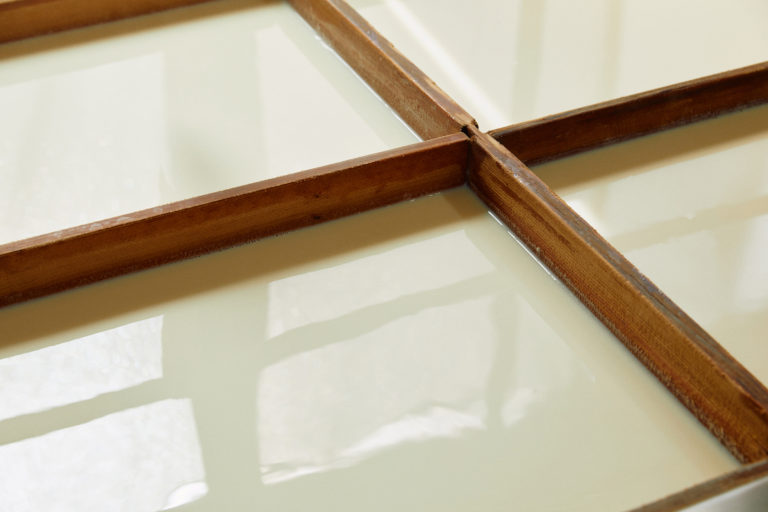 The freshly made soy milk is surprisingly refreshing. The faintly sweet and fresh soy milk evokes yuba's smooth texture.
"We can produce more in a short time if we thicken the soy milk, but doing so makes the yuba uneven and unattractive. Therefore, we always make fine adjustments to the mixture per the amount of protein in the beans. Our ideal yuba is firm yet melts in the mouth. To achieve it, we arrived at this soy milk considering such conditions as the raw material, water and climate," says Keiichi.
The uniqueness of the soy milk is mirrored in the shop's yuba. Naoki says that he can tell the thickness of a shop's soy milk by just eating the yuba.
The birth of sashimi yuba and local specialty, Nikko yuba cuisine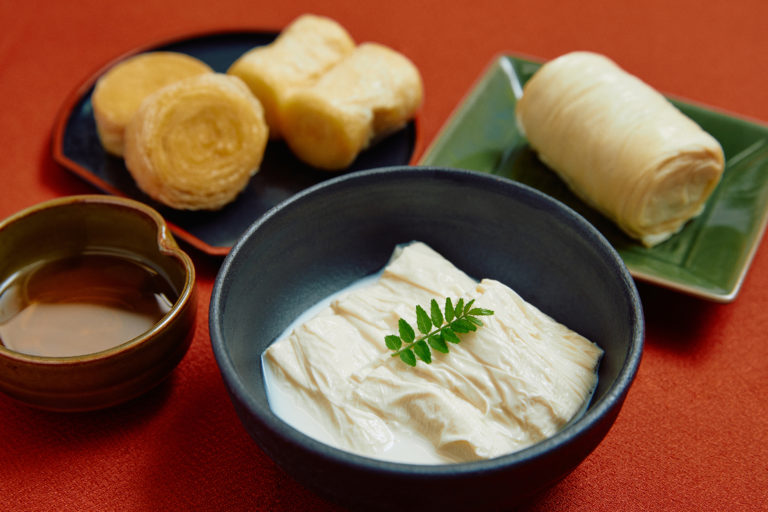 Yuba comes in a wide variety of shapes. Besides the previously mentioned taguri yuba made for Emperor Taisho, Ebiya Chozo produces yuba in various styles. They include the local favorite, agemaki yuba; a thinly wound shinomaki yuba used as a temple and shrine offering; hirayuba, a square sheet of dried yuba that can be used in various dishes; and shimada yuba, a bow-shaped yuba that looks adorable in soups and noodles. Agemaki yuba and shinomaki yuba are deep-fried once and are commonly enjoyed in stewed dishes.
Ebiya Chozo's signature dish is sashimi yuba, which is eaten raw. These days, raw appears to be a popular way of eating yuba, but the dish was created in 1975 by the fifth-generation head of the shop, Toshikazu. When you eat it with a dashi-soy sauce, the yuba's creamy sweetness fills the mouth, and it has a very smooth texture. You will feel like you can't get enough of it.
Nikko yuba cuisine that represents Nikko began in about 1985 when Ebiya Chozo approached restaurants to create dishes using various types of yuba, including sashimi yuba. These days, yuba cuisine is one of the many things tourists can enjoy, and there are restaurants all over the city with signs advertising their yuba cuisine.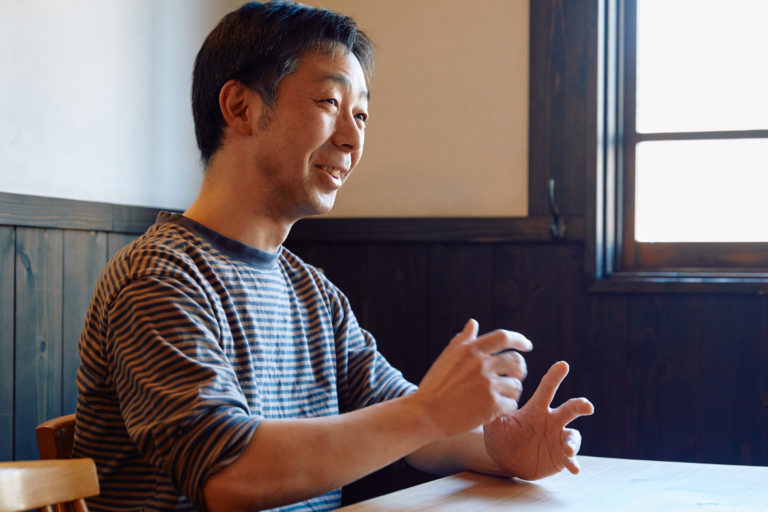 Fudan Kaiseki Nagomi Chaya on the path to Toshogu Shrine is popular for its Yuba Kaiseki Lunch sprinkled with original washoku creations made with Ebiya Chozo's yuba. The variety of yuba dishes, such as sashimi yuba, yuba with miso sauce, and tempura of Nikko chili pepper wrapped in hirayuba and perilla leaf, are pleasing to the eye as well. The stewed agemaki yuba in the center of the tray is like soul food to Ryuji Muramatsu, an old Nikko native and the owner of the restaurant.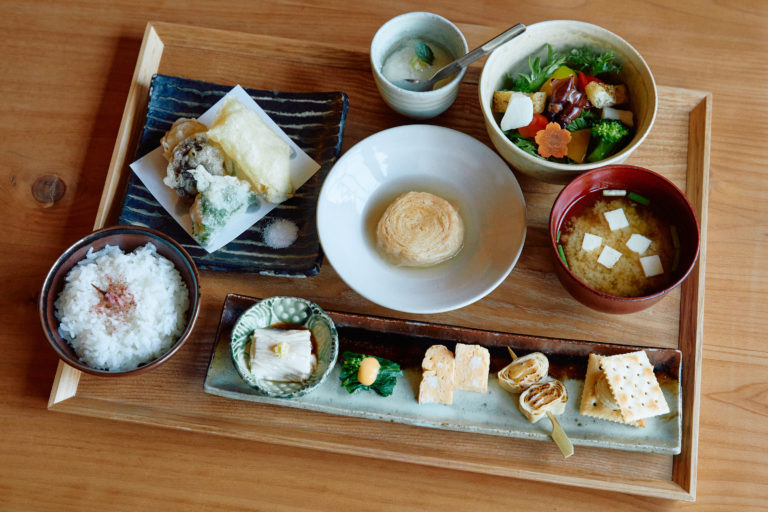 "Stewed agemaki yuba is a dish familiar to the people of the old Nikko city. Since we were little, we've been eating it in our packed lunches for sports day and as part of the New Year's meal. The way we serve it is light in color and sweet and savory in taste as we cook it in dashi, mirin, sake, and light soy sauce. We stew it slowly so that you can enjoy the soft texture and flavor of the soybeans," says Muramatsu. Yuba seems to be the flavor of Nikko mothers' home cooking, filled with memories of home.
Before it became integrated into people's lives, Nikko yuba began life in the culture of temples and shrines. Let us savor it as we reflect upon Nikko's history.
 / 
Photographer
: KOJI TSUCHIYA