RECIPE (December 2015)
"Homemade miso"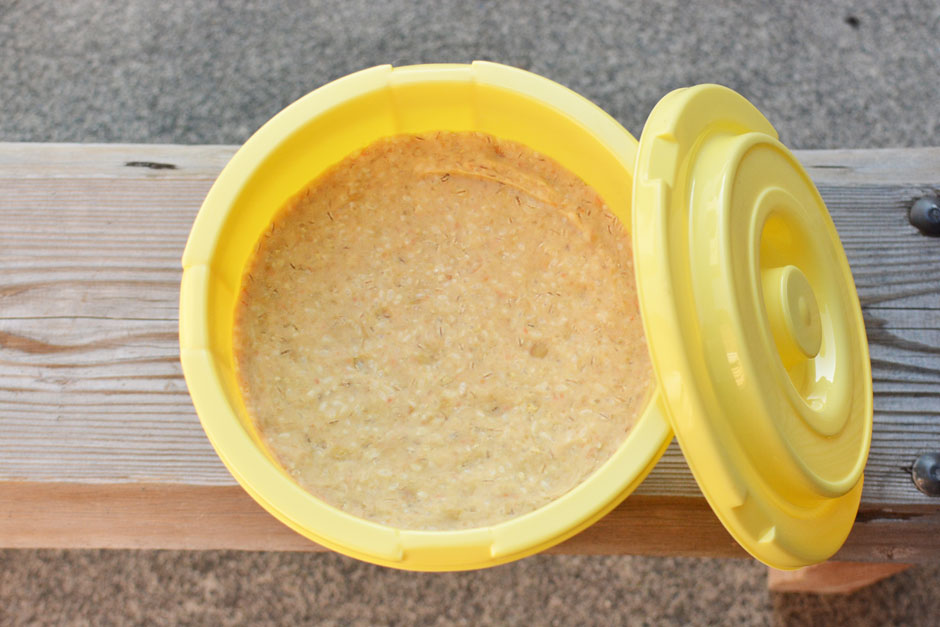 "Homemade miso"
Ingredients
"Homemade miso"
Soybeans

1kg

Salt

500g

Koji (rice and barley)

1kg

Soybean broth

200ml
UTENSILS
Pressure cooker (if unavailable, a large pot)

Large bowl (for soybeans)

Medium-sized bowl (for koji)

Rice bran pickling container

Pickling stone or salt (about 500 g)

Plastic wrap

Potato masher
Directions
Prepare the day before by washing the soybeans and soaking them in water four times the amount of beans.

Place the soybeans in a pot and add enough water to cover them. In the case of a pressure cooker, pressurize for about 15 to 20 minutes after the water boils, and in the case of a regular pot, cook for 3 to 4 hours, until the soybeans are soft enough to mash between your fingers. Drain the broth but do not throw it all away, leaving about 1 cup (200 ml).

Place koji in a medium-sized bowl and add 480 g of salt. Mix thoroughly by hand. (Set aside 20 g of salt for later use.)

Place the soybeans in a large bowl and mash with a potato masher. (If you don't have a potato masher, use a spatula or large spoon.) When the soybeans have been mashed into a paste, add the salted koji made in (3) and while adding the broth remaining from cooking the soybeans (200 ml), mix while pressing down with your hand. Shape into 5 cm diameter balls.

Throw the balls made in (4) into the rice bran pickling container, and while adding the soybean broth as needed, mash into a soft paste. When you finished adding the balls, level the surface by pressing with your fist to prevent air from entering. After sprinkling 20 g of salt evenly over the surface, cover with plastic wrap, place the pickling stone or salt on top, and cover.

Ferment Leave to ferment over the summer for at least 6 months for a mellow flavored white miso. If left over a year, it will become a stronger flavored red miso.
A useful tips
Under the supervision of Hitoshi Gomi, the sixth generation proprietor of Gomi Shoyu, the company has produced a song and dance video as a fun way to learn how to make homemade miso.
Recipe from : Gomi Shoyu