THE POWER OF SHUN (September 2016)
The "World's Best Market," created by the hands of food professionals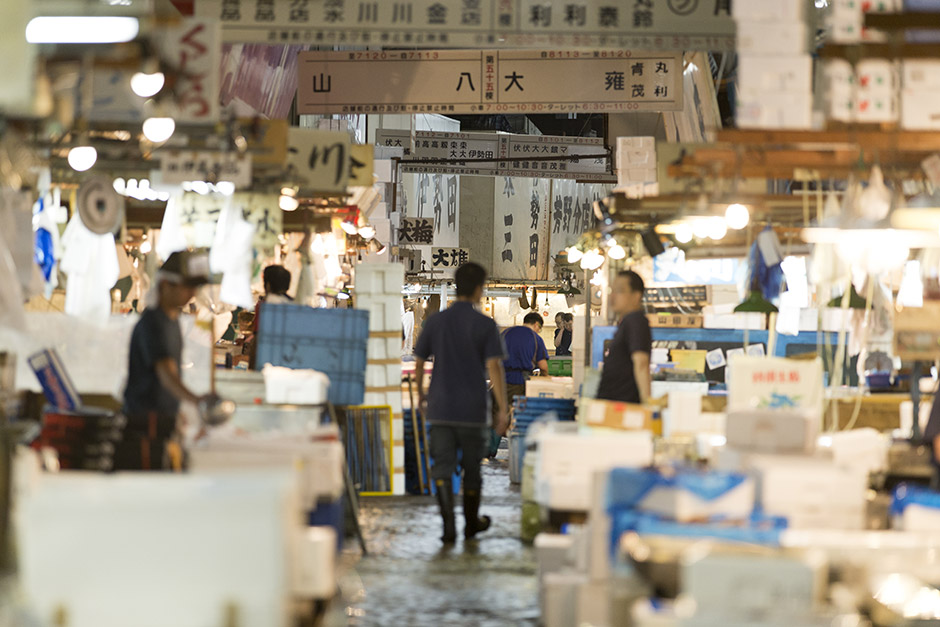 (Month information was collected: August 2016)
Tsukiji, the largest market in Japan. Part of the Metropolitan Central Wholesale Market, it attracts an astounding variety of foods from around Japan, and around the world, with a total of about 480 different types of seafood and 270 varieties of fruits and vegetables. Annual trade volumes, especially of seafood, total more than 400,000 tons, one of the largest in the world.

It has been approximately 80 years since the fish market moved to slightly southward to Tsukiji from its Nihonbashi location, where it had been since the Edo period (1603–1868). We will look at why Tsukiji Market is so world-astoundingly great.
Market for food professionals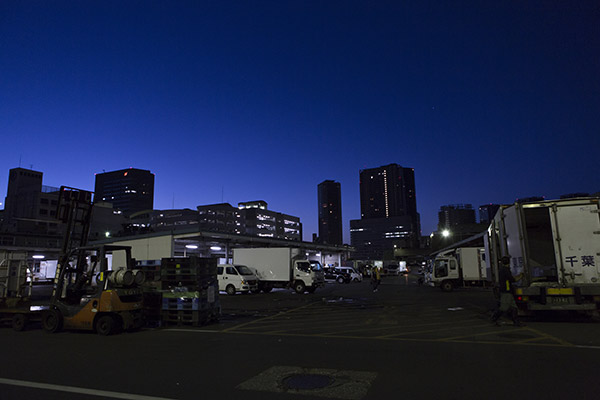 A day at Tsukiji starts when the date changes.
When the clock strikes midnight, truck after truck enter the market and offload cargo from around Japan.
As dawn approaches, a swarm of people and turret trucks start filling the market, turning it into a very lively place.
Tsukiji market not only attracts select groceries, but also countless food experts, especially of seafood. Seafood is categorized into many different specialties depending on the fish variety, and Tsukiji has a full array of veteran, first-class experts.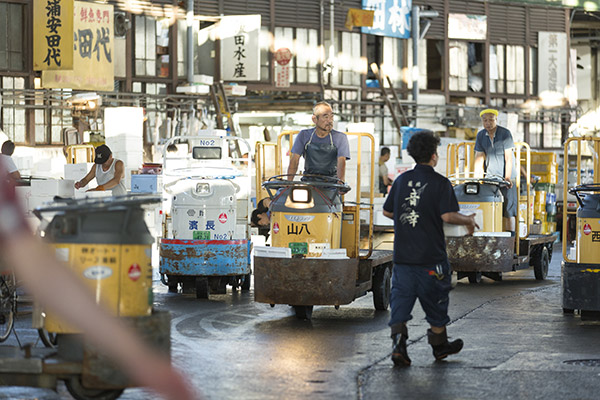 The seafood that arrives in Tsukiji at midnight is first gathered around primary wholesalers also known as Ooroshi.
From there, price negotiations begin at dawn for each variety of fish by bidding and by one-on-one negotiation. The fish then goes to intermediate wholesalers and approved purchasers with their own distribution channels.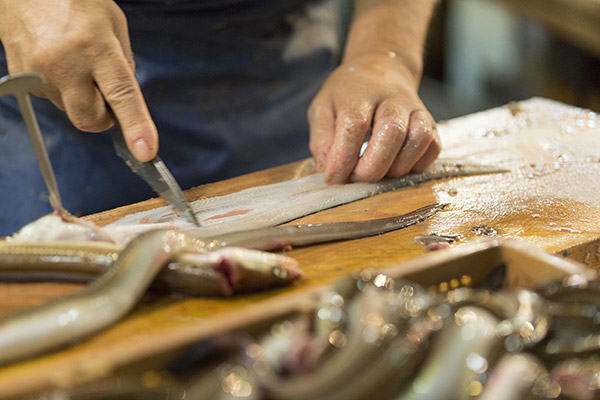 The fish sold to intermediate wholesalers are processed into smaller portions and displayed in stalls within the market. They are then sold to retailers and buyers for restaurants who visit the stalls.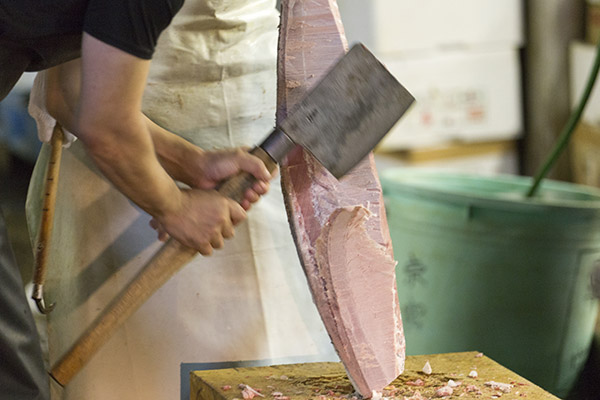 The seafood that arrive from their original location to Tsukiji Market is delivered to consumers through all these fish professionals, but this process apparently involves various negotiations for each person.
We asked these fish professionals, who call Tsukiji their fighting grounds, to tell us their stories.
Ooroshi, the heart of seafood distribution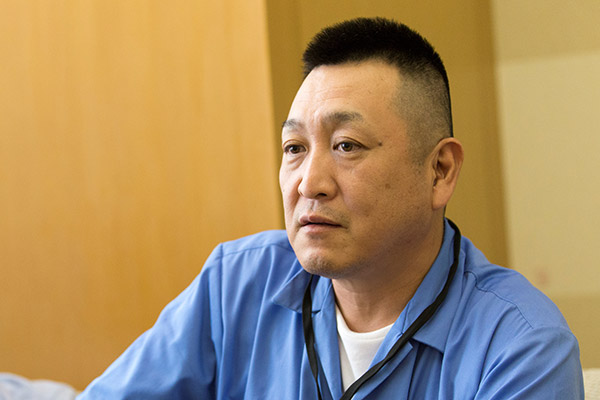 Ten o'clock in the morning. Usually, the market closes by now, but on the day we took these interviews, the market was still busy, partly because a typhoon had landed in Japan.
"We call the ports to see how large today's catch is, and tell intermediary wholesalers and approved purchasers how shipping will go the next day," says Katsumi Kashiwaba, the auctioneer of Chuo Gyorui, one of the seven largest primary wholesalers in Tsukiji Market.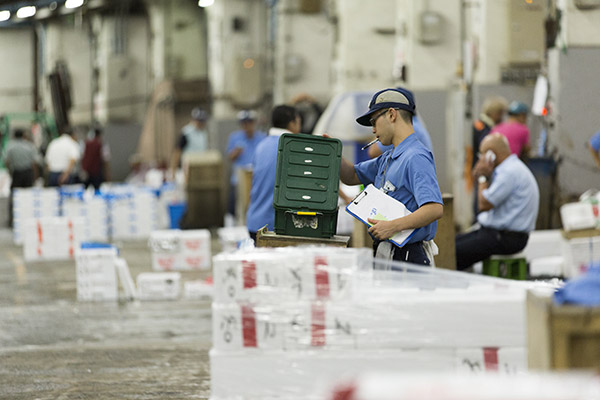 Digging deeper, auctioneers do not just put the seafood that comes into the market on auction. They also have to keep close contact and negotiate with the ports to balance the volume and variety of the fish they purchase.
"Typhoons don't just roughen up the ocean. It stops traffic, distribution, and sometimes the people who handle the catch at the ports. When this happens, we don't get a shipment even after the typhoon goes away. Aside from climate, people in some regions do not work on certain days by tradition, and that would stop shipment too. We cannot do business unless we know everything about every region. It is not just about the ocean, we have to be aware of the region's land traffic, allocation of people and culture too."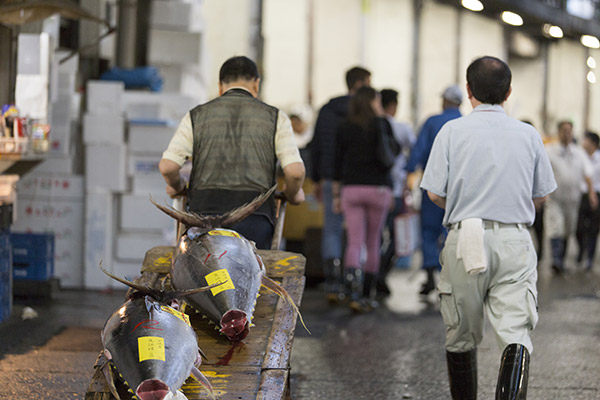 Purchasing is also not just about getting enough volume. The auctioneer's job is about selling everything off at a high price.
Apparently, fishing ports look at all markets around Japan, not just Tsukiji Market, and sell their catch to whoever can offer higher prices. Consequently, markets with marked achievements by auctioneers who have won the trust of the ports attract more seafood.
Kashiwaba says auctioneers have to be in tune with economic trends and consumer trends to keep up good records.
"If the typhoon is over by noon, people will start shopping or go to restaurants in the heart of Tokyo so our fish will sell. But if the typhoon hits us in the evening, people will not go out. When this happens, our fish doesn't sell, even if we stock it."
Auctioneers are the heart of Tsukiji Market, with valves to let seafood through. Their work only becomes possible when they manage to figure out the complex logistics of the everyday world and bring that analysis to negotiations with fishing ports and consumption sites, not just within the auctions.
The refined connoisseurship of intermediary wholesalers is Tsukiji's strength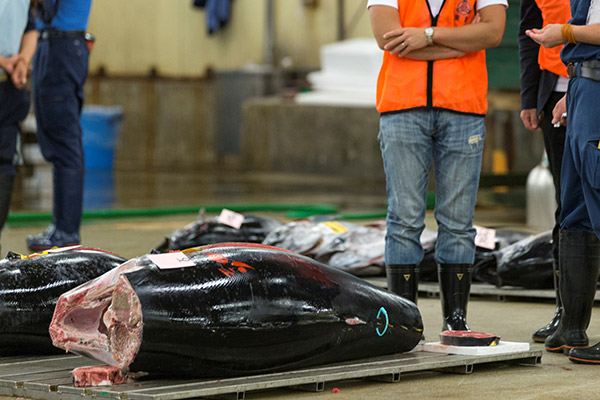 Tsukiji Market is packed with intermediary wholesalers, each specializing in a particular fish or category, such as stores only selling large fish, like tuna, and stores with only live fish. We interviewed two of these wholesalers.
First, we went to talk to Fumihiro Ogawa, the third-generation representative of Nishisei, a wholesaler whose focus had always been fresh tuna since its establishment, to ask him about the knowledge and skills required to handle tuna.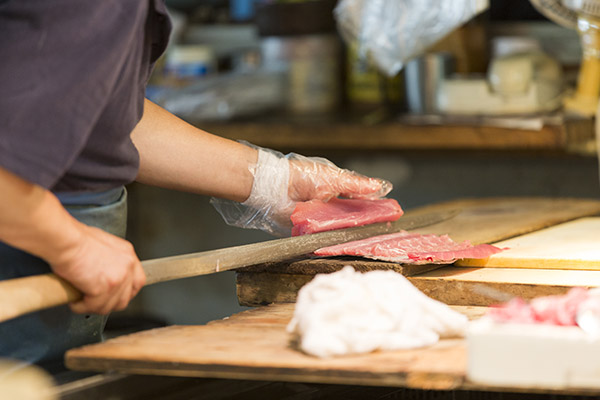 "Before we buy fish at the auction, we rate the fish in advance. This is a process called Shimozuke. We look at the cross section of its tail fin to see its fat distribution and rate them, imagining what they would taste like. Fresh tuna can have an unfavorable taste if they are the wrong age, even if they look the same. We rate them using all kinds of techniques, but we can be wrong when the tuna is actually chopped and served," says Ogawa.
It is no easy task to process a large tuna. There are many knives for this, the largest being as long as 150 cm. They are also single-edged and hard to cut straight lines, but the professionals carefully dissect the tuna into smaller pieces with their hands and finely honed skills, which are then displayed in the stores.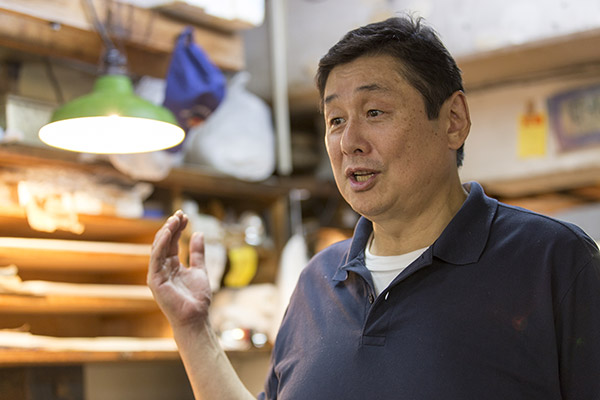 Tuna comes in different varieties and flavors, depending on where and when they are caught.
"The amazing thing about Tsukiji Market is the number of tuna that come in. It is unrivaled. Our job is to think about what type of tuna best suits our customers' needs and to source them."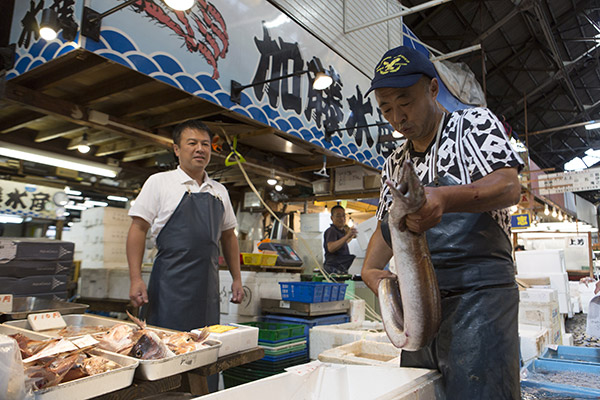 Next we visited the retailer Kato Suisan, who has long been operating since 1868. They originally specialized in prawns, but now handle all types of fresh seafood.
Representative Kenji Yasuda says "The best part of being an intermediary wholesaler is to be able to auction off good stuff inexpensively, and make customers happy."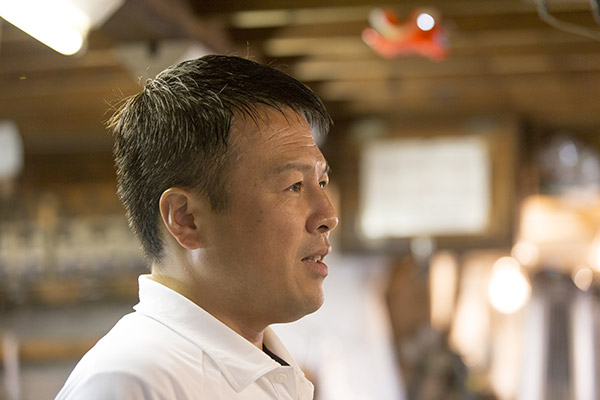 How does he know good merchandise? When we asked him, his eyes instantly had a look of seriousness. "It is not something words can describe," says Yasuda.
"Words can describe only very simple things. Connoisseurship goes much further. It is something you learn with your senses. There are things you will not know unless you deal with fish every day. I think that is what it means, to see the fish with the eyes of a professional."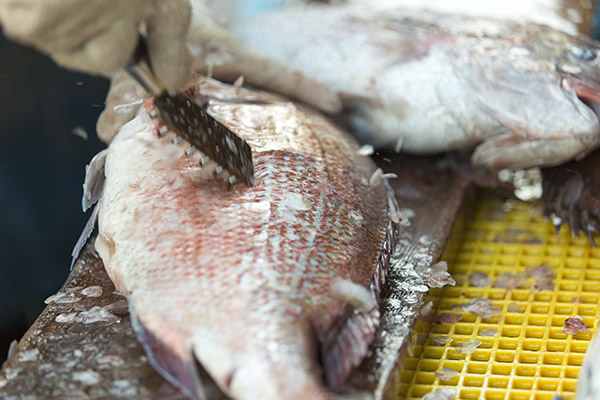 The refined connoisseurship of intermediary wholesalers is the very thing that made Tsukiji Market what it is today, a market that draws such attention. They have come into contact with fish countless times, and the depth of their knowledge springs from the trial and error that they were able to do—knowledge that supports Tsukiji Market's unrivaled presence.
A desire to deliver delicious fish with my own hands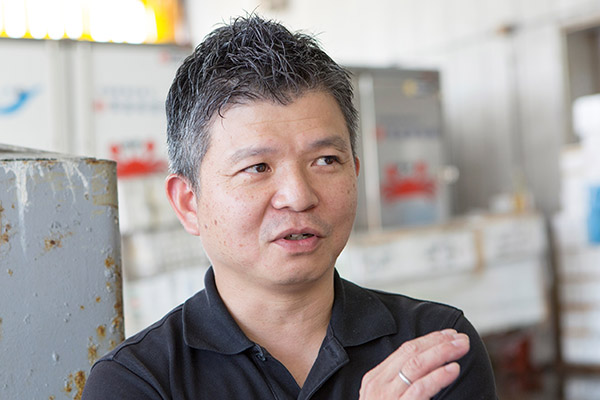 There are also people other than intermediary wholesalers who take part in auctions and one-on-one sales negotiations. They are purchasers approved by the Tokyo Metropolitan Government, and are generally called Baisan. They include major distributors, restaurants and processers.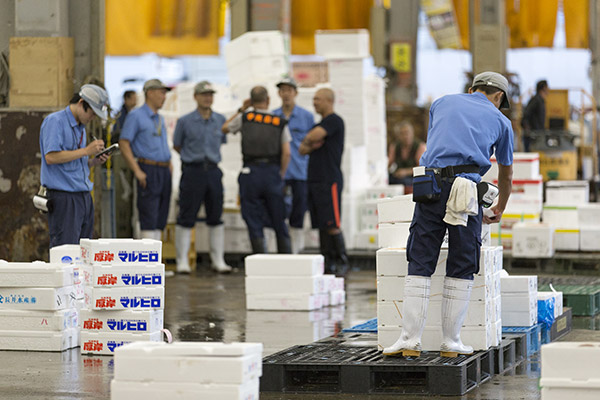 Nippan Suisan, a company that operates restaurants in Tokyo, is also an approved purchaser.
"Tsukiji has its own culture. I got told off a lot at first because I did not have a clue," says assistant manager Yasunori Sato.
"In Tsukiji, trust is more important than anything else. You build your credibility little by little, and eventually they think, 'let's get to work to help this person,' so you can purchase what you wanted, even when shipments are small," says Sato.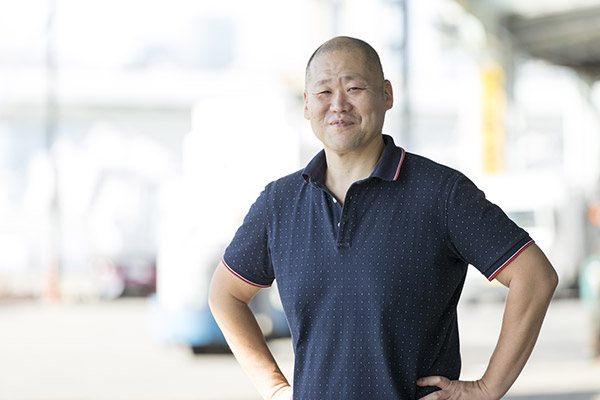 Nippan Suisan applied to become an approved purchaser in Tsukiji because they passionately wanted to deliver delicious fish to consumers.
President Koji Nukita says "Our role is to deliver delicious fish to make the consumer, our customers, happy. We wanted to choose reliable products with our own eyes and wanted to deliver them with our own hands. That is why we ventured into Tsukiji Market."
The delicious fish that we casually eat every day is actually the fruit of the passion from these people who are stretching themselves to the limit every day in Tsukiji Market.
Tsukiji's heritage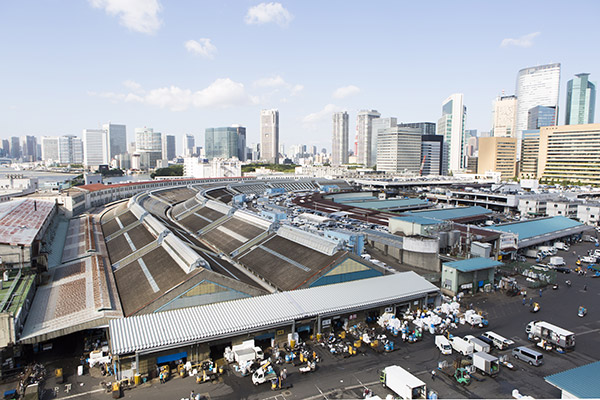 The professionals of Tsukiji Market, who deal with all kinds of fish.
Their no-nonsense daily battles, which form the basis of their immense experience and skills, as well as their relationships based on trust, have become the foundation of Tsukiji Market.
Currently the move to Toyosu Fish Market is being debated. Even if the location changes, it is hoped the tradition and culture that food professionals have passed on and built since the time of the Nihonbashi Fish Market will continue to be passed on from generation to generation.
 / 
Photographer
: CHIE MARUYAMA