PRODUCT (October 2022)
Tekikaka Cider, Made of Discarded Apples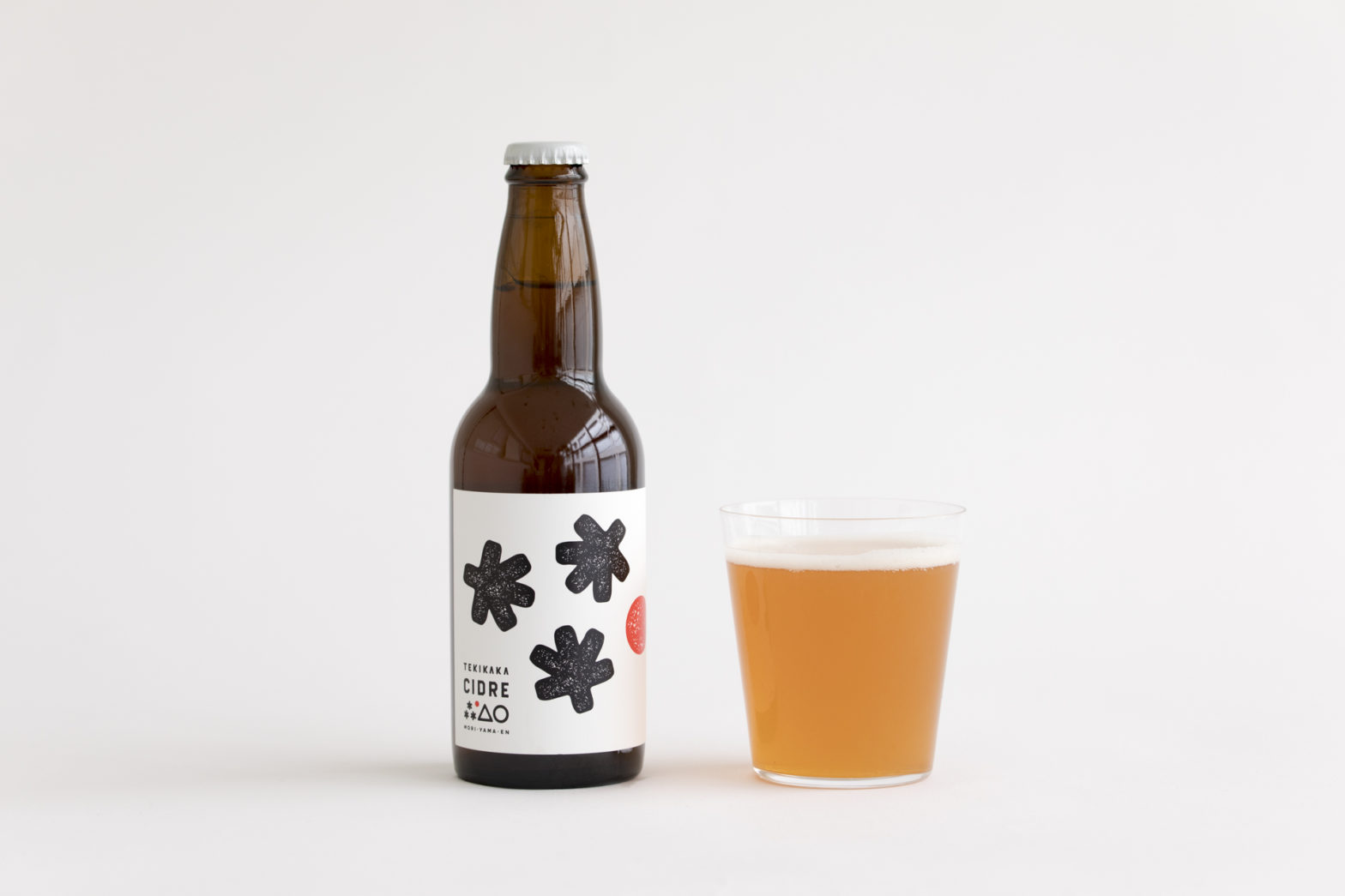 Tekikaka Cider is an apple cider made of thinned apples that would normally be discarded. MORIYAMAEN, the first apple orchard in Japan to successfully develop this product, has a history dating back over 100 years in Hirosaki, Aomori Prefecture. Behind the development lies an exceptional drive to make the most of the working hours of fruit picking.
Note the following about Tekikaka Cider
・It tastes like a cider from Burgundy, with a lingering astringency.
・It was developed to make the most of the effort required to pick apples.
・It won the Grand Prize, the highest award, at the Japan Cider Awards 2019.
Japan's first cider to effectively use thinned apples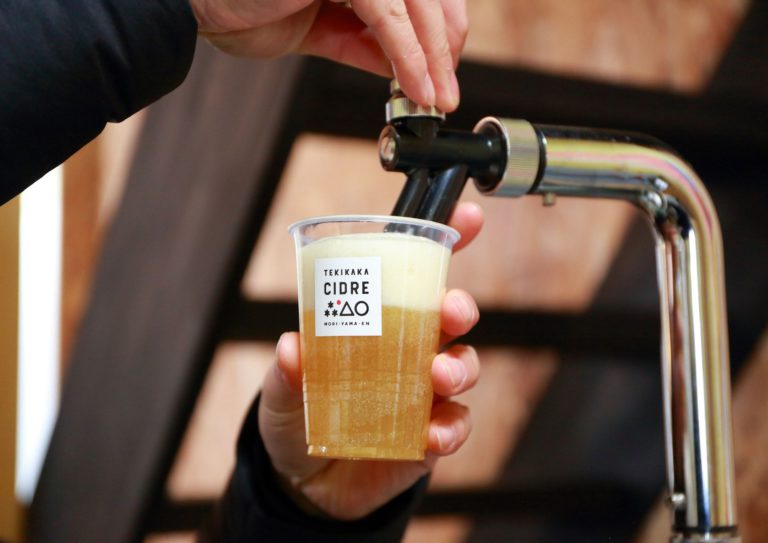 MORIYAMAEN is an apple grower with a history of over a century in Hirosaki, Aomori Prefecture. The farm has been focusing not only on production but also on processed products in recent years.
Its signature product is Tekikaka Cider. It has a sharp acidity. As it is not sweet, it pairs well with food. It has a distinctive astringency that lingers because it is made of unripe apples that would normally have been discarded. The result is a flavor not found in Japanese ciders, which use mature, fresh-eating apples. Toshihiko Moriyama, the head of the farm, explains the reason for focusing on thinned apples.
"Thinning is vital for growing apples to a large size, but it's very labor intensive. When we did the calculations, we found that we were spending as much as 30% of our annual working hours on it. I've always wondered if we could somehow make the most of this enormous amount of time and effort."
Thinning takes place between June and August. Thinned, unripe fruits are said to be rich in polyphenols.
It became a popular product, receiving endorsements from connoisseurs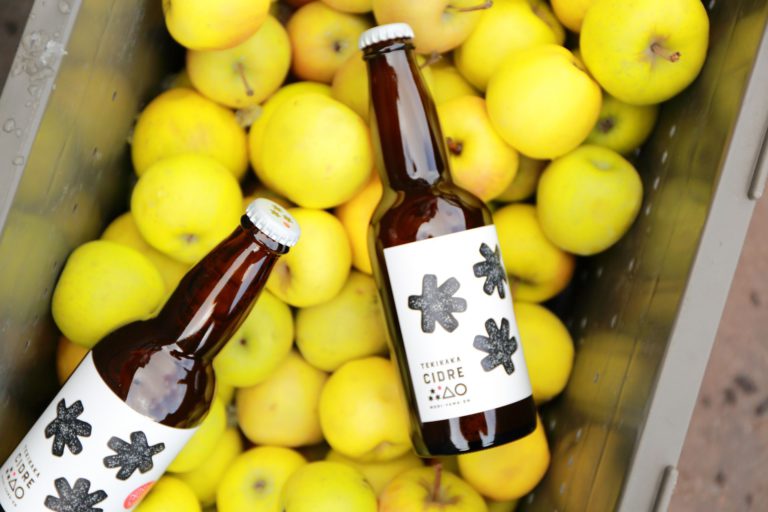 The idea for Tekikaka Cider was conceived around 2013. It was inspired by a cider that Moriyama and his wife drank in Canada, where they had previously stayed.
"My wife was especially fond of cider and always suggested, 'We're apple farmers, so let's make cider.' That's how we came up with the idea of using thinned apples," says Moriyama.
However, since there was no precedent for using thinned apples, they went through a continuous trial-and-error process. The fruit was too unripe, making it too acidic; they could not find the right yeast, and so on.
Moriyama explains, "I modeled my cider after the one I had in the Normandy region of France. It is made of bitter and tart apples, and I was convinced that thinned apples, similar in flavor to the Normandy cider, would be suitable for making cider."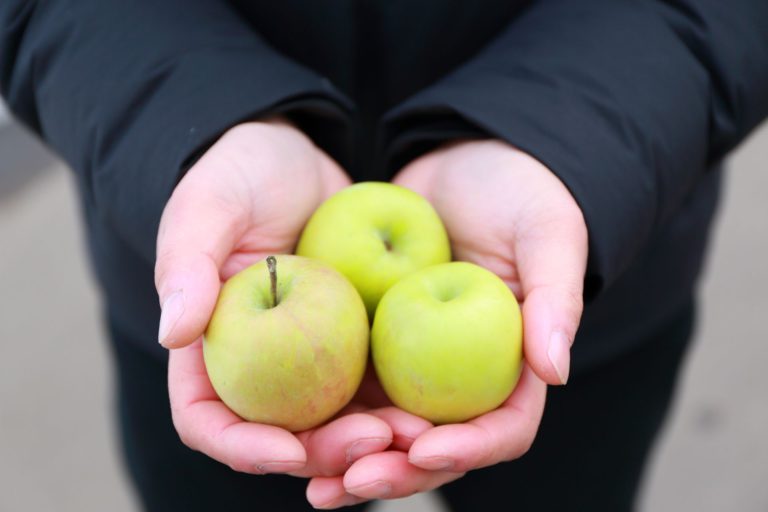 Moriyama worked with outside organizations such as the Hirosaki Industrial Research Institute and the Hirosaki Cider Association to pursue the ideal flavor. He also built a new cider brewery near his apple orchard and finally launched his cider onto the market in 2017.
The product's reputation gradually spread, and it was awarded two stars in the tasting category at the Japan Cider Awards 2018, voted for by connoisseurs. In 2019, the product won the grand prize in the said awards. The company also started shipping kegs to restaurants and has now grown so popular that it has gained support from all over Japan.
Writer
: THINK & EAT EDITORIAL DESK
*Some of the images posted on our website have been provided by those whom we inter-viewed.