OKURIMONO (October 2022)
Herb Salt Created in Wakayama, the Home of Budo Sansho
FROM FARM「Japanese Nomadic Salt」
(Month information was collected: June 2022)
< PACKAGE >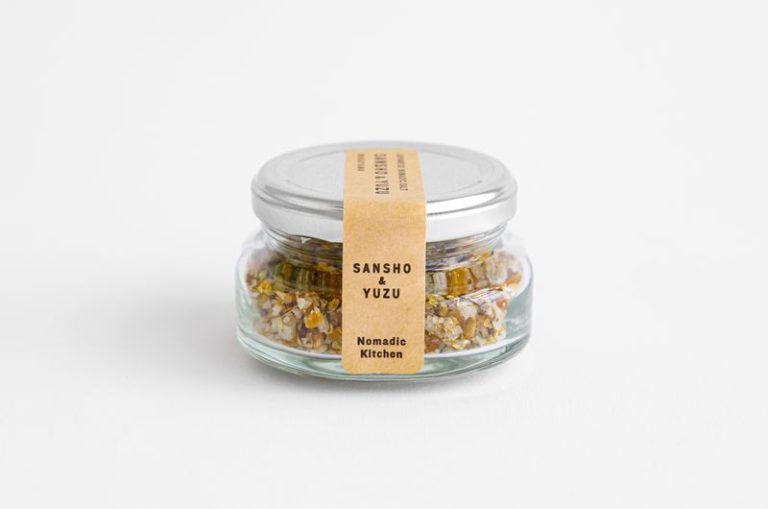 Japanese Nomadic Salt is a seasoning created in Wakayama Prefecture, the home of sansho (Japanese pepper). FROM FARM, a processor and vendor of farm products, handles its production and delivers this local delicacy across the country. It can be used for meat or fish dishes, or sashimi. It adds a tongue-tingling flavor and deep umami to food and, once used, becomes a must-have for the dining table. Now, which recipe shall we try today?
So, what makes FROM FARM's Japanese Nomadic Salt so special?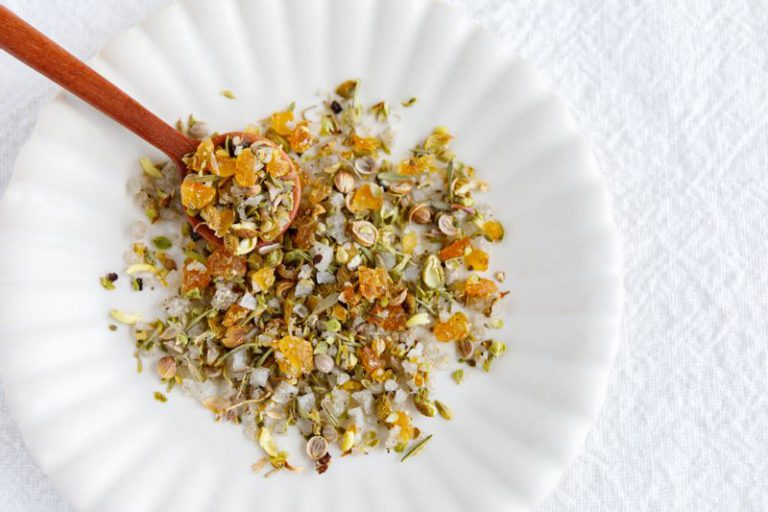 A herb salt with a blend of budo sansho and spices
The herb salt is made with budo sansho grown in Wakayama Prefecture. The recipe developed by Nomadic Kitchen, a cooperative food project, contains a blend of nine spices, including budo sansho, yuzu rind, sea salt, coriander seed, and black pepper.
An all-rounder that pairs well with food, regardless of cuisine.
Budo sansho's tongue-tingling flavor, yuzu rind's fresh aroma, and sea salt's deep umami elevate dishes to a new level of deliciousness. The seasoning pairs well with various dishes, including steak, carpaccio, and potato salad. You can enjoy salted vanilla by sprinkling budo sansho onto vanilla ice cream.
FROM FARM's challenge opens up new possibilities for budo sansho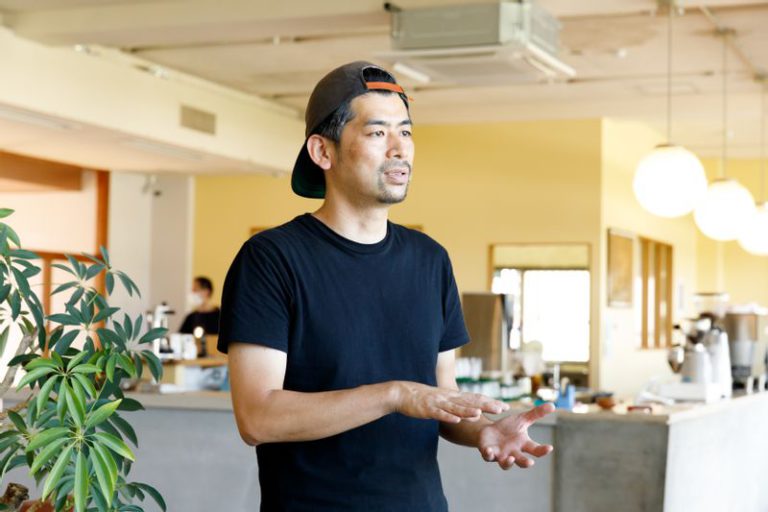 Koji Otani started up FROM FARM in 2014. It has been seven years since he returned to Kainan, Wakayama Prefecture, and he initially ran a chrysanthemum farm for his father, who had been unwell. While he was beginning to enjoy farming and the family business was gaining momentum, he could not abandon his interest in selling processed products. He wondered, "What am I to do?" Koji's vacillation led to a turning point for him when he came across budo sansho from the neighboring Arita district.
Koji explained, "I visited a grower of budo sansho and tried the freshly picked budo sansho berries, and they were so tasty! It was an eye-opening experience and made me wonder what I had been eating all this time."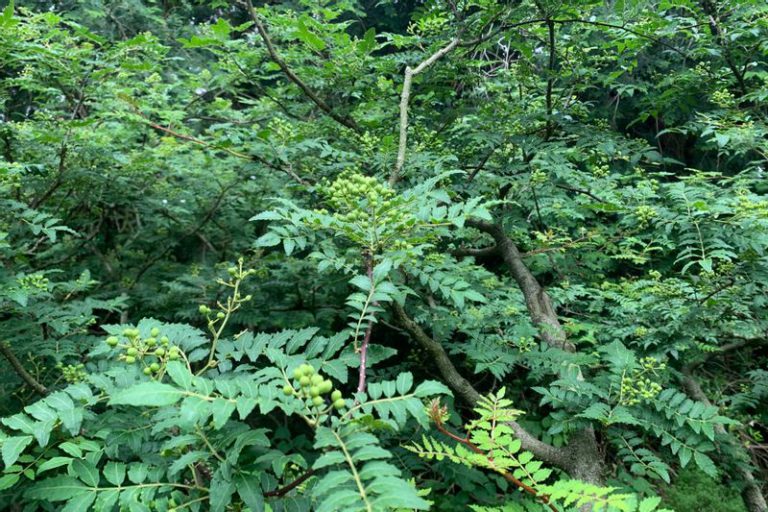 In fact, Wakayama Prefecture is a major producer of sansho (Japanese pepper). It boasts the largest production in Japan, and its star variety is budo sansho. The fresh green berries in clusters look just like grapes. Compared to other varieties, budo sansho has a thicker skin with a mildly piquant taste that delivers a tingling sensation.
Despite its high quality, it is rarely seen by the average consumer. This is because most budo sansho cultivated is supplied to Chinese herbal medicines and seasonings manufacturers. That is how valued it is, but the selling price is not commensurate with the labor involved in its cultivation. Excessive production of budo sansho' would lower its price as it is supplied to limited destinations, having a direct impact on the producers' lives.
When Koji heard about this from a producer, he came up with the idea of manufacturing processed products with budo sansho, hoping to improve the situation as much as possible. He thought expanding the sales channels with processed products would pass on profits to the producers.
If Koji were to develop a new processed food, he must differentiate it from the products already on the market. However, he did not have the know-how to do so. Koji faced a high hurdle from the get-go, but what is impressive about him is that he did not give up there. Incredibly, he went directly to Yuri Nomura, a food consultant with whom he had no prior acquaintance. Koji asked for her help in developing processed food using budo sansho.
"I'd occasionally seen Yuri Nomura in the media. I thought she could come up with recipes with new ideas, as she is involved in a wide variety of food-related activities," said Koji.
She readily agreed to Koji's request. Processed food development by Nomadic Kitchen, a cooperative project comprising cooks, got off to a start.
A unique flavor created by budo sansho and various spices
Nomadic Kitchen spent a year and a half developing the recipe for the herb salt using budo sansho. It was named Japanese Nomadic Salt after the project. The initiator, Koji, was put in charge of production.
The herb salt only uses budo sansho's skin, which is rich in aromatic compounds. Once dried, the skin is ground into small pieces and blended with eight spices, including sea salt, yuzu rind, coriander seed, and black pepper.
"We grind the spices using manual coffee grinders. The key is to keep the grain size to about 2 mm. The way the aroma fills the mouth and when the grains melt vary depending on the spice, so you can enjoy the changes in flavors. The sweetness of the yuzu rind cooked in syrup also adds a nice accent," said Koji.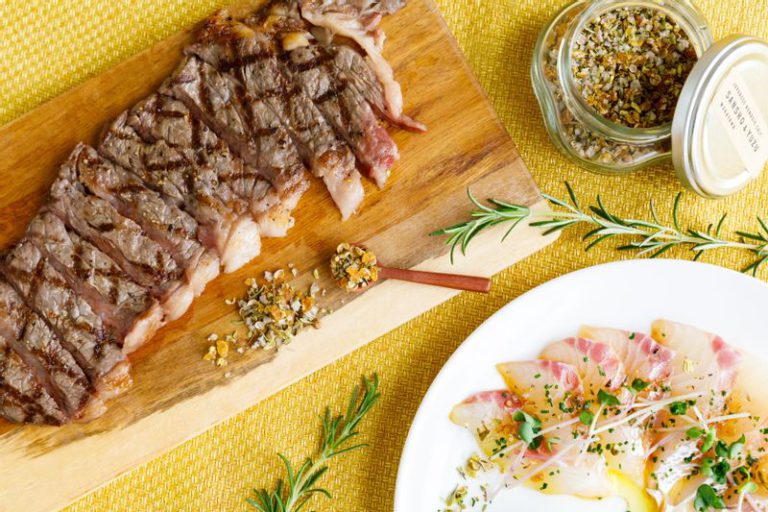 A fresh aroma softly wafts out as you open the lid of the jar filled with herb salt. Sprinkled onto a steak or grilled food, its flavor becomes more vivid due to the heat, and the slow-lingering tingling sensation ignites the appetite. It pairs well with carpaccio and sashimi if blended into olive oil as a dressing. Koji vouched for it, saying, "it can be used in all kinds of dishes, regardless of cuisine."
Koji felt confident about Japanese Nomadic Salt. As his father recovered from his illness and returned to farming, Koji decided to enter the processed food sales business in earnest.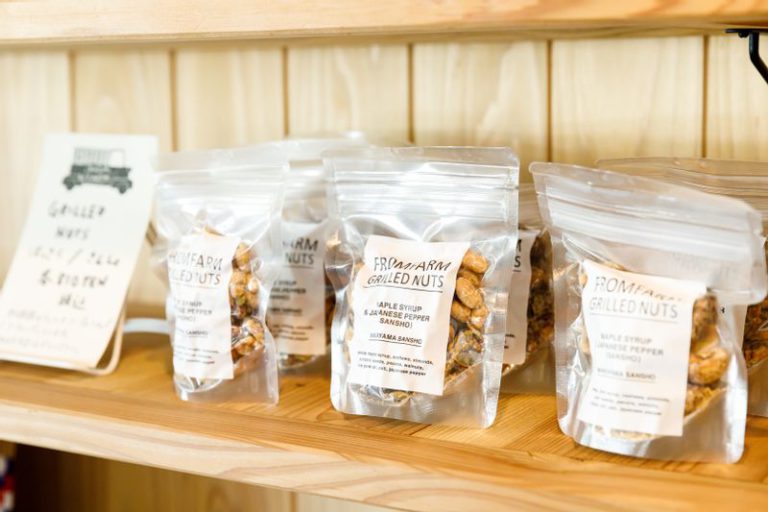 Dried fruits, the next product he developed, were inspired by the work involved in drying budo sansho. Damaged persimmons and kiwis that are not fit for shipment are purchased from farmers and put to good use.
He has also developed products with contemporary lifestyles in mind, including granola with dried fruits and mixed nuts flavored with budo sansho and maple syrup.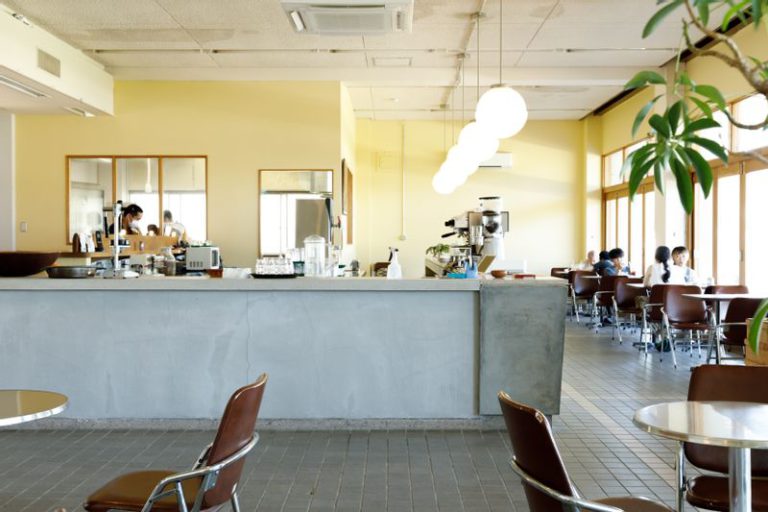 These products were given the brand name FROM FARM in hopes of communicating the appeal of the production area. They are sold at the store/workshop in Kainan City, as well as at general and interior accessory stores inside and outside the prefecture.
Koji's activities are not limited to processed food sales. In 2019, he opened a café called Kamogo in the city. The café, named after the local Kamogo district, is housed in a renovated farmers co-op. The location is excellent, with an idyllic view of the countryside outside the wide windows.
Kamogo is, so to speak, a center for sharing the flavors of Wakayama. Freshly squeezed citrus juice, coffee, doughnuts, and other items are all made with ingredients sourced in the city and surrounding areas. Seasonal fruit parfait is a signature dish, and it is so popular that the Loquat Parfait on offer the day we visited had already sold out.
Koji said, "we get many young out-of-towners besides familiar faces." The café provides the locals with a relaxing place and opportunities for visitors to connect with producers. Koji will continue to explore the future of Wakayama's food through both FROM FARM and Kamogo.
 / 
Photographer
: SHIOMI KITAURA
*Some of the images posted on our website have been provided by those whom we inter-viewed.