OKURIMONO (October 2021)
Born in Tropical Chiba — Lilikoi Butter Made by a Passion Fruit Farmer
RYO'S FARM「Lilikoi Butter」
< PACKAGE >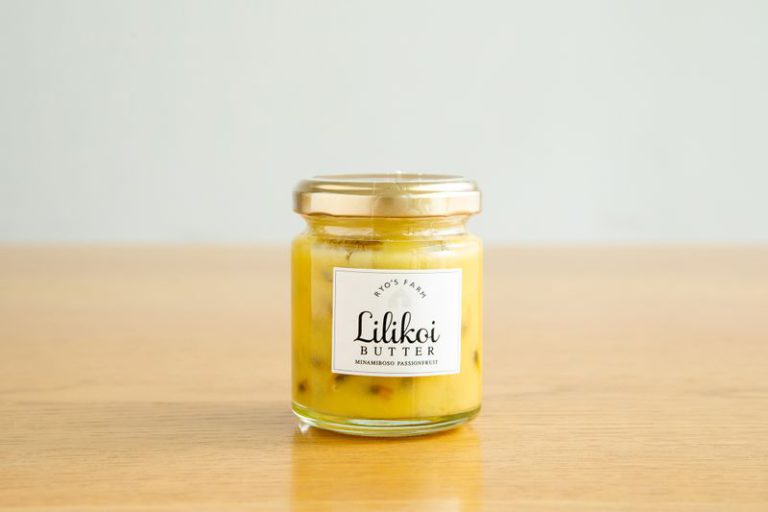 RYO'S FARM is a passion fruit farm in Tateyama, situated in the tropical Boso Peninsula in Chiba Prefecture. In addition to fresh fruits, Lilikoi Butter, the farm's special fruit curd, made from ripe passion fruit, is a signature product so popular that it is sold in specialty stores throughout the country. Let's take a look at this fascinating butter that turns toast and pancakes into tropical delights.
Here is what makes RYO'S FARM's Lilikoi Butter special.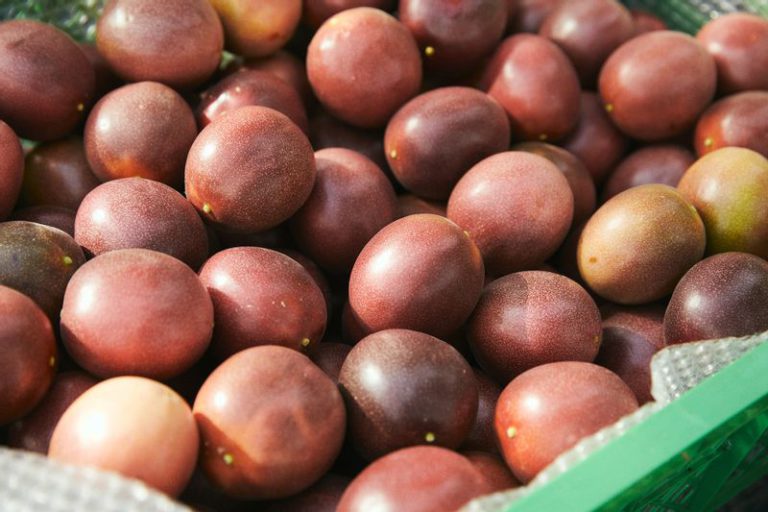 Intensely-flavored, sun-kissed passion fruit
RYO'S FARM's passion fruit tastes sweeter than ordinary ones and has a richer aroma, too. The secret to its tastiness lies in Tateyama's year-round mild climate and a special cultivation method for harvesting ripe fruit. Because the flesh itself is packed with flavor, you can fully enjoy the deliciousness of passion fruit.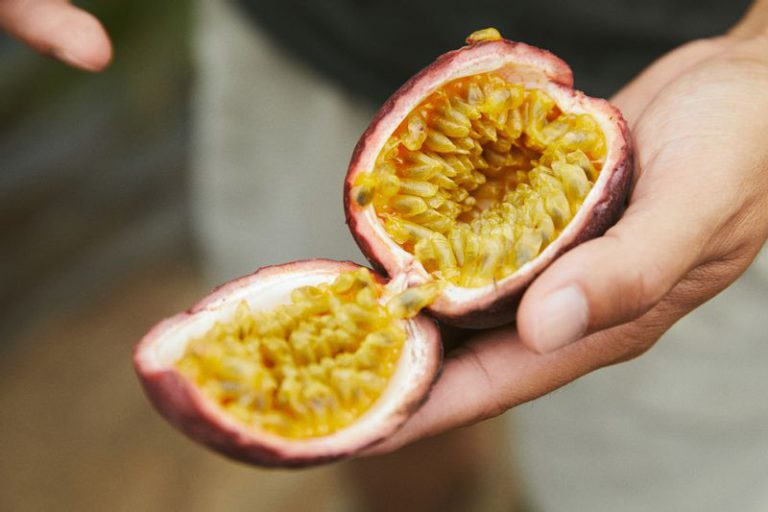 No additives. The farmer handcrafts according to a secret recipe.
The only ingredients are carefully selected unsalted butter made in Japan, eggs, sugar and passion fruit. It does not contain extras such as preservatives, and the farmer Hiroki Ryo handcrafts them one jar at a time. Each bottle contains the equivalent of a whole passion fruit.
Growing passion fruit with outstanding sweetness and rich aroma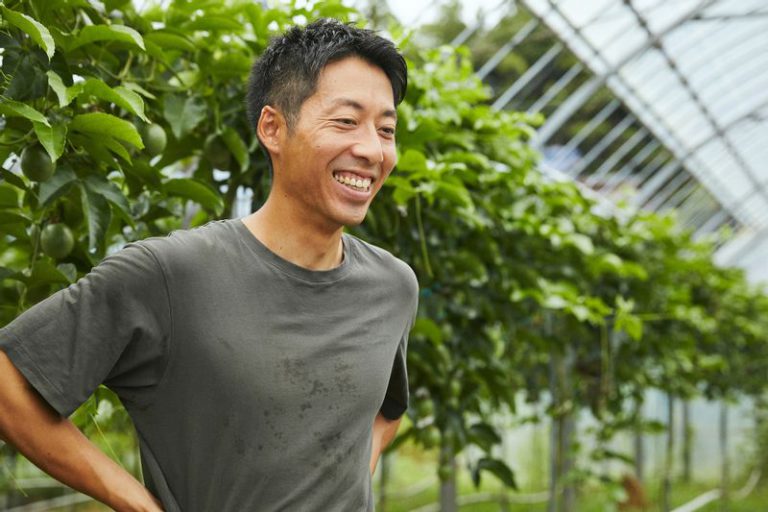 Tateyama, Chiba Prefecture, is surrounded by the sea and blessed with a temperate climate all year. Ryo, the young owner of Ryo's Farm, who grows passion fruit in this city, moved from his native Tokyo to Tateyama to farm, and at the same time, enjoy his favorite sport, surfing. After training at a mango farm in the city, he rented a carnation farm that had closed due to the owner's old age and opened Ryo's Farm in 2012.
"I thought it would be interesting to become a farmer and set a successful example to boost the local farming industry. I'd be happy if young people would see me and aspire to become farmers. Farming is stress-free and very enjoyable because you're dealing with nature," says Ryo.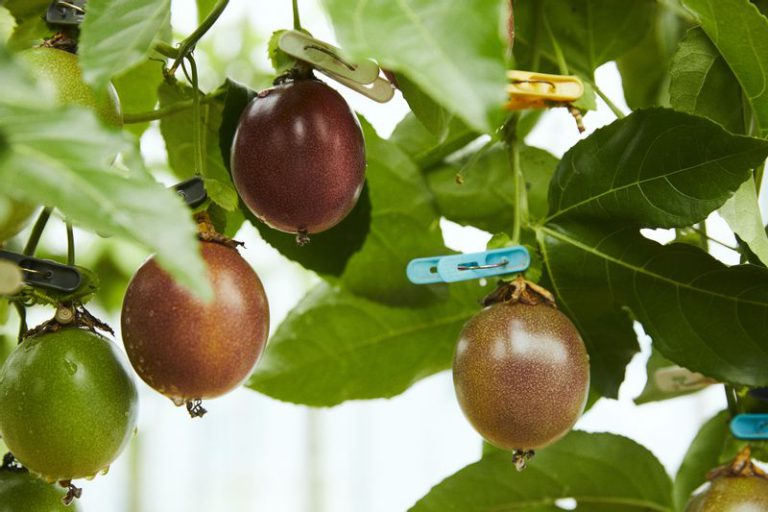 The cultivar he grows is the most popular one called Shigyoku. He does not use any chemical fertilizers but instead sprinkles fishmeal over his orchard. Passion fruit tends to have an acid taste, but Ryo's Farm uses clothespins to harvest sweet, ripe fruit. As the fruit ripens, it falls from the vine, and the impact causes the flesh to separate from the skin. Using clothespins to fix the fruit in place one by one prevents them from dropping. That way, the fruit can ripen while absorbing nutrients until the moment of harvest to grow sweet and reach its peak of perfection.
Fragrant passion fruit and butter are combined in Lilikoi Butter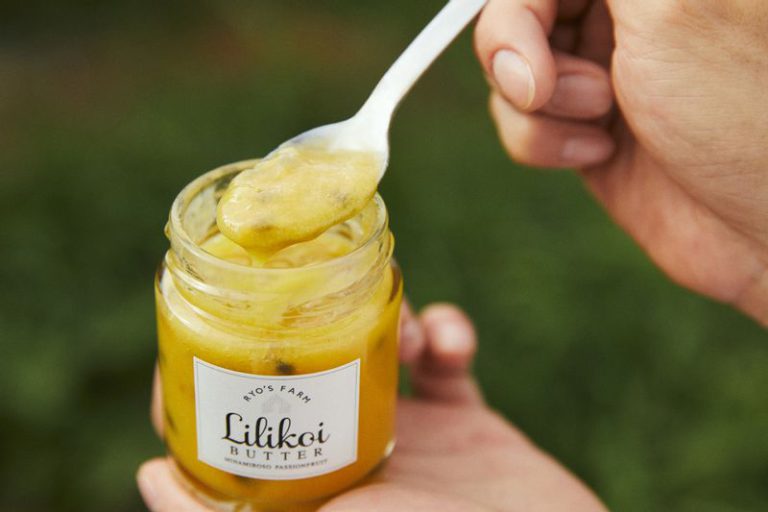 It was a customer at a farmer's market who encouraged Ryo to make lilikoi butter, saying, "I'm sure your passion fruit will make a delicious one." Lilikoi is Hawaiian for passion fruit, and lilikoi butter has gained popularity recently in Japan as a type of fruit butter.
Ryo recalls, "At first, I wanted to try my luck with fresh fruit only, but when I made a lilikoi butter, it turned out so tasty that I decided to commercialize it."
Ryo makes the lilikoi butter himself. He uses an original recipe, and one jar extravagantly contains the equivalent of one whole passion fruit. Unsalted Japanese butter heated in a bain-marie is combined with fruit pulp, sugar and eggs and stirred and cooked slowly for 30 to 40 minutes. Although it is simple, Ryo says it is quite tricky to make.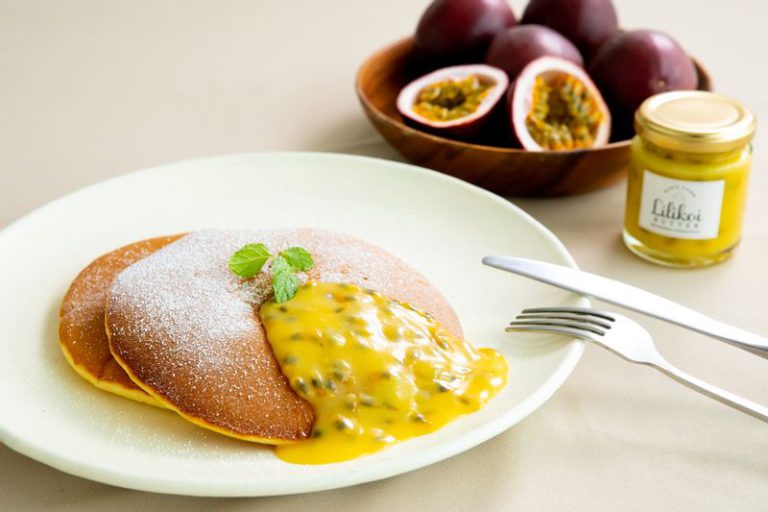 When we tried the lilikoi butter in a cute jar, we found the tropical flavor of passion fruit and the creamy butter to be a perfect marriage. It becomes even more flavorful with the added aroma of grains when you spread it on crispy toast. Besides toast, we recommend pouring a dollop on yogurt and pancakes.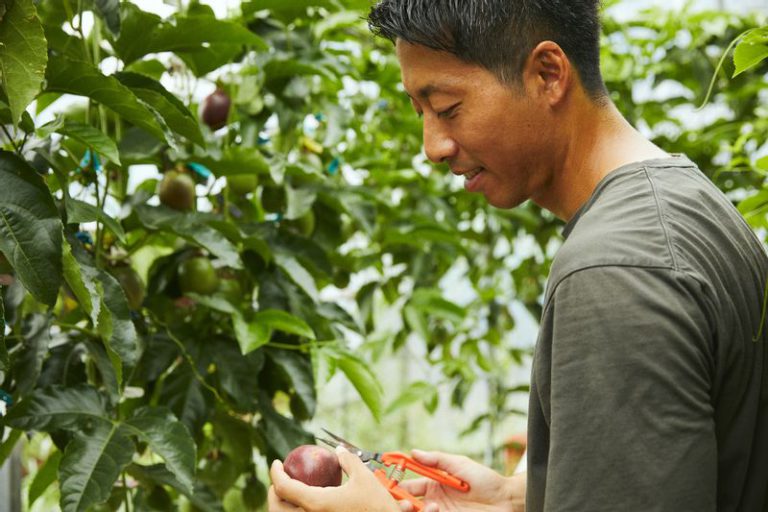 "Passion fruit is still unfamiliar to the Japanese, but I'd be happy if I could allow people to see how delicious it is," says Ryo with a refreshing smile. We hope you will feel the sun of Tateyama through Ryo's Farm's Lilikoi Butter, packed with all the yumminess of passion fruit.
 / 
Photographer
: KOJI TSUCHIYA / SHIOMI KITAURA