SHUN CURATORS (July 2019)
We Want Everyone to Experience the Spectacular Craftsmanship Still Alive and Well in Japan
David Croll, Founding Partner, The Kyoto Distillery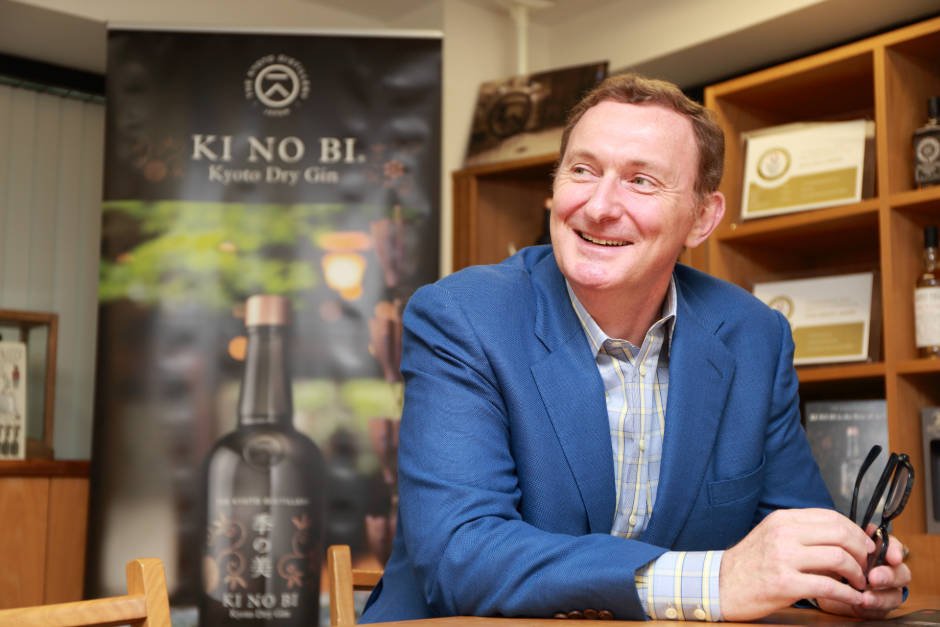 Craft Gin has been in the spotlight—these products focus on creating only a limited quantity with rich fragrances using multiple botanical ingredients, and directly reflect the flair of the people creating it. There has been a sudden spike in young gin aficionados, especially in Europe and North America. Many unrelated industries have started to enter gin manufacturing, and smaller distilleries have been popping up all over the world. More bars and cafes in Japan have also started to provide craft gin, and its popularity has gradually been gaining momentum. The driving force of Japan's gin popularity is KI NO BI Kyoto Dry Gin (KI NO BI). We talked to David Croll, an Englishman who founded The Kyoto Distillery, which manufactures KI NO BI, about the reasons for making gin in Kyoto and the lure of Japanese food culture.
Distilling gin rich in Kyoto philosophies
So, why did you decide to create craft gin in Japan?
I originally worked at a Japanese financial corporation, and was transferred to Japan. I met my partner Noriko (Noriko Kakuda Croll, the co-founder of The Kyoto Distillery) and managed a company that imported and exported whisky from Scotland and Japan around ten years ago. As the popularity of whiskey started to cool off, I found myself contemplating on what to do next. There was some talk about creating a whisky distillery, but I could not see the meaning in making a whiskey distillery when there were already more than 30 new distilleries in the making. It was at that time I noted that craft gin was on the rise overseas. I wondered why there was no craft gin in Japan, and thought about creating it ourselves. The Kyoto Distillery was founded in 2016, and the KI NO BI Kyoto Dry Gin was launched in October of the same year.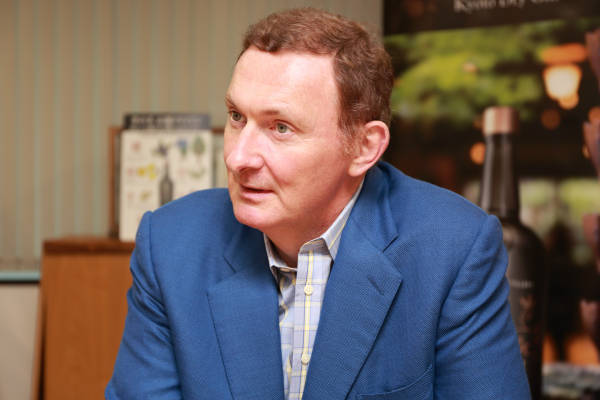 Why did you select Kyoto as the location?
Because I love Kyoto. First of all, the craftsmanship that lives on in Kyoto is spectacular. May it be kimonos, woodwork or traditional Japanese dishes, the philosophy of creating small quantities with great care is shared among all of them. We wanted to make our gin with this mindset. Another reason was the ingredients for the gin, which are fabulous—the Fushimi water, Uji tea and the abundant yuzu citrus at Ayabe up north—and there is also Japanese pepper too. Gin can be distilled anywhere, as long as there is water and the proper facilities. However, we wanted to create gin products that could only be found in Kyoto by applying Kyoto philosophies and raw ingredients.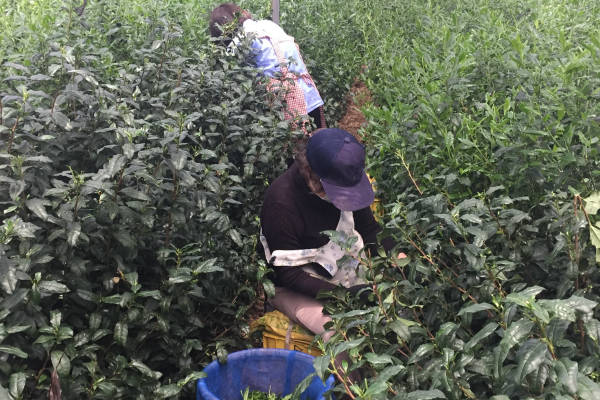 Everyone should experience the world-class, highly skilled Japanese bartenders
Tell us about your first visit to Japan. What did you think about the Japanese food culture?
I first came over to Japan in the beginning of the 1990s. There were no English signs or menus at that time, so I was clueless and Japan seemed like a big mystery to me. The natto (fermented soybeans) I had on my first day here had such a negative impact and was traumatic to me, I still cannot eat natto to this day. However, I liked almost all other Japanese dishes. I loved the sea urchin, fatty tuna and salmon roe Three-colored Rice Bowl I had in Hokkaido, and I still order this combination rice bowl whenever I go to a sushi restaurant.
What is the appeal of the Japanese food culture?
The first thing that comes to mind is its colorful variety. There are multiple ways to cook any ingredient, from meat and fish, to vegetables and tofu. Another wonderful aspect is the fact that fresh ingredients are used. Japanese restaurants are always changing their menus to provide ingredients that are in-season and at their peak. This is a wonderful tradition. So of course, the name of the gin KI NO BI means "beauty of seasons" and is derived from this Japanese mentality.
What are some differences in the alcoholic beverage culture between Japan and England, your home?
British people often just drink, but the Japanese tend to eat while drinking. I believe the Japanese drinking culture is centered on food. That is why our KI NO BI is focused on having a flavor that can be combined with various dishes. We also want to expand the craft gin culture along with restaurants. Still, I would like to emphasize the high quality of Japanese bartenders. The authentic bartenders in Japan are especially skilled in their trade. The way the Japanese make their alcoholic beverages is highly respected from people outside Japan as well. Even each ice block is created with great beauty and respect. The high quality of classic cocktails is especially surprising. As a matter of fact, some overseas bartenders come to Japan to train! Going to an authentic bar in Japan is one experience I would recommend to everyone visiting Japan.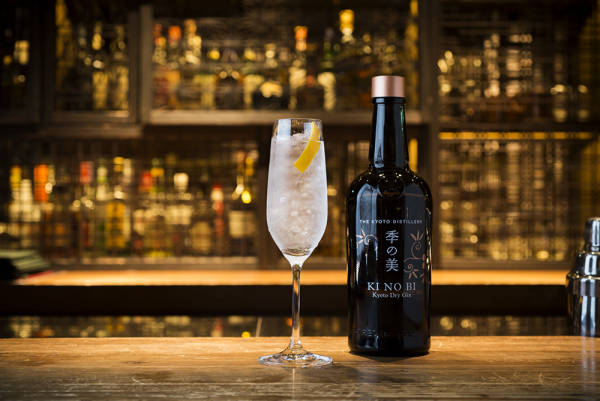 It is best to have food and alcoholic drinks where they are produced
What lies in store for KI NO BI in the future?
KI NO BI uses rice as its base spirit, giving it a subtle sweetness. The product is manufactured to go with Japanese dishes, so I would like to propose various pairings in which it can be enjoyed. I believe that it would be an amazing culinary experience if one could experience the eleven botanical elements used in KI NO BI, such as yuzu citrus, ginger, Japanese pepper, shiso leaves and refined green tea, in dishes along with the gin. Pairing wine and Japanese saké with foods is also becoming popular, so I would also like to do this with gin. Another wish of mine is to have more people enjoy drinking the gin at its home base in Kyoto. I want to continue creating products that sharp-eyed Kyoto citizens will accept as good quality. I want these products to be loved in Kyoto and known across the world. That is the ideal gin for me.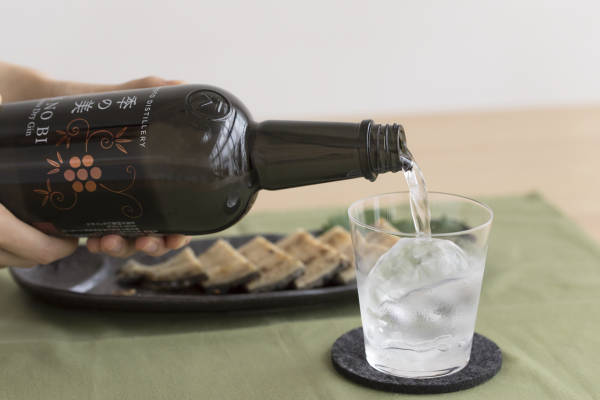 Do you have any advice for overseas visitors to Japan?
This goes for food, drinks and everything else, but I would like to have people go and taste everything where it is manufactured. The emotions and taste are the best at the source. This goes for KI NO BI as well, I highly recommend trying the gin in Kyoto. Going to a Kyoto hotel or bar and enjoying the gin with delicious Kyoto dishes should be very nice.
 / 
Photographer
: SATOSHI TACHIBANA / CHIE MARUYAMA