THE ROOTS OF SHUN (September 2021)
Passion Fruit as Bright as the Sun Grown in Tateyama
Tateyama City, Chiba Prefecture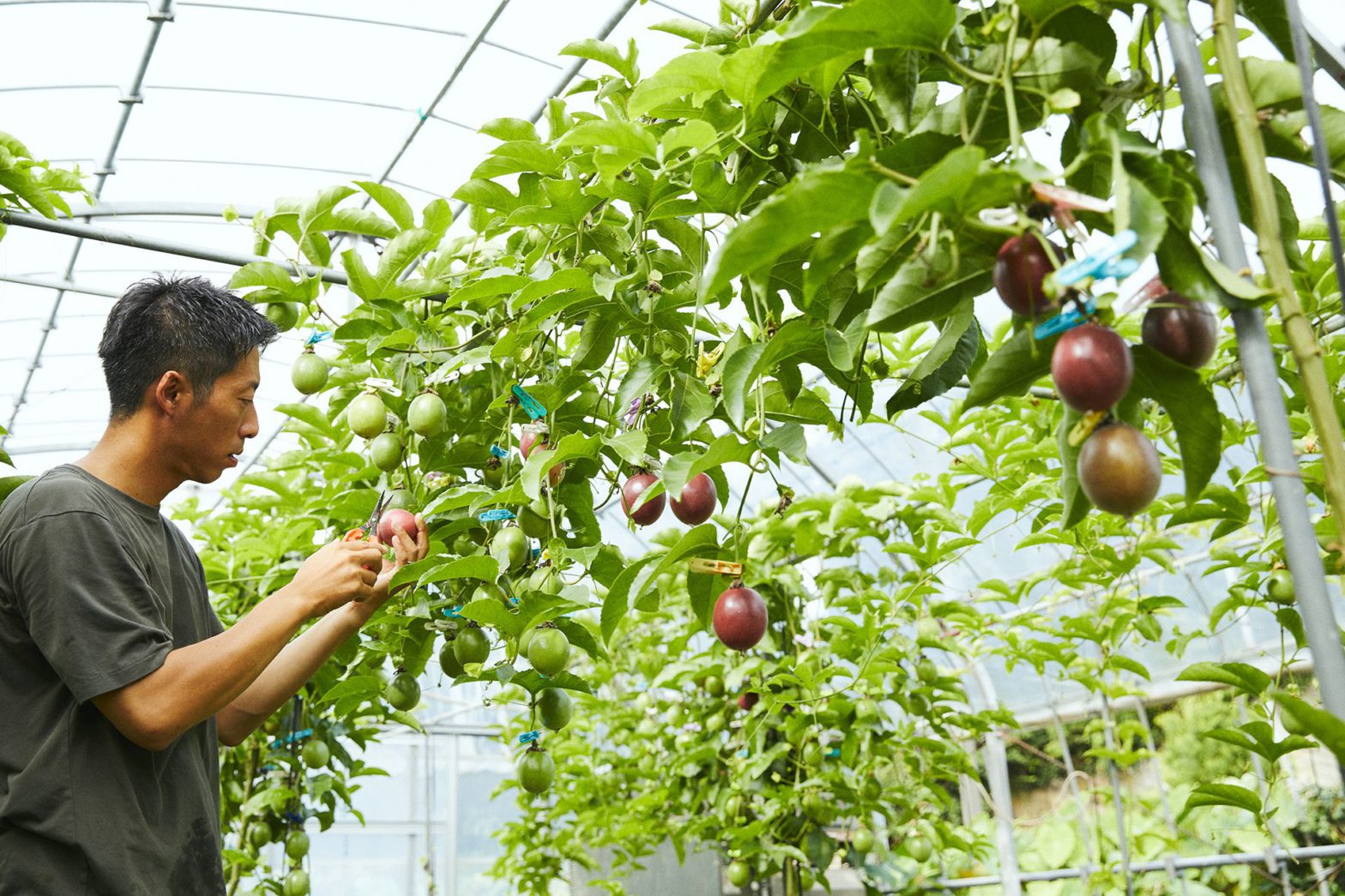 (Month information was collected: August 2021)
Passion fruit, reaching peak season in the summer in Japan, is a tropical fruit with an irresistible lush aroma and sweet, tangy flavor. Okinawa and Kagoshima Prefectures are famous growing regions in Japan, but RYO'S FARM in Tateyama, Chiba Prefecture, also grows passion fruit by capitalizing on the area's temperate climate. We visited the farm at the height of the harvest season in search of some passion fruit as bright as the sun.
Passion fruit grown in Tateyama, Boso Peninsula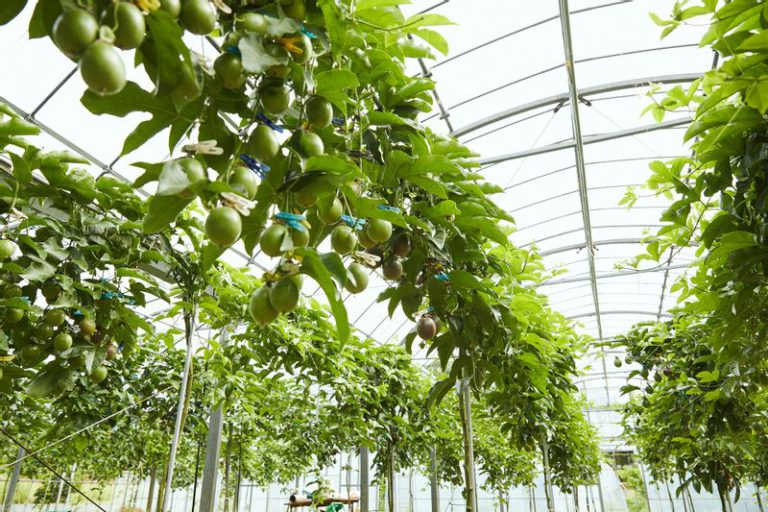 Tateyama is located on the Boso Peninsula at the southern tip of Chiba Prefecture that stretches from north to south. It has a mild climate throughout the year, and the area has a thriving fishing industry because of the abundance of fish and is rich in agriculture, such as vegetables, fruits and flowers.
Passion fruit is a subtropical fruit native to South America, but it has been grown in Japan since the Meiji period (1868-1912), primarily in warm regions such as Okinawa and Kagoshima Prefectures and the Ogasawara Islands. It is a climbing plant, sometimes called Tokeiso (tokei means clock in Japanese), due to the cross-shaped section of the flower.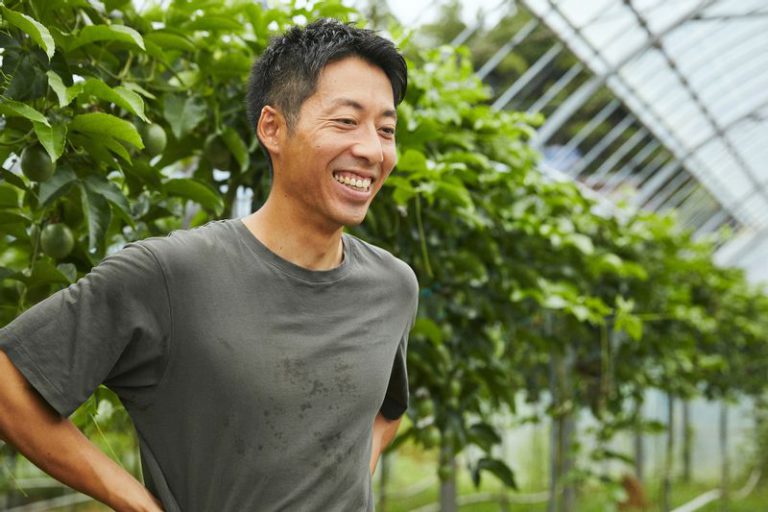 RYO'S FARM grows such passion fruit in Tateyama. Hiroki Ryo, the farm's owner, says that the seagirt Tateyama is suitable for growing passion fruit as the temperature does not drop too much, even in the winter.
"Even in Chiba Prefecture, the area south of Mount nokogiri is blessed with a temperate climate throughout the year. The temperature settles to a moderate level in the fall, allowing flowers to bloom again. One of the noteworthy characteristics here is that the flowers can be harvested twice a year, in the summer and winter, if they are grown in greenhouses," says Ryo.
The farm was bustling with the summer harvest at the time of the interview. We immediately had Ryo show us around the farm.
The secret of the fruit's sweetness lies in clothespins. This is passion fruit-making, the RYO'S FARM way.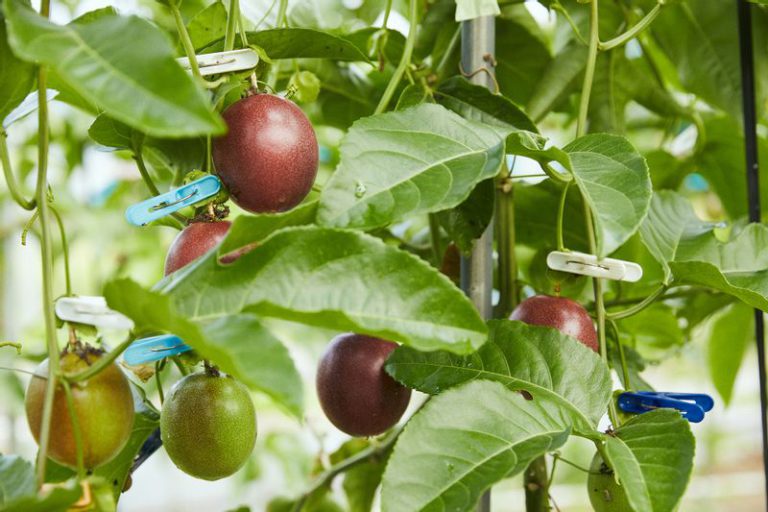 We came face-to-face with glossy, deep purple passion fruit as soon as we entered the greenhouse. This passion fruit is a popular variety called "Shigyoku" grown using fishmeal and fertilizer, but no chemical fertilizers. RYO'S FARM has two harvests a year, in the summer from August to October and in the winter from December to March, and harvests about 20,000 fruits in a season. Since the temperature inside the greenhouse can exceed 40 degrees Celsius in the summer, Ryo says, "I try to take a break when half my t-shirt is soaked in sweat."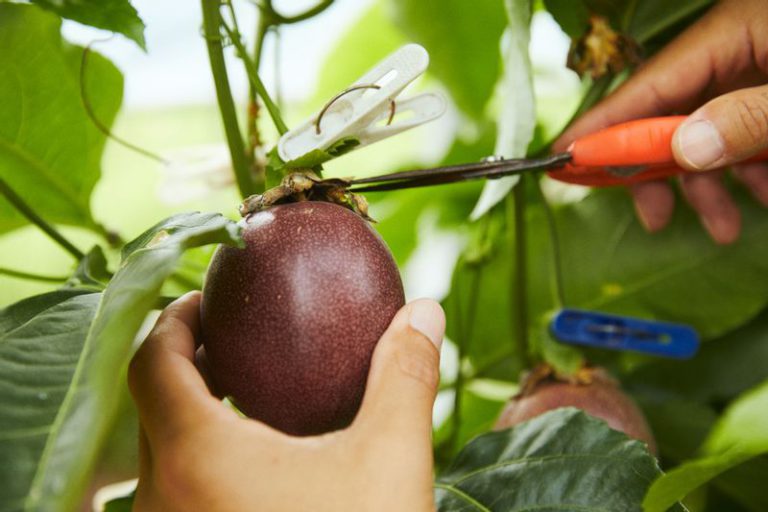 Passion fruit gives an impression of having a sharp flavor, but RYO'S FARM has a secret weapon for growing sweet, ripe fruit: clothespins. Typically, passion fruit falls from the vine when it colors and is picked after it ripens on the ground. But that way, the skin peels off from the impact of the fall, preventing sufficient nutrients from developing in the fruit and increasing its acidity. As such, Ryo identifies the fruit on the cusp of dropping to fix it in place with a clothespin. Preventing the fruit from falling allows the flesh inside to adhere to the skin; as a result, the fruit absorbs nutrients and becomes a lusciously ripe fruit.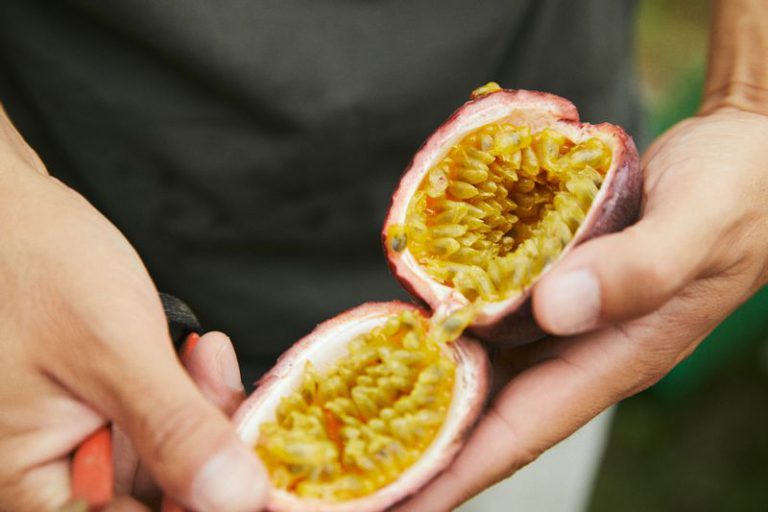 When we had a passion fruit cut in half to try, the tropical aroma wafted softly, and we found it packed with a fruit gleaming like sunlight. When you scoop it with a spoon and eat it, you are immediately transported to the tropics.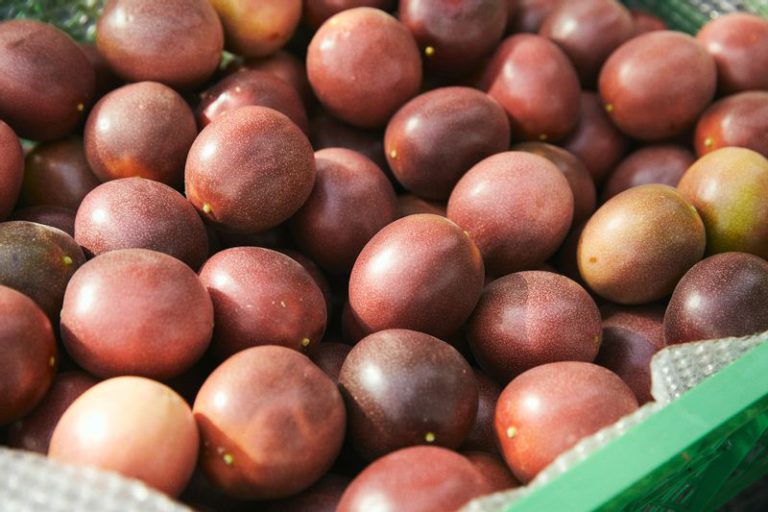 Ryo decided to become a farmer in Tateyama because of his desire to boost agriculture and practice his beloved sport, surfing. While involved in an agricultural promotion project in Tateyama as a community revitalization volunteer, he decided to become a farmer there, saying, "I can promote agriculture more if I become a farmer instead of assisting." After completing training at a mango farm, he opened RYO'S FARM in 2012. Ryo says that his life as a farmer in Tateyama is a very happy one.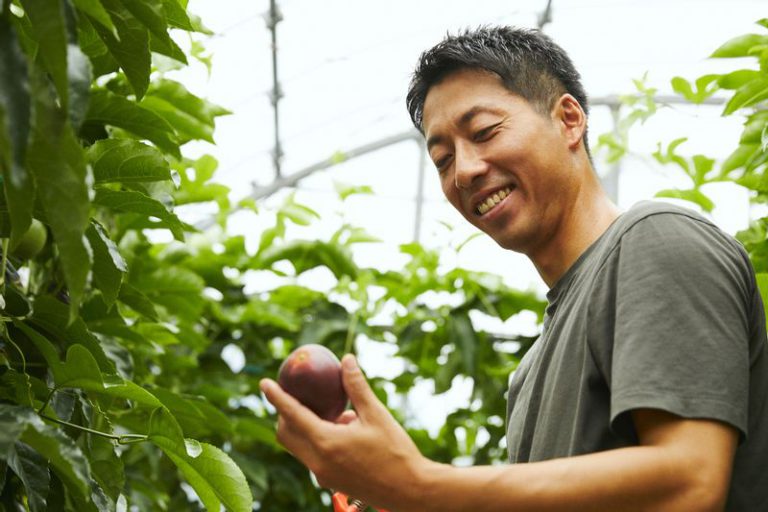 "Farming is great fun. There are challenges, but I can't complain as I'm dealing with nature, and there's no stress. I'd be flattered if I could serve as a winning example of a farmer for young people who aspire to become farmers," says Ryo.
How to enjoy peak-season passion fruit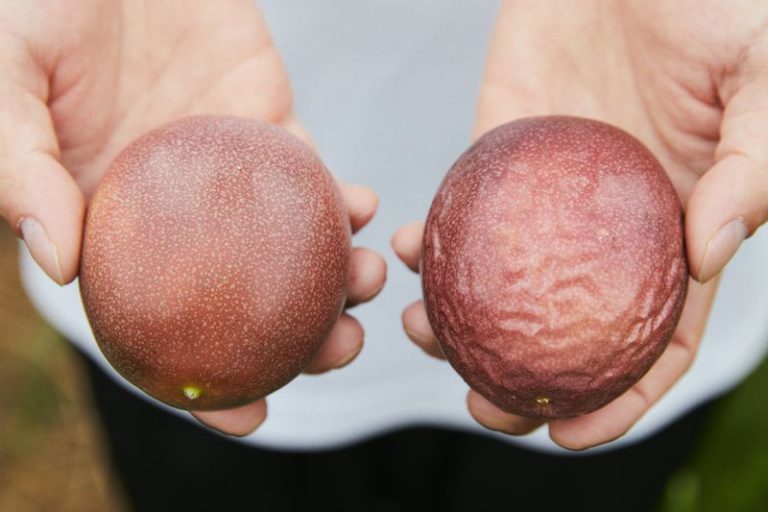 Although passion fruit looks round, it is triangular like a rugby ball. Glossy skin and deep purple color are marks of quality. The best time to eat passion fruit is about a week after picking. Slightly wrinkled skin is a sign of ripe fruit, but RYO'S FARM's passion fruit is special because it tastes sweet even when freshly picked.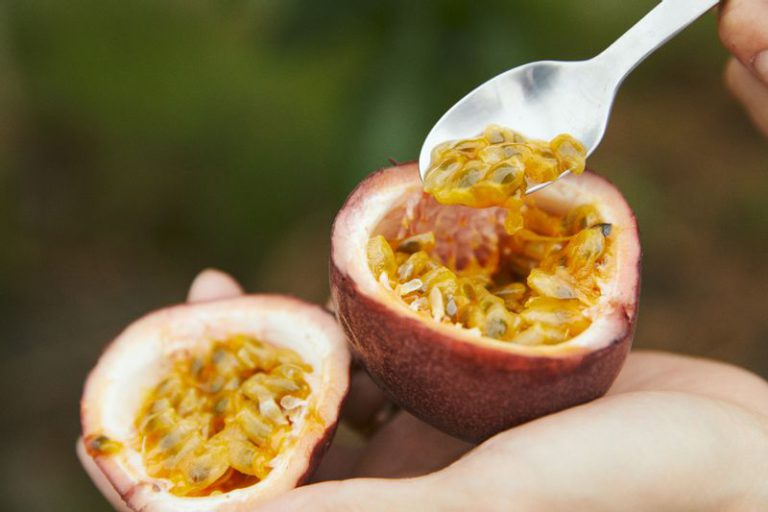 Raw passion fruit is best eaten by splitting the fruit in half and scooping the flesh out with a spoon. It is also delectable in yogurt and drizzled over vanilla ice cream. Even a cheap convenience store vanilla ice cream will transform into a restaurant-worthy dessert as soon as you dress it in passion fruit, so give it a try.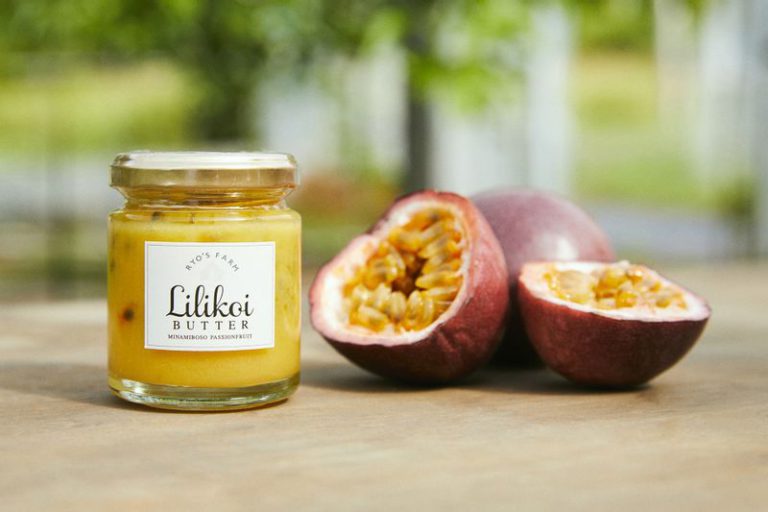 RYO'S FARM also handcrafts Lilikoi Butter, a homemade curd made with passion fruit. Although it is a simple preserve made by cooking passion fruit, butter, sugar and eggs, the fruit's aroma and the butter's flavor pair exquisitely. It has become a popular item at the Aoyama Farmers Market in Tokyo and by mail order as it tastes superb on toast and pancakes.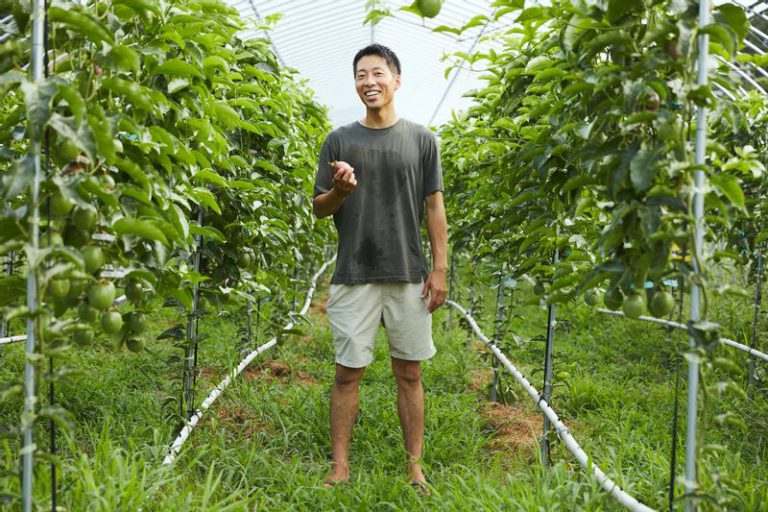 "Passion fruit is exceptionally delicious in the summer since it's a tropical fruit, after all. Its aroma is rich, and the balance between sweet and sour is also excellent," says Ryo.
We hope you will try the sunny passion fruit born in the tropics and raised in Tateyama.
Tateyama's passion fruit
Source:Hiroki Ryo, RYO'S FARM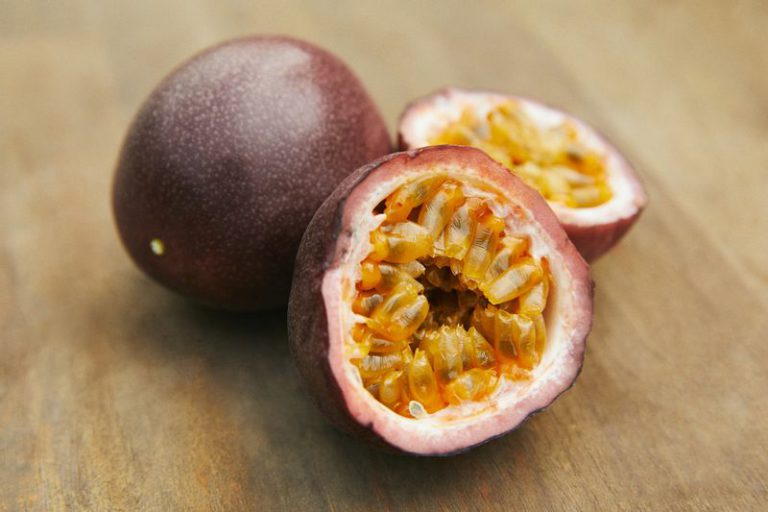 Peak Season
Twice a year: From August to October in the summer and from December to March in the winter.
Tips
Find ones with glossy skin and deep purple color. The fruit is ripe when the skin starts to wrinkle about a week after it is harvested.

How to enjoy them
It is best eaten raw. It is also delicious in yogurt and drizzled on vanilla ice cream.
 / 
Photographer
: KOJI TSUCHIYA