THE ROOTS OF SHUN (February 2023)
For Onna's Fishermen. The Birth of Okinawa's Umibudo
Onna, Okinawa Prefecture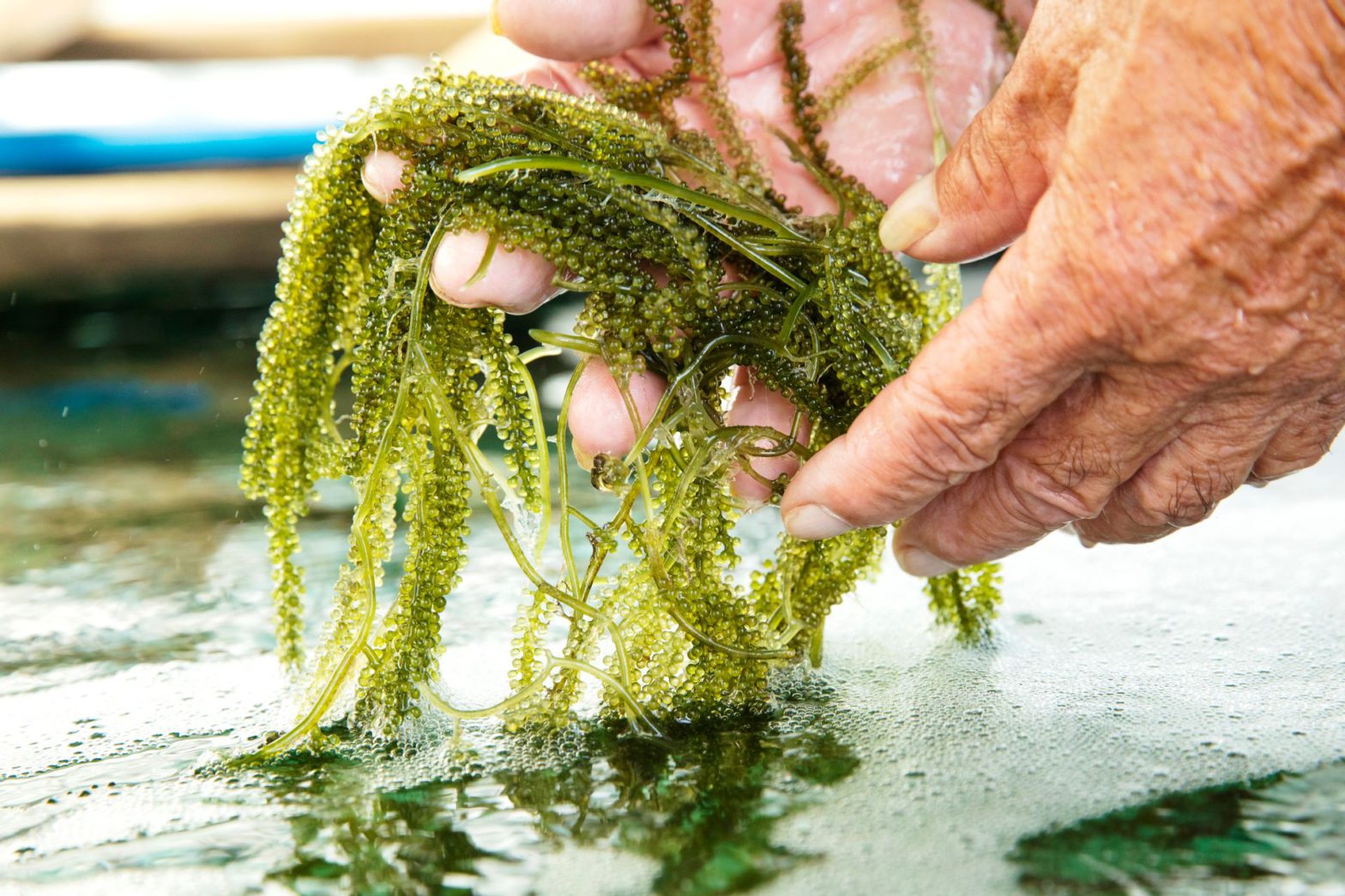 (Month information was collected: November 2022)
Umibudo (sea grapes) are an Okinawan specialty. Otherwise known as green caviar, the seaweed resembles grapes and, as the name suggests, has a distinctive texture and an irresistible, refreshing sea aroma.

Munekazu Mekaru of the Onnason Fisheries Cooperative established its land-based farming technique over 30 years ago. He is the driving force in developing umibudo into an enduring local specialty. He remains a top producer and also mentors other producers.
How are umibudo grown? We visited Mekaru to see an umibudo farm in Onna.
Land-based aquaculture method established over six years.
The aquafarm lies near Manzamo, one of Okinawa's most scenic spots. Looking into a large pool, we could see well-grown umibudo swaying and floating happily in the seawater.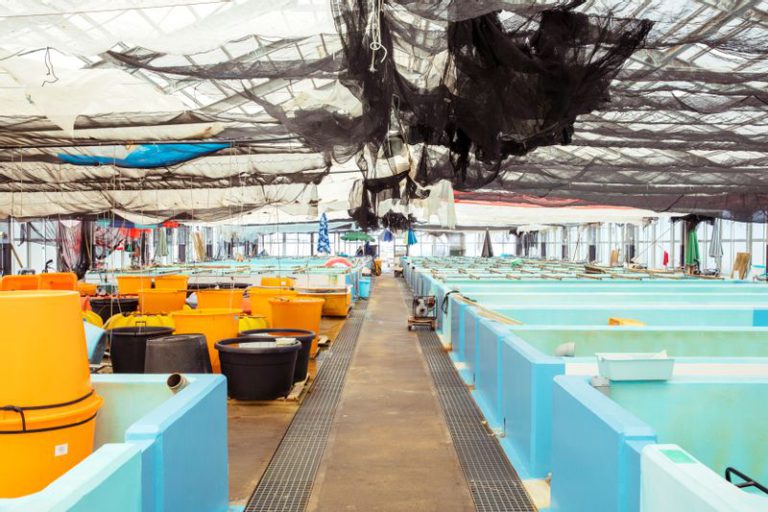 Although umibudo boast Okinawa's third largest output after mozuku and tiger prawns as an aquaculture product, they are not indigenous to the main island of Okinawa and only grew wild in a few bays on Miyako Island. In 1989, Mekaru encountered umibudo at the Fisheries Test Station in Itoman (now the Okinawa Prefectural Fisheries Research and Extension Center) and started studying aquaculture techniques. He was inspired by the desire to help aging local fishermen.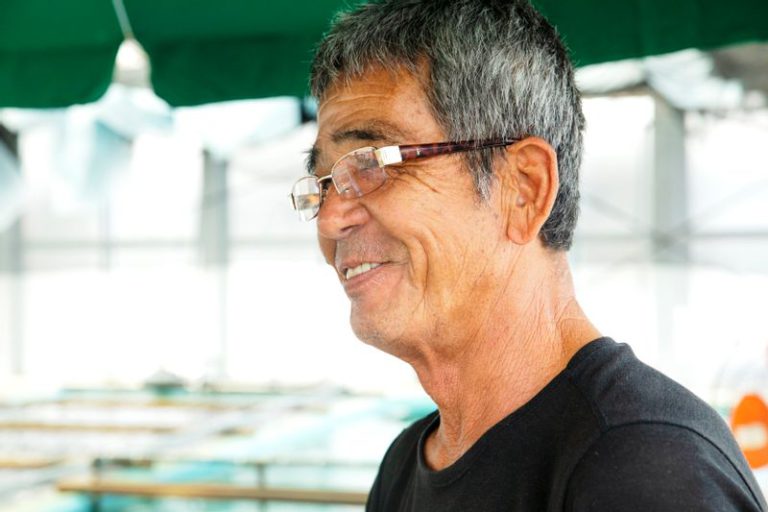 Mekaru recalls, "I was in my early thirties then, and I knew I had to create work that my senior fishermen could do. It's tough to go fishing when you're over 60. I also wanted to create something new and thought umibudo might be interesting."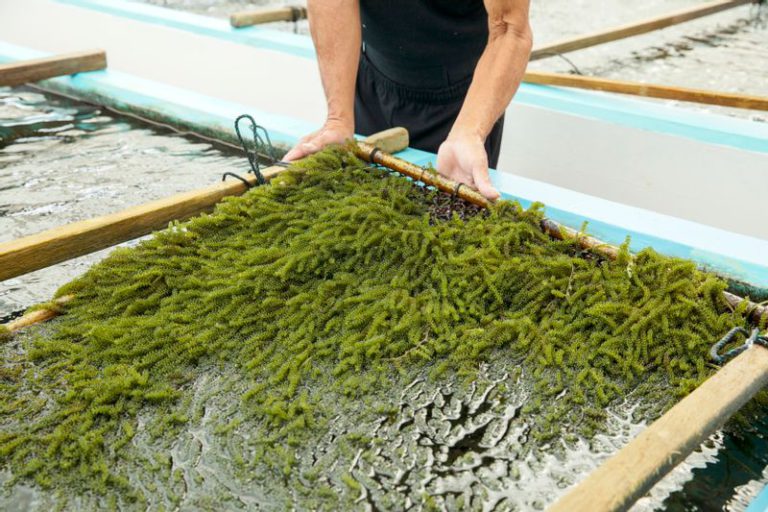 Mekaru's first three years were a series of failures. He first tried attaching the mother algae to rocks, but the quality varied because the umibudo did not grow uniformly, and it took a full day to harvest. In the fourth year, he adapted the mozuku farming method, sandwiching the flat mother algae between two sheet nettings, which worked well. He pumped seawater from 18 meters deep into the pool to create an environment similar to the ocean. He wondered what kind of nutrients he should feed them and how much sunlight they needed. Mekaru immersed himself in research for six years and finally established a land-based farming method for umibudo.
"I learned that the balance of salinity, water temperature, sun, and nutrients is very important for growing umibudo. We can't follow a manual every year because the environment is constantly changing with typhoons and changes in daylight hours and temperatures. But I guess what it needs most is love. I come to the farm every day and talk to umibudo, saying, 'It was hot today, but are you okay?' or 'You've done a great job with the flower buds!"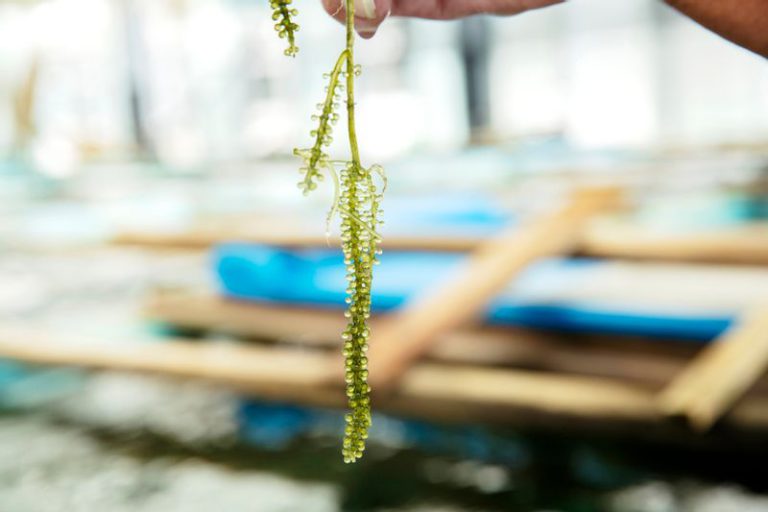 Umibudo takes about 30 days in summer and 50–60 days in winter; when it is about 8 cm long, it is ready for harvest. After each strand is hand-picked, they are cured for three days in small tubs with running seawater. Doing so allows the torn parts to heal naturally and keeps them fresher for longer. Residual moisture can damage them, so they are thoroughly wrung in a centrifuge before shipment. "Umibudo are very delicate, just like me," laughs Mekaru.
Mekaru's award-winning umibudo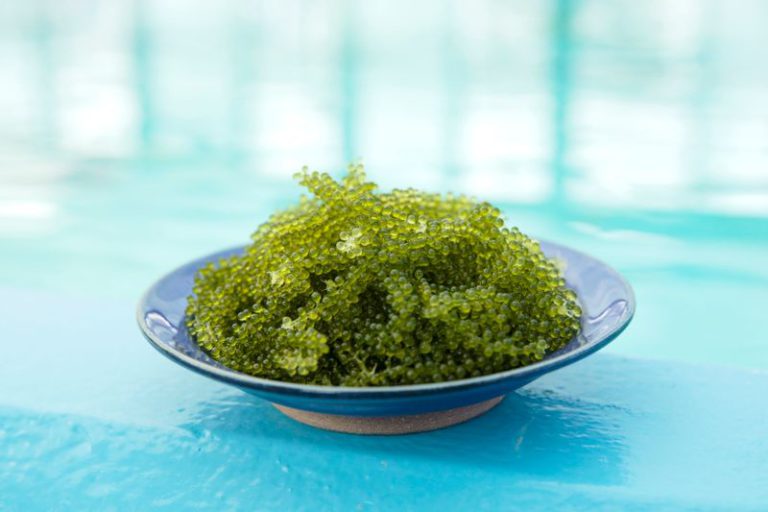 "Good umibudo is translucent and vibrant green like matcha, and the berries are firm and sweet," says Mekaru. He won the Emperor's Cup at the 50th Agriculture, Forestry, and Fisheries Festival in recognition of his contributions to the region and the entire prefecture through his initiatives thus far. Mekaru also won Grand Prize at the 1st Okinawa Prefecture Umibudo Product Fair in 2017. With just the right amount of saltiness and a texture that pops in your mouth, it tastes better than any umibudo we have ever had.
What is also little known about umibudo is that it is stored at room temperature. Umibudo dislike the cold and are still alive when shipped, so it is weakened by the cold temperatures in the refrigerator. According to Mekaru, the standard way of eating it in sanbaizu (a Japanese sauce consisting of rice vinegar, sugar and soy sauce) is also not recommended.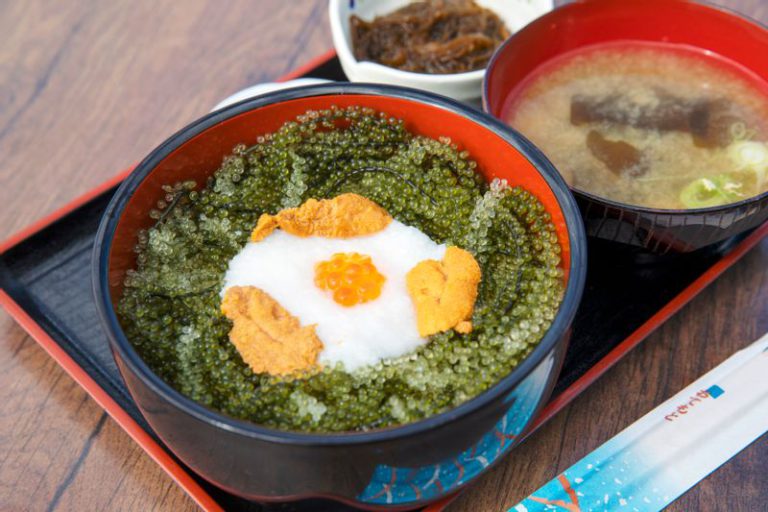 He explains, "Sanbaizu will wilt umbido, so I recommend using oil-free dressings, if possible. We toss it into salads or use it as a filling in hand-rolled sushi. Okinawa also has a specialty called "umibudo donburi," so I hope everyone will give it a try."
Mekaru now mentors new growers while cultivating his own umibudo. Although he is a legend who established an enduring Okinawan specialty, he is very modest, and his every word reflects his desire to energize the local fisheries industry.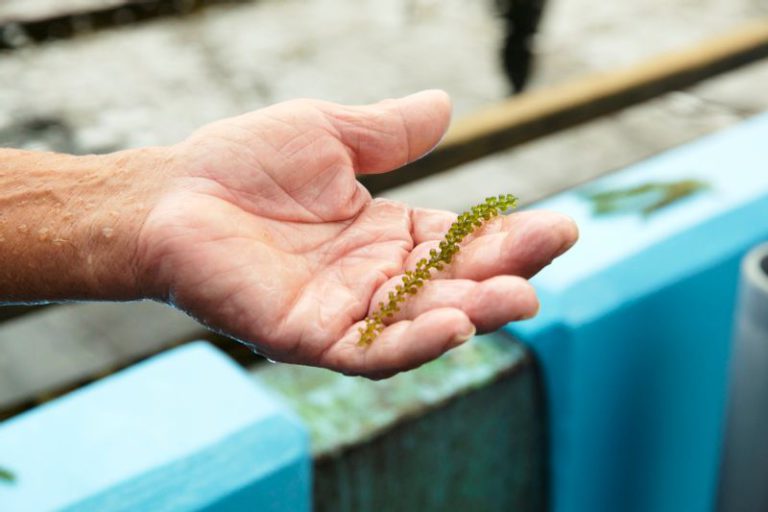 "My son's working with university professors to improve the feeding methods and formulae. I've been doing this for over 30 years, but I'm still a rookie. I'd be delighted if the Okinawan fishermen involved in umibudo could become a little richer. I want to improve Onna's umibudo brand and communicate to those venturing into aquaculture that if you make a good product, it'll be accepted anywhere," says Mekaru.
 / 
Photographer
: MAKOTO TANAKA