OKURIMONO (April 2023)
Passion Fruits Tea Infused with the Bounty of Onna
Onna no Eki's MEGUMI Passion Fruits Tea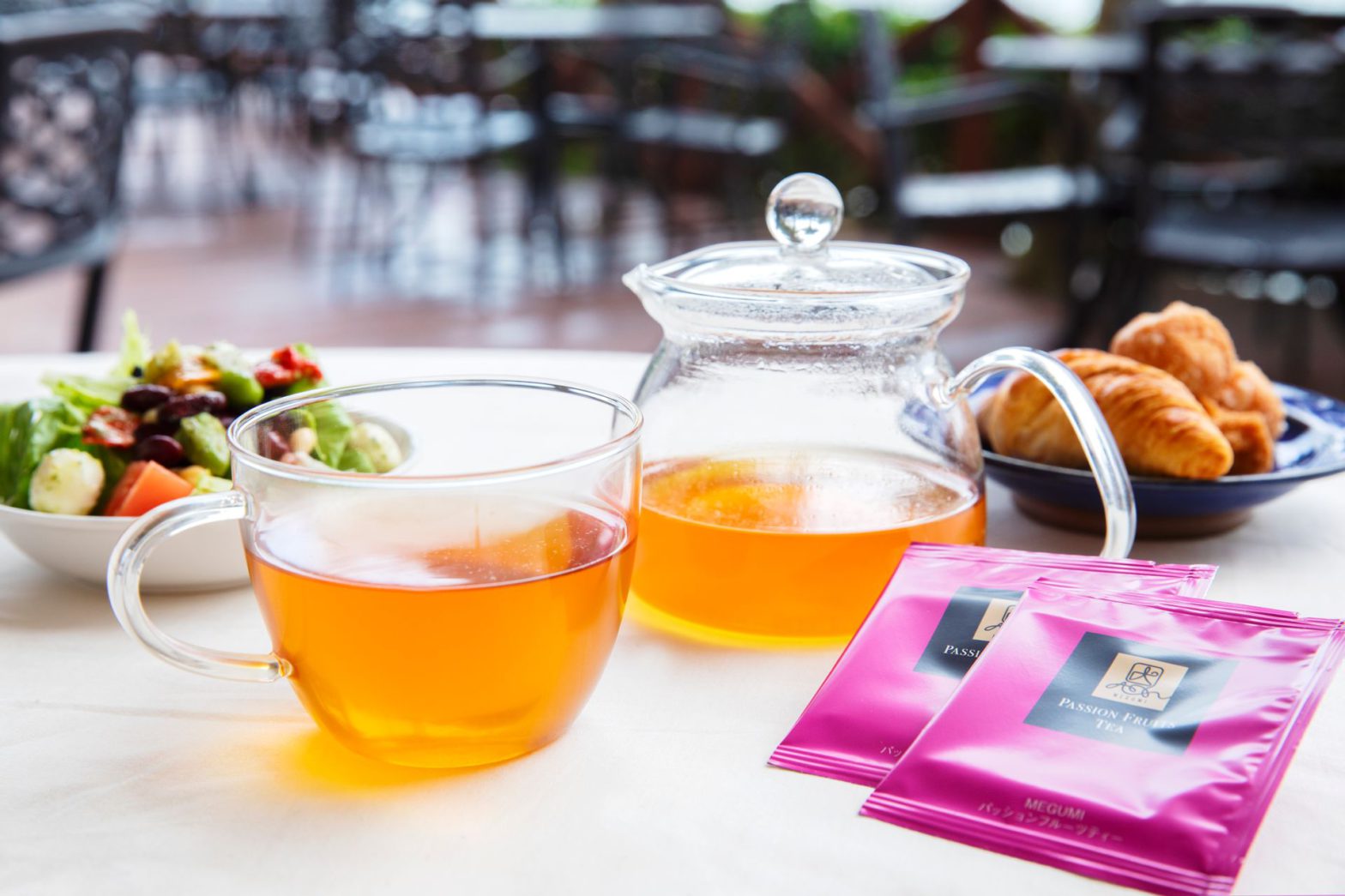 (Month information was collected: November 2022)
< PACKAGE >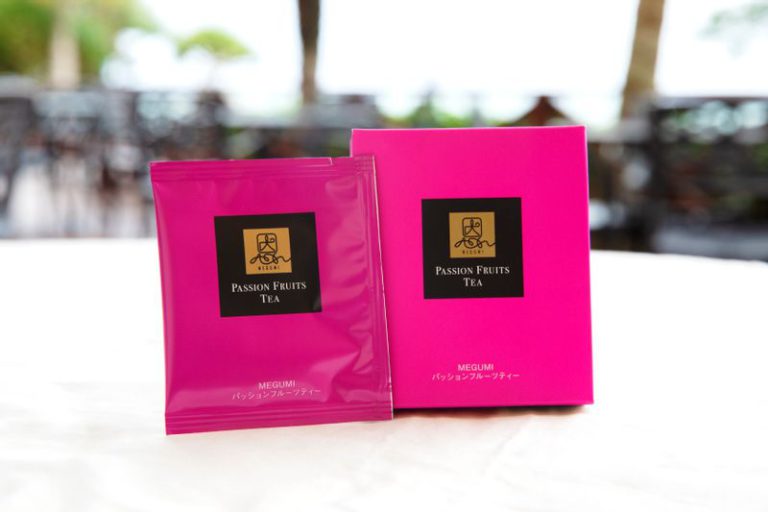 Onna, located is in the central part of Okinawa's main island, is a major passion fruits growing center. MEGUMI Passion Fruits Tea, which contains the mellow aroma of high-quality passion fruits rind, is an exceptional brew that instantly puts you in a tropical mood. This product, the brainchild of a passion fruits farmer in Onna and the Onna no Eki farmers' market, delivers a rich bounty of locally grown fruit.
Here are a few reasons why Onna no Eki's MEGUMI Passion Fruits Tea is worth trying.
Use of rinds of high-quality passion fruits from Onna
It contains the rinds of passion fruits of the highest quality grown in Okinawa Prefecture. Use of rinds, which would otherwise be discarded, makes the product friendly to both the environment and the producer.
Blended with tea leaves grown in Okinawa
It is an original blend created with an Okinawan tea manufacturer. Tea leaves produced in the prefecture are carefully selected to enhance the passion fruits' rich aroma.
The MEGUMI series, Onna no Eki's exclusive brand
This series is produced by Onna no Eki farmers' market, which is well acquainted with Onna's delicious delicacies. The brand offers only products made from carefully selected ingredients filled with producers' passion.
Passion fruits of the highest quality in the prefecture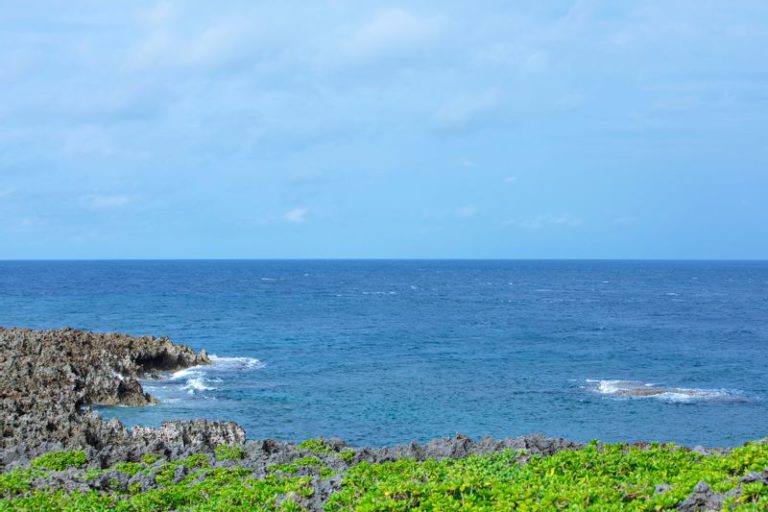 Onna, located in the central part of Okinawa's main island, is one of Japan's leading beach resorts. While the beautiful sea with its coral reefs is a famous tourism resource, most of the village's area is mountainous. Being surrounded by both the sea and mountains makes it rich in nature.
Unique agricultural products are often found in Okinawa's subtropical climate, where temperatures exceed 20 degrees Celsius even in winter. Onna in particular has been recognized as a center of production of passion fruits, which is the pride of the local community.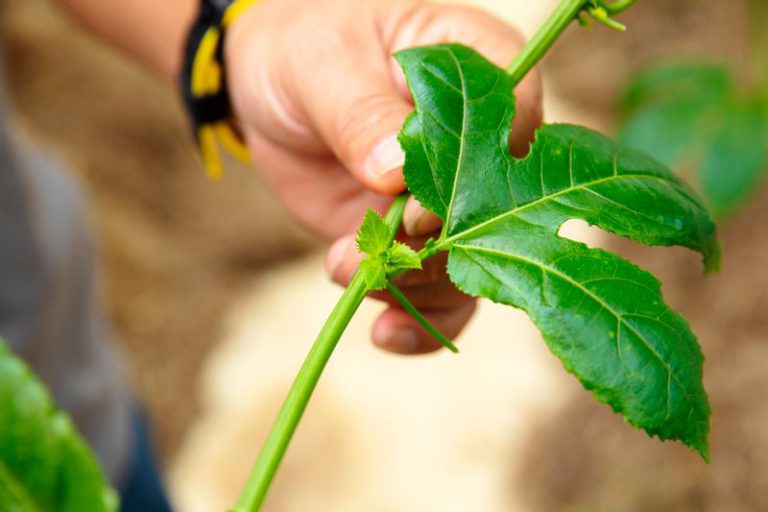 Atabii Farm is a passion fruits orchard atop a peaceful hill overlooking the ocean. Here, owner Yasushi Miyahira produces more than 20,000 passion fruits annually. The buds were beginning to form in November when we visited. "In about a week, the flowers will bloom, and we'll be busy pollinating," commented Miyahira.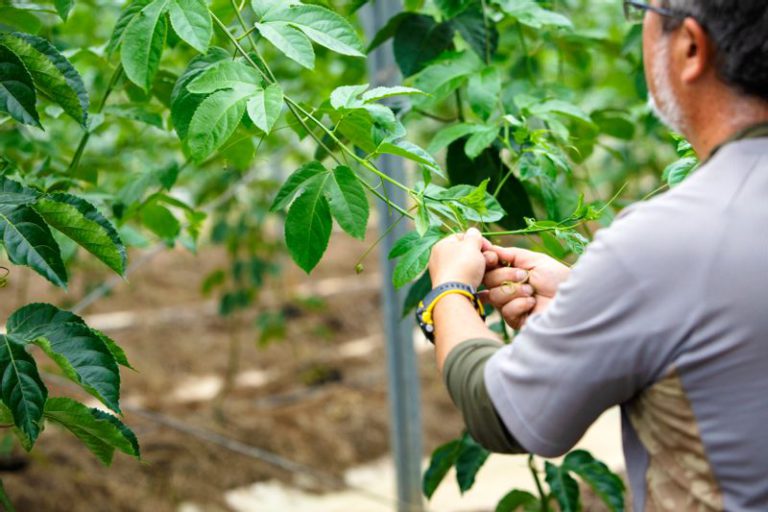 Harvesting takes place first from February to April and then again starting around June. They use an organic fertilizer made from a blend of rice bran, oil cake, and other ingredients. The plants are grown unhurriedly by making the most of Onna's sunshine and breeze. To ensure the fruits are unblemished, they are bagged individually once large enough to prevent them from falling off. Amazingly, almost all of the more than 10,000 passion fruits are bagged by a single person.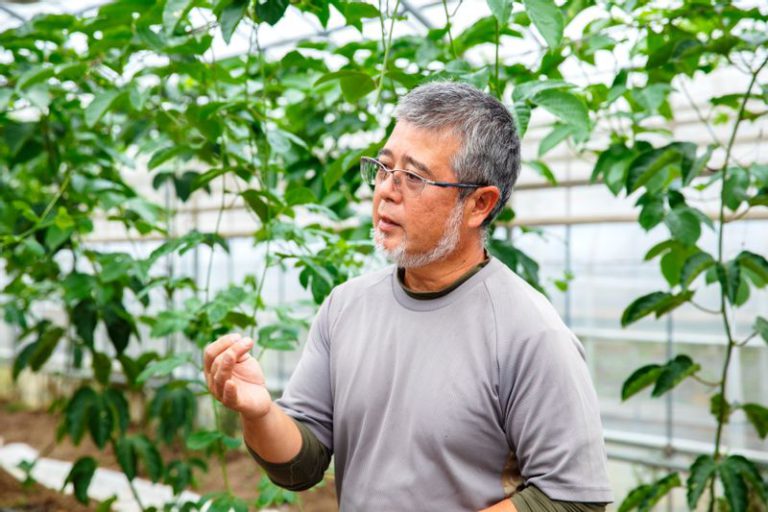 MEGUMI Passion Fruits Tea contains the rinds of Miyahira's passion fruits. Since no chemical fertilizers are used in cultivation, even the rind can be utilized deliciously. He explains, "The passion fruits rind has a powerful aroma, but it's the part that would normally be tossed out. I'm glad that it can be used for tea in this way. I hope as many people as possible can enjoy its fragrance."
Passion fruits tea connects the farmer with the people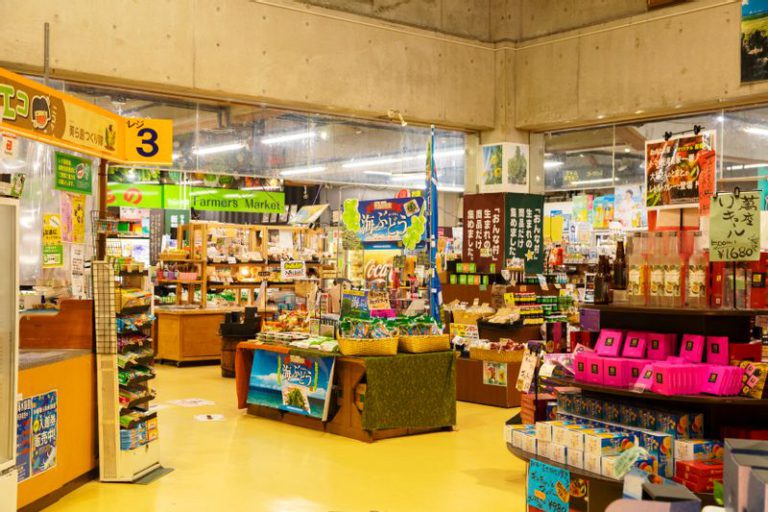 MEGUMI Passion Fruits Tea is produced by Onna no Eki, a farmers' market selling locally produced goods. The food court and store, which offers a wide selection of local specialties, are beloved by both tourists and locals. They are always buzzing with activity.
The exclusive brand MEGUMI, launched with the hope of connecting local producers and consumers by Onna no Eki, which has close ties with farmers, offers a wide range of products in addition to passion fruits tea, such as curries and dried fruits. In 2018, the company also set up a processing plant with state-of-the-art technology for hygiene control, enabling it to handle everything from product planning to production in a single location.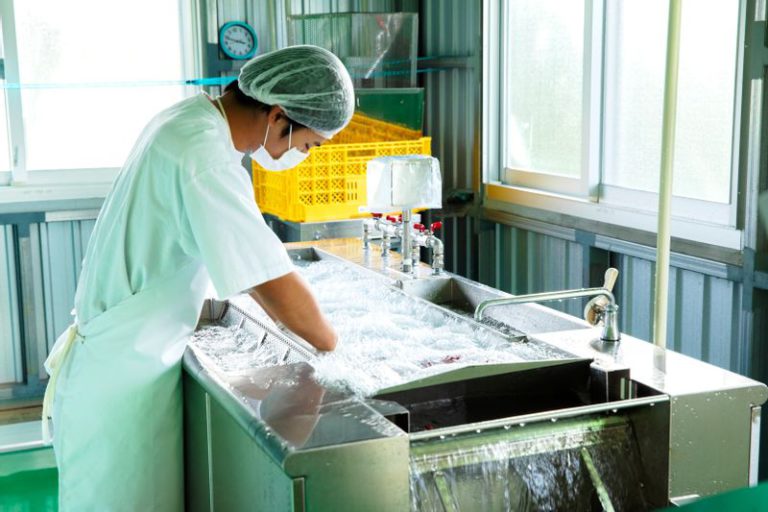 MEGUMI Passion Fruits Tea is made by thoroughly washing the fruit, separating the rind from the pulp, and then quickly freezing only the pulp at the processing plant. The dried rind is blended with Okinawan tea leaves for the final product. The tea leaves are Chinese and Assam, but the company plans to offer Assam tea exclusively in the future.
The idea of making tea from rinds, which would normally be thrown away, supports Onna's Sustainable Development Goal 12, "Produce Responsibly, Use Responsibly." The result is a sustainable, delicious, enjoyable, and environmentally friendly product.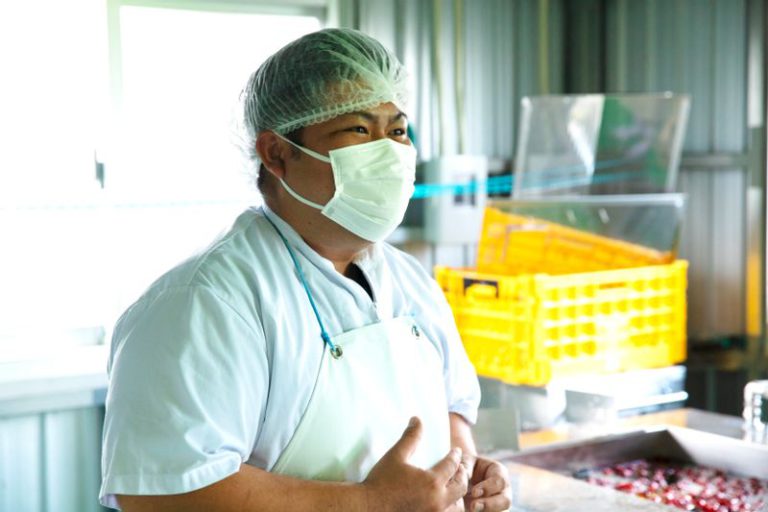 "Passion fruits in Onna is grown with almost no use of pesticides, so we dried it to see whether we could use it as a high-quality ingredient and found it to have a very pleasing aroma. Naturally, the fruit is delicious, but we hope customers will enjoy the entirety of Onna's passion fruits , even down to the rind," explained plant manager Shin Higa.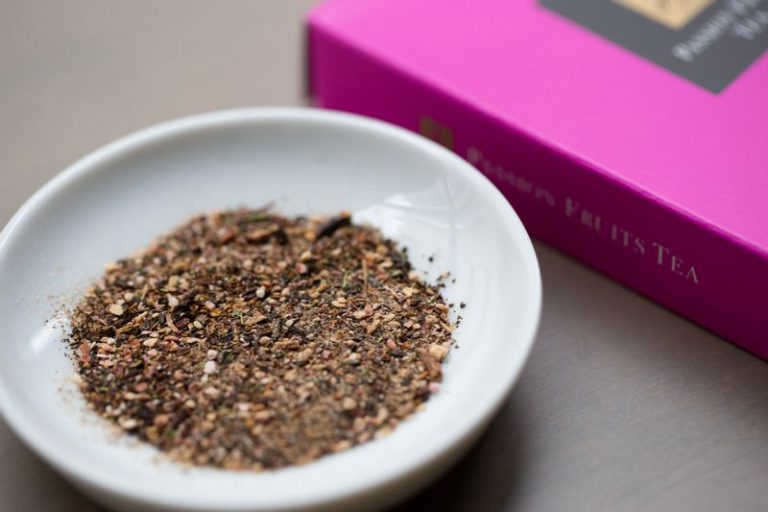 While it is also good to drink hot, Takeshi Ura, a staff member at Onna no Eki, recommends iced tea. It is moderately sweet, so when drinking it straight, the passion fruits' sweet, tart flavor softly fills the mouth. We hope you will enjoy the taste of the tropics with this passion fruits tea filled with the bounty of Onna.
 / 
Photographer
: MAKOTO TANAKA / SATOSHI TACHIBANA