THE ROOTS OF SHUN (August 2014)
From The Sea To The Table Fishermen Of Tateyama
Tateyama City, Chiba Prefecture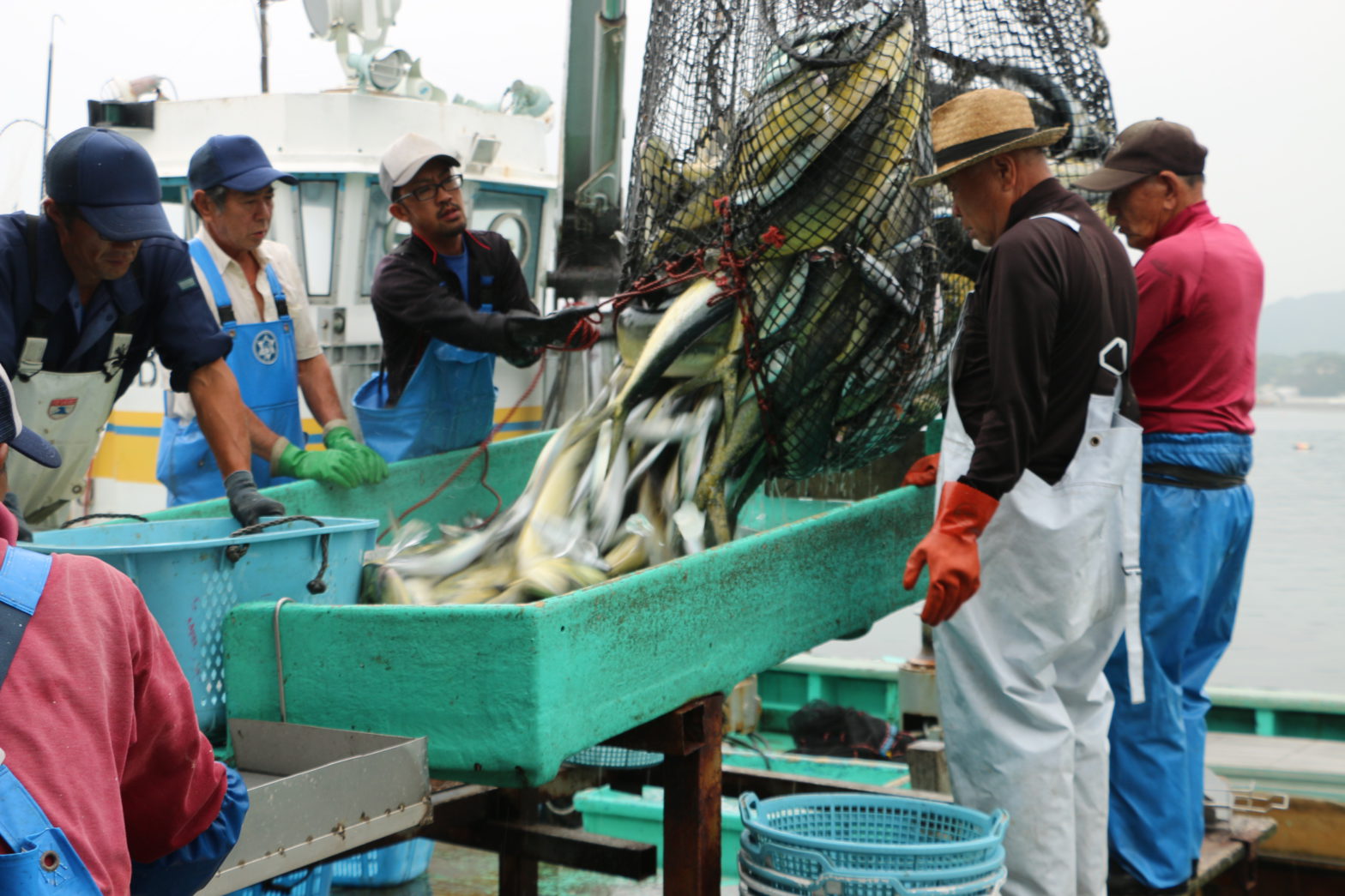 (Month information was collected: July 2014)
Maybe it is the mountains and the greenery, or maybe it is the beautiful subtropical vegetation that draw so much attention. There are a stunning number of port towns in Japan, but Tateyama seems to stand out.

Funakata, Tomisaki, Ito, Kawana, Sunosaki, Sakaenoura, Banda, there are dozens of fishing harbors.
There were more than a few times we lost track of which one we were headed to during our time there.
You can see the results of a flourishing fishing industry here by the incredible number of sushi restaurants and other establishments featuring fresh fish spread throughout Tateyama, not just in the downtown areas.
Deep water nutrients and currents that raise Tateyama's fish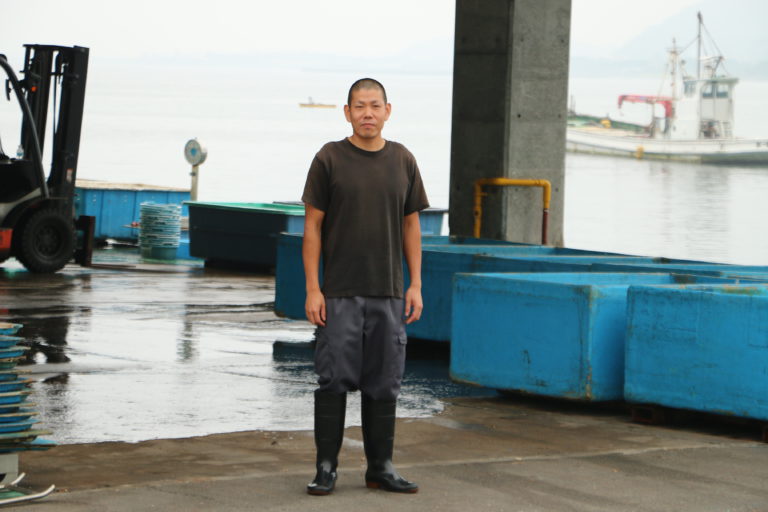 They fish year-round in Tateyama.
The local haul includes flatfish, sea bass, gurnard, horse mackerel, grunt, parrot bass, girella, striped beakfish, blackfish, red bigeye, auxis, sweetlip, and more.
"The larger fish come chasing the smaller fish that live here naturally. As a result, there is an enormous variety of fish to catch here", as Mr. Murai tells us. He is the manager of "Marui Sengyoten" a place in Minamiboso that directly sells fresh fish to the entire country.
The abundant types of fish Tateyama enjoys all year long are the product of the topography of the ocean floor and the current, it seems.
Apparently there are no microbes living on the ocean floor in the slow moving current, so there is a wealth of nutrients that build up over long periods of time, and an upwelling current near Tateyama brings those nutrients to the surface for consumption.
Also, as the current of the Japan Sea mixes with the southwest to northeast running Black Stream warm current near Tateyama, it pulls in tons plankton for the fish to eat and grow.
Almadrabas and other methods at the heart of Tateyama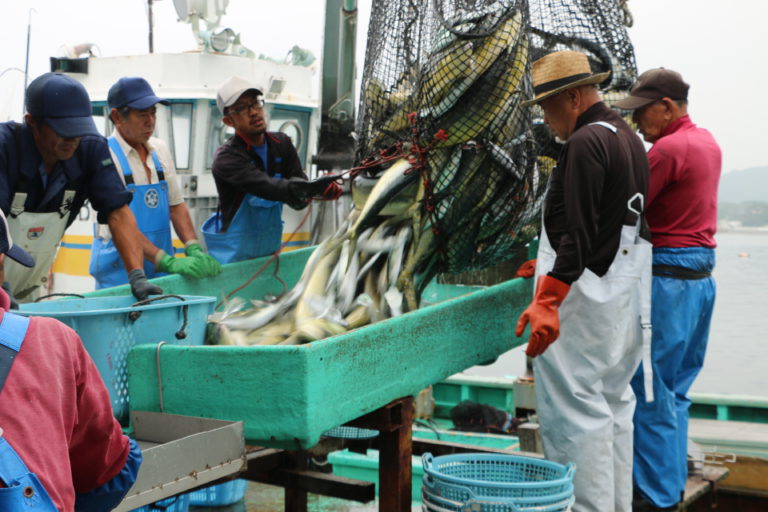 Of course, bringing so many fish to the harbors of Tateyama is as much thanks to natural conditions as it is the result of local innovation.
One of the unique methods of the fishing industry implemented in Tateyama is commonly called an "almadraba".
It is a method much like drag-net fishing that accounts for a majority of the fish caught off the coast.
There are a variety of almadraba. In this case, the nets reach from the coast out to the sea. Fish swim through the netting like following a path which leads to a saclike ending.
The opening narrows before the ending and traps them inside. It has the potential to pull in a much bigger haul of a wide variety of fish.
"There are 7 of these nets in Tateyama and they amount for most of the fish caught here. There are also fishing boats and nets in Tateyama too, all together making for an extremely large selection of fish." Mr. Murai explains the industry to us, respectful of the fishermen and prideful of the local catch.
Mr. Murai explains the industry to us, respectful of the fishermen and prideful of the local catch.
From a glass window on the ship, you can see the abalone, turban shells, and fish swimming below. Fisherman harvest these using an 8 meter long spear from the ship.
The techniques and innovation that ensure freshness, from the sea to the table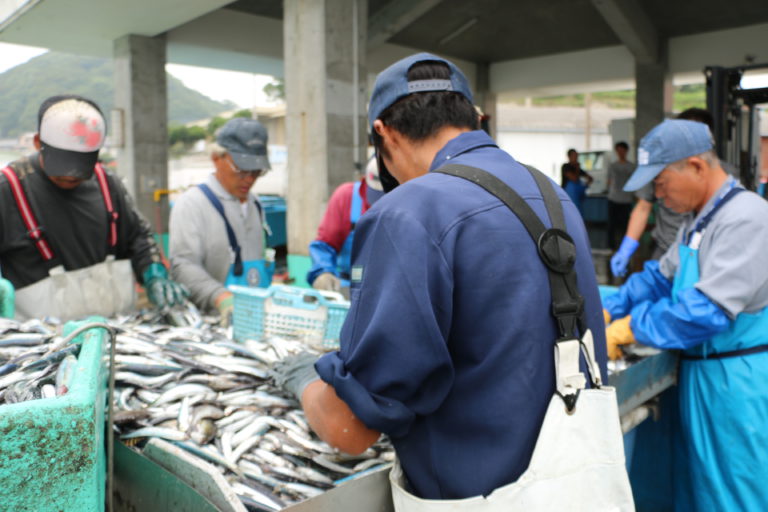 The freshness of the fish has given the Tateyama industry a lot of trust among service industries and retailers nationwide.
According to Mr. Murai, the fishermen and everyone involved in the sales and distribution of these fish put every effort into ensuring the quality of the catch that reaches so many people.
"The fish we catch are selected for quality the minute they are brought on board. They are separated into live, large and small, so the work that needs to be done on land can finish quicker."
The moment the fish reach land is the moment they start to lose freshness. Getting them where they need to go as quickly as possible is a challenge.
The fishermen at Tateyama are very skilled and take good care of their fish. The fish are in their best state right when they are pulled out of the sea. The fishermen never stop thinking of how they can deliver to the customer a product just as fresh.
Everyone involved in the process is very particular about the details.
"The amount of ice you need to use changes based on the fish. If you cool them too much their eyes go white. That may be proof the ice is working, but it doesn't necessarily mean you're protecting freshness. For example, alfonsin is one fish the customers don't want to see on the storefront with white eyes."
Many customers travel long distances from their homes in hopes of buying the fresh seasonal fish that are sold in Tateyama.
Mr. Murai, who was a former sushi chef in Tokyo, returned to his hometown of Tateyama and began work at a fish store. When he did, he said he was astounded at the differences in freshness between Tokyo and Tateyama.
Tateyama, the sushi town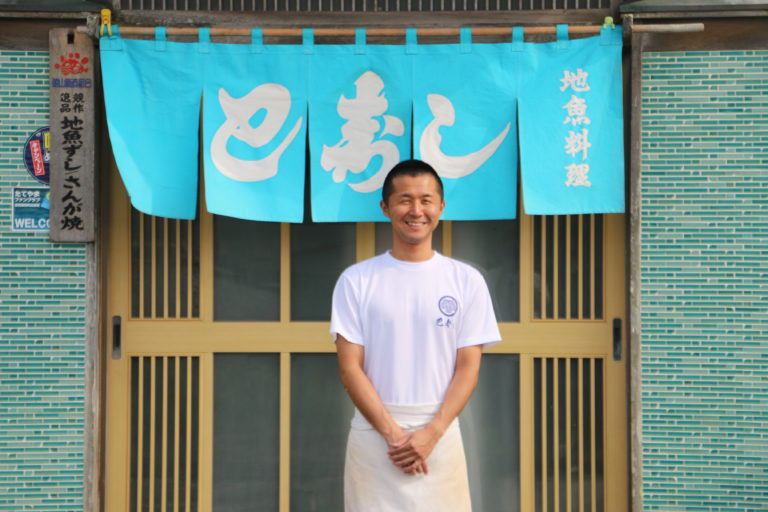 We came all the way down to Tateyama, so we decided to try some of the local catch.
To meet that demand, Mr. Murai brought us to his friend's 35 year-old sushi shop "Tomoesushi".
Ozawa Daisaku, the owner of Tomoesushi, is a Mr. Murai's childhood friend. They even spend birthdays together.
"Mr. Murai was a sushi chef himself so he knows what kind of quality is needed for good sushi", so says Mr. Ozawa. Being able to depend on the delicacies creates a vital local relationship of trust.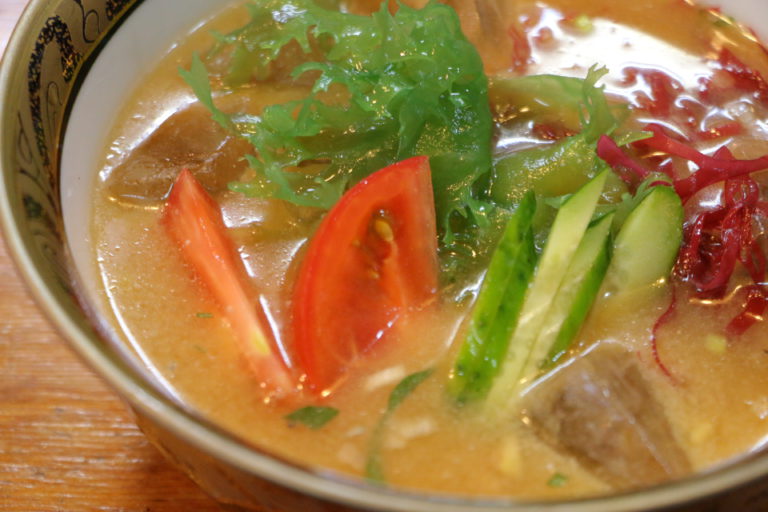 Before we ate our sushi, Mr. Ozawa presented a peculiar dish, "This is something you can eat when it's hot out and you lose your appetite." With that, he served us a local dish called mizunamasu.
It was a Boso fisherman's dish composed of smashed fresh mackerel, perilla, Japanese ginger, cucumber and cold miso to dip everything in.
It is a full flavored dish that is meant to add stamina on those lazy hot summer days. It has the satisfying taste of salt-seasoned mackerel and the invigorating smell of fresh vegetables that is crisp and refreshing.
"It's a dish that fishermen used to make after they went out to sea. They would take miso with them and use a mackerel that they caught to make this, but instead of vegetables they might use seaweed", the lady of the restaurant told us.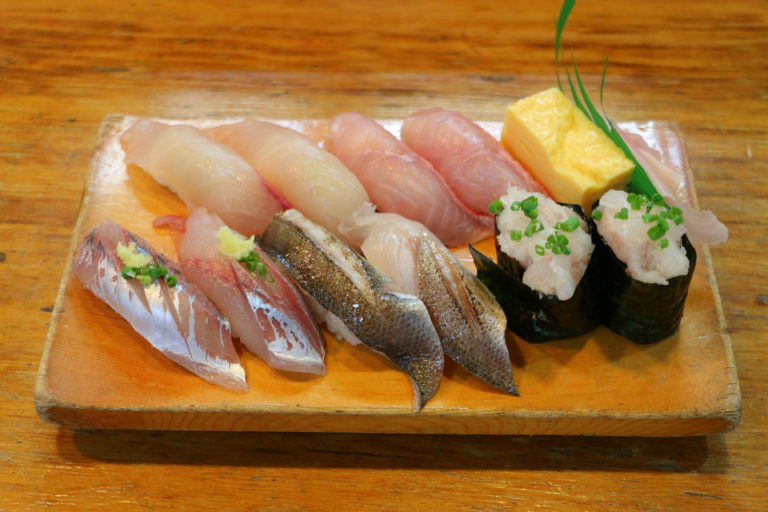 Afterwards, we were presented with a parade of seasonal nigiri pieces, mackerel, yellowtail, alfonsin, and more. The fish is firm and fresh, and has an invigorating taste that expands in your mouth.
"We buy our fish directly from the local fishermen, so there is a lot we get for very cheap."
"We're NO.1 in Japan when it comes to sushi restaurants per capita." As Mr. Ozawa says, Tateyama is a sushi town.
It's said that even before this was a sushi town, when it was just a normal residential area, during celebrations people would make sushi to hand out.
Tateyama is one of Japan's representing fishing towns with a deep, rich culture rooted in sushi.
The people take pride in the local catch. We hope you all can take a trip down to experience it for yourselves.
Writer
: TOSHIFUMI KIUCHI
 / 
Photographer
: SATOSHI TACHIBANA