RECIPE (November 2016)
Gnocchi with Mushroom Sauce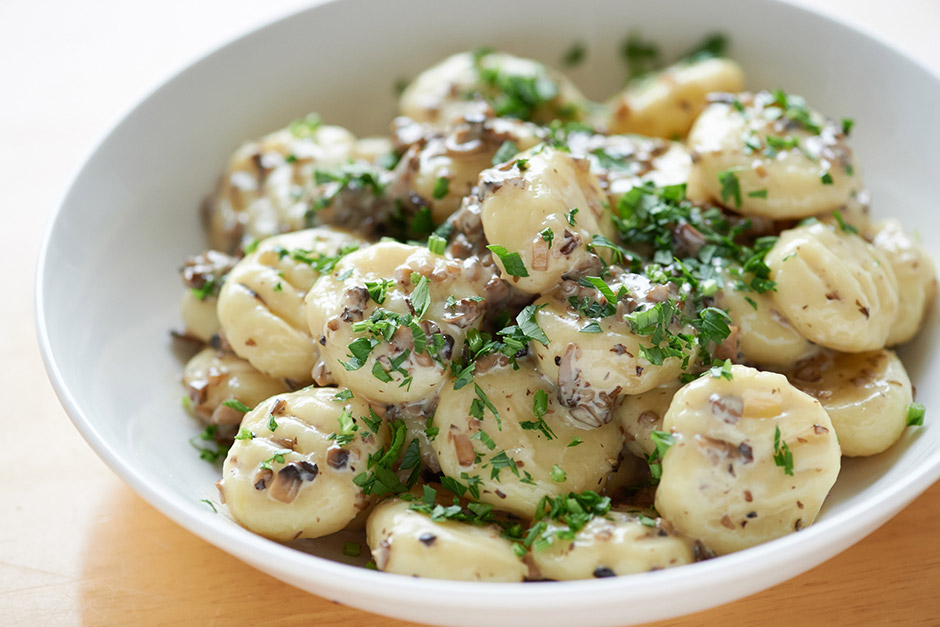 Gnocchi with Mushroom Sauce
Ingredients (Serves: 4)
Gnocchi
Potatoes (Baron type)

400g

Egg

1

Low-gluten wheat flour

80g

Parmesan cheese

2 tablespoons

Salt

1/2 a teaspoon
Directions
Steam the potatoes whole and unpeeled. Once steamed, peel them and remove any sprouts with a spoon. The skin comes off instantly if you wrap the potato in a cloth and slide the skin off.

Mash the potatoes in a bowl and mix in all the ingredients other than the wheat flour. Once they are thoroughly mixed, add the wheat flour. Make sure you do not knead the mixture, or it will be too sticky. Mix in a cutting motion with a wooden spatula to keep the mixture light and fluffy.

Once the ingredients are well-mixed and are no longer doughy, sprinkle some flour (extra from the 80 g in the ingredients list) on the cutting board, and place half of ② onto the board. Roll the mixture into a stick of about 2 cm in diameter while sprinkling flour on it.

Using a scraper, cut the stick into bite-sized (about 2 cm wide) pieces. Shape them into balls and pattern with a folk.

Cook the gnocchi in boiling water. Once they start to float to the surface, drain them.

※If you made too many, spread a piece of cling film, sprinkle some flour on it, wrap the gnocchi in the cling film and put it in the freezer, making sure the balls do not stick together. To cook them, the frozen balls can be put directly into boiling water.
Ingredients (Serves: 2)
Mushroom sauce
Button mushrooms

100g

Garlic

1 small clove

Olive oil

2 tablespoons

White wine

50cc

Salt and pepper

as needed

Fresh cream

50 cc(adjust to your preference)

Italian parsley

as needed
Directions
Crush the garlic with the blade of a knife, remove the shaft and chop finely. Dice the mushrooms into 5 mm pieces.

Put olive oil and the garlic into a thick saucepan. Once the aroma starts to rise, add mushrooms and a pinch of salt.

Sautee them thoroughly on low heat until they become thick, making sure they do not burn. Add white wine and simmer on low heat until all the moisture is gone.

Season with salt and pepper (slightly salty is better).

Add fresh cream. When it comes to a boil, add the cooked gnocchi. When the fresh cream reduces, arrange on a plate. Sprinkle chopped Italian parsley on top.
A useful tips
Never wash mushrooms before cooking them. They soak up water and lose their flavor. Just wipe them off with kitchen paper. For vegetable sauces, it is better to use low-fat fresh cream. This article covers a creamy sauce that goes well with the gnocchi, but a garlic oil mushroom sauce without the fresh cream will go well for other pasta as well, like penne.
Recipe from : Ayako Yajima (Fruit and Vegetable Shop Suika)