RECIPE (March 2020)
Snap Garden Pea Onion Soup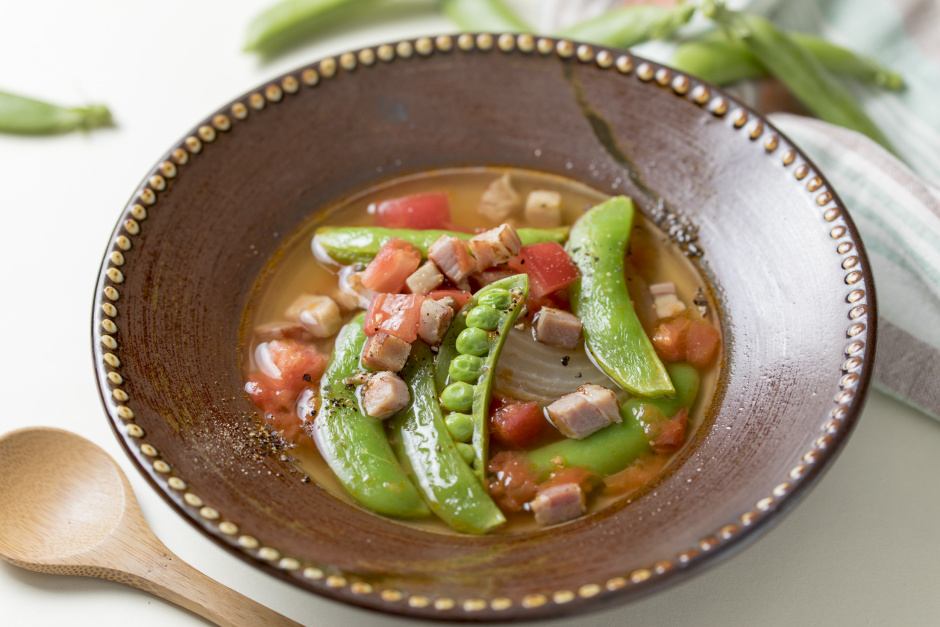 This article will present ways to select delicious peas and cooking methods, along with a Snap Garden Pea Onion Soup recipe.
Ingredients (Serves: 2)
Snap garden peas

10

Onion medium

1 (approx. 200 g)

Tomato large

1/2 (approx. 100 g)

Bacon

60g

Water

360cc

Soy sauce

1/3 teaspoon

Salt

(optimal amount)

Pepper

(optimal amount)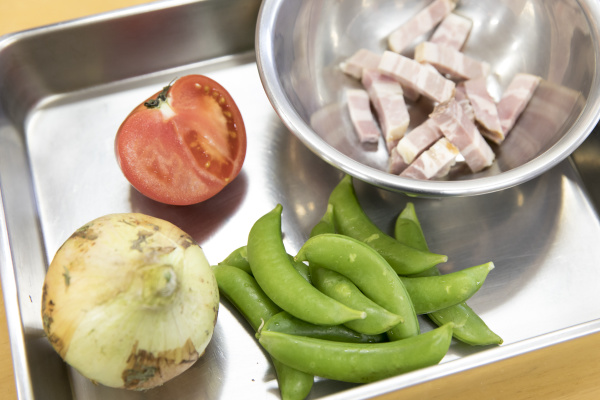 Directions
Remove the snap garden peas' strings.

Cut the onion into four equal rings and the bacon and tomato into 1 cm cubes.

Heat the pot, add the bacon cubes and cook at medium heat. Once they are lightly browned, remove them from the pot.

Add the onions into the same pot and sprinkle with a pinch of salt. Put on the lid and lightly brown each side for 3-4 minutes at low heat.

Add water, bacon (prepared in step 3), tomato and a pinch of salt into the pot and simmer for 5 minutes at low heat.

Add the snap garden peas and soy sauce, then simmer for another 5 minutes.

Adjust the flavor with salt and serve in a bowl. Sprinkle with pepper to your liking.
A useful tips
・Adjust the amount of salt you add depending on the bacon's saltiness and how savory the tomato becomes. ・If you want to bring out the tomato's sour tang, add it to the pot later and shorten its simmer time. Conversely, if you want to enjoy a more mellow taste, simmer longer. ・If you want to retain the snap garden peas' firm texture, shorten its simmer time. ・To make the onion easier to eat, cut it into bite-sized pieces before cooking. If you want to make them very sweet, take your time to cook them at low heat.
Recipe from : Ayako Yajima