THE ROOTS OF SHUN (May 2020)
Tokyo Udo, Purely White Wild Vegetables Grown Underground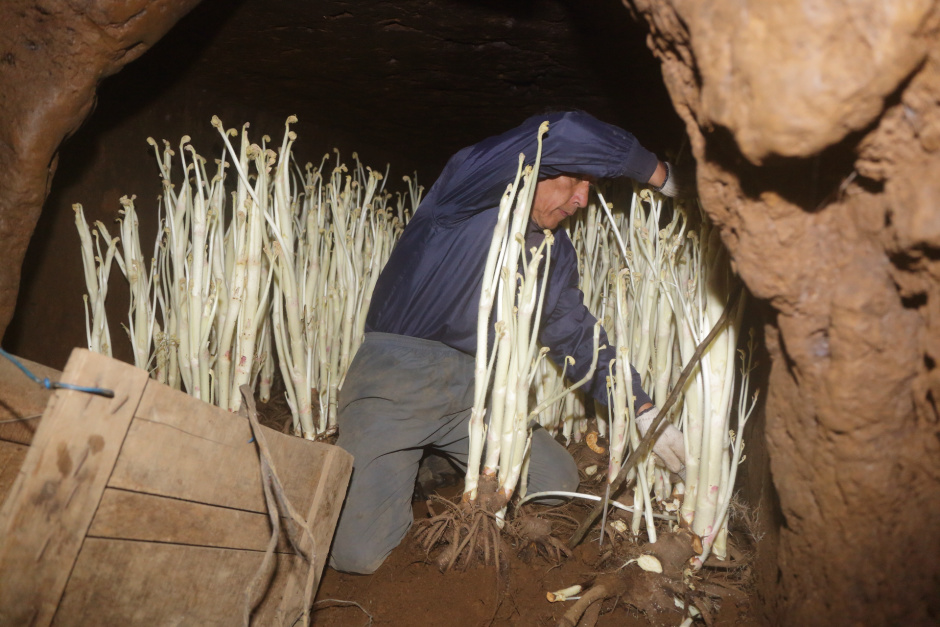 (Month information was collected: April 2020)
Udo, wild edible plants native to various parts of Japan, has been eaten as a taste of spring since ancient times. Having grown the plant since the Edo period (1603–1868), the Kitatama area of Tokyo has been selling Tokyo Udo featuring a white appearance and soft texture from a few years ago. We visited Suzukien, an udo farm in Tachikawa where growing this plant is popular.
Tachikawa developed into a major production area of udo after WWII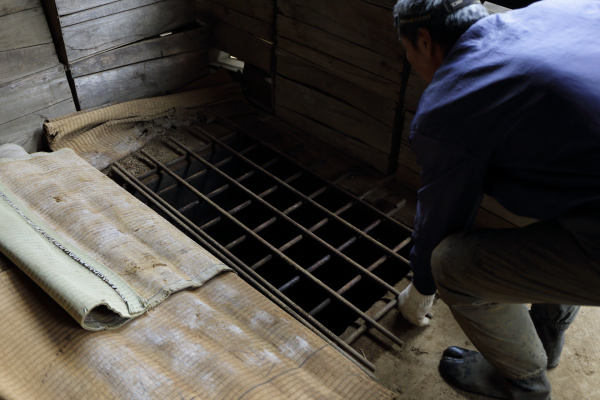 After driving about 10 minutes from Tachikawa Station along the Itsukaichi Kaido road, we saw the sign of Suzukien (Suzuki Farm) with Udo printed in large letters. Hirohide Suzuki, the 18th-generation owner of the farm with a history of three centuries, welcomed us.
While being shown around inside a hut in the farm, we noticed a corner with blankets and rush mats layered. When we flipped the blanket, there was a vertical hole, about one meter in diameter and covered with an iron grating. Perhaps it was about three meters deep.
We then descended down to the bottom using a ladder, and when we turned on our headlights, there were white udo that have densely formed in the horizontal holes. This was Tokyo Udo, Tachikawa's local specialty of Tachikawa City. Suzuki, beaming with pride, grinned. "It's a bit of a strange sight, isn't it?"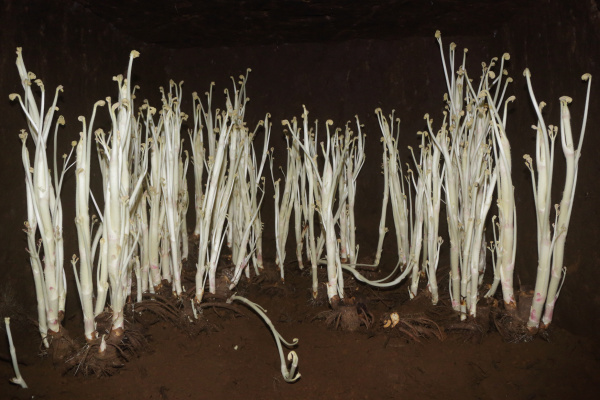 Udo are roughly divided into yama udo (mountain udo) and nanka udo (softened udo). Both are in season from early spring to around April. However, their appearances are contrasting. Yama udo are green and wild-looking, whereas nanka udo has transparent white skin.
These differences in appearance correlate with the environments in which they were grown. Yama udo sold in the market are either wild or grown in greenhouses or alleys. Meanwhile, nanka udo is grown through "softening farming," which blocks sunlight. By suppressing photosynthesis, "greening" by chlorophyll, which is a pigment contained in chloroplasts, is slowed and udo stems become soft. Nanka udo grows as white as bean sprouts and features a crisp texture, with less bitterness than yama udo and a refreshing taste.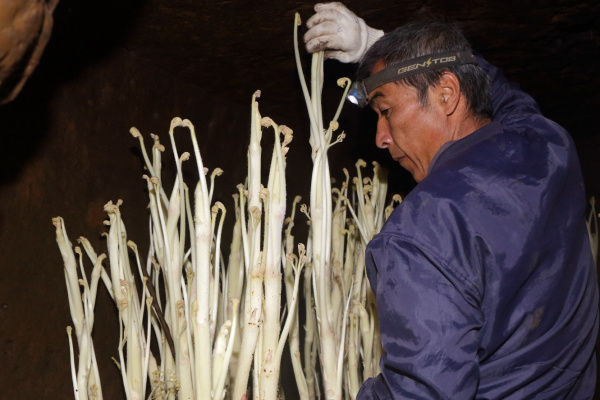 Among nanka udo, only those produced in Tokyo are sold under the brand name Tokyo Udo. The cultivation of nanka udo is most active in the Kitatama area, which includes the cities of Tachikawa, Musashino, Kokubunji and Kodaira. Softening techniques have also evolved over time.
The history of udo farming in Tokyo dates back to the Edo period. During the Bunka era (1804–1818), the root strains of udo were brought from the Owari region, and its production area expanded around present-day Musashino. At that time, the main method of soft cultivation was "embankment softening" in which soil was piled up around the udo planted in the field to block sunlight. However, the harvest timing was unstable using this method because it was difficult to maintain the temperature between 17℃ and 18℃, which is said to be the most suitable temperature for growing udo.
Following this, the "groove softening" method was developed. Using this method, udo is planted in ditches dug on the field, and the temperature is adjusted by covering with rush mats or soil. Although it requires time and effort, the temperature difference between seasons can be reduced.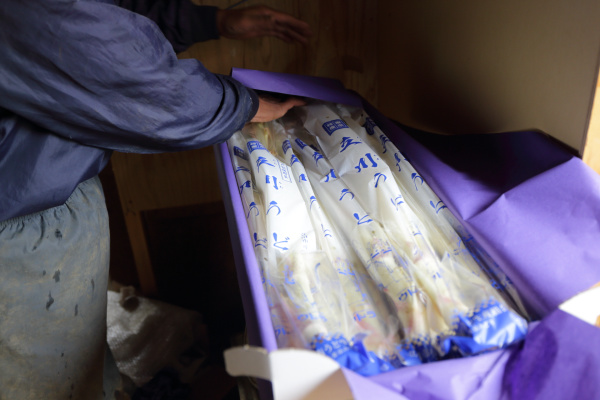 Around 1945, farmers in Musashino developed the "horizontal hole softening method" in which udo is grown in holes dug underground after much trial and error. The inside of the hole called muro is easy to maintain the temperature and has excellent light-shielding effects. This method also gets less dirt on the vegetable and is highly rated by restaurants and vegetable stores. Before long, this method replaced the groove softening method.
The horizontal hole softening method was introduced to the city of Tachikawa around 1955. At a time when sericulture was in decline, many farmers switched to farming udo.
The city's soil was also suitable for growing. The area is said to be the Kanto Loam Formation where the soil is viscous, so cultivation rooms did not collapse and did not require much effort to maintain.
Growing udo in Tachikawa soon became very popular, and yielded more than 500 tons at its peak. The city is still the largest producer of udo in Tokyo. In recent years, the city has developed Tachikawa Komachi, which is short and more portable, and is working to expand its sales channels.
Tokyo Udo's flavor changes the image of wild plants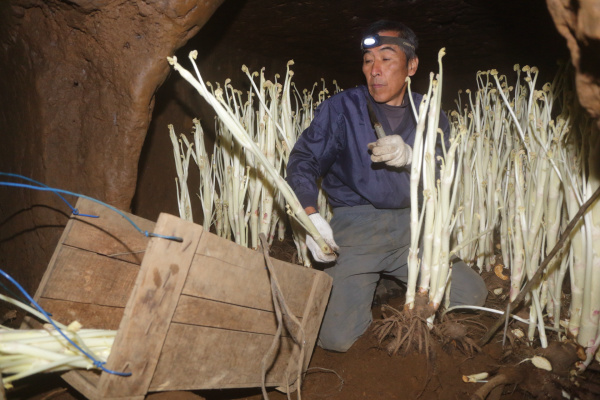 It has been about 20 years since Suzuki started growing udo. The harvest season is from December to April. At the end of November every year, the process of fusekomi—in which the roots are planted for year-end shipment—begins.
Even indoors, Suzuki pays close attention to temperature control. He told us he sometimes burns firewood inside the cultivation room in winter. Except for watering once every few weeks, he restricts people entering as much as possible. This is because udo is so delicate that it changes color just by the wind. The white and beautiful stems are like "certificates" that prove they have been carefully grown. That is why he said, "I get so nervous when people come in and out for media coverage."
After 30 to 40 days since root stocks have been hatched, the udo are harvested when it reaches a height of about 70 centimeters.
"After making my final shipment in December, I replant the root stock I had stored and grow it for the following January shipments. I then repeat growing and shipping in February and March while adjusting the yield. Even though in small amounts, I also ship udo in seasons other than spring."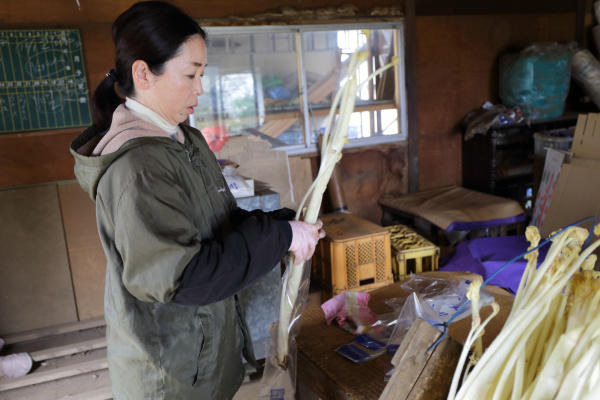 Given the room where the udo is grown is only about one meter high, harvesting is also difficult. As the work requires continual squatting, many farmers suffer from leg and lower back problems. Suzuki carefully cuts off udo and puts it in a wooden box in a position that minimizes stress on his body. His wife, Kazuko, who waited above ground to lift the wooden box. After bringing the wooden box to the workroom, Kazuko started packing the harvested udo.
"Time is of the essence after harvesting because udo turns green quickly when exposed to the sun. I want everyone to eat udo in a clean white state," said Kazuko.
Suzukien ships about 4,000 udo a year. Some of them will go to direct customers. The rest are shipped to local supermarkets and farmer's stores to bring spring to families. Tempura and udo dressed with vinegared miso are staples, but Kazuko recommends stir-fried udo.
"Simple is best to enjoy the texture. My husband and I often stir-fry udo with only salt and pepper. It's good to wrap leftover udo with newspaper and store it away from the sun."
It is common to remove the astringent taste of wild vegetables such as wild udo and bracken, but for Tokyo Udo, this process is not necessary and it can be even be eaten raw. When we took a bite on the newly harvested udo after Suzuki recommended us to, it has a crisp, slight sound and a faint sweetness spread in my mouth. The fresh and refreshing flavor lingered afterwards.
"This changes your perception of udo. I'm confident I can make anyone become addicted to it," said Suzuki, who gave us his biggest smile that day.
Udo Ramen that made Tachikawa's udo famous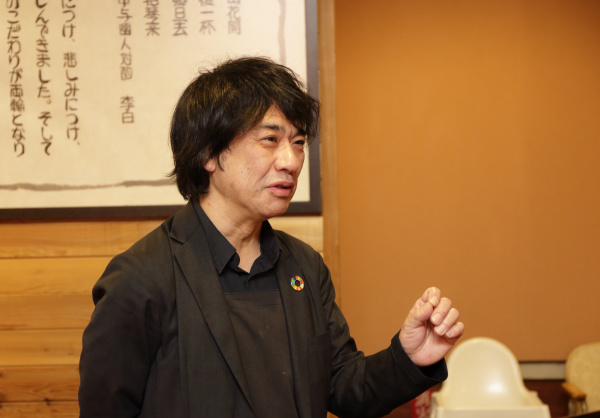 "Tokyo Udo has a delicate taste. I think cooking without destroying this appeal requires skills."
That is what Masahiro Takahashi of Gojyuban, a Chinese restaurant in Tachikawa, told us. The restaurant opened in 1963, and has also been serving Tokyo Udo dishes since Takahashi took over running the establishment. What made him decide this was after a general meeting of the Tokyo Udo Federation of Cooperatives held in Gojyuban in 1993.
"There's no restaurant in Tachikawa that serves Tokyo Udo."
Hearing members lamenting, Takahashi volunteered to develop udo dishes. Developing a menu, however, did not proceed without a hitch. Takahashi faced a myriad of issues, including securing a steady supply of udo and responding to the seasonal fluctuations in purchase prices.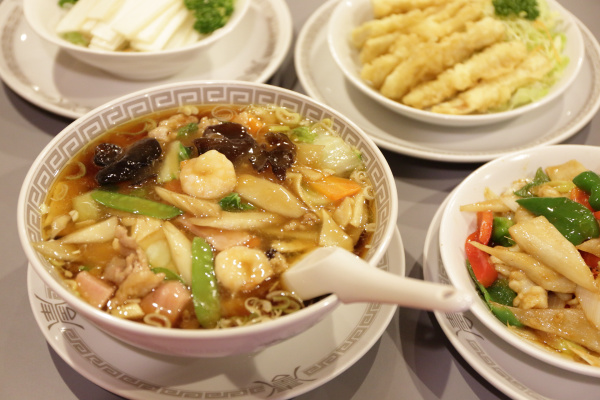 "I didn't want to make luxury dishes. On the other hand, the dishes shouldn't be unprofitable. I overcame the issues by working together with other cooperative members, producers and chefs to resolve the problem."
After two years of development, Takahashi developed Udo Ramen. This is a variation of Kanton-men (Cantonese noodles; chop suey ramen). A colorful selection of vegetables featuring Tokyo Udo, carrots, bamboo shoots, and field peas are used for the chop suey on the ramen.
As soon as it was on the menu, Udo Ramen was covered in magazines and on TV, making udo grown in Tachikawa known to the Japanese. Takahashi continued developing udo dishes, including squid stir-fry, salad and batter-fried udo, opening new horizons for the vegetable.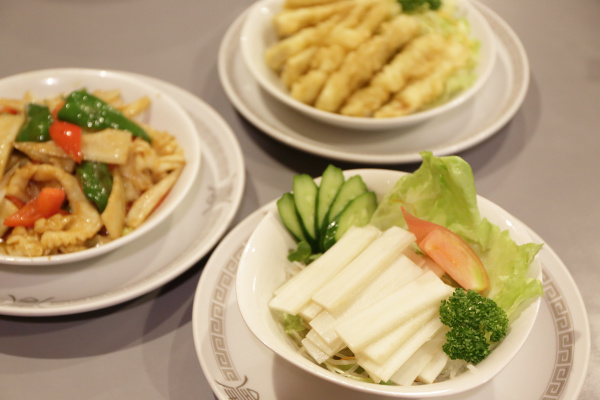 "I'm driven by my customers' responses to the dishes, such as 'this is delicious' and 'hmm, interesting.' Not limited to udo, I hope to continue supporting local farmers."
About 25 years after the birth of Udo Ramen, restaurants in the city serving udo dishes are now common. Ready-made dishes, seasonings, sweets and various products using udo are sold at supermarkets and farmers markets. We're convinced a new udo dish that will take people by surprise will be created sooner or later.
Tokyo Udo
Source:Hirohide Suzuki, Suzukien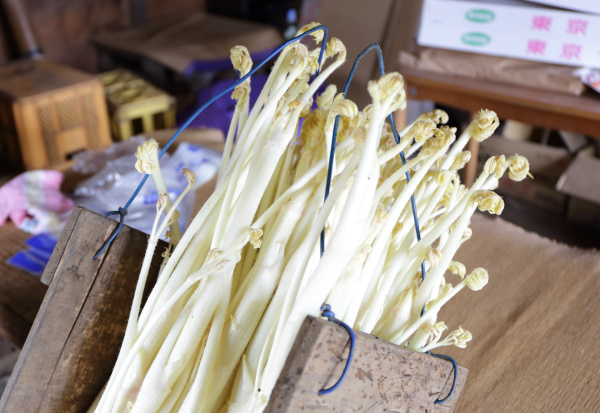 Peak Season
December through April
Tips
White and straight crops
How to enjoy them
Simple is best to enjoy its texture, such as stir-frying with salt and pepper.
 / 
Photographer
: SATOSHI TACHIBANA