RECIPE (August 2016)
Assorted sushi with sea and mountain ingredients from Sanriku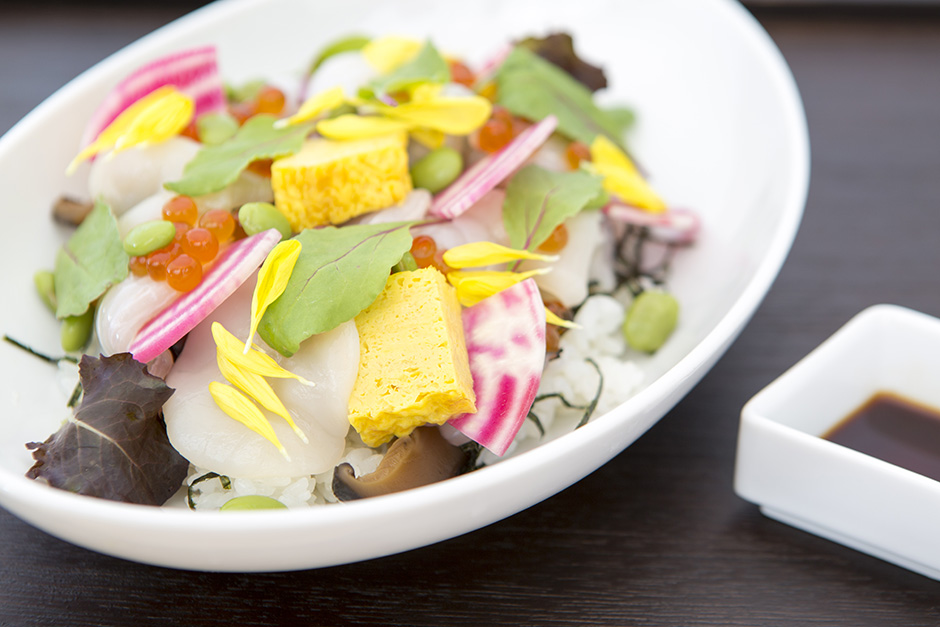 Assorted sushi with sea and mountain ingredients from Sanriku
Ingredients (Serves: 2)
Sole fillet

140g

Scallops

2 large scallops

Flavored salmon roe

40g

Young Sendai soybeans

40g

Edible chrysanthemum (optional)

10g

Young green leaves

10g

Chiogga beets (can be substituted with radish)

40g

Rice

400g

Nori seaweed shreds

10g
※For sweet and savory shiitake mushrooms
Dried shiitake mushrooms (rehydrated with water)

6

Water used to rehydrate the shiitake mushrooms

1 cup

Soy sauce

2 tablespoons

Sugar

3 tablespoons

Sake

A small amount
※For the Japanese omelet
Eggs

3

Sugar

A small amount

Dashi (Japanese fish stock)

A small amount

Cooking oil

50cc
※For sushi vinegar
Vinegar

20cc

Cider vinegar

20cc

Kombu seaweed

A small amount
Directions
Put the rehydrated shiitake mushrooms in a saucepan with the water (used for restoring the mushrooms), soy sauce, sugar and sake, and let them simmer until the liquid reduces to about 1/3 or 1/4 its original volume. Slice the mushrooms into thin strips.

Mix together the eggs, sugar and dashi, and in a frying pan with heated cooking oil, make a Japanese omelet. When it cools down, cut it into 3 cm cubes.

Boil the young Sendai soybeans for about 2 minutes, and take the beans out of their sheaths.

Cut the sole fillet and scallops into small pieces and the beets into thin fan-shaped slices.

Put the vinegar, cider vinegar and kombu seaweed in a saucepan and bring it to a boil, to make sushi vinegar. Let it cool.

Pour the sushi vinegar from step 5 on top of rice, and mix the rice with vinegar using the spatula in a cutting motion. Use a fan to take out the coarse heat.

Put the rice from step 6 onto a plate. Put the nori seaweed shreds and the mushrooms from step 1 on top. Assort 2, 3, 4 and the remaining ingredients, making sure it looks colorful.
A useful tips
To pay respect to the apples, one of the most famous products from Aomori Prefecture which is a part of Sanriku, this dish features cider (apple) vinegar in the sushi vinegar. Its fruity flavor enhances other ingredients' good taste so much that the sushi can be served without soy sauce. The tip is to assort the ingredients colorfully at the end. Enjoy the decoration process, using the red, green and yellow, strong-colored ingredients as a focal point.
Recipe from : Koishikawa Terrace