THE ROOTS OF SHUN (July 2015)
Wondrous fair-skinned peaches, the product of uncompromising devotion
Okayama prefecture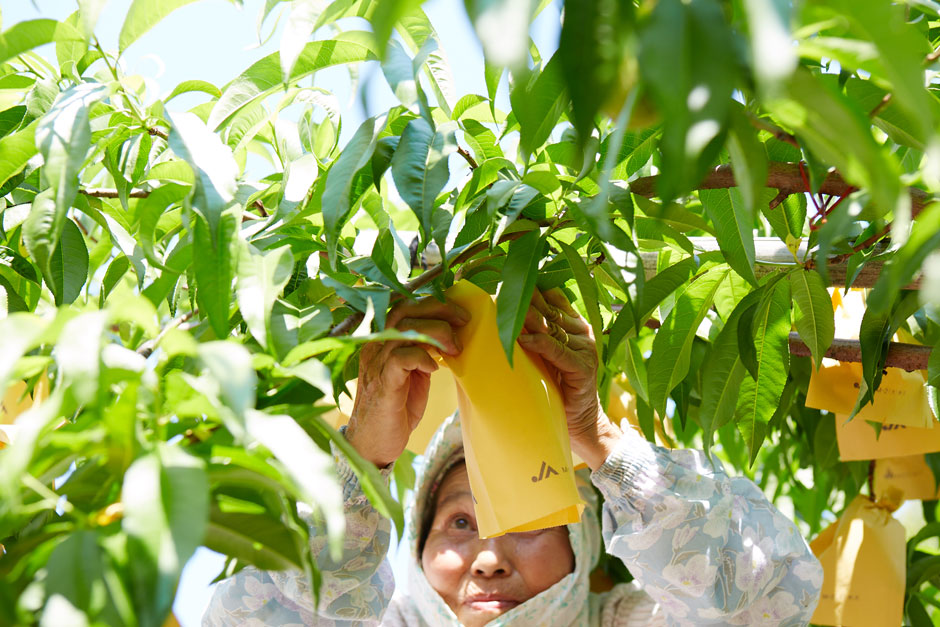 (Month information was collected: May 2015)
Okayama prefecture borders the spectacular Seto Inland Sea and is often referred to as the land of sunny skies, in deference to the agreeable climate, with low annual rainfall and relatively mild temperatures all year round. The temperate climate is ideal for growing fruit such as peaches and grapes, as a result of which Okayama has become one of the premier fruit-growing regions in Japan.

The fruit groves of Okayama are famed for producing beautiful peaches featuring skin that is milky white with a touch of pink. Countless varieties of white peach (hakuto) are grown, including Shimizu Hakuto, Hon Hakuto, Hakuho, Hakurei and Okayama Yume Hakuto. Each has its own distinctive taste and season, and is produced using time-honored techniques and the passion and enthusiasm for fruit that has been passed down the generations.
Peaches are individually bagged for maximum whiteness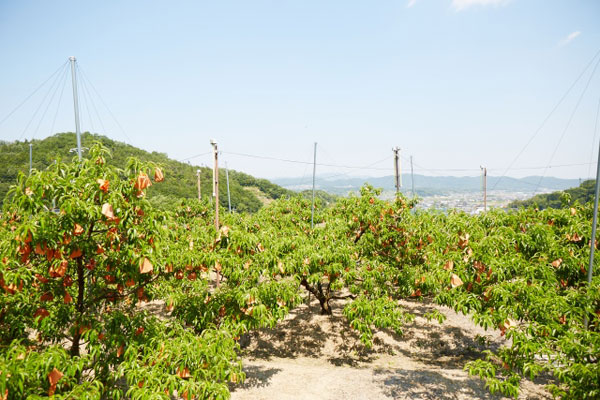 We spoke with Takehiko Kuniyasu, who has been growing peaches for more than 50 years at Akaiwa, a city in the center of Okayama prefecture to the south.
Kuniyasu grows six white peach varieties including Shimizu Hakuto. His orchards are situated on gently sloping land facing southeast, which gets plenty of sunlight. At the time of our visit in late May, Kuniyasu was busy bagging the fruit?that is, carefully tying a bag onto each individual piece of fruit as it ripened.
The fruit emerges after pollination. Once it reaches the size of a ping-pong ball or slightly larger, it is ready to be bagged. Three people are assigned to 60 trees. They must work quickly while taking great care not to harm the fruit. A single tree normally produces around 500 peaches, so it is a highly labor-intensive process.
Bagging is the secret behind the trademark milky white appearance of the hakuto white peach. The deep pink color normally associated with ripe peaches develops naturally if the fruit is not bagged, because the direct sunlight is what gives the fruit color. Thus, white peaches must be shielded from the sun. The bags have the added bonus of protecting the fruit from wind and rain as well as insects and disease. The protected environment inside the bag produces a soft, delicate fruit with skin that peels easily.
Taking care of the fruit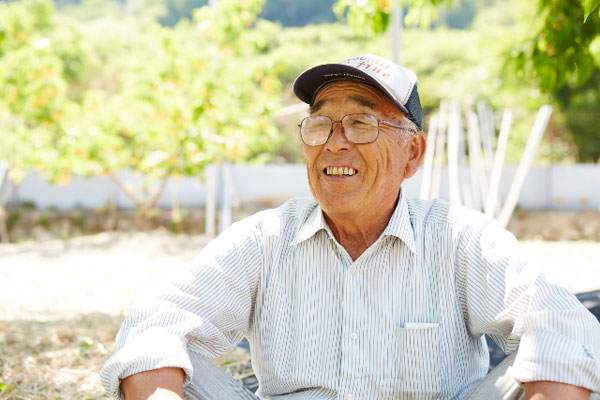 According to Kuniyasu, peaches are more labor-intensive than other types of fruit. "You can't afford to focus only on the ones that ripen," he explains. "There might be some physiological disorder such as oversupply or undersupply of nutrients, which can cause the leaves to go brown or slow down the growth of the fruit. If a tree produces too many peaches it ends up that they're not very sweet, so you have to check all the trees every day to see how they're going. Any fruit that is too small, or branches that are overloaded, you need to get rid of straight away."
It's important to provide the best possible environment for healthy growth. Kuniyasu prepares the soil naturally using the Mukudai method, which is designed to recover the inherent vitality of the earth, and avoids chemical fertilizers.
"It's the same as looking after your health," says Kuniyasu. "You need to eat three meals a day and get some exercise. You have to avoid pills and drugs wherever possible. I don't know much about chemicals; I just know what works for my peach trees!" And he clearly knows what he's talking about, given that he has been successful for so long.
Knowing when to harvest: it's all down to experience and intuition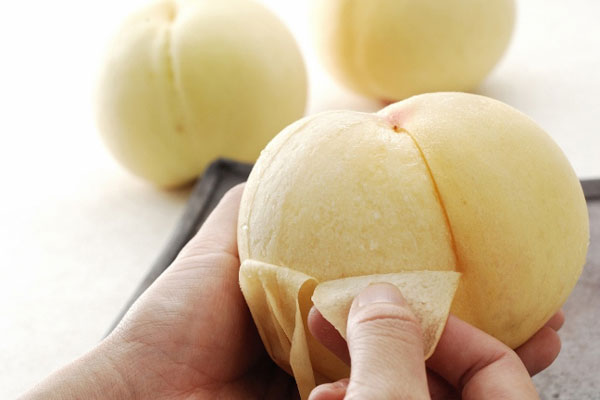 While growing peaches takes a great deal of time and effort, harvesting the fruit is surely the most important aspect of all. Peaches have a very short harvest window, which means that timing is critical. The Shimizu Hakuto, for example, can only be harvested during a two-week window from late July to early August. Fruit that has not been picked by then will lose most of its market value.
"If you harvest too soon," adds Kuniyasu, "the peaches won't be sweet enough, but of course you don't want to let them get over-ripe either. It takes years of experience to acquire that sense of intuition that tells you when the time is right?when the peaches are just the right size and tasting nice and sweet."
The combination of years of experience, dedication to the job and a strong work ethic?this is what it takes to deliver the best quality peaches.
Enjoy Okayama fruit in the scenic Kurashiki tourist precinct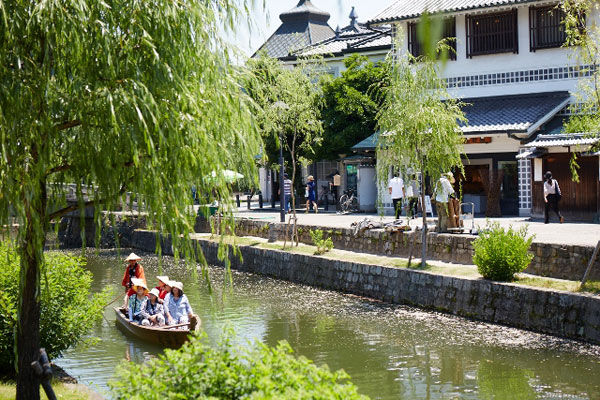 Kurashiki Momoko is a farm direct outlet located in the scenic Historical Quarter of Kurashiki, run by the Okayama Prefecture Vegetables and Fruits Sales Group. Here you can choose from a wide variety of dessert products and sweets made with Shimizu Hakuto peach picked in season.
Lined with beautifully preserved and highly picturesque traditional Japanese buildings, the Historical Quarter is a popular tourist destination in Okayama prefecture. Kurashiki Momoko opened its doors in April 2013 in a renovated former private home that dates back around 150 years. The quaint and evocative two-story dwelling has been transformed into a retail space on the ground floor and a cafe on the second floor.
One of the most popular items on the menu is the parfait, which is available only during the peach season. It is a generously proportioned dessert that contains an entire Shimizu Hakuto peach. The cafe also serves smoothies, gelatos and other fresh delicacies as well as a range of gifts, all made with delicious locally grown Okayama fruit.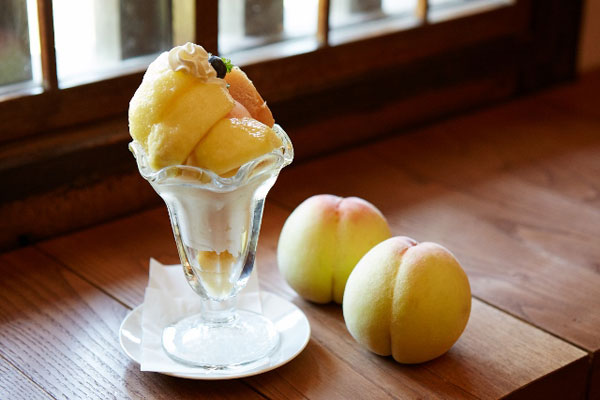 Enjoying fresh seasonal fruit treats in a charming old-world setting is a rare delight that can only be experienced in Okayama prefecture.
 / 
Photographer
: KOJI TSUCHIYA