【AREA_PR】THE ROOTS OF SHUN (October 2020)
Kyoto's Culinary Culture: Tradition and Renewal
Kyoto Prefecture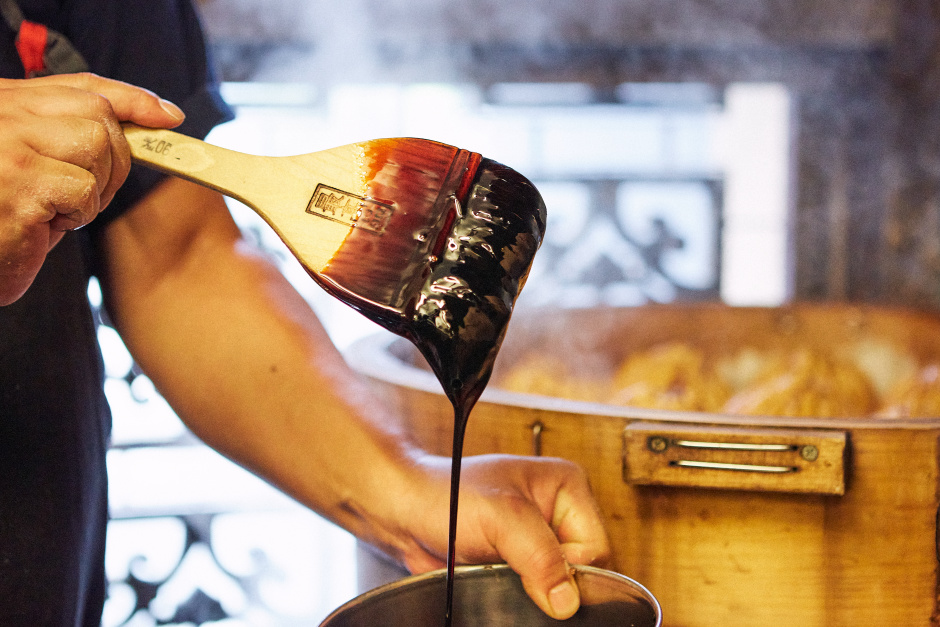 (Month information was collected: September 2020)
Kyoto—the center of politics and culture since it became Japan's capital in 794. Rich culture has deeply rooted itself into the region, continuing into modern times. Kyoto's culinary culture in particular has continued to evolve, attracting admirers from abroad as well as locally. We visited players of the next generation who help make the food culture thrive.
Kyoto vegetables made by passionate seedling farmers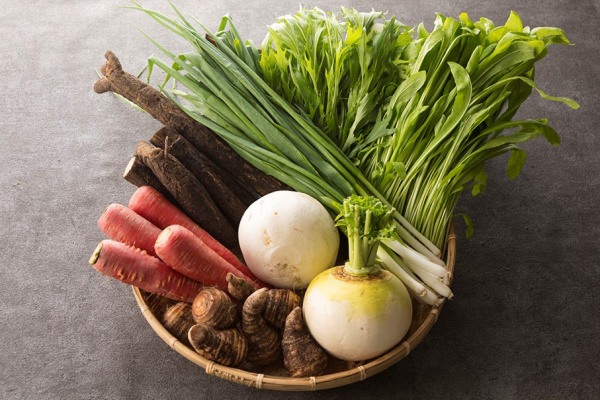 In the Kitakawazura District, located in the Ujigawa River watershed of southern Kyoto, the production of cucumber and eggplant seedlings has been going on for over 600 years. The soil is fine sand and includes organic matter that stimulates plant growth.
In addition to this environment, the fumikomi onsho method is used for rearing the seedlings. A hotbed that uses the fermentation heat of paddy straws and milled cotton seed is utilized; this helps seedlings grow into healthy plants producing abundant crops. The seedlings raised in this region are known as yodo-nae and are exported to farmers all over the country.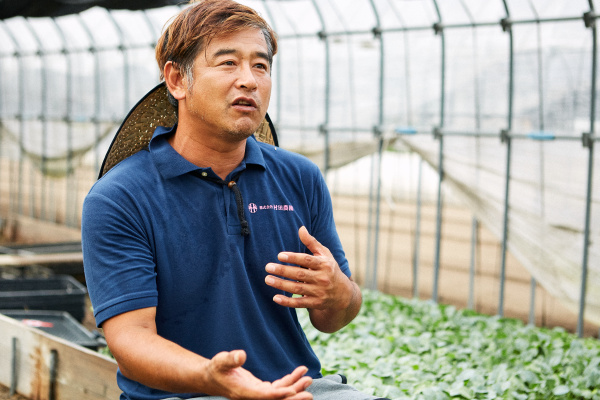 Murata Farm, which has prospered for five generations in this district, grows Kyoto vegetables as well as yodo-nae. Flavorful kujo-negi (Japanese green onion), juicy kamo-nasu (eggplant), sweet yodo-daikon (Japanese radish): vegetables unique both in looks and flavor abound in the greenhouse.
"These are flavors essential to Kyoto's cuisine, having been enjoyed throughout the years. There are indigenous varieties that have over 100 years of history."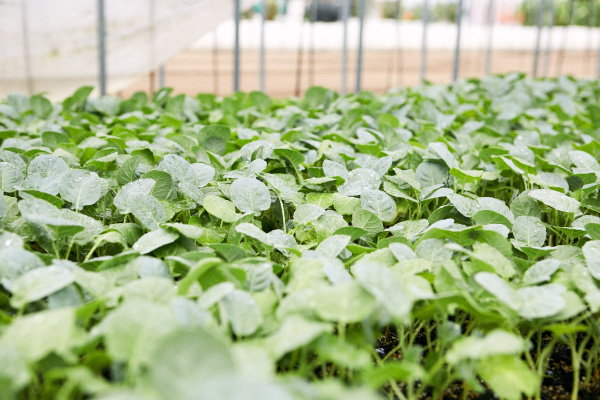 So says the group representative, Tatsumi Murata. He has a cheerful personality with a bright smile, but he sometimes reveals his more serious side as a passionate seedling farmer.
"We're a good judge of seeds and can aim for the ideal taste from the seedling stage; that is our strength."
Compared to newly engineered varieties, indigenous varieties are difficult to care for, but can show unexpected growth.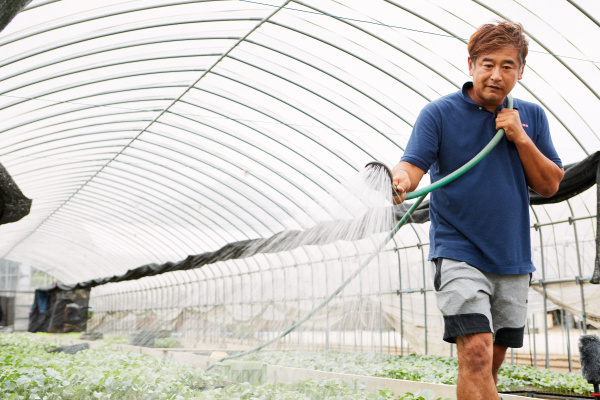 "Producers are, in the end, the vegetables' supporters. When you support them in their endeavor, instead of trying to control their growth, they grow into delicious vegetables," says Murata.
Kyoto vegetables wouldn't have come to where they are today had their producers not put thought and time into their care.
Kyoto Beef: extending traditional flavor to the next generation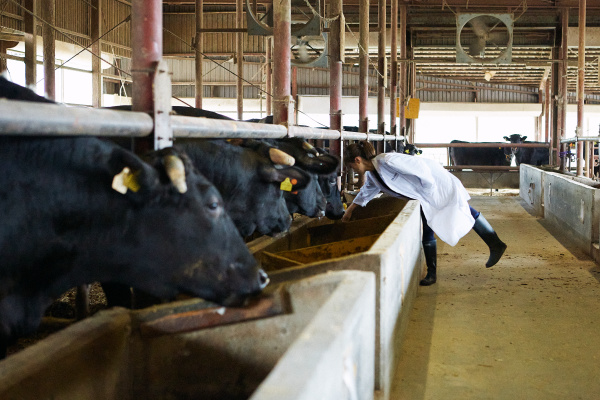 Beef—an ingredient you can't leave out when talking about Kyoto's culinary culture. It has a long history. In Japan's oldest book on Japanese beef, assembled in 1310, there is a record of Tamba Beef. To some, this may come as a surprise, but beef consumption in Kyoto is one of the highest in Japan. Kyoto is said to be the birthplace of sukiyaki and shabu-shabu.
Because of this historical background, Kyoto brands its beef Kyoto Beef. To be recognized as such requires the fulfillment of conditions such as being Japanese Black cattle, raised for the majority of its life in Kyoto, and receiving the highest grade from the Japan Meat Grading Association. This is to ensure that the traditional flavor will be continued.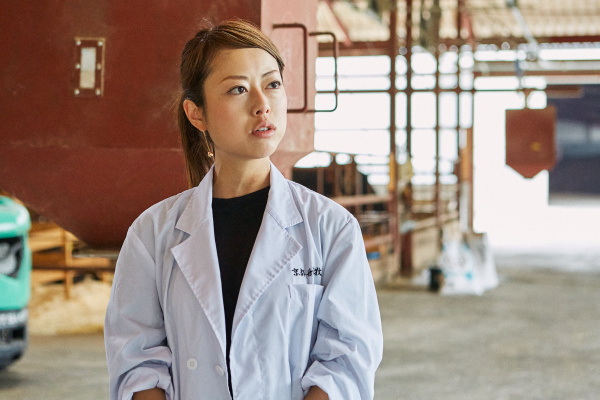 Kyoto Tamba Ranch, located in Nantan, breeds Hirai Beef—Japanese Black cattle raised with water sourced from 150-meter underground and high-quality feed. The fattening phase lasts until 33 to 38 months, 10 months longer than the standard.
"After reaching 30 months, the beef becomes well marbled," says CEO Kazue Hirai. She visits the cattle barn in her spare time, taking note of each one's growth.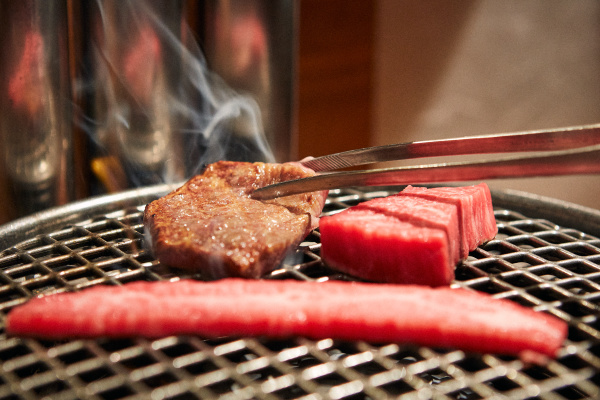 "What ultimately matters is how it tastes. That's why I put faith in a hands-on approach."
You can savor a taste of Hirai Beef at the yakiniku (grilled meat) restaurant Onikudokoro Ginkakuji Onishi. The restaurant purchases beef in whole head so that rarer cuts such as sirloin and chuck ribs are available as well. Yuki Takayama, head of the kitchens, tells us about the appeal of Kyoto Beef.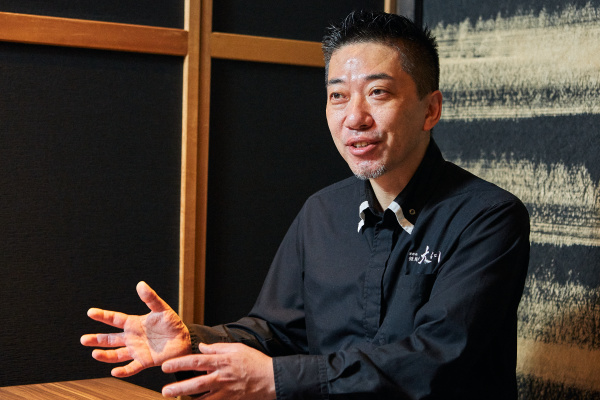 "It has an elegant mouthfeel characteristic of Kyoto. It's mild, so it goes with any menu, not just yakiniku."
Eat it with a special sauce that uses authentically brewed soy sauce, and you can enjoy the true pinnacle of Kyoto's beef culture.
Approximately 20,000 brown pork buns sold in four days
Karasuma Street, Teramachi Street, Shijo Street, Gojo Street … Kyoto is sectioned by countless avenues, large and small. The roads are like checkerboard grids, intersecting in intervals from north to south and east to west.
The Chinese restaurant Zezekan Pocchiri is located between Nishikikoji Street, which leads to Nishiki Market—Kyoto's kitchen—and Muromachi Street, filled with kimono wholesalers. The store's building was renovated from a kimono merchant's house that was built in Western fashion. Step in and you will feel the lovely townhouse atmosphere. The furnishings are of elegant Chinese design, and many will be enthralled by this mélange of Japanese, Western and Chinese influences. Original Chinese cooking, inspired by the meals served in Beijing's palaces, are the specialty here. Using an abundance of high-end ingredients such as shark's fin and matsutake mushrooms, the restaurant's tabletops are filled with lavish meals.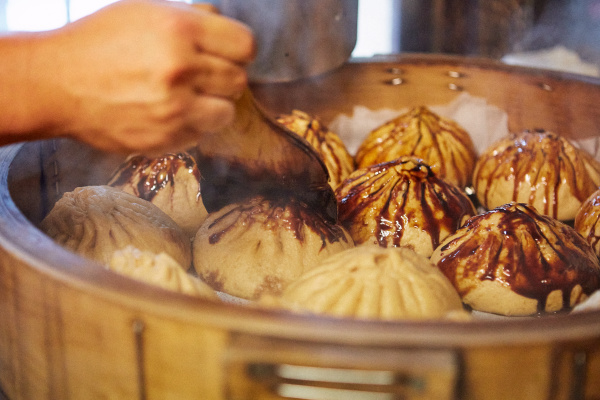 For four days during the saki matsuri (early festival) of the Gion Festival, the restaurant sells shimidare pork buns. Many fans wait excitedly for this time every year. The Zezekan buns have a brown skin due to the soy sauce kneaded in and are eaten with a sweet-spicy sauce.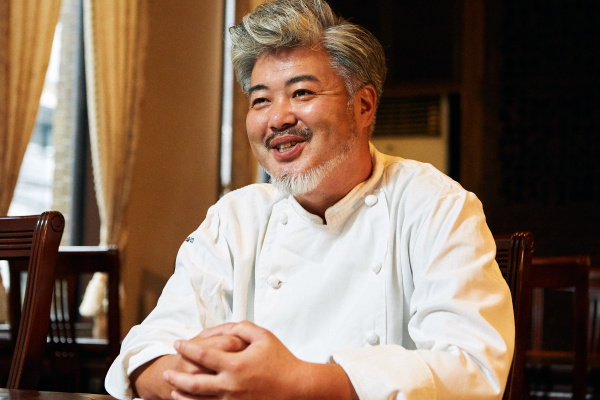 "Only the best chefs can make the buns fluffy," says Chef Seiichiro Horikiri. Because the Gion Festival was canceled, he decided to make the buns available through normal channels this year.
"It's a shame the festival was canceled, but there's nothing we can do. At the very least, we want to help our customers enjoy the festival atmosphere with our pork buns."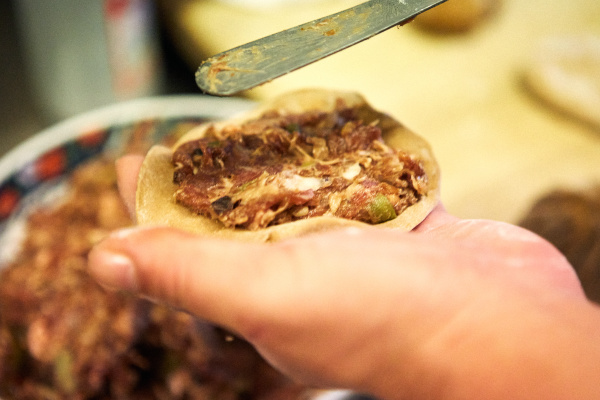 The buns are filled with roughly cut pork, bamboo shoots, and mountain jelly vegetables. The sauce, bun and filling work together to make a delectable wonder. There have been years where 20,000 of these buns were sold in the four-day period to enraptured customers. The trick to enjoying your bun to the fullest is to "fill your mouth up with the bun." Take a large bite and think of the Gion Festival!
A traditional sweet bean paste producer continuing to innovate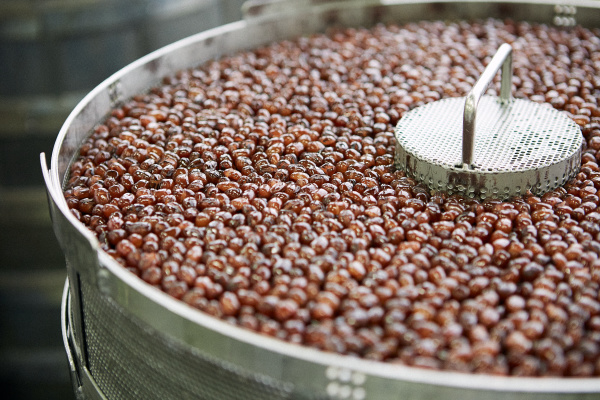 Wagashi (traditional Japanese confections) is representative of Kyoto's culinary culture. In Kyoto, there are numerous wagashi stores that have over 100 years of history. A hidden supporter of these stores behind the scenes is the sweet bean paste producers. Kyoto Plateau's underground waters are said to be almost as plentiful as the waters of Lake Biwa, which was a conducive environment for developing the manufacturing of sweet bean paste—an effort that requires much water.
Miyako Sei-An, a sweet bean paste manufacturer with customers nationwide, has produced and sold smooth bean paste, mashed bean paste, and bean paste jelly since its founding in 1950. They boil numerous types of beans from early in the morning to make their bean paste.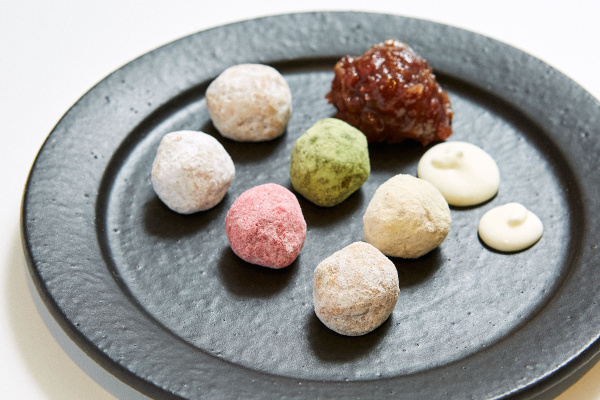 They took a great new step forward in 2012, opening a new café, Tosho-An. It is located on Horikawa Street, near the world heritage Nijo Castle. All of the sweets served have anko (red bean paste) in them. Japanese sweets such as monaka (a Japanese sweet made of red bean paste sandwiched between two thin, crisp wafers) of course, but also Western sweets such as cream puffs and cheesecake have this touch added to them as well.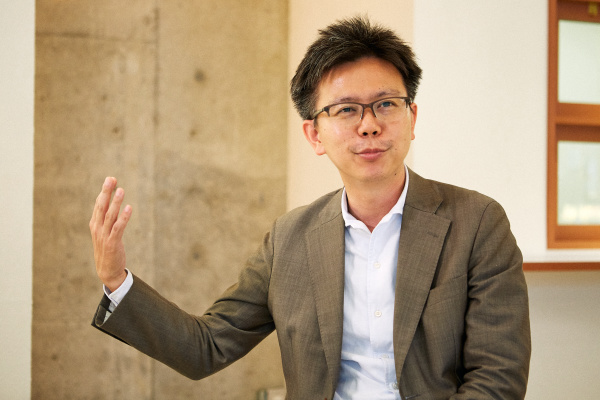 "This was a challenging task made possible because we were a bean paste producer who knows the distinct tastes and nature of beans of different regions and have been honing our processing skills."
That was CEO Hajime Nakao. One of the sweets they are pushing forward is AN DE COOKIE. This is a ball-shaped cookie that is made from rice flour and raw sweet bean paste.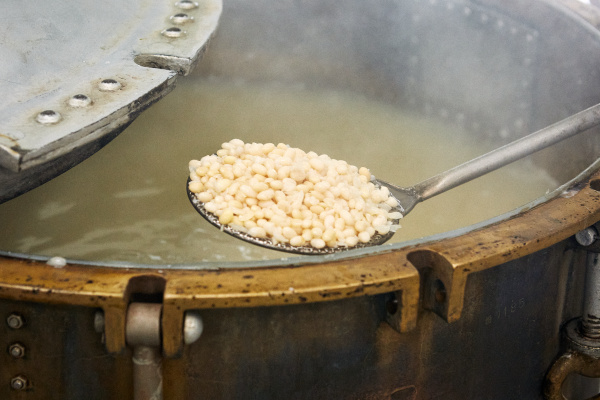 "Raw sweet bean paste means unsweetened white bean paste. Because no flour is used, it's not cloyingly sweet and you've finished eating before you know it."
On putting a piece into your mouth, the cookie melts and leaves behind a simple sweetness. New, but familiar. A taste you can't get anywhere else.
A new type of wagashi to inspire the next 100 years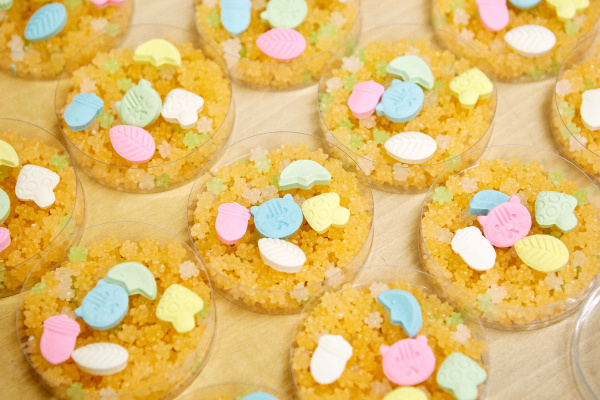 Teramachi Street runs from north to south right near the Kyoto Imperial Palace. It used to be an avenue filled with the grand houses of aristocrats and warriors, but these all burned down in the Onin War (1467–1477). Upon seizing power, Hideyoshi Toyotomi aimed to revive the area. After refurbishing the road, he moved the temples of Rakuchu to it and rechristened it Teramachi Street.
UCHU Wagashi Teramachi Main Store is a store in a corner of the avenue among 80 temples, with a renovated old house as its building. The wagashi store opened in 2010. Its original style sweets, free from tradition, are becoming increasingly popular: rakugan shaped like stars and hot air balloons, colorful konpeito, white anko jellies with fruit ….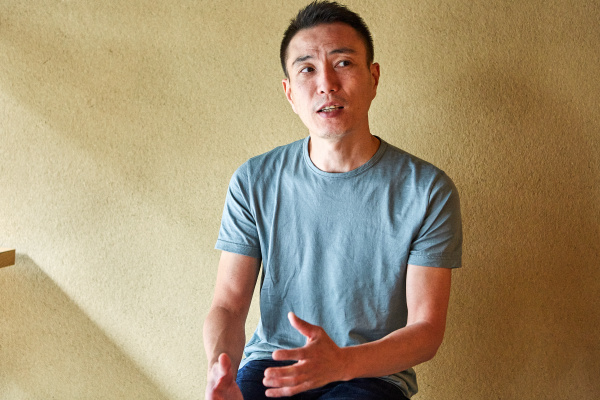 The store's owner, Katsuya Kimoto, is a former designer. He jumped into this world with only himself as a guide.
"I had always been wondering whether there was a field where I could make use of the designs I imagined, instead of designing to make things the client asks me to."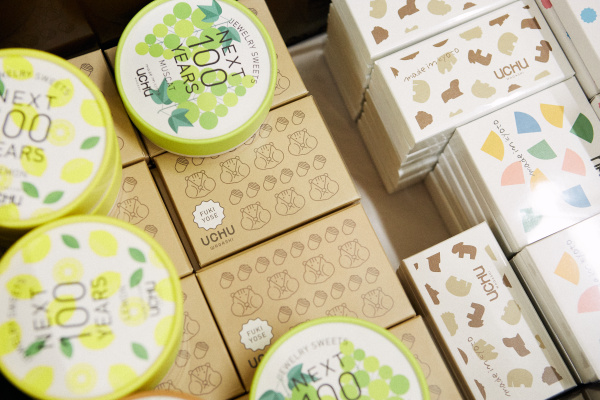 Including rakugan, which is made primarily from sugar and water, many wagashi try to bring its ingredients' flavor to the front. That's why it's a complex effort, and Kimoto's potential is unleashed.
Illustrations targeting younger generations are depicted on the package, from the desire to have wagashi enjoyed as a familiar product.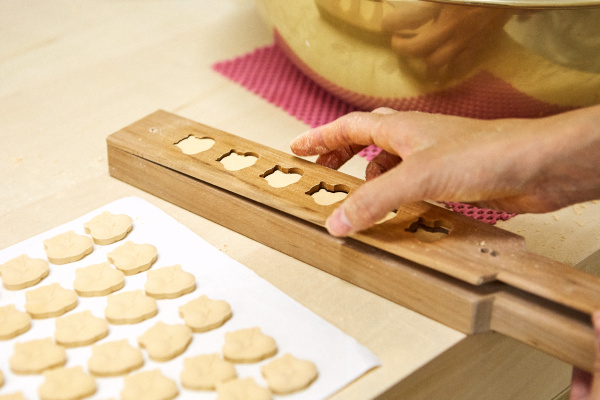 "Traditional stores are the tree trunks. I'm the branch and leaves that grow from the trunk. Because both of us exist, our tradition will be continued into the next 100 years."
This year marks UCHU Wagashi's 10th anniversary. Its possibilities are endless, like the universe—the store's namesake.
Kyoto vegetables, Japanese beef, pork buns, wagashi … Kyoto's culinary culture is rich and thriving. Culture and innovation combined into one are passed on to the next generation.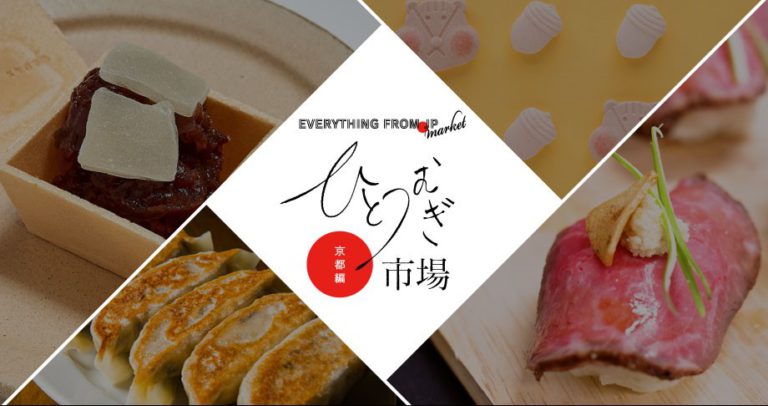 The products introduced in this article can be purchased from Hitotsumugi Market.
Please view the link below for details:
 / 
Photographer
: KOJI TSUCHIYA