【AREA_PR】THE ROOTS OF SHUN (October 2020)
Apples Shining a Beam into the Future Younger Farmers and Their Efforts to Create Japan's No. 1 Apple Town
Iizuna Town, Nagano Prefecture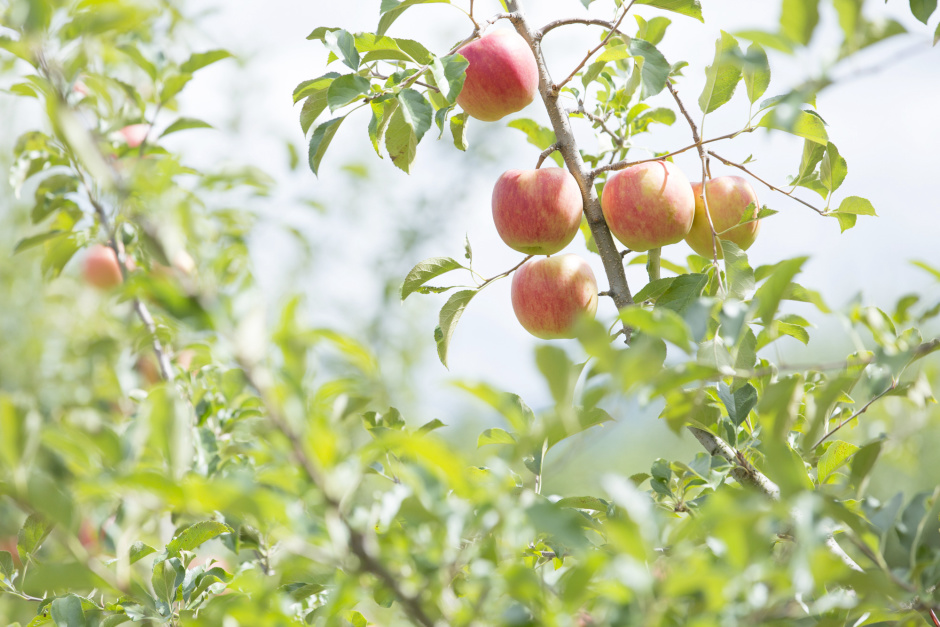 (Month information was collected: September 2020)
Iizuna is a 30-minute drive from Nagano Station, and is a town blessed with a lush natural habitat in the northern area of the Nagano Prefecture. The area is famous for its apples, and it is said that one out of every 100 apples distributed across Japan is from Iizuna (as of 2015).

Lately, the town has been seeing much activity by apple farmers of younger generations. They have been exploring various possibilities for the town through apples, such as growing high-quality apples, along with developing products and the community. We visited four young-generation apple growers in Iizuna who are passionate about these activities.
The apple industry has been the foundation for Iizuna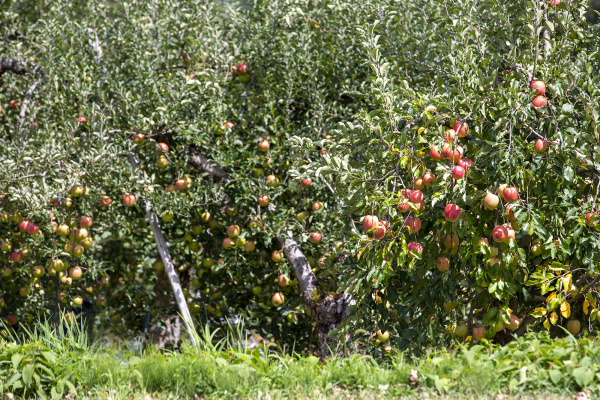 Apple harvesting started in Japan around the fifth year of the Meiji era (1872) and developed as an important industry in the Tohoku region, especially Aomori Prefecture, as apples grow in colder climates. History says that the main industry of silkworm yarn in Iizuna started to wane at the beginning of the 1940s, causing the town to switch over to apple growing.
One reason why apple growing became so popular in Iizuna was its climate. The town is located at an elevation of 500 to 700 meters, which causes a great temperature difference between day and night. This environment creates rich-flavored, firm apples. What is more, the clay-like property of the region's soil is able to store an abundance of nutrients necessary for crops. This, and the fact that there is less rain during the growing period of April to November, combined with the region's abundance of sunshine proved to be a perfect environment for apples, which dislike hot and humid climates.
There are currently over 50 types of apples being grown in Iizuna, and various types of apples can be enjoyed for the long period between mid-August to the end of December. Thanks to the tireless research efforts of the producers and the optimal climate of the region, Iizuna has become an apple town.
From father to daughter—a female producer breathes new life into a traditional apple farm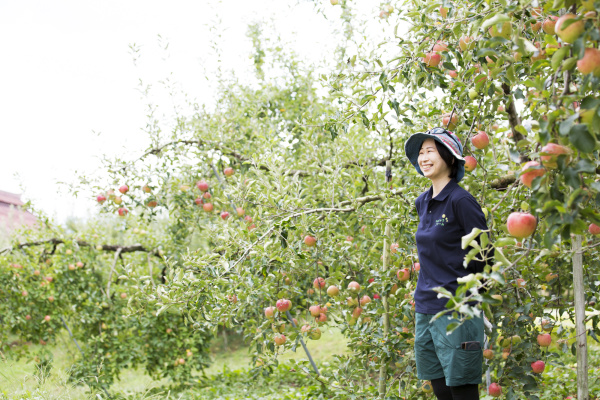 Yamaju Farm in the Kurai region is a prestigious apple farm with a 70-year history. The farm sprawls across approximately 3.5 hectares of land, on which 15 species of apples are grown. The oldest daughter, Junko Nakamura, decided to return to her hometown and take over the family business five years ago. She has been growing apples with her father Ichiro, who has developed the business to the great farm it is now, and is on her way to being the next female manager of the farm.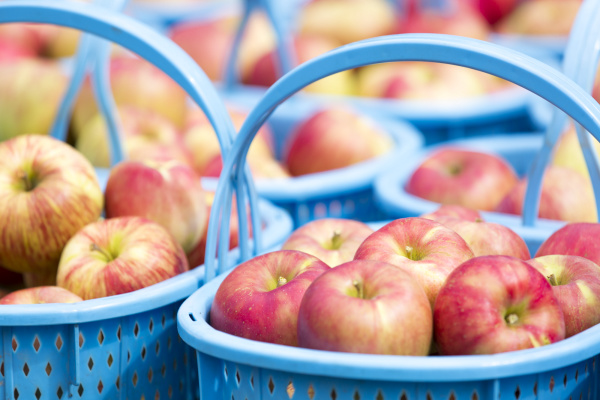 Yamaju Farm, which has acquired "Eco-Farmer" status, specially grows its apples with organic fertilizer. It does not conduct any early harvesting, and focuses on waiting until the apples are ripe and the most delicious. Furthermore, the farm has also been working toward apple product development such as jams, juices and ciders. As Junko watched her father tackle harvesting new types of apples every year, she also channels her ideas into business management to breathe fresh air into the business.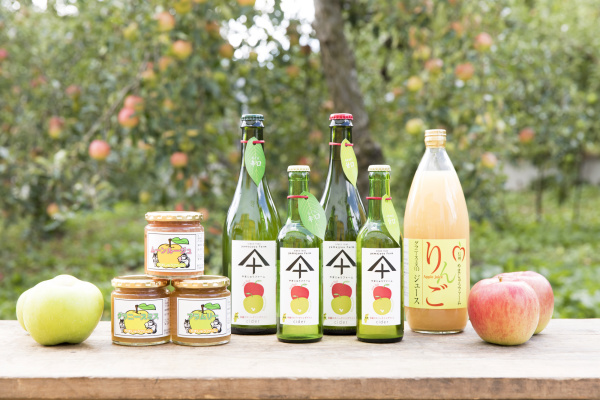 "After I returned to my hometown, I made the farm webpage and launched social media to spread information. I also revamped the cardboard box design for delivery."
Apple farming is a profound science, and there are many things that Ichiro still does not know, even after more than 40 years in the business.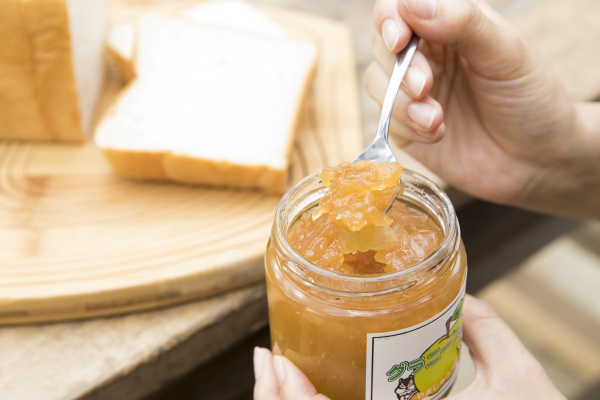 "'The more you take care of them, the better apples they will be'—I take these words from my father to heart, and hope to run the farm by taking care of each and every apple here."
A cider over a decade in the making, by the "big brother" of the Naramoto region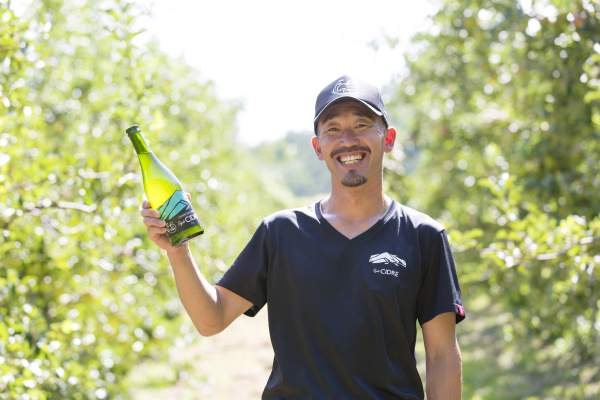 The Naramoto region of Iizuna is nestled in an especially secluded place in the mountains. Here one finds Farm Toya, an apple farm run by its fourth-generation manager, Junya Toya.
Toya entered the farming business at 23, after his father fell ill. He was one of the first farmers to incorporate the new dwarfing cultivation method in which saplings are grown in wall-like high density rows. Toya also tackled reduced-agricultural chemical cultivation methods and worked toward increasing the number of apple species at his farm to boost brand strength. This cultivation method allows young saplings to take fruit, and provides apples with good color because the sun is able to reach the fruits from both sides.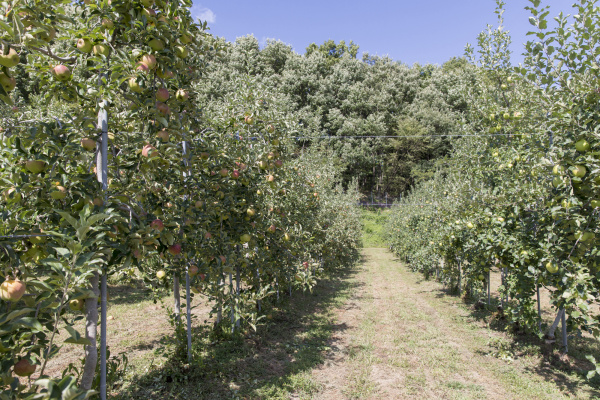 Another 10-year dream brought to fruition by Toya is the cider product containing only apples from his own farm. He consulted the representative of the town cidery, Ringo School Cidery, Tsukasa Ono, studying apple species and combinations in detail to create the ideal taste. These wholehearted efforts gave birth to a spectacular cider product, with an eye-catching label featuring Mt. Iizuna.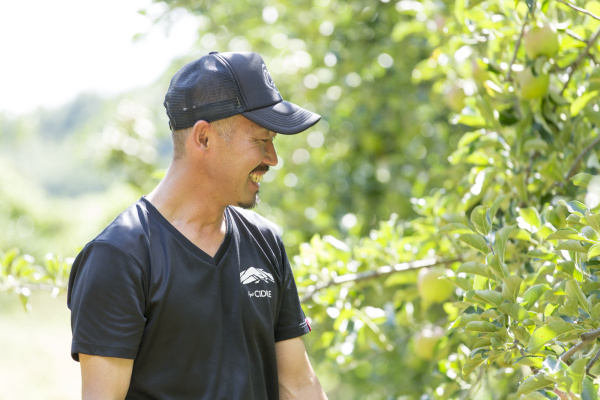 "I have always wanted to make a cider, so I am really enjoying myself right now. The apples used in the cider are Fuji, Shinano Hoppe, Shinano Gold, Gunma Meigetsu and also Orin to boost its fragrance. I hope that this cider, which expresses the terrain of the Naramoto region, will promote this region far and wide."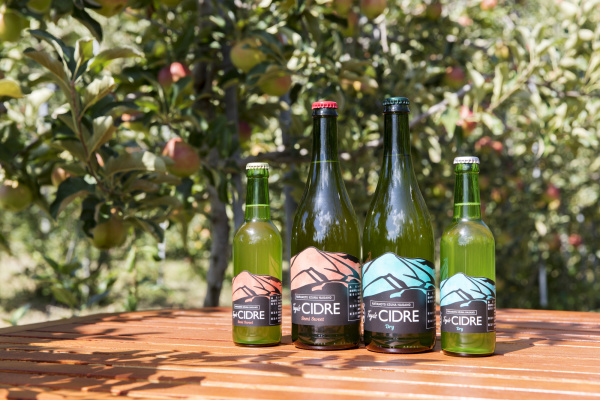 Toya aims to preserve the Naramoto region, which is suffering from a declining population, and has been leading his local friends in various activities.
"I would really like some comrades to rejuvenate the Naramoto region together with us. I hope that many people from outside the prefecture will join us as well."
Communities spreading across Japan with non-standard apples combined with beer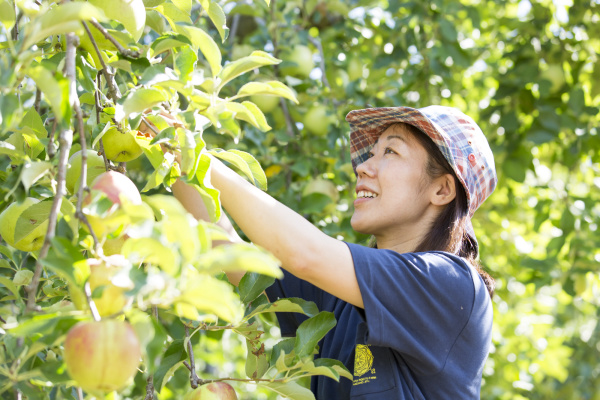 The apple farm Fujiwara roots farm is run by the snowboard-loving, husband and wife team Shinya and Naomi Fujiwara. The couple moved to Nagano Prefecture as new farmers and became independent in 2012 after two years of training before moving to Iizuna in 2018. The reason the Fujiwaras selected Iizuna was very simple—"because Iizuna apples are so delicious!"
The word "roots" in their farm name embraces their stance towards putting weight on fundamental farming and living. The farm does not use any chemical fertilizers, has reduced pesticides, and does not use any herbicides at all. Their apples can be eaten skin and all with peace of mind. However, by limiting use of agricultural chemicals, another problem comes to light, which is the non-standard apples that have little to no value for eating raw.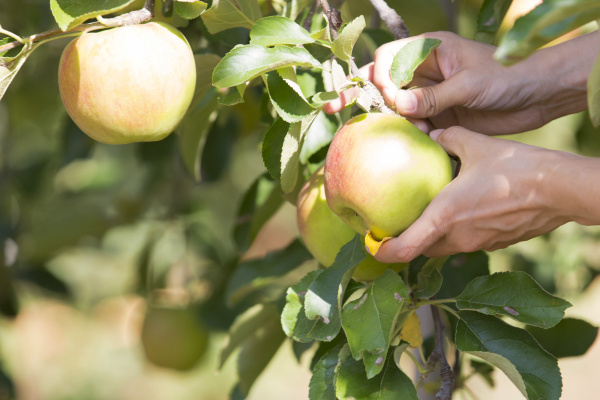 Naomi came up with the idea of having a brewery outside of the prefecture manufacture beer with non-standard apple juice, and also establish a tourism program which has brewery fans visit to producers of the beer ingredients. It was a project to connect first to sixth industries.
Naomi submitted this idea to the Iizuna Business Challenge 2020, a contest for new town businesses, and won the grand prize. Yet, as the tourism plan was made steps toward realization, it was stopped in its tracks due to the COVID-19 pandemic. For this reason, at the moment, exchange meetings between Iizuna members and brewery staff called "Touri-zoom" have been taking place using an online meeting system, developing the relationships between Japanese farms and beer fans.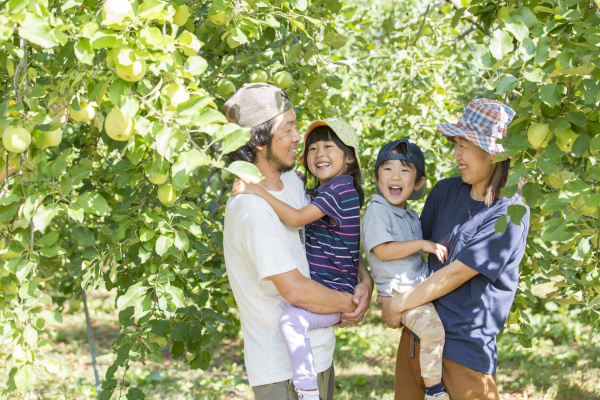 "As the exchange meetings allowed us to get in touch with farmers in other prefectures such as Shimane or Shizuoka, we're now planning to brew "Touri-zoom Beer" with their produce. Although it is a small circle of friends, we hope this will develop to be a good community in which everybody's produce can circulate in."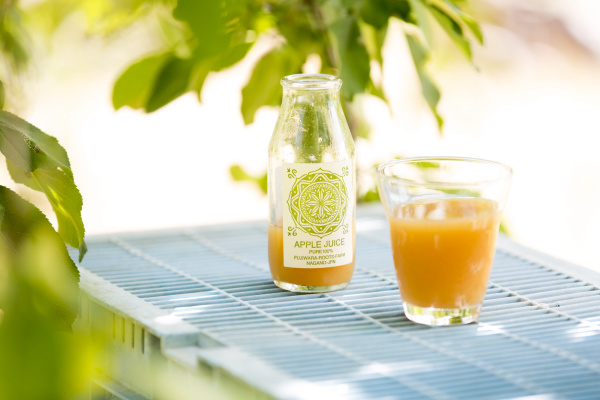 Naomi says that from now on, they aim to realize tourism along with establishing safe apple products for processing with less agricultural chemicals, even if they do not have much aesthetic value. These ideas from young farmers with backgrounds outside of farming are paving new paths for Iizuna apples.
A relaxing lodge operated by a couple whose fate led them to Iizuna's apples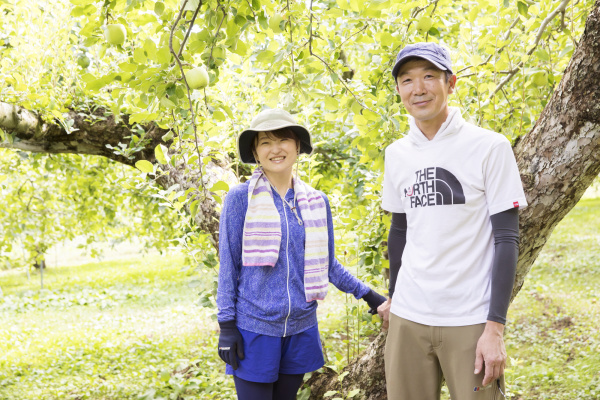 A mountain road at Iizuna Higashi Kogen took us to the Chiisana Iyashino Yado sinra (small relaxing lodge sinra). This lodge is surrounded by the forest, nestled in lush greenery during the day and under a wide starry sky at night. It is a perfect place to get away from it all and unwind.
Operating this lodge is the husband-and-wife pair of Yoshio and Miyoko Endo, who moved to this area from outside of Nagano Prefecture. "We got lost when visiting Nagano Prefecture, and stumbled across Iizuna. The apples we ate then seemed to be bursting with energy, which was something that lingered in our hearts." The lodge accommodates up to three groups a day (up to eight visitors). Course meals featuring local produce and skillfully prepared by Miyoko are provided at the lodge. Most visitors are from metropolitan areas, and many of them are returning customers.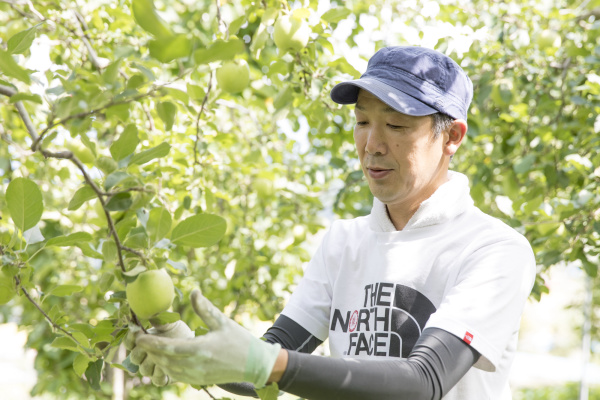 Not only are the Endos fully devoted to their lodge, they also take great care of their apple farm. The couple currently grows 60 apple trees of five types of apples, under the guidance of a farmer they have nicknamed "Master." Farm work is mostly done by Yoshio, who beamed happily when saying, "Working quietly on these apple trees day after day is the perfect job for a person like me."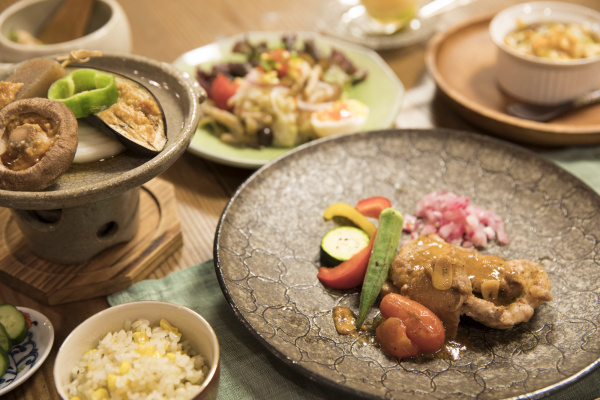 Their apple farm is situated on a mountain with pleasant breezes blowing through. The temperature is lower there than the surroundings, allowing the apples to mature slowly for firm, and moderately tangy fruit. Their harvested apples are mostly sold to visitors staying at their lodge and also are processed into additive-free juice with a mild sweetness, to be sold at outlets such as direct-sales shops in town. The juice bottles also feature an endearing label penned by Miyoko.
"Some people purchasing our apples had disliked apples until they tried our fruit, reaffirming our feelings toward the amazing taste of Iizuna's apples. We are looking forward to seeing many visitors here to experience these delicious apples."
Energetic, young producers have been opening the way for the apples of Iizuna with their unique taste and ideas. The day that Iizuna is called the "No. 1 apple town in Japan" may not be that far off.
 / 
Photographer
: CHIE MARUYAMA