【AREA_PR】THE POWER OF SHUN (January 2021)
Enjoying Apples from the Apple Town of Iizuna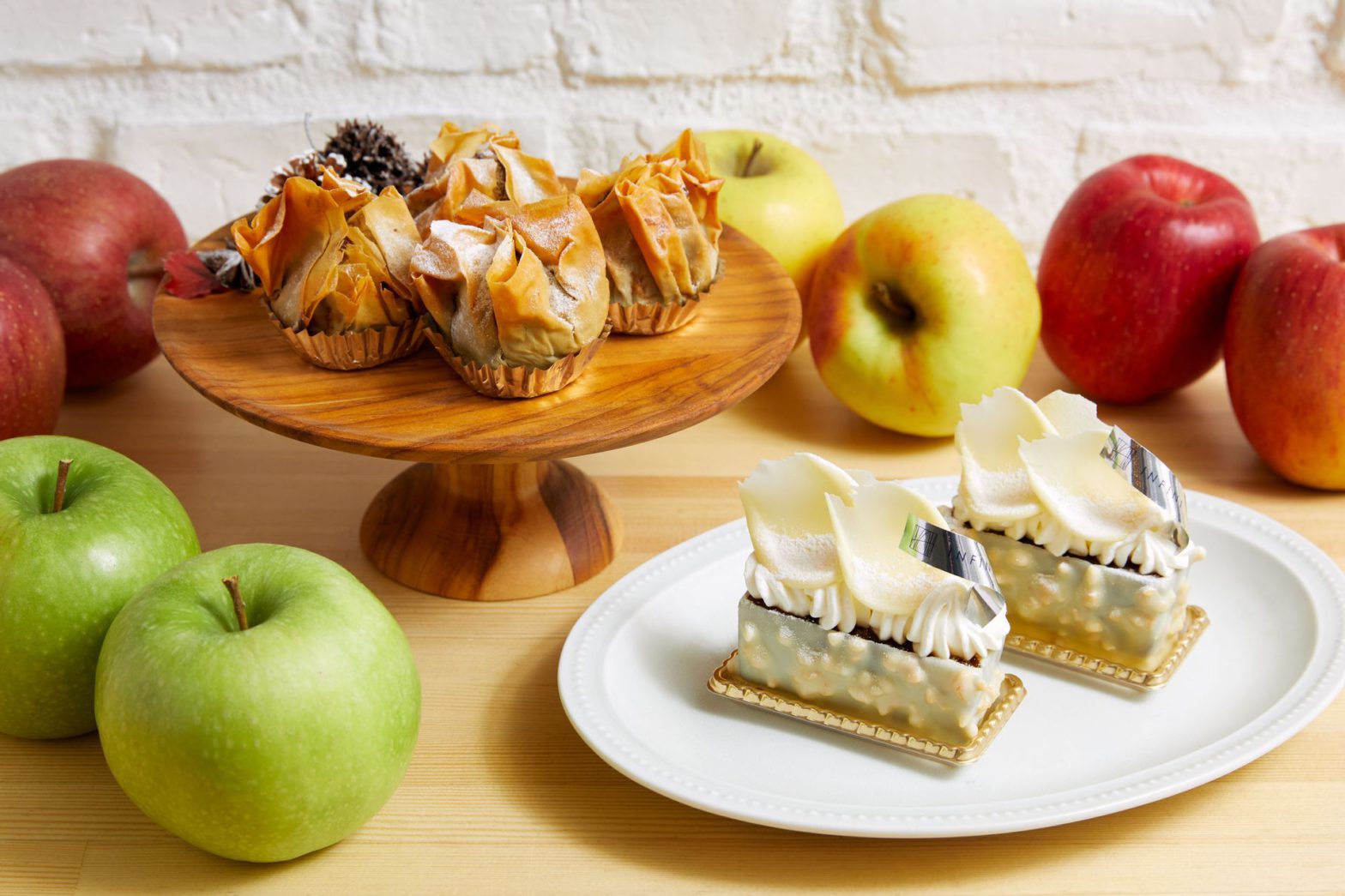 Apples are full of healthy nutrients; there is even a British saying "An apple a day keeps the doctor away." Apples can be enjoyed raw or as sweets, as the colors, taste, texture differs between each breed. About 50 types of apples are grown in Iizuna, Nagano Prefecture. In this article we explore the various apples grown in Iizuna, how to select the best apples and beautiful sweets made by a chef of a popular pastry shop.
Why Iizuna home to delicious apples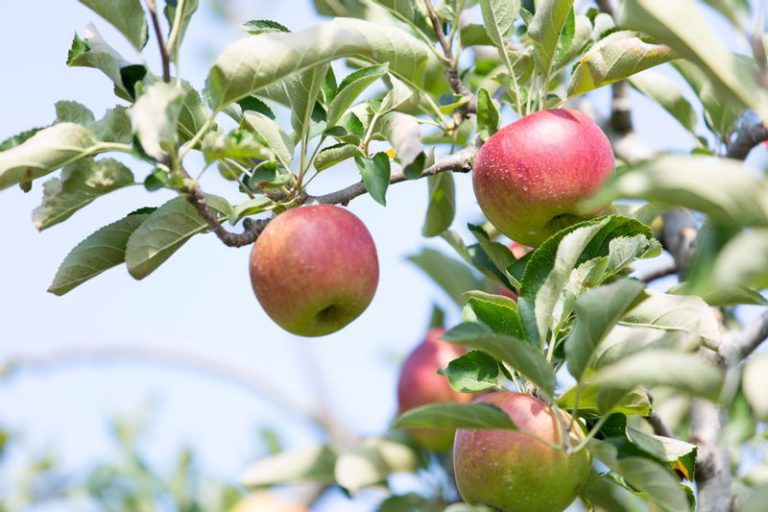 Iizuna is located in the foothills of Mt. Iizunayama, which have also been designated as a part of Myōkō-Togakushi Renzan National Park. The area is well known among the select few as a production center blessed with a climate and natural features perfect for growing delicious apples.
Apples are said to grow best in temperatures of around 10℃. The annual average temperature of Iizuna, which lies at an altitude of 500 to 700 meters, matches that condition perfectly at 11.3℃. Furthermore, this inland climate has dramatic temperature swings between day and night, resulting in apples that are highly nutritious and rich in flavor. Having less rainfall between April and November is also a condition that is optimal for growing apples.
Select apples by their color and bottom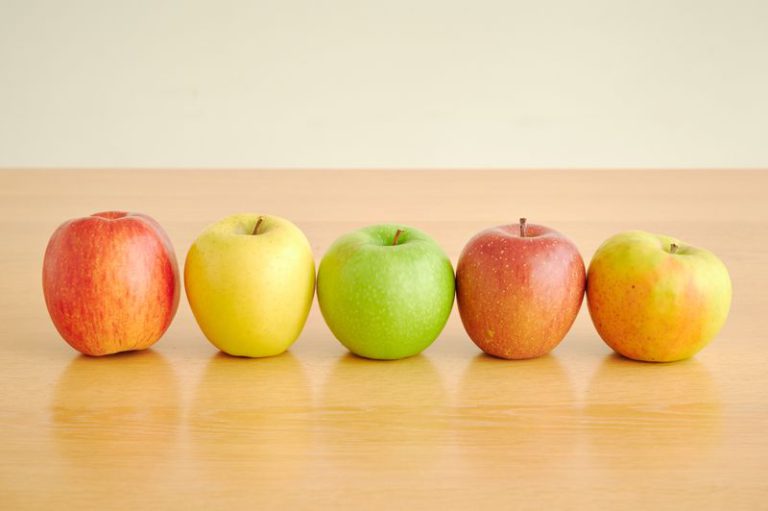 The Iizuna Apple Museum features apple-related materials and outdoor exhibits on rare apple varieties. The museum's curator, Mitsuko Fujisawa, taught us how to select the best apples out of a bunch.
"Take a good look at an apple's color and bottom. Apples with a good, vibrant color are apples that have been exposed to a lot of sunlight. This is a standard for delicious apples. Another sign of a tasty apple is a wide base with a yellow color (for Fuji apples) or yellow-green color (for other varieties). Local markets sell freshly-picked and ripened apples, so I recommend visiting Iizuna to experience the delicious flavors of in-season apples."
More than 50 types of apples are harvested in Iizuna from August to winter. In this article, we would like to introduce some major apple varieties that reach their seasonal peak in the winter.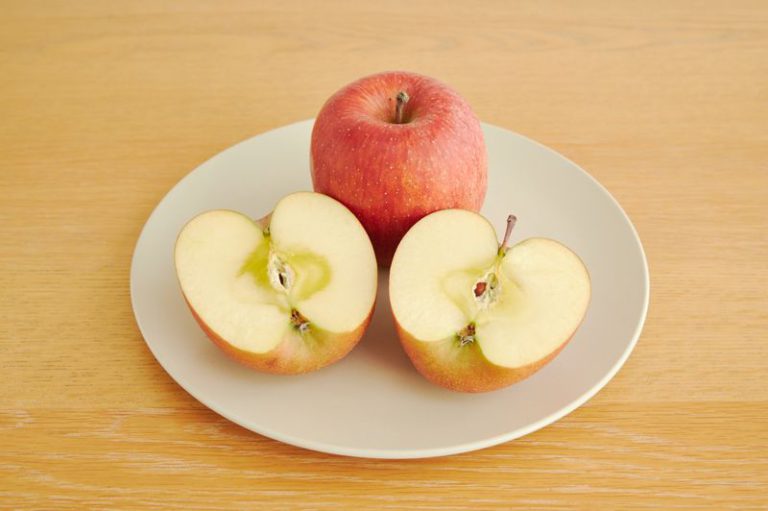 The classic Fuji apples are well-balanced in every factor
Fuji apples are the way to go for their excellent balance in sweetness, acidity and crisp texture. They are juicy, richly-flavored and have a longer shelf life, offering the best of many worlds. Due to this, the Fuji apple is the most produced variety in the world. It is best eaten raw or processed into sweets such as tarte tatin.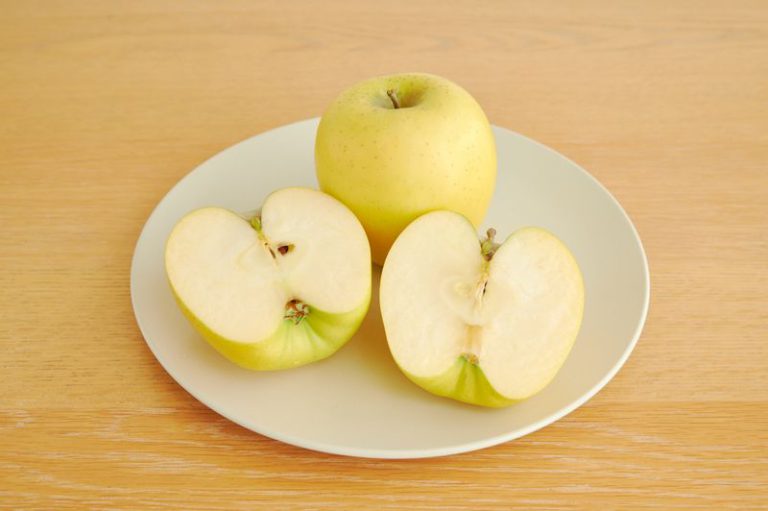 The yellow-apple Shinano Gold and its sweet and sour taste
This variety of apple was born in Nagano Prefecture and has a beautiful yellow color. It has a rich taste that is a well-balanced combination of sweetness and acidity. The fragrance of this apple evokes images of pears and bananas. Shinano Gold apples have made their way overseas in recent years and are now grown in Italy as well.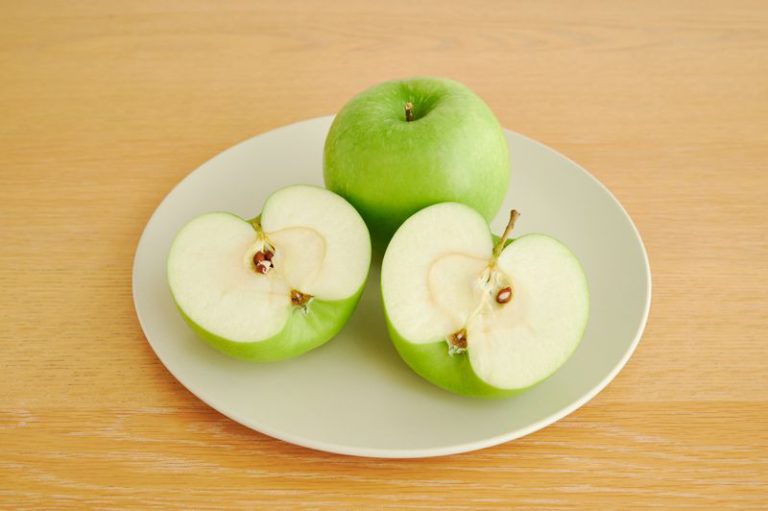 Granny Smith apples have an acidic flavor perfect for making sweets
Granny Smith is a typical green apple that is grown throughout the world. It is named after Australia's Maria Ann Smith, who discovered the apple in the 1860s in the latter years of her life. Production of this apple started in Iizuna approximately 20 years ago. These apples are firm with a refreshing fragrance and strong acidity, perfect for creating apple pies, juices and jams.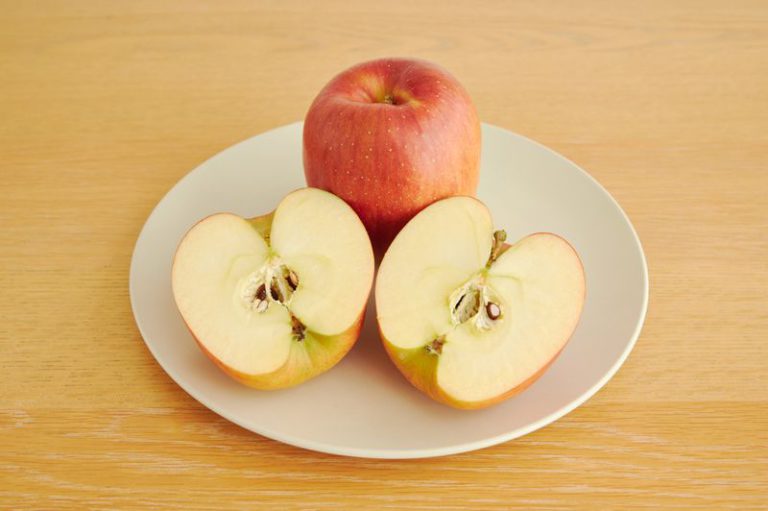 Aika No Kaori is large, sweet and fragrant
This apple was born in the orchard of Hideo Fujimaki of Murayama, Nagano, and was registered as an apple variety in 2001. The juicy Aika No Kaori is a large apple with a long shelf life, and has a strong fragrance and sweetness. The name Aika is said to have been taken from Fujimaki's oldest daughter.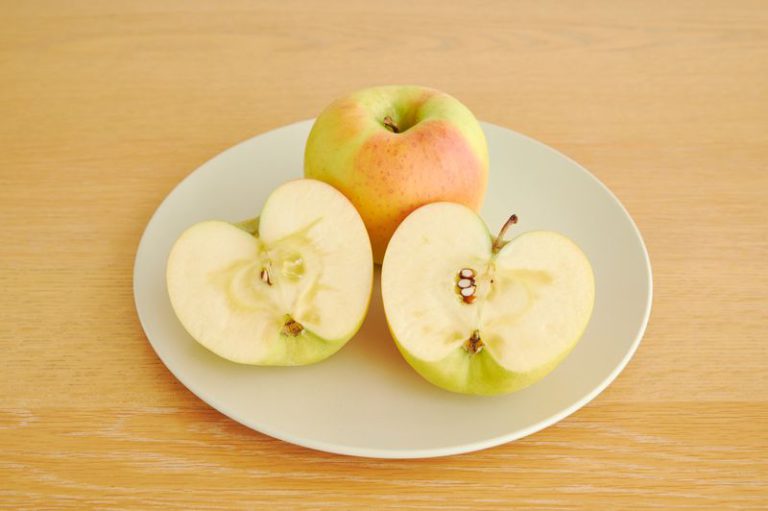 The sweet, Gunma-born Gunma Meigetsu
This variety was registered in 1991, and was born in Gunma Prefecture. It is extremely popular as an apple to be eaten raw, as it has a high sugar content and a strong aroma. The apple has a rounder shape and is mostly yellow, but sports a beautiful marble-like pattern with patches of light red.
Delightful sweets created with Iizuna-grown Granny Smith apples
The pastry shop INFINI opened in front of Tokyo's Kuhombutsu Station in January 2020. The chef of the establishment is Fumiyuki Kanai, who has experience as a chef-patisserie at a three-starred Paris restaurant and the popular UN-GRAIN in Tokyo.
"Granny Smith apples have a crisp texture and a strong acidity, so I enjoy eating them raw. When I was in France, I often used Granny Smith apples to create a green sauce by combining them with lemon juice, or slice them thinly and bake them at low heat to make chips. The apples from Iizuna are very firm, and of extremely high quality."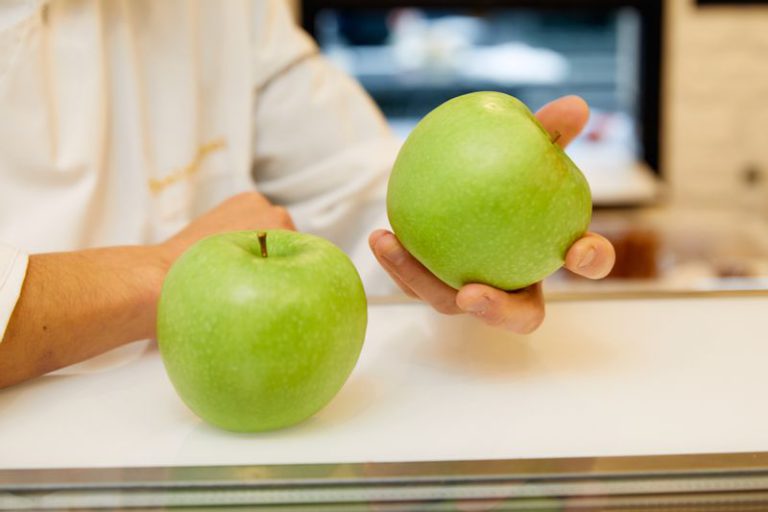 For this article, Chef Kanai created two sweets that showcased the tangy flavor of Iizuna-grown Granny Smith apples.
The first pastry is Blanche Neige (Snow White). It features tarte tatin enveloped with fragrant Kochi bergamot jelly, coated with white chocolate containing peanuts for a light texture. The pastry is topped with cheese cream called fromage blanc. According to Chef Kanai, this charming pastry was created with the image of Snow White sleeping on a white bed after eating the apple. It features a perfect match of milky white chocolate and the zest of apples, with a bergamot fragrance accentuating that of the apples.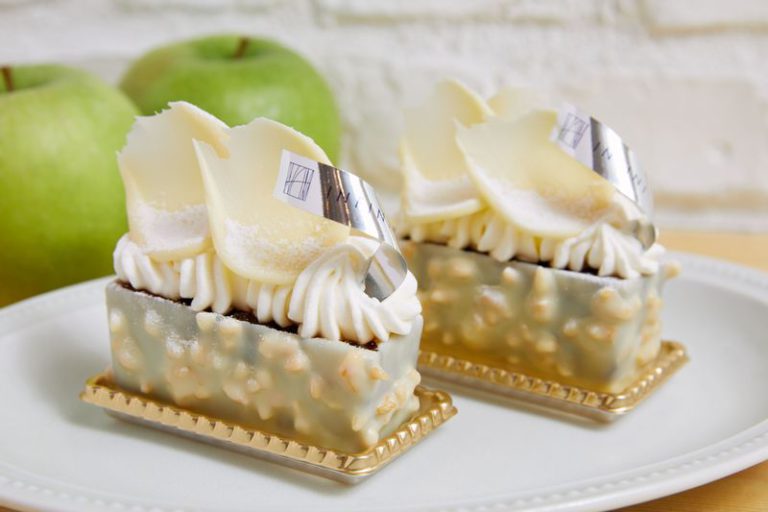 The next pastry is the traditional sweet of France's Normandy region called Croustade aux Pommes with added flair from Chef Kanai. The tart features cake sponge, crème d'amande, and soft, sauteed apples that are wrapped in paper-thin petals of dough before baking. The contrast between its crispy, fragrant texture and the soft, sweet/sour apples is very addictive.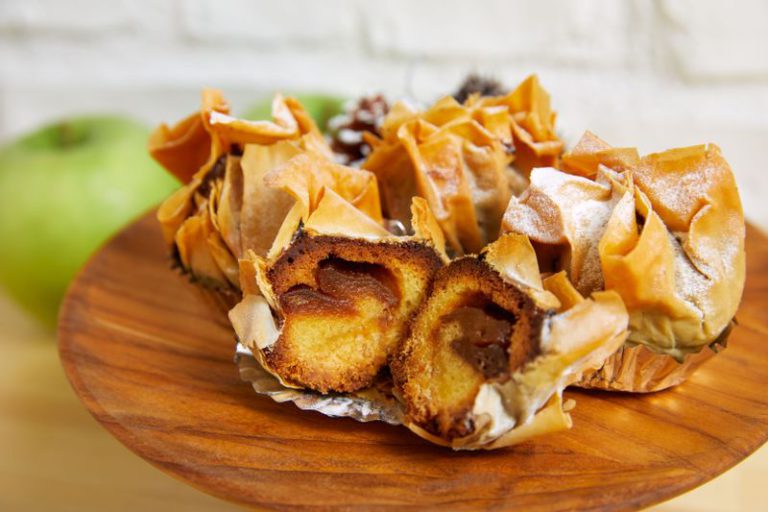 These two sweets are available at INFINI until the end of February 2021. We recommend sampling these special pastries that showcase the artistry of Chef Kanai paired with the delicious apples of Iizuna.
Apples of Iizuna
Source:Iizuna Apple Museum, Curator Mitsuko Fujisawa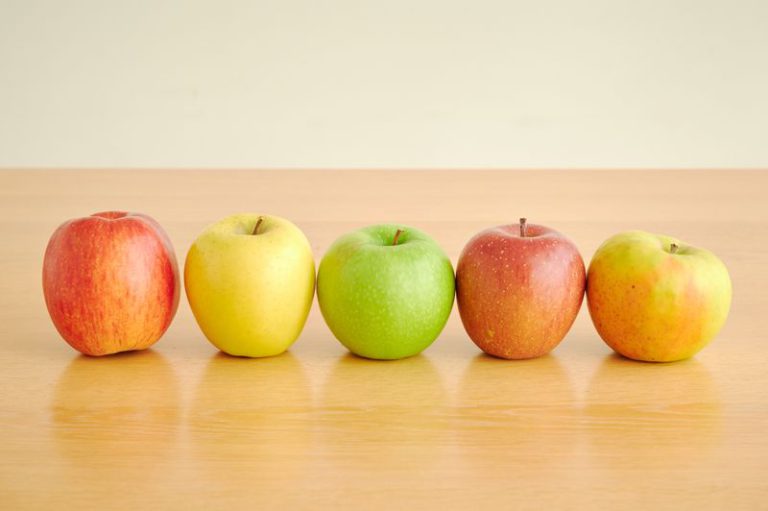 Peak Season
August to December (depending on the variety)
Tips
・ Apples with a strong overall color
・ Apples with a wider bottom (base)
・ Bottoms that are yellow (for Fuji) or yellow-green (for other varieties)
 / 
Photographer
: KOJI TSUCHIYA/YUTA SUZUKI