THE POWER OF SHUN (March 2015)
Stunning selection of ceramic dishes complemented by exceptional customer service enhances the seasonal pleasures on offer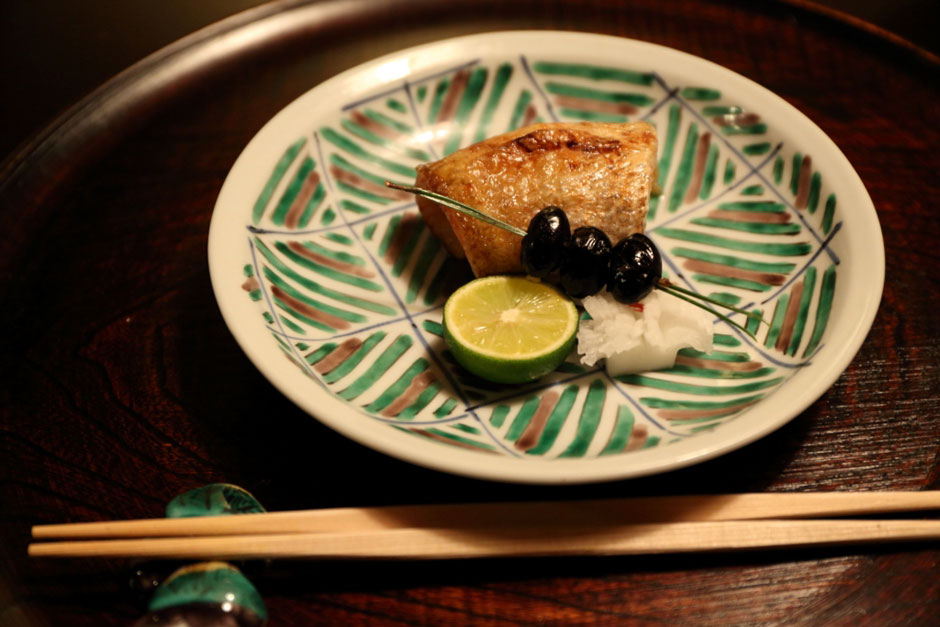 In Japanese cuisine, the serving dishes are a key component of overall presentation.
The ceramic dishes reflect seasonal and regional tastes and sensitivities, while the food itself changes in accordance with the seasons. The dishes can be interpreted as a direct expression of kindness and hospitality, which in its own way contributes to the seasonal appeal of the meal. They add a visual dimension and enhance enjoyment of regional seasonal delicacies.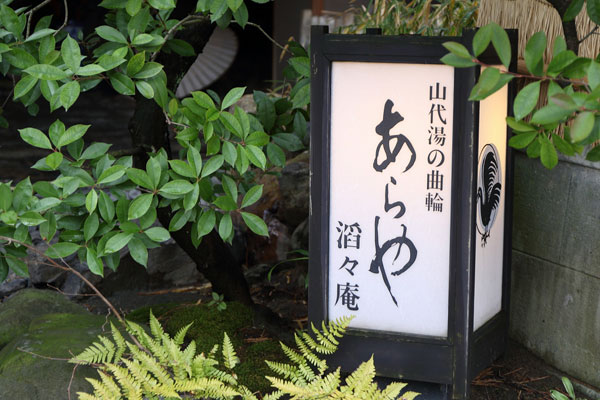 The Yamashiro Onsen hot-spring village at Kaga in Ishikawa prefecture is home to many fine artists and has a longstanding connection with the legendary artist and gourmand Rosanjin Kitaoji. The local artists produce ceramics that are unique to the region, including the exquisite porcelain known as Kutani-yaki. These are featured extensively in local restaurants and hotels. Thus, a meal in Kaga is a feast for the eyes as well as for the taste buds, and the stunning ceramics are sure to leave an unforgettable impression.
Araya Totoan (more commonly known as Araya) is an established operator at Yamashiro Onsen, having been in business for over eight hundred years. Over this time, Araya has assembled an impressive collection of precious ceramics pieces. Owner Takayuki Nagai visits the kitchen on a daily basis to design the menu together with the head chef and select the dishes to be presented to each individual diner. Through this level of attention to detail, Nagai demonstrates an unparalleled sense of kindness and hospitality to his guests.
Dishes that express the changing seasons of Japan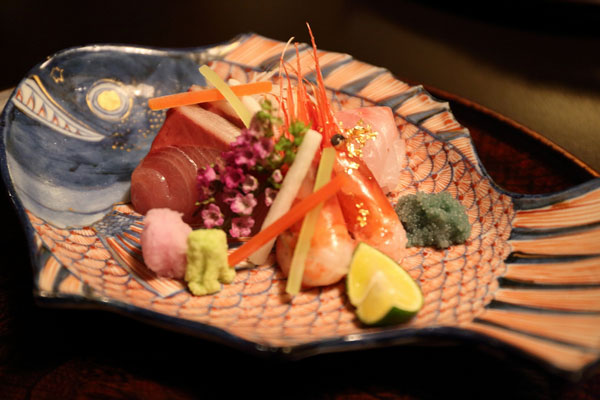 The majority of the dishes used at Araya are made by local artisans. The collection features a large number of traditional Kutani-yaki porcelain pieces made by well-known artists in the Ishikawa prefecture style, including historically significant blue-themed pieces with bold designs as well as delicate red-themed pieces characterized by line patterns. The Kutani-yaki collection is complemented by a selection of local Yamanaka laquerware along with genuine antiques and Rosanjin replicas. A meal at Araya is thus an opportunity to experience first-hand the artistic heritage of the local region.
Nagai encourages visitors to Kaga to explore the traditional crafts of the region, and to this end has been collecting works from local artists.
"Kaga is home to a number of leading artists supplying both domestic and overseas clients," he explains, "and we wanted to give our customers a chance to experience the exceptional artistry of this region. I see it as part of our role as a ryokan (traditional inn) here in Kaga to introduce guests to the splendor of traditional porcelain such as Kutani-yaki."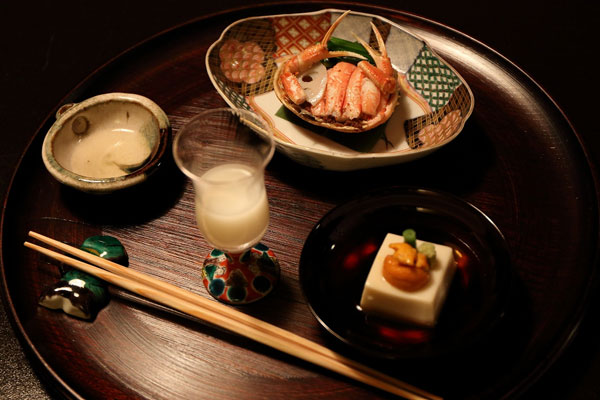 According to Nagai, porcelain is a pivotal part of experiencing the changing seasons in Kaga.
"The landscape changes enormously with each season," he says, "and so does the food, and so does the way we present the food. Just as we have seasonal foods, so we have seasonal dishes for serving the food. Many of our guests visit us every season in sequence, starting with winter, and we make a special effort to present their meals in different dishes each time in order to accentuate the experiential pleasure of the visit."
Finest standards of customer service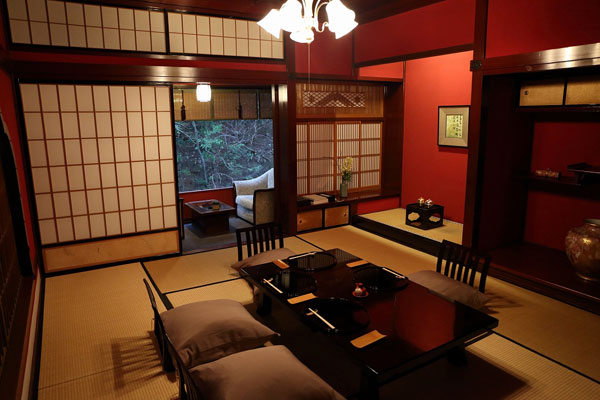 Every morning, Nagai meets with the head chef to choose the dishes that will appear on the menu that day, as well as the plates and bowls that will be used for presentation.
"Our clientele varies considerably here at Araya," he explains. "We often have older guests who prefer not to eat that much, we also have our regular clients, we have young people, families and so forth. The best way to accommodate the specific expectations of each person in terms of meals is for the person in charge of the entire operation?myself?to support the chefs fully in what they do."
Nagai's innate sense of hospitality extends well beyond selection of food and serving dishes; he also has a hand in other areas such as the interior fittings and decor and the timing of the meals. Nagai is strongly committed to delivering an overall aesthetic appeal and service quality that is guaranteed to leave guests feeling totally satisfied.
"I consider a meal to be much more than just the time spent at the table," he enthuses. "It's a chance to relax and reflect on what you've achieved during the day, and also to enjoy the unique ambience of our ryokan. For example, if guests arrive late in the day, I encourage them to spend some time in the hot spring and change into a yukata robe before coming to dinner, because I think that helps you to enjoy your meal more."
An encounter with Rosanjin Kitaoji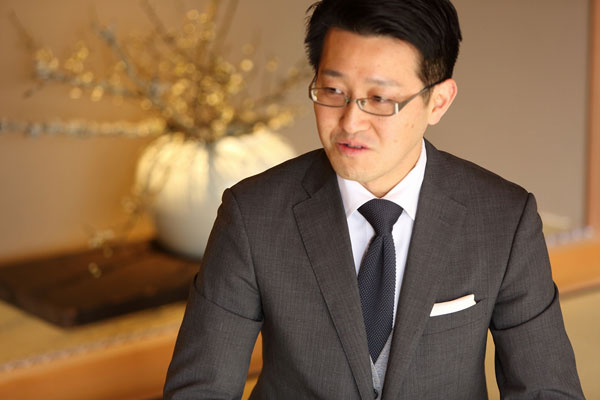 Araya is rightly proud of its history stretching back over eight hundred years. It is this sense of history that informs the standards of hospitality and service enjoyed by the guests, which is also influenced by associations with leading figures through the ages. One such connection was the meeting between the previous 15th generation owner, Gen-emon, and the legendary artist Rosanjin Kitaoji.
"Back in the days before television and the internet," explains Nagai, "when information was much harder to come by, the onsen (hot spring) ryokan was a place where you could learn a great deal from the tales told by travellers passing through. So the ryokan served as a cultural "salons." for information exchange, if you like. Apparently Rosanjin was quite a difficult character back before he became famous; he wasn't one to mince his words and he often found himself ostracized by the rest of society. But the ryokan owners could see that he was highly talented. Together they resolved to keep him in business by commissioning paintings, calligraphy and signs. Their generosity towards Rosanjin helped to forge the career of one of Japan's greatest artists, while also firmly cementing the tradition of Ryokan hospitality that lives on to this day."
Nagai says that Rosanjin never allowed himself to be satisfied with the plaudits. According to Nagai, Rosanjin always cast a critical and objective eye over his own works, and was constantly striving to improve himself as an artist. "Like Rosanjin, we at Araya are constantly striving to improve the service we provide to our guests. We never sit back on our laurels and allow ourselves to be satisfied with glowing reviews. We are always looking at how we can do things better."
Today, the artistic output of Rosanjin Kitaoji, including ceramics, painting and writing, provides Araya with inspiration to pursue the highest standards of customer service. And Nagai is keen for his guests to experience the source of this inspiration when they stay at Araya.
The city of Kaga in Ishikawa prefecture is surrounded by natural attractions on all sides, including the Japan Sea, the Kaga plains and the Hakusan mountains, and Araya provides the perfect environment for enjoying seasonal produce from Kaga, complemented by artworks from local artists and the wonderful generosity and hospitality of the hosts.
Utsuwa-gura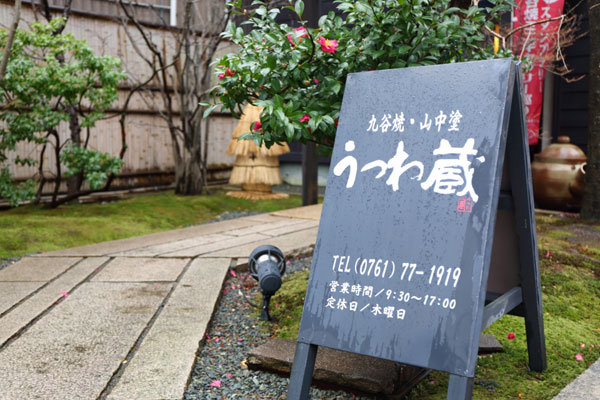 A recent addition to Araya is the Utsuwa-gura shop, where guests can browse a range of exquisite Kutani-yaki and Yamanaka laquerware pieces similar to those used in the ryokan as well as authentic replicas of Rosanjin Kitaoji pieces. The new Hokuriku shinkansen bullet train line, opening March 14 2015, provides much improved access to Ishikawa prefecture. Now is the perfect opportunity to visit Kaga and discover the exquisite delights on offer at Utsuwa-gura.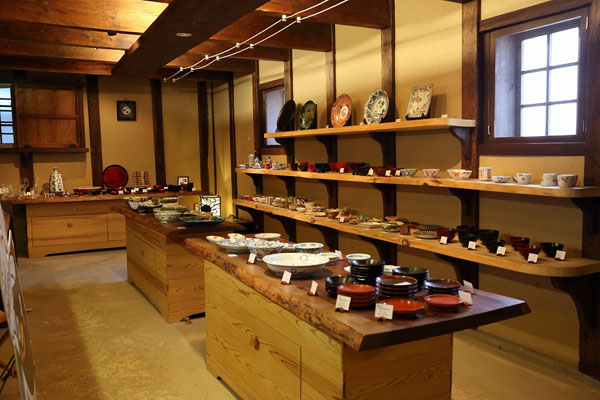 | | |
| --- | --- |
| Location | 1-3 Yamashiro Onsen-dori, Kaga, Ishikawa prefecture (in front of Onna Shozu) |
| TEL | 0761-77-1919 |
| Hours | 9:30-17:00 |
| Closed | Thursdays |