THE ROOTS OF SHUN (March 2015)
Enjoying the Seasonal Seafood and Hospitality of a Fishing Town
Kaga City, Ishikawa Prefecture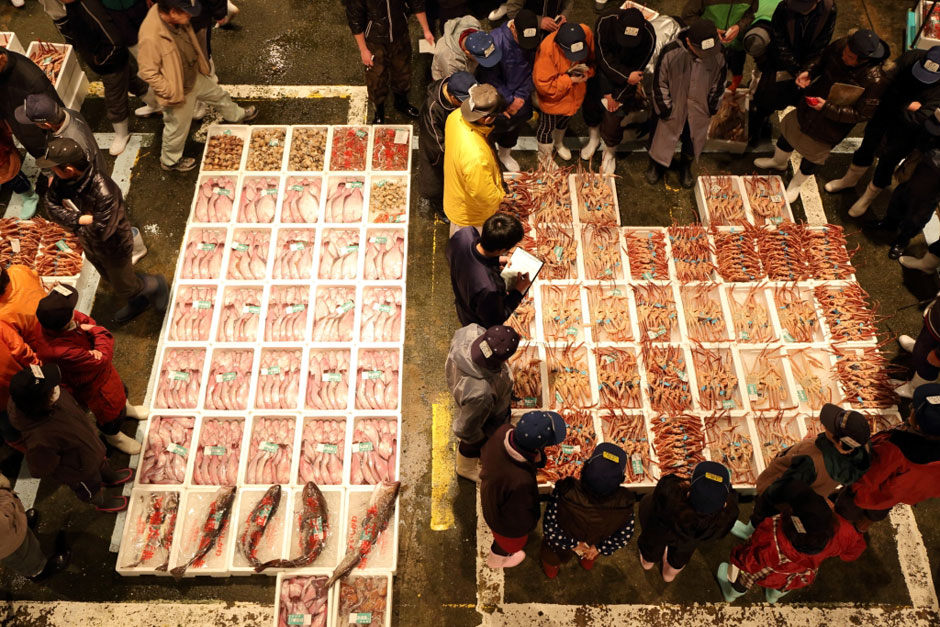 (Month information was collected: January 2015)
Located in Ishikawa prefecture on the western coast of Japan, Kaga City is home to Hashidate Fishing Port and a fish market that offers not only all of the usual seafood that you would expect to find in Japan, but also seasonal treats such as snow crab, oysters, deep-water shrimp, blow fish and Japanese amberjack.

From the start of the Edo period (1603?1868) through to the early years of the Meiji period (1868?1912), Hashidate Fishing Port was the main port of call for the kitamae-bune, cargo ships that sailed the Japan Sea buying and selling goods. During this time, the feudal lords of what was then the Kaga Domain actively sought out the regional foodstuffs and cooking methods that would go on to become the refined food culture of Kaga today.

Backed by this rich culture and history, restaurants in Kaga offer seasonal dishes of local seafood that are admired by connoisseurs who come to immerse themselves in a celebrated local hospitality that has evolved over the years by absorbing the food cultures of other regions.
Pick Your Own Fish at Shintoku, a True Fishing Village Restaurant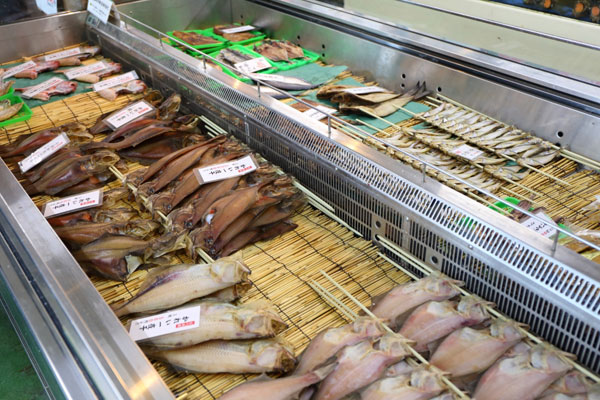 Situated near Hashidate Fishing Port, Maruya Suisan sells freshly caught and processed seafood to both wholesale and retail customers. The shop offers an abundance of seasonal fish that have been freshly caught just off the coast, and it is always full of local residents and tourists.
While I was browsing in the shop, I saw customers closely examine the fish on display, make their choice and then head upstairs. As I stood there wondering why they were going upstairs, Maruya Suisan's Makoto Yuya told me the reason why.
"We have a restaurant upstairs. You can choose whatever seafood you want here in the shop and we'll cook it to order for you in the restaurant."
That came as a total surprise! You just choose some fresh fish yourself and then have it cooked right there. We immediately decided to follow suit and eat at the restaurant.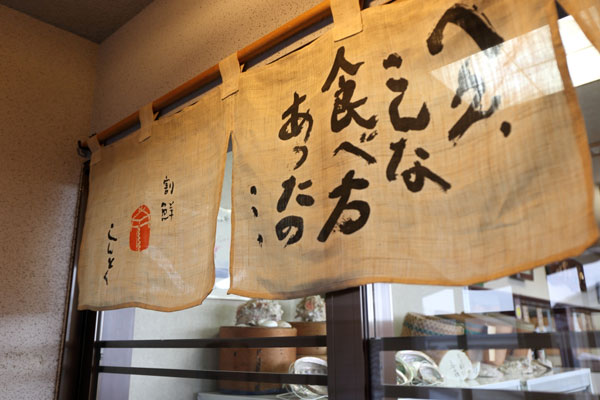 Called Tabedokoro Kassen Shintoku, the restaurant has a great atmosphere and a panoramic view of the ocean that stretches out along the coast of Hashidate. On the other side of the counter, the chefs were skillfully cleaning and filleting fish. Just watching them cook the fish we had just selected in the shop below filled us with eager expectation even before the food was served.
They say that the best way to enjoy the fish at this restaurant is kassen, which means to open up the fish and eat it fresh.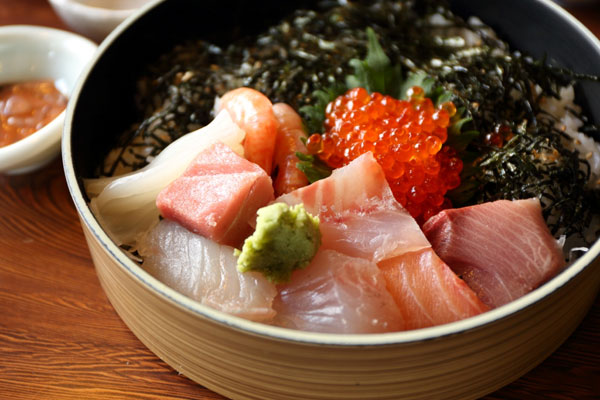 We were pleasantly surprised by the quick service and the sophistication of the dishes. Cutting fish in the wrong way can apparently damage its cells and cause it to degrade, but the Shintoku chefs work quickly to ensure that the fish stays fresh and their skillful slicing technique also ensures that the fresh fish is served at its best. Thanks to their unquestionable skill, we were able to spend an enjoyable time savoring the delicious fish of the season in Hashidate.
Shintoku's Passion: Allowing People to Enjoy Wonderful Fish in a Casual Way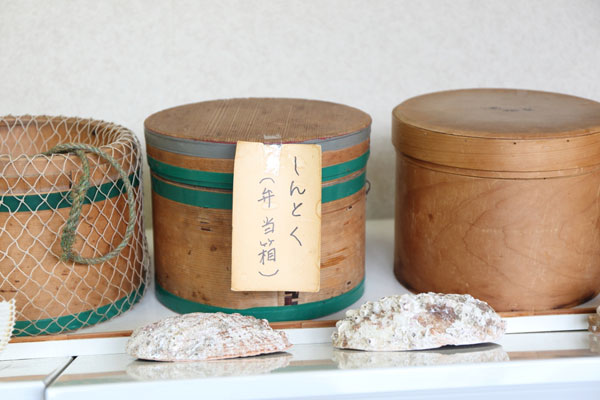 As I looked around the shop, I noticed some cylindrical wooden boxes piled up near the entrance. When I asked what they were, I was told that they are called shintoku?which explains where the restaurant got its name from?and that they are used by fishermen to carry their lunches in. Fishermen just place some rice in these slightly large containers, and when it's time to eat, they add some slices of the fresh fish that they have caught.
The idea of selecting freshly caught fish and having it prepared while you wait has its roots in the fishermen's style of eating.
"We're a wholesaler, but we wanted a place where people could enjoy the freshness of Hashidate in a casual way. Around that time, we met this great chef, and that's when we decided to open a restaurant where customers could just drop in, select the fish they wanted, and eat it cooked in a simple way."
Shintoku is a restaurant that reflects Makoto Yuya's desire to
have visitors to Hashidate enjoy the fish of their choice in a casual way, just as the fishermen do on their boats.
Kamezushi: A Well-known Refined Sushi Restaurant Loved by Food Connoisseurs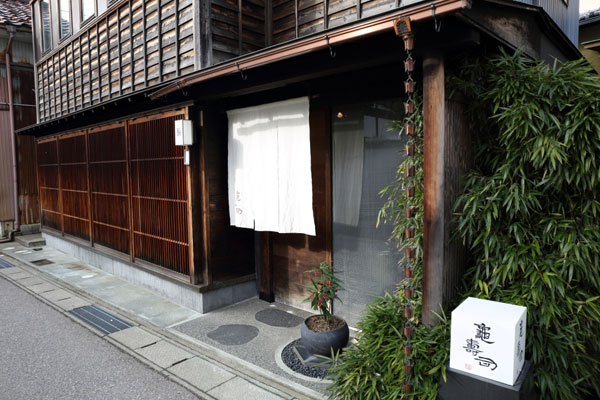 One of the highlights for most visitors to Kaga is going to an onsen (hot spring). The Four Hot Springs of Kaga?Awazu, Katayamazu, Yamashiro and Yamanaka?have a history stretching back some 1,300 years, and their popularity is attested to by the famous figures that have visited over the centuries. Since its history is closely related to the famous potter and food connoisseur Rosanjin Kitaouji, Yamashiro Onsen is known for its refined atmosphere. It is also home to Kamezushi, a well-known sushi restaurant that food connoisseurs from throughout Japan flock to in search of the flavor of the season.
Kamezushi is a small-scale, family-run restaurant that has served delicious food since it opened over 50 years ago in 1964. This refined restaurant exudes the atmosphere of Kaga. Its exterior is that of a Machiya-style townhouse, while its interior features modern stained-glass decorations. This skillful blending of East and West encapsulates the spirit of Kaga residents perfectly.
The owner also takes great care in selecting the plates used in the restaurant, using a combination of dishes made by the Kutani ware master Choza Yamamoto; Aode dishes (bold, stately ceramics in blue) and Akae dishes (delicate, minute ceramics in red) made by local potters; and lacquerware.
The Passion of Shuichi Ichikawa: What Exactly Is Sushi from Kaga?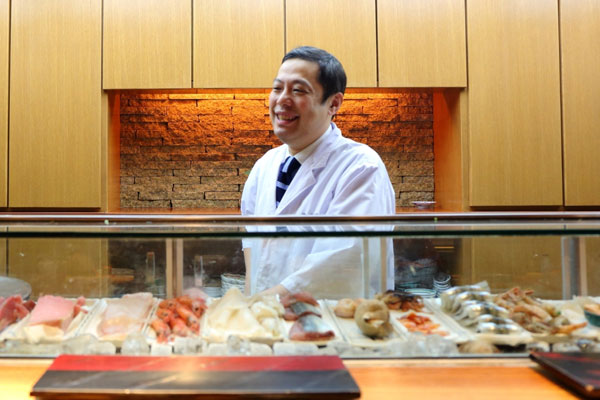 When we asked Shuichi Ichikawa, the owner of Kamezushi, what he insists on in the sushi he serves, he replied: "High-quality sushi from rural areas."
What he means by this is that he insists on serving sushi that can only be found in the Kaga area, with its abundance of local produce. Kamezushi uses only local ingredients, so only fish caught in Kaga and rice grown in Ishikawa's Higashi-taniguchi area are used.
"Edo-style sushi techniques can be found in Tokyo, and there are some exceptional sushi chefs there. Here, though, we are always thinking about how we can make best use of the local ingredients so that we too can serve high-quality sushi," explained Ichikawa.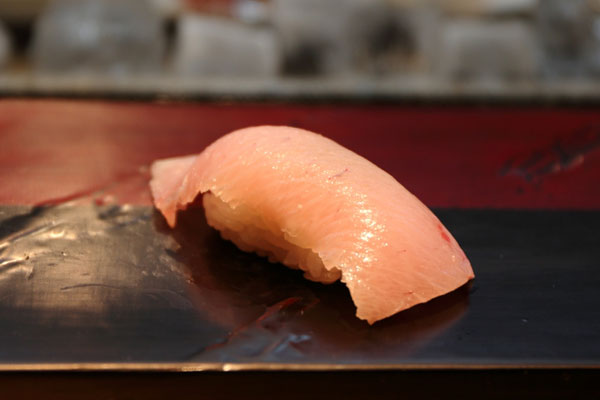 We then asked him what fish he would recommends for winter. "Here in the Hokuriku region, we recommend AKB in winter. "A" stands for "amaebi," which is Japanese for deep-water shrimp, "K" stands for "kani," which is Japanese for crab, and "B" stands for "buri," which is Japanese for amberjack. In the Hokuriku region, the main ingredient in sushi is Japanese amberjack, and I highly recommend winter amberjack caught just before the spawning period as it has the richest meat," he said with a smile.
In light of his recommendation, I decided to order Japanese amberjack, and he kindly served me a slice from the belly. This part makes up just 10% of the fish but it is richest in meat.
A delicate mixture of meat and fat, the transparent white belly of this fish has a beautiful glow. I could hardly wait to try it as I watched him at work. Offering a perfect balance of fat, meat and refined taste, it is large but thinly sliced to complement the vinegared rice. I knew it wouldn't be long before I ordered some more.
"Japanese amberjack hatch in Kyushu and swim north to Hokkaido. They begin their journey south in the fall. Their meat is at its richest from early to mid-winter, which is when they reach the Noto Peninsula in Ishikawa. That's why the amberjack caught here tastes the best. Also, these fish are caught using fixed nets that don't hurt the meat and okijime is used to paralyze them right after they've been caught so that they stay fresh," Ichikawa said.
Run by Shuichi Ichikawa, a man who clearly understands the seasonal ingredients of the Hokuriku region perfectly,
Kamezushi offers local food prepared in Kaga's refined style.
Kaga: A Diverse Range of Attractions Await You No Matter How Many Times you Visit
Kaga's many restaurants ensure that you will thoroughly enjoy the area's hospitality and its seasonal local fish. Shintoku, for example, allows you to enjoy Hokuriku seafood in a casual atmosphere, while Kamezushi offers refined dining in a beautifully crafted atmosphere with food served in carefully selected dishes.
Kaga's rich fishing grounds offer great tasting seafood throughout all of Japan's four seasons, allowing you to enjoy seasonal delights whatever time of year you decide to visit.
Writer
: TOSHIFUMI KIUCHI
 / 
Photographer
: SATOSHI TACHIBANA