THE POWER OF SHUN (August 2018)
Season's Flavor: Peach Confections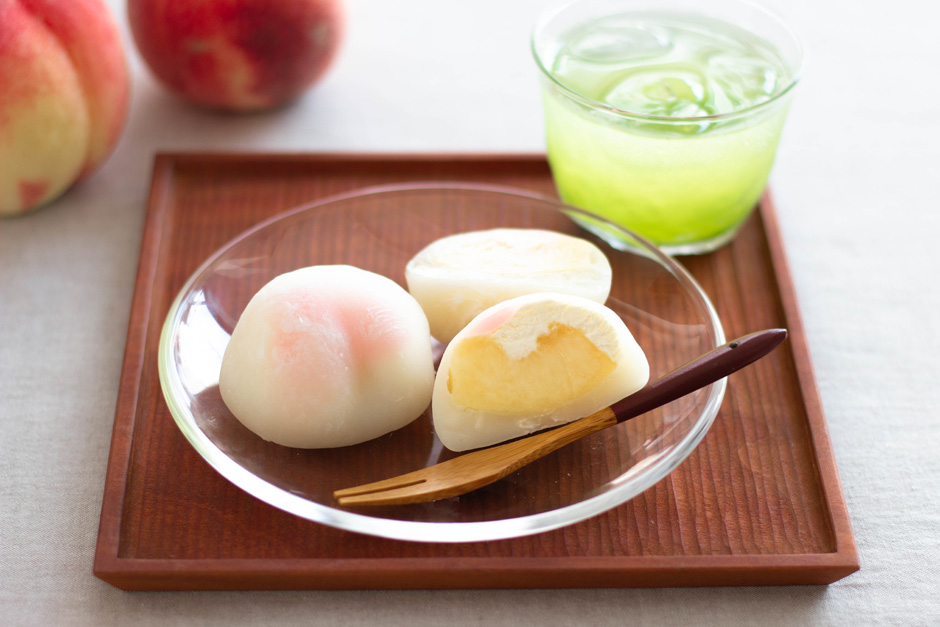 They look cute. They have a pleasant fragrance. From the end of the rainy season to late summer, peaches reach their peak season. They are everyone's favorite fruit in Japan, available in many forms from fresh to processed. This article introduces the recipe of cool peach cream dumplings that can be easily prepared at home with fresh peaches.
Many varieties appear throughout the summer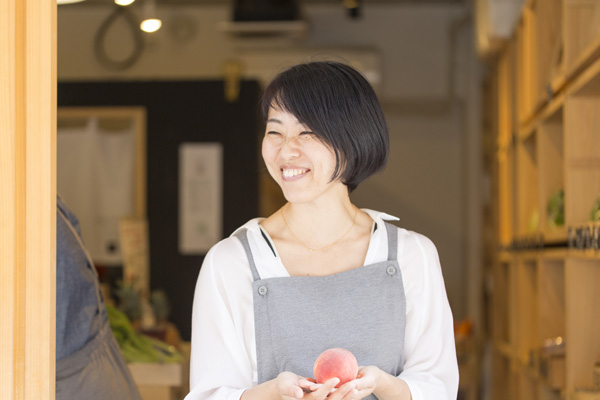 We visited Ayako Yajima, founder of Suika in Kagurazaka, Tokyo, a fruit and vegetable store that sells seasonal vegetables and fruit from around Japan, to ask her how to pick out good peaches and if she can share any of her favorite recipes.
"Peaches come in so many varieties. Apart from the greenhouse varieties, you will see different varieties emerge in the market one after another, from June through to mid-September. They taste best from mid-July to about mid-September. They are so delicate and bruise easily, so they are often shipped when they are still hard, but the ones that grow ripe on the tree really have the best taste. So it is best to buy ones that are grown close to where you live."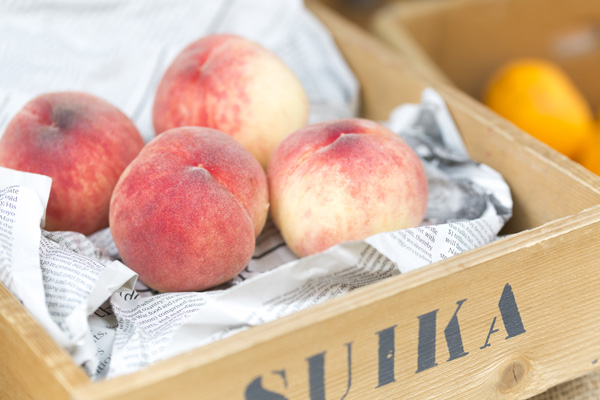 There are three main varieties of peaches. Hakuho is a white-fleshed, soft variety, very fragrant, sweet and not very sour. They are so juicy that the juice almost drips when they are sliced. Hakuto has a white skin, its fruit is harder, and has a refined sweetness. Oto peaches have a yellow skin and flesh. The flesh is firm and is sourer than other varieties. Oto used to be mostly processed, but lately more varieties are being developed to be eaten fresh. They have a thin, smooth-looking skin.
"In spring when peach flowers bloom the orchard looks like a paradise. There are pink blossoms everywhere. It feels as if you are in a dream. In China, peaches were originally called magical fruit and were an important fruit, used for celebrations. The leaves and stones were used in medicine. It is good to eat peaches in summer when you feel sluggish or tired, because peaches are rich in minerals," said Yajima.
Peaches taste even better with a little bit of effort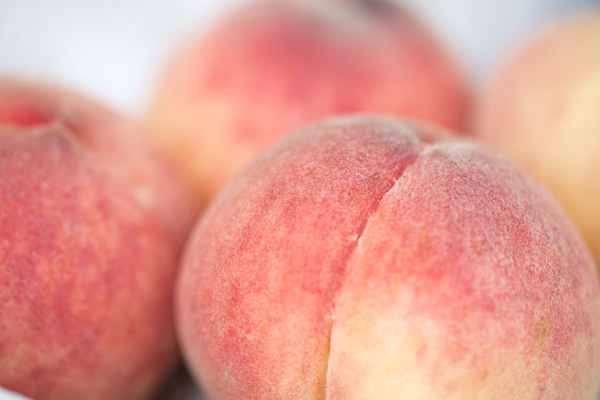 Delicate and easily bruised, peaches do not do too well with fluctuating temperatures, and are best kept indoors at room temperature, away from sunlight. If you want to keep them for a long time, refrigerate them in the vegetable section, wrapped first in a paper bag, and further in a plastic bag to keep away from the cool air.
If you want to use peaches for confections, it is better to choose hard peaches, said Yaji-ma. Their sourness will be just right when paired with sugar and the hard fruit will with-stand heat better. It is easy to peel ripe peaches but if they are still hard and peeling is dif-ficult, freeze them for a short time or dip them in hot water. If they are still hard, boil them for a while in hot water.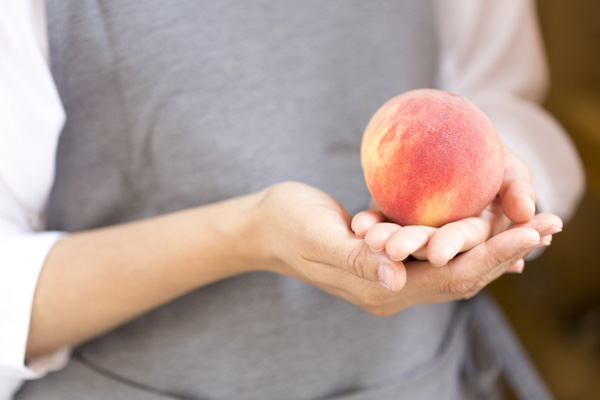 "Peaches turn brown as soon as you peel them. If you are not going to eat it immediately after peeling, sprinkle some lemon juice, or dip it in hot syrup. Peaches go well with milk pudding and other dairy products. You can also add them to salads or serve them with un-cured ham. Or, make a carpaccio or a pasta, seasoning the peach with salt and olive oil," says Yajima. It looks like we are set to enjoy peaches in many more ways.
Hospitality of the summer: Cool peach cream dumpling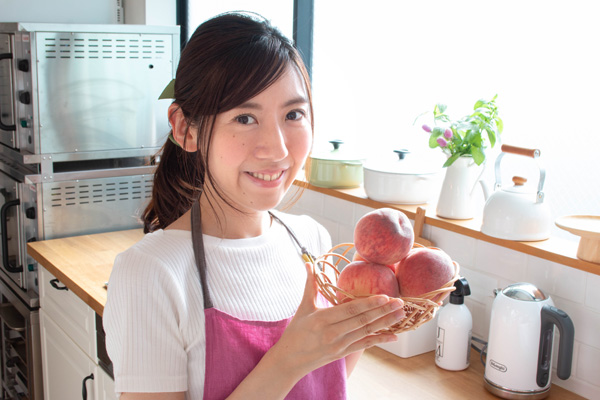 We asked confection researcher marimo to devise a summer confection that makes peach-es appealing. She came up with peach cream dumpling, with cool cream fit for the hot summer.
"When you make confections, use some seasonal fruits so that you can add a seasonal touch, which will be more fun. You can decide which confections to make by the level of moisture in the fruit you use," says marimo.
Fruits like peaches and mangoes are very juicy. They are best as a puree and used in cool confections like mousse, which will be deliciously smooth. Or, you can pair them with cream or ice cream and make a parfait for pronounced juiciness.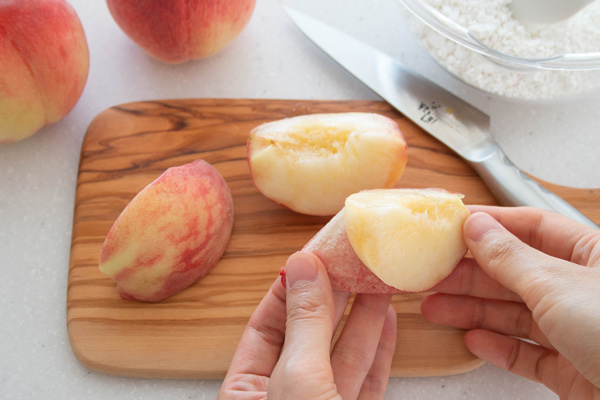 Meanwhile, not so juicy fruits like bananas and blueberries are, according to marimo, best used as toppings on baked confections as they do not get sticky or damage the tex-ture of the dough when baked.
In summer, marimo makes cool confections frequently. Refrigeration dampens the sweetness, so she adds a bit more sweetness than usual, or chooses fruits with strong, distinct flavors. Especially when pairing fresh cream with fruits. She adjusts the quantity of fruits so that the cream will not overwhelm the fruit's flavor. Or, she would add other ingredients like liqueur to deepen the overall taste.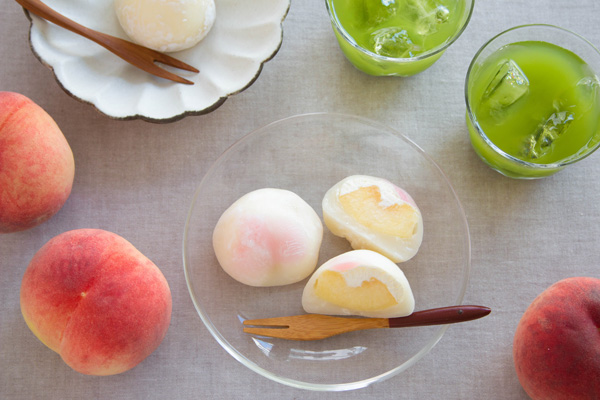 "The peach cream dumplings I have shown you today are large slices of peaches and fresh cream wrapped in mochi rice dough. The combination of juicy peaches, smooth cream and soft and starchy mochi rice skin is totally irresistible. As for the mochi rice skin, you can make it by just microwaving shiratama rice flour and other ingredients for three minutes. Even kids can make it with some help. You can also choose other fruits of your choice. Try many variations," says marimo.
Peach confections will be a refreshing addition for summertime with guests. Wouldn't it be fun to make some peach confections?
Peach
Source:Ayako Yajima, fruit and vegetable shop, Suika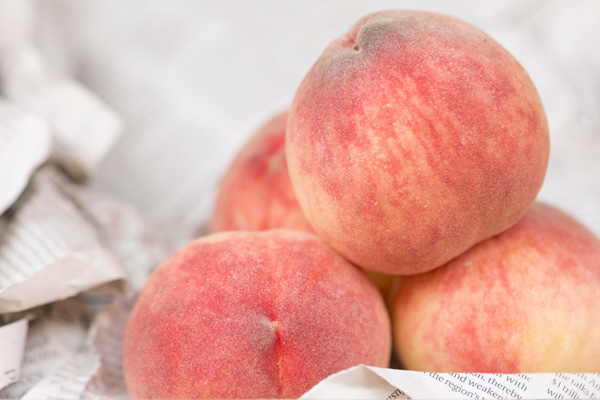 Peak Season
From mid-July to mid-September
Tips
・Red all over, symmetrical, fully round and very heavy.
・Choose large pieces.
・If it is a variety whose skin gets red, it is ripe if you see white spots on the skin.
・Fragrant
How to enjoy them
・Eat ripe peaches whole.
・Enjoy with a salad or uncured ham.
・Season with salt and olive oil to prepare a carpaccio or pasta.
・Serve with dairy products.
 / 
Photographer
: marimo / CHIE MARUYAMA