RECIPE (August 2018)
Peach cream dumpling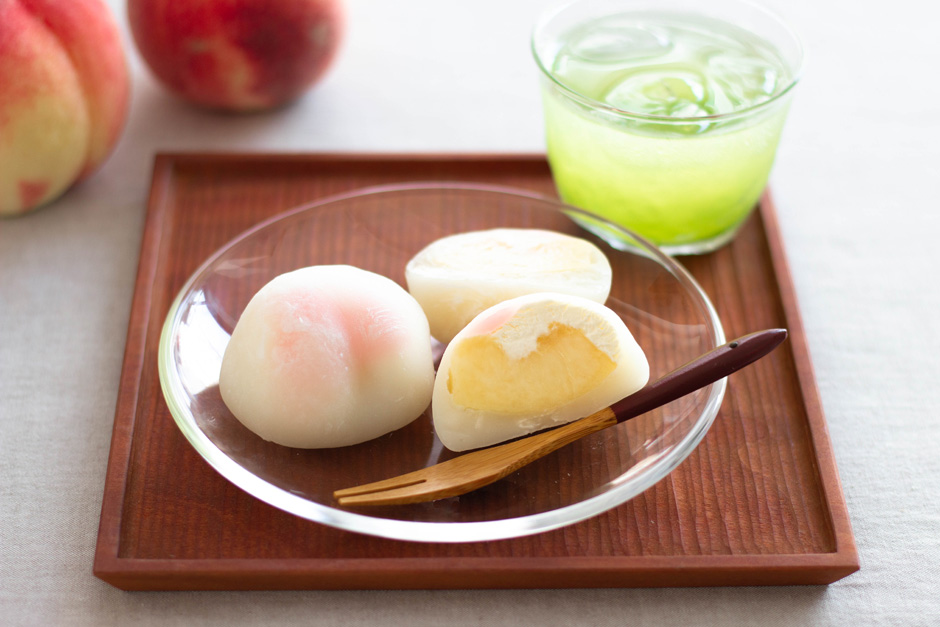 Peach cream dumpling
Ingredients
White dough
shiratama rice flour

80g

Water

120ml

Granulated sugar

40g
Pink dough
shiratama rice flour

40g

Water

60ml

Granulated sugar

20g

Food color

as needed
Filling
Peach

1/2

fresh cream

50ml

Granulated sugar

5g
Directions
[Making the filling] Place the fresh cream and granulated sugar in a bowl. Keeping the bottom of the bowl soaked in iced water, beat the cream with a hand mixer until the cream is about 80% solid.

Place a piece of cling film on a metal tray. Scoop 10-gram balls of the cream from step (1) and freeze for about 30 minutes until solid.

Peel the peach and cut into 3 cm chunks. It is easier to wrap them in the dough if they are round, so chop off any sharp edges.

[Making the white dough] Place 80 grams of the shiratama rice flour in a heat-proof bowl. Add 120 ml of water gradually and stir with a rubber spatula.

Add 40 grams of granulated sugar and stir more.

Heat in a 600 watt microwave oven for 3 minutes without cling film. The dough will grad-ually get solid, so take it out of the oven every 30 seconds and stir with a rubber spatula.

When it becomes smooth and sticky, place it on a steel tray sprinkled with potato flour. When it cools, divide into four pieces with a scraper.

[Making the pink dough] Mix the ingredients for the pink dough, following the steps for the white dough. In step (5), add a small amount of food color to make the dough pink. Fol-low the remaining steps. Microwave for two minutes.

[Shaping the dough] Flatten the dough and put a small amount of the pink dough in the middle.

Place the frozen cream and peach chunks on the dough.

Wrap with the dough and pinch the edge to close the dough. If the edge is sticky, use a little bit of potato flour.

Use a spatula to shape the dough so that it looks like a peach.
A useful tips
・Freeze the fresh cream so that it is easier to wrap it. ・You can do without the pink dough, but it will make the dumpling look cute. ・Once completed, it is best to refrigerate it for about 30 minutes before serving. ・Keep it refrigerated and enjoy it by the end of the day.
Recipe from : con-fectionery researcher marimo