THE ROOTS OF SHUN (January 2023)
Ibaraki's Amber-Colored Dried Sweet Potatoes No. 1 in Japan
Hitachinaka, Ibaraki Prefecture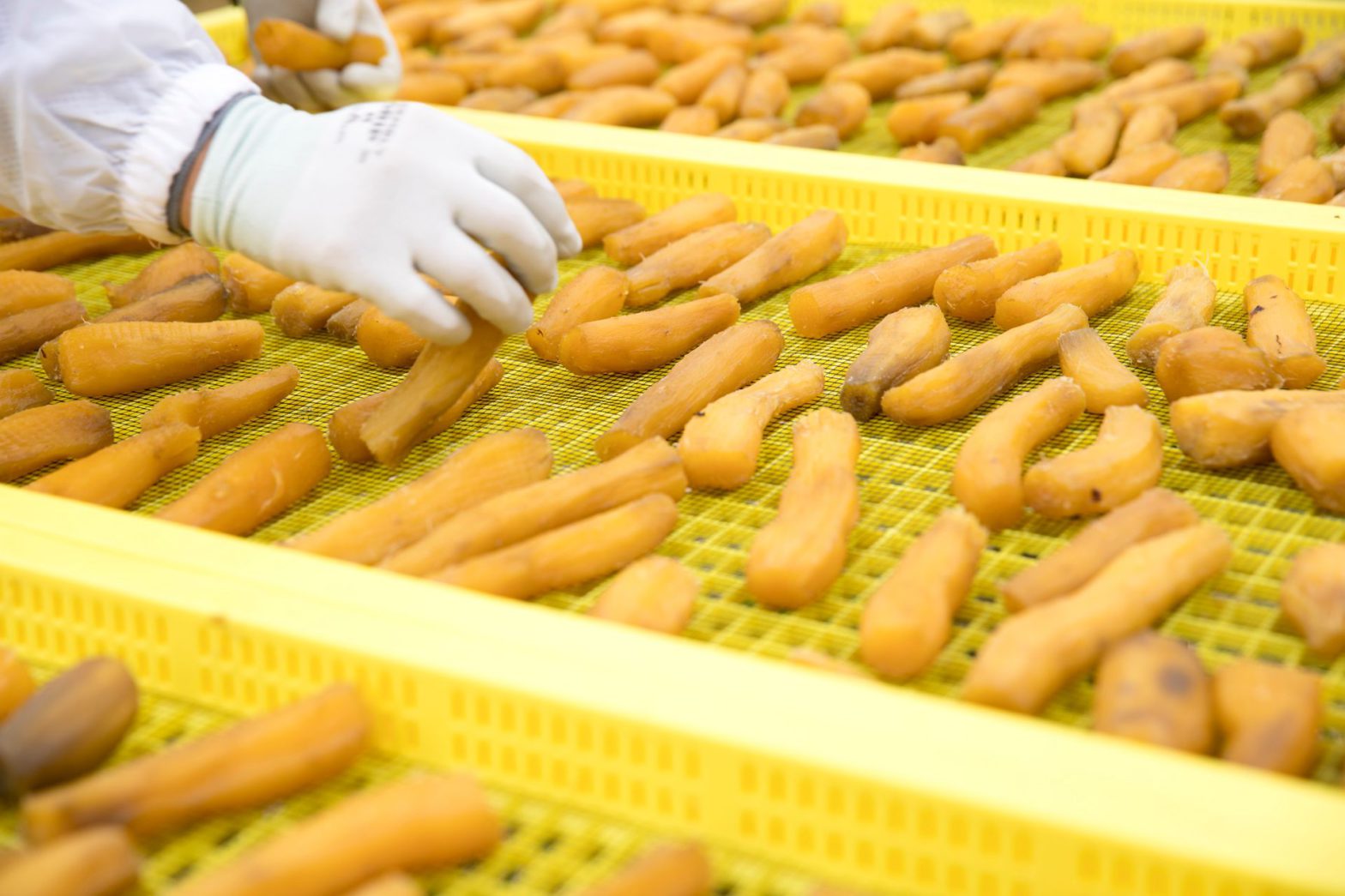 (Month information was collected: December 2022)
Dried sweet potatoes, a winter treat with an earthy sweetness and distinctive texture, are addictive. Years ago, it was prized as a non-perishable food, and today it is enjoyed as a snack by people of all ages. Ibaraki Prefecture is solely responsible for their domestic production, and the Ajigaura coastal area of Hitachinaka is dotted with well-established dried sweet potato farmers. They deliver the seasonal delicacy throughout Japan while preserving traditional production methods.
Ibaraki Prefecture is Japan's leading producer of dried sweet potatoes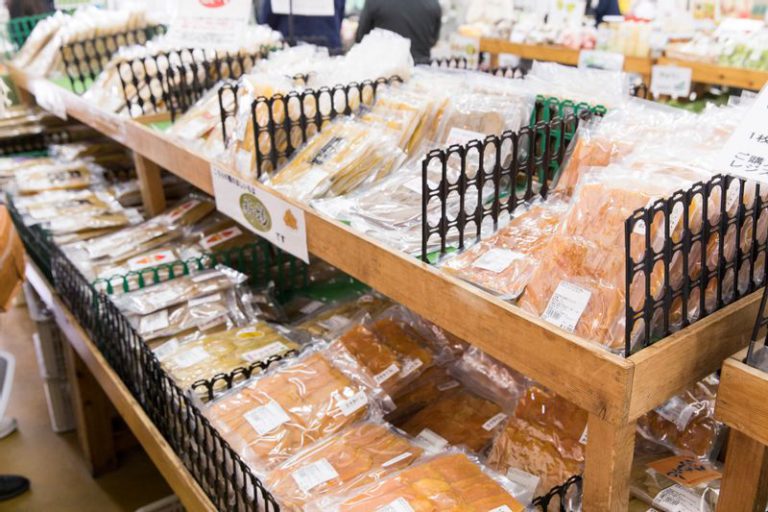 Sweet potatoes are synonymous with the flavor of autumn. About a month after harvest, they are processed into dried sweet potatoes. Although they are now found in supermarkets and convenience stores, Ibaraki Prefecture has the lion's share of domestic production. Amazingly, the Prefecture is responsible for 90% of the total, with Hitachinaka, Tokai Village, and Naka occupying the top three spots.
The origin of dried sweet potatoes is thought to have been in Shizuoka Prefecture in the late Edo period. Meanwhile, the production of dried sweet potatoes began in Ibaraki Prefecture in 1895, at the start of the Meiji era. How did dried sweet potatoes reach Ibaraki Prefecture? Their roots can be traced back to Terunuma Kantaro, who lived in Maehama (present-day Ajigauracho, Hitachinaka). One day, Kantaro, a sailor, was lost at sea and drifted off the coast of Shizuoka Prefecture. He learned to make dried sweet potatoes in Shizuoka, where he washed ashore and took his skills back to Maehama.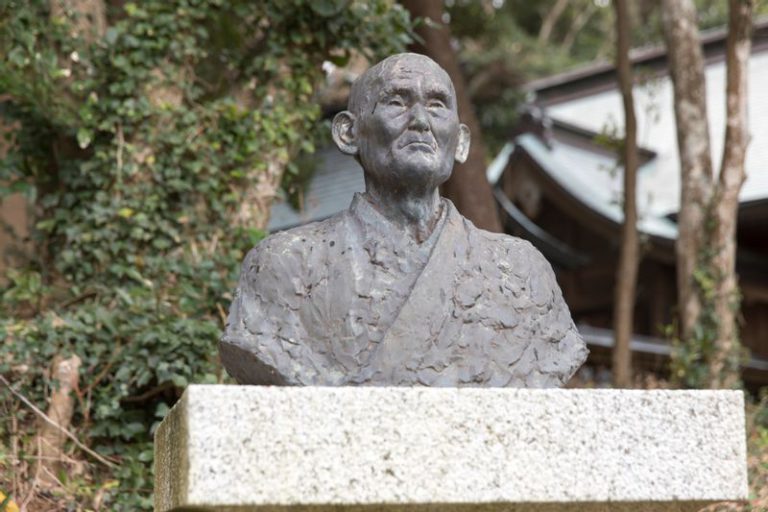 About ten years later, around 1908, some people in Maehama and the neighboring areas began to make a living making dried sweet potatoes. They included a rice cracker maker Yuasa Fujishichi and a fishery processor Miyazaki Toshishichi. At about the same time, Koike Yoshibe also joined the dried sweet potato production business. This was due to a recommendation from the prefectural governor through Yoshibe's brother, Ouchi Jizan.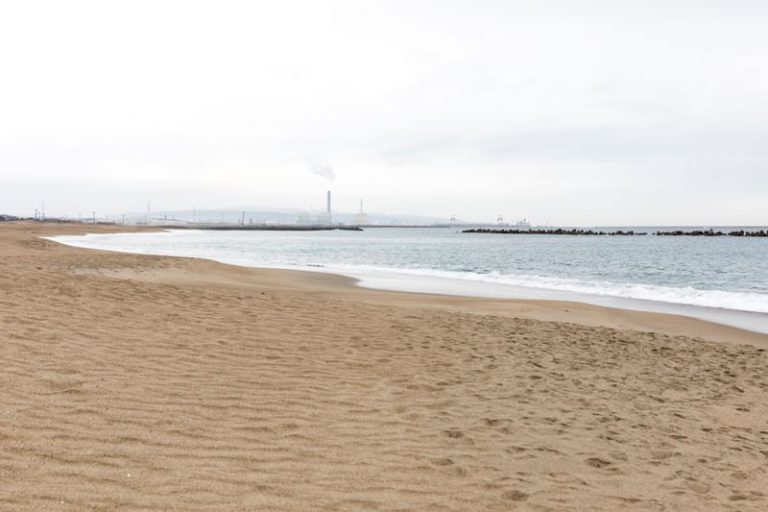 Back then, Ibaraki Prefecture was not a major producer of sweet potatoes, but the well-drained soil containing volcanic ash suited their cultivation. In addition, the sea breezes from the Ajigaura coast blowing across the Maehama area were perfect for drying sweet potatoes. Kihei and his associates skillfully leveraged the location and increased the production of dried sweet potatoes, developing it into a major industry. Eventually, Ibaraki Prefecture turned the tables on Shizuoka Prefecture, becoming the top producer in Japan in 1955.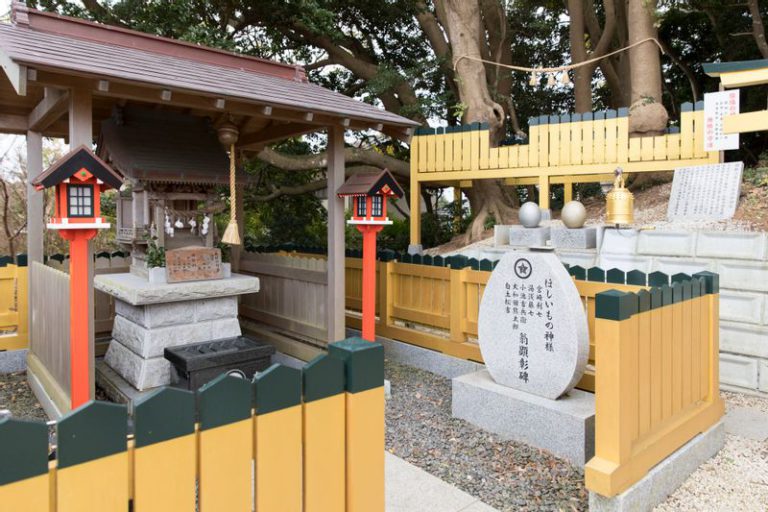 The Hoshi-Imo Shrine was built in 2019 to promote this history to a wider audience. The shrine is within the precincts of Horide Shrine in Ajigauracho, Hitachinaka. Passing through the golden torii gate, reminiscent of dried sweet potatoes, visitors will see the shrine pavilion and an offering box marked with a star (hoshi). The God of Hoshi Imo monument standing beside it is inscribed with the names of five people who were instrumental in producing dried sweet potatoes, including Yoshibe and Fujishichi.
Sweet potatoes' sweetness is condensed for more than a week
Dried sweet potato production in Ibaraki Prefecture usually starts around November. They use sweet potatoes aged in storage for about a month. When stored at room temperature between 12 and 15 degrees Celsius, the starch converts to sucrose, boosting the sweetness.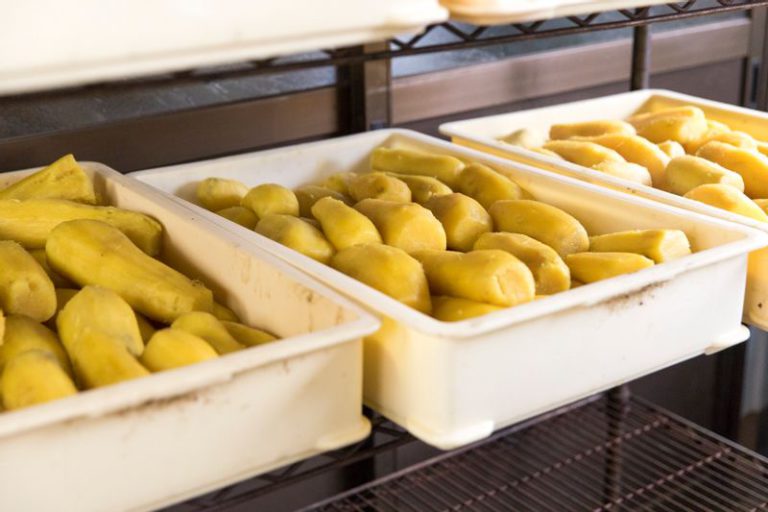 The process is roughly divided into steaming, cutting and drying. First, fully ripened sweet potatoes are taken out of storage and sorted by size. Once sorted, the surface is cleaned and put into a huge steamer. The sweet potatoes are then thoroughly cooked to the core for over an hour.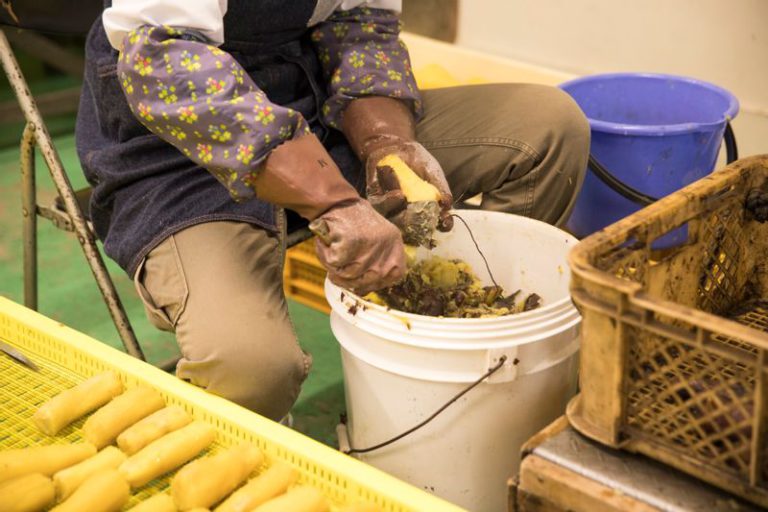 Once the sweet potatoes are steamed, they are peeled while piping hot. This process relies on human hands, affecting the finished product's look and texture. Nevertheless, sweet potatoes vary in shape from piece to piece. The flesh is softened by steaming, so they require careful handling. Some are small enough to fit in the palm of your hand, making them even more delicate.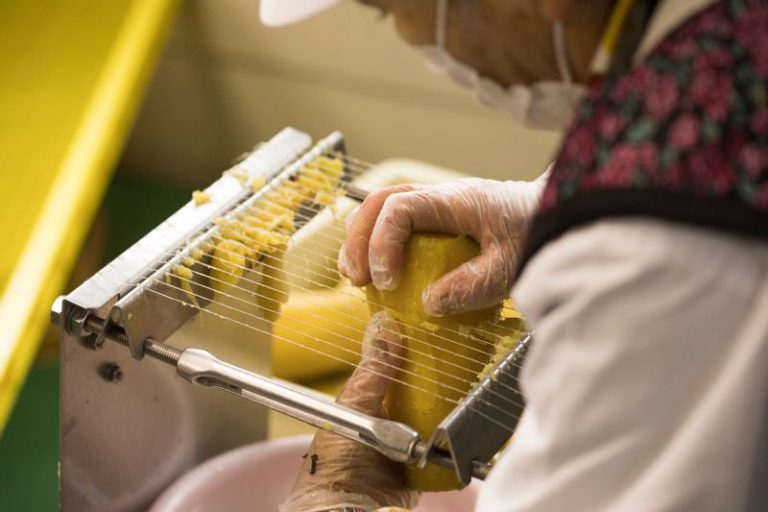 Next comes the slicing process. A special device called a tsukidai, a wooden frame strung with piano wire, is used here. The sweet potatoes are sliced by pushing them through the piano wires lined 1 cm apart. Since the flesh tends to crumble, it must not be pushed in forcefully. Although it may seem trivial at first glance, only experienced workers can achieve a beautiful surface finish. Note that only large sweet potatoes are sliced. These are processed into long, thin, oval-shaped flat-dried sweet potatoes. Meanwhile, small sweet potatoes, which are harder to slice, are sent whole to the next process for whole-dried sweet potatoes.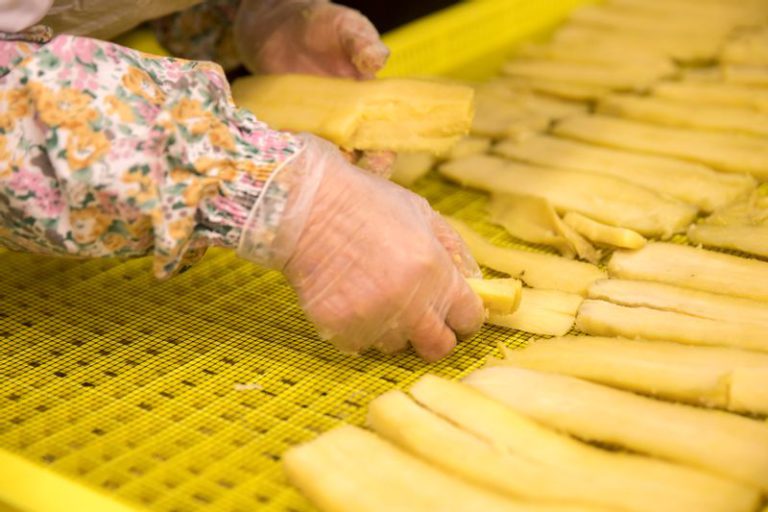 Finally, the sweet potatoes are dried. They are laid out to dry in the sun in a well-ventilated, dust-free drying area. Through dehydration, the nutrients become condensed, and the sweetness becomes richer. Flat-dried sweet potatoes take about a week to sun-dry. The thicker, whole-dried ones take nearly twice as long to dry. However, sun-drying outdoors makes output easily subject to weather conditions. Consequently, many growers have adopted machine drying in recent years.
Amber-colored, glistening dried sweet potatoes are the pride of a long-established dried sweet potato farmer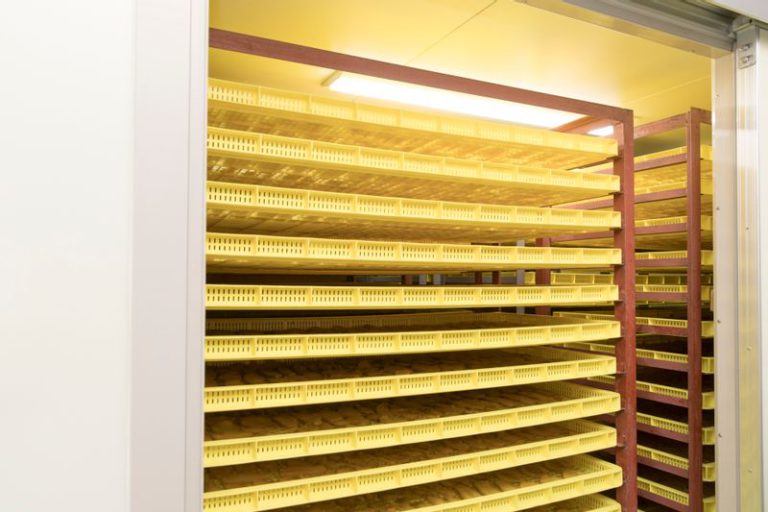 The Ajigaura coast in Hitachinaka is still dotted with traditional dried sweet potato farmers. Koike Farm, with a history of over 120 years, is one example. The farm undertakes the entire process from cultivation, processing and shipping and supplies approximately 5,000 kilograms of dried sweet potatoes to the market every year. The cultivated varieties are Beniharuka, with its high sugar content and moist texture, and Hoshikogane, with its golden flesh and earthy flavor. The popular variety Beniharuka is the mainstay of production at this farm.
"Beniharuka is good baked or dried. You can eat it like sweets," says Kazuaki Koike, the farm's fourth successor and owner. He has been making dried potatoes by combining machine-drying and sun-drying since taking over the farm.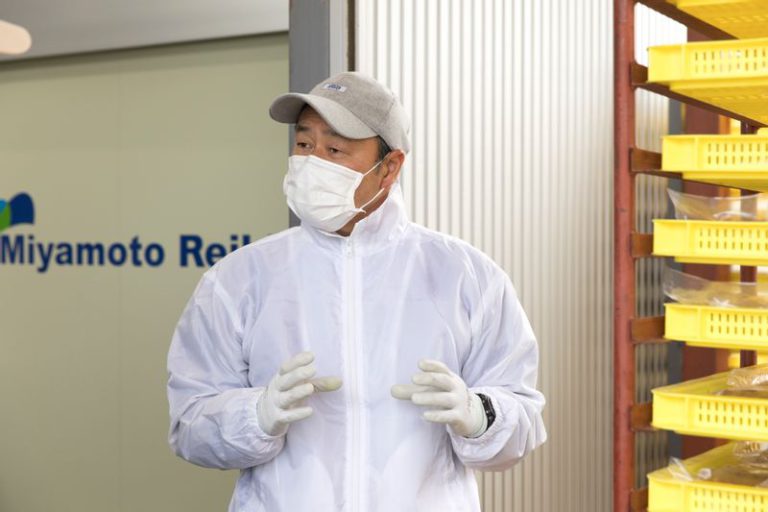 "We decided to mechanize part of the process to increase production. It used to take us a week to flat-dry, but now it only takes three days: two days for machine-drying and one day for sun-drying. A day of sun-drying is scheduled in between to improve the color of the dried sweet potatoes. There's a big difference in the finished product if we don't do it," says Koike.
The flat-dried sweet potato he offered was as bright as amber. It looks as shiny as the real thing when sunlight shines through it. According to Koike, if they are not processed properly, the surface becomes stringy and the color dull.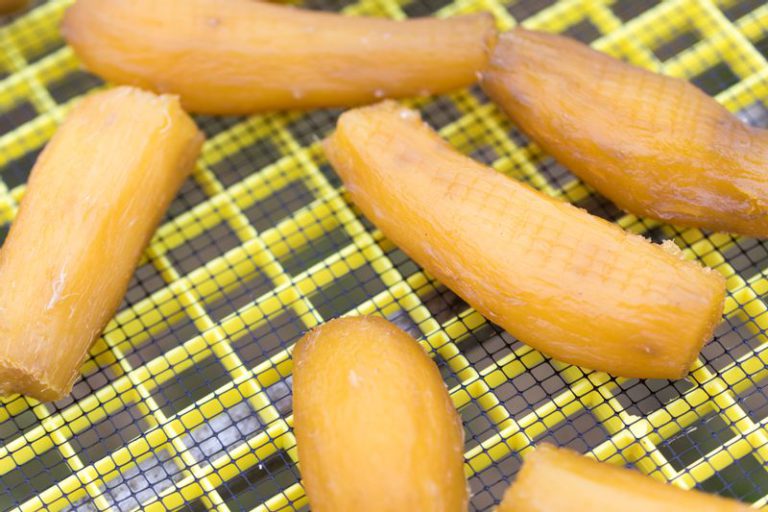 Next, he showed us round, cute-looking dried sweet potatoes. Since they only account for 20% of overall yields, they are rare and receive endless inquiries for orders during the season. This popular product has an exceptional taste. They have a sticky texture, and their intense sweetness spreads in your mouth the more you chew. It makes sense when Koike says they are like sweets.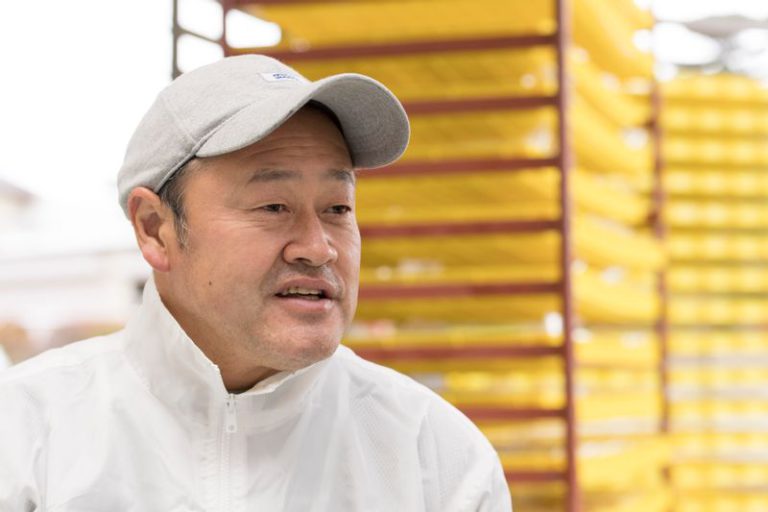 "We get orders from all over the country for both whole and flat-dried. Some of our customers even contact us to say, 'Thanks for the delicious dried sweet potatoes again this year!' While I'm flattered, I'm also humbled. I want to keep putting time, effort, and care into my work," says Koike.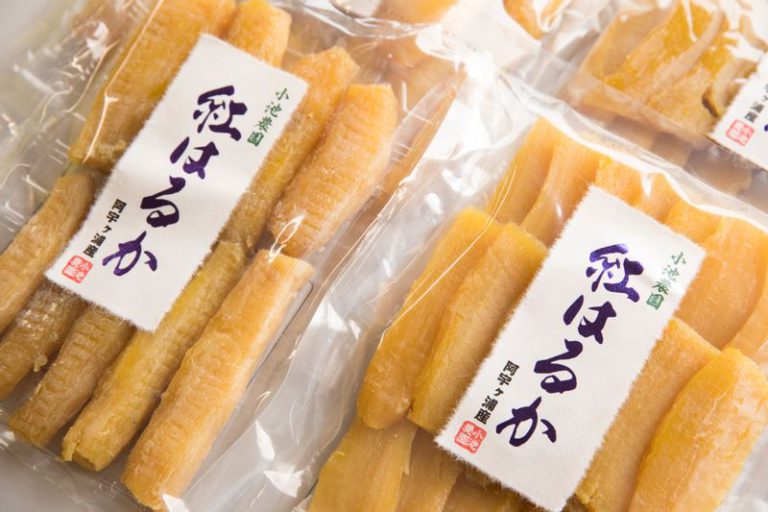 Because the process is simple, the skill and individuality of the producer are evident in the finished product. Consequently, the dried sweet potatoes on display at the farm's market come in various shapes and colors. It is a real joy to visit the production area to find the one you like best.
 / 
Photographer
: CHIE MARUYAMA