THE ROOTS OF SHUN (November 2014)
Senbei crackers made with fresh shrimps harvested in the Seto Inland Sea
at Kanonji in Kagawa prefecture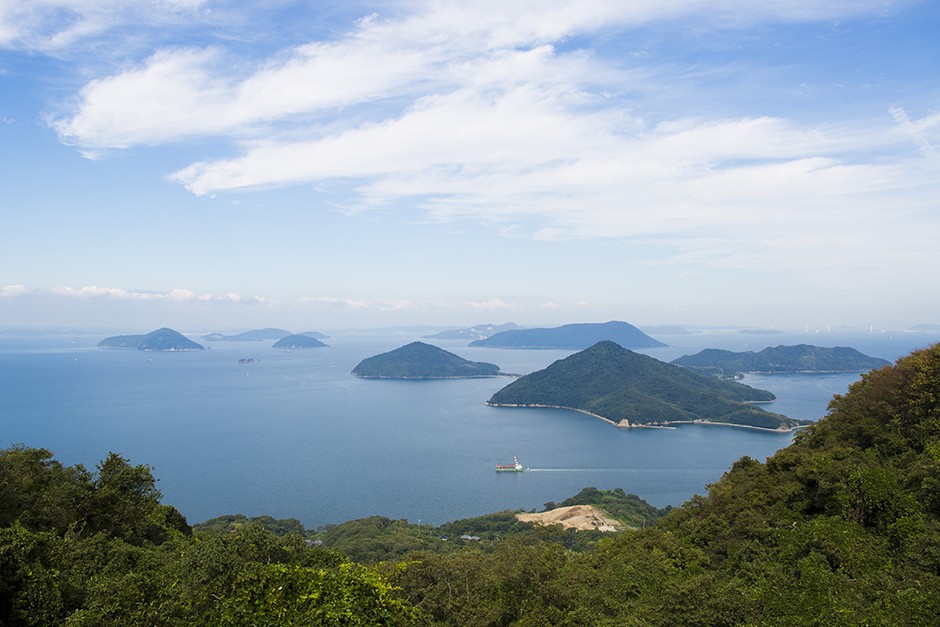 (Month information was collected: September 2014)
The Seto Inland Sea is one of the scenic beauties of the world, a spectacular vista of countless tiny islands dotted through calm and gentle seas. Often referred to as the archipelago of wonder, the Seto Inland Sea has captivated both local Japanese and foreign visitors since time immemorial. The complex underwater topography with varying ocean depths gives rise to fertile fishing grounds and has made the Seto Inland Sea a veritable treasure trove of seafood.
Hiuchinada is a rich source of small shrimp for processing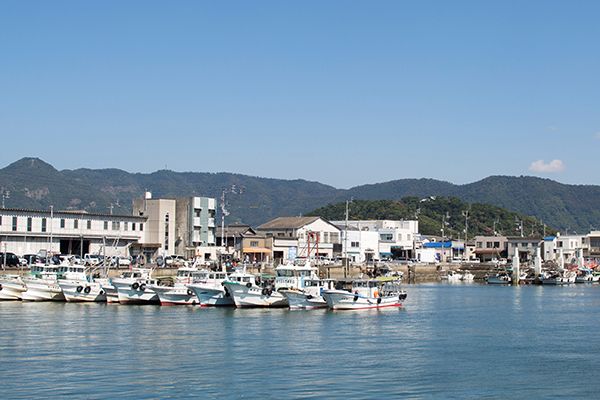 The city of Kanonji is situated at the western extremity of Kagawa prefecture, in the center of the Seto Inland Sea with the Hiuchinada fishing grounds stretching away into the distance. It is famed for its small dried sardines known as iriko and festivals involving giant human-powered floats called chosa.
Seafood processor Shimahide, founded in 1950, produces delicacies and confectionery from small shrimps harvested in the Hiuchinada fishing grounds. Founder Hideo Shima was born into a fishing family but his innate curiosity drove him to expand beyond fish retailing, and he worked to build up the business in areas such as catering and deliveries. Shimahide was originally established as a private company producing seafood delicacies. One of the most memorable is the ever-popular Ebitetsu, made with small shrimps from the Seto Inland Sea.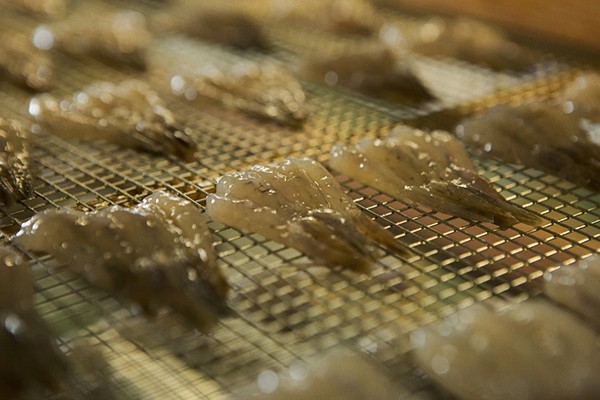 "The Hiuchinada fishing grounds are quite shallow for a long way out to sea, and are a plentiful source of crustaceans such as small shrimps and crabs, as well as small sardines of course," says Mitsuo Shima, third-generation president of Shimahide. "Because there aren't that many islands in this part of the Seto Inland Sea, the tidal flows are more gentle. This tends to make for a softer shell and more tender meat with better flavor, which is ideal for food processing. No doubt this is what attracted the original founders to the idea of setting up a business."
It seems that Shima's predecessors were possessed of not just curiosity but a good sense of business acumen as well.
Ebitetsu is made by removing the head from the small shrimp and peeling the shell from the body, then dipping the entire shrimp including tail in a special sauce and cooking it between two hotplates. Ebitetsu has proven massively popular, and has been recognized with prizes and awards including one from the then Minister of Agriculture and Forestry. Since Ebitetsu requires shrimp tails intact, the challenge was to find a use for shrimps whose tails came off or were damaged.The solution was Ebi Senbei, a cracker biscuit containing shrimp pieces. Senbei crackers last for a long time, which meant that the new Ebi Senbei could be shipped all over the country. It too proved extremely popular, to the point where it is now considered Shimahide's flagship product.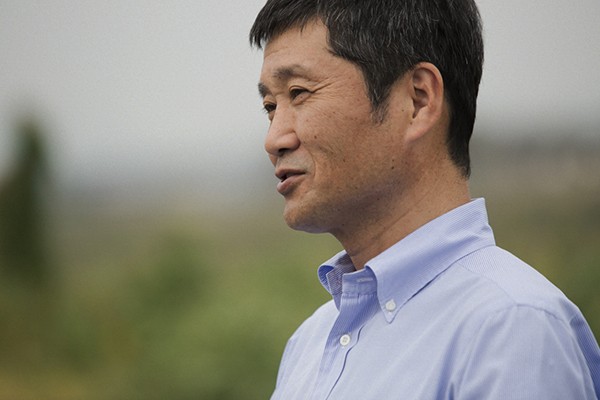 While the baked Ebi Senbei may look much easier to make than the labor-intensive Ebitetsu, Shima informs us that this is not the case at all.
"The peak harvest season for small shrimp is summer. You tend to get the freshest shrimps in July and August. Now, some people might say that you don't need particularly fresh shrimp for a baked product like senbei, but the freshness is what makes our Ebi Senbei taste so good. We have skilled operators at the Shimahide factory involved in every stage of the process."
We decided to pay a visit to the Shimahide factory to get a closer look at the production process.
Freshness is paramount
The first step in the Ebi Senbei production process is to peel the outer shell from the shrimps. This is performed manually at quite amazing speed by skilled operators who are able to grade the shrimps by size and type at the same time. Many of them have been doing this job for 10 or 20 years and have a very keen eye for sorting shrimps.
Next, the shrimps are cleaned mechanically and sorted by appearance: those with good shape will be used whole, while the rest will be turned into paste. Most Ebi Senbei are made from shrimp paste and potato starch with added flavorings. The whole process is undergone at low-temperature to maintain the freshness.
"You have to be careful not to freeze the ingredients," says factory foreman Otani, "but you don't want them to get too warm either, or you'll ruin them. Temperature control is everything." Otani is from Kanonji, and grew up watching the shrimp fisherman at work.
Ebi Senbei is a labor of love for locals like Otani who can really appreciate the delicious flavor of shrimp.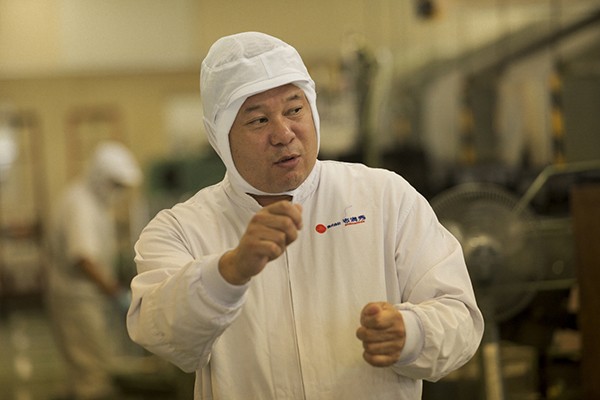 Now it's time for baking. Shimahide makes a high-end senbei product called Kuruma-ebi Kashirayaki. This uses a larger type of shrimp called kuruma-ebi. The entire shrimp, including head and tail, is dipped in sauce, then laid out on the hotplate and tenderized with a special mallet.
"With the whole shrimp product, the size is limited to what fits in the bag," explains Otani, "so we shape it by beating it with the mallet to make a long, thin shape. The softness of the flesh can vary slightly from one to the next, and also depending on the season. So we test each one by spreading it flat and prodding it with a finger. This ensures consistency of the end product. Of course, we use only the most experienced operators for this process." Clearly a great deal of work goes into making Kashirayaki.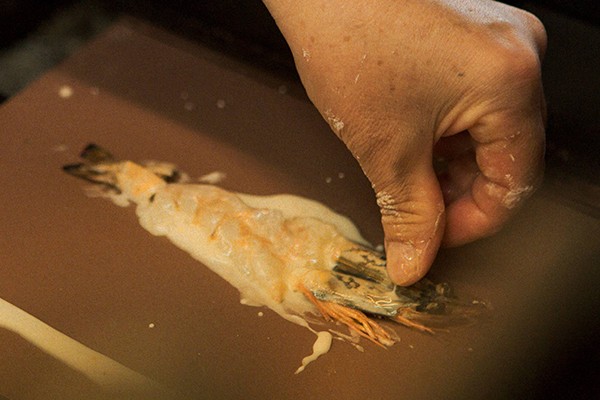 Some people might argue that taking a premium quality fresh shrimp and making it into a baked cracker is a waste?that such a large shrimp should be used for tempura or the like. But Otani disagrees.
"When we turn shrimps into senbei, we add starch to enrich and enhance the flavor. Of course the shrimps taste great as they are, but we find that the process of making senbei brings out a certain special flavor that you just don't get in fresh shrimp, or even the deep-fried tempura version."
A year's supply of tender shrimp is harvested from Hiuchinada and nearby fishing grounds during the peak season, then pre-processed and kept in cold storage to maintain peak freshness. Shrimps are taken from cold storage as needed to make Ebi Senbei during the year, in a process that seems more akin to haute cuisine using fresh fish than confectionery production.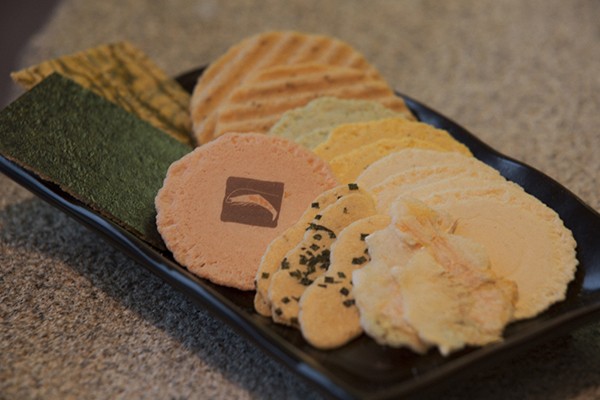 We were given some freshly baked Ebi Senbei to try. The senbei cracker, a fundamentally simple product that harks back to the very roots of Shimahide, offers a delicious crunchy bite together with the full flavor of freshly caught shrimp. And the peeled shrimps are appealing and give off a premium quality fragrance. Shimahide has taken the basic concept of the senbei and created some 40?50 different varieties to suit all tastes. A recent addition to the product range is Quattro Ebi Cheese, consisting of cheese filling between two senbei crackers
All senbei are made with shrimps from the Seto Inland Sea that have a unique flavor all of their own. The main Shimahide store in Takamatsu is the only place where you can find the entire senbei product range on offer. So why not take the time to stop in and enjoy the wonderful flavors of the Seto Inland Sea in a senbei.
 / 
Photographer
: MAKOTO TANAKA & MASAHIRO FUJII