THE POWER OF SHUN (November 2014)
Wagashi (Japanese confectionery) reflects the changing seasons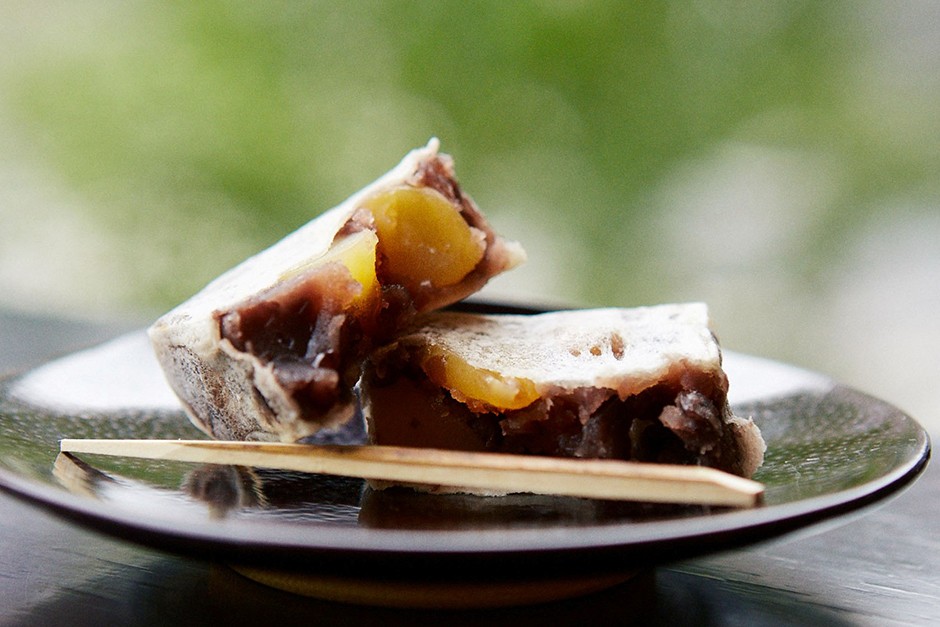 The Japanese people have a deep and abiding respect for the changing of the seasons, and this is illustrated in the way that Japanese culture reflects the four distinct seasons in Japan. Haiku and tanka poetry has long celebrated the fleeting and transient joys of seasonal phenomena such as signs of the coming spring and a cool breeze on a summer evening. The celebration of the seasons extends to the world of food, where Japanese sweets are an expression of the natural wonders of the seasons and associated perceptions in the Japanese psyche. The key staples of Japanese sweets are soy beans, grains and fruit, to which are added sweeteners such as sugar or mizuame malt syrup using ancient traditional Japanese methods. Many Japanese sweets are a direct expression of the seasons?such as sakura-mochi (a rice caked filled with sweet bean paste and wrapped in sakura cherry leaf) in the all-too brief sakura season, mizu yokan (soft azuki-bean jelly) in summer, and sweets featuring chestnuts during autumn and winter.

Japanese nama-gashi (unbaked sweets), meanwhile, are a central part of tea ceremony, providing exquisitely detailed shapes, designs and colors that please the eye as well as the palate. Many confectionary manufacturers have elevated nama-gashi to an art form, with shop window displays that are constantly updated in line with the changing of the seasons. To find out more about the world of wagashi (Japanese confectionery) and how it reflects the four distinct seasons of Japan, the SHUN GATE team paid a visit to traditional confectionery maker Hanazono Manjyu, which boasts a long and proud history stretching back to 1834.
Traditional techniques give expression to seasonal subtleties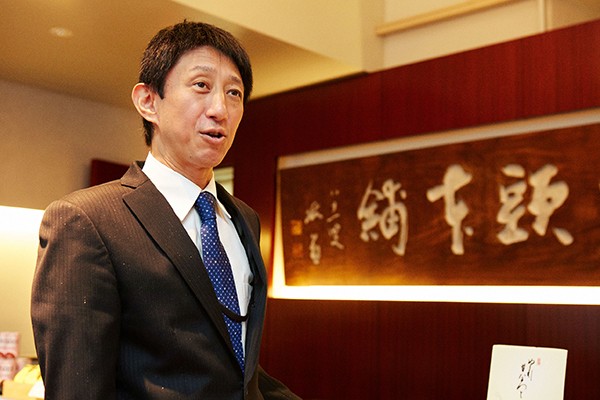 Hanazono Manjyu started out as a sweet maker called Ishikawaya-Honpo that operated in Kanazawa, spiritual home of the tea ceremony. The business moved to its current address at Sankocho in Tokyo's Shinjuku ward (now called Shinjuku 5-chome) in 1930. The relocation provided an opportunity to adopt a new name, which was inspired by the local shrine Hanazono Jinja and their recent success in creating a manjyu (sweet bun) following repeated failures.
Today, Hanazono Manjyu sells a wide variety of Japanese cakes and sweets, including its best-known and most-loved cake, Nureamanatto, and its namesake Hanazono Manjyu bun with red bean paste filling. We asked Hanazono Manjyu director Kazuya Ishikawa to tell us about their autumn product range.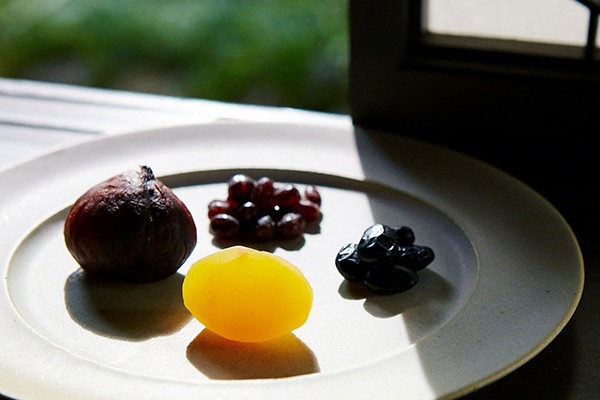 "Our flagship product for autumn is the tsubuyose assortment," says Ishikawa, "which features seasonal ingredients that are only available in autumn. The assortment comprises Hitotsubu Shibukawa Kuri Natto, which uses a whole chestnut including the astringent skin; the striking yellow Mimeguri; the wonderful Kuromame Amanatto, featuring Hokkaido black soybeans that are harvested only between September and November; and our flagship delicacy Nureamanatto. These sweets utilize the Nureamanatto technique, which boasts the perfect amount of sweetness from the granular sugar to enhance the natural flavors of the base ingredients. This assortment really showcases the splendor of seasonal produce."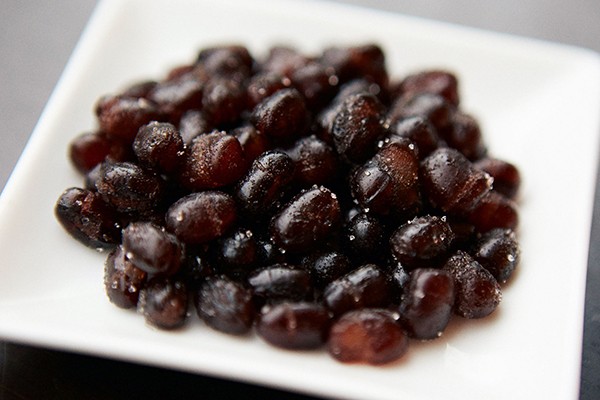 Ishikawa shared us the secret of the Nureamanatto technique. "Normally when you boil soybeans the skin softens and comes away," explains Ishikawa. "It's actually really quite hard to get them to retain their shape with the skin on. We steep them gently in syrup for four days to get that perfect hint of sweetness. This is a delicate process that requires a great deal of care, and this is the way it's been done since long, long ago. You have to take the time to make sure that each and every bean is soft and delicious with a glossy look."
Hanazono Manjyu makes Japanese sweets with pride and painstaking attention to detail using techniques developed over many years.
Tokyo An Pudding?made with the finest an (bean paste)
Tokyo An Pudding, a unique dessert treat developed by Hanazono Manjyu, is an eclectic fusion of Japanese anko (sweet bean paste) and Western-style custard pudding.
Ishikawa says that Tokyo An Pudding also reflects the craftsmanship of old. "The an paste that is such a vital part of this dessert is made from azuki beans. The harvest season for azuki beans is September to November, the same as for black soybeans," says Ishikawa. "So right now is when they are at their peak. At Hanazono Manjyu, we make the an paste ourselves from genuine local azuki beans, rather than buying it in. In the olden days the factories were also residences, so the smell of boiling beans was always in the air, and people could tell very easily if something was up. These days, of course, that's no longer the case, but if you are making the an every day you develop a sense of how it's going to turn out based on the color and hardness."
The idea of adding traditional an to a custard pudding was originally proposed by Ishikawa and took six or seven years to bring to fruition. "The bacteria in eggs and azuki beans means that the product has a very short lifespan, so we had to experiment with it a lot to get the best results. We finally got it to the stage where it can be stored at room temperature for up to two months without any loss of quality. This means that foreign visitors can buy the product to take home."
Tokyo An Pudding is an eternal favorite and when you try one it's easy to see why. It is a unique combination of rich custard pudding, which is very sweet, and specially prepared an bean paste, which is only slightly sweet. The flavors complement each other beautifully in a refined and elegant taste sensation.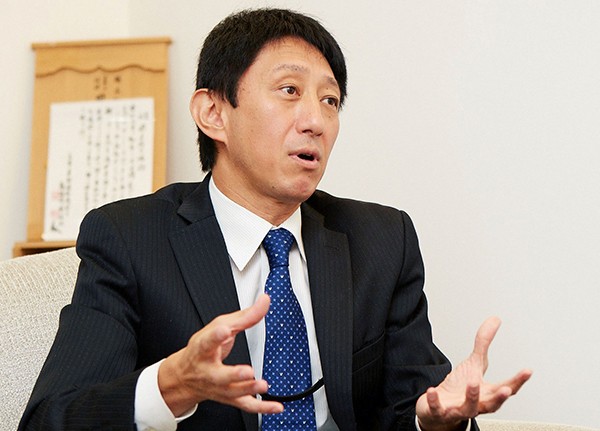 One of the defining characteristics of wagashi is the way in which a given ingredient can be transformed by color and shape. At Hanazono Manjyu, they are trying to add a new essence to wagashi. "We are maintaining the traditional methods but at the same time we are always looking to explore new ideas. Our motto is that you never know until you give it a try, so it's always worth having a go," says Ishikawa.
"At the moment our focus is on marketing wagashi to a wider audience of non-Japanese, so we are trying to develop variants that will appeal to foreign as well as local palates. Wagashi have grown up in tandem with the tea ceremony, an important part of Japanese culture. So you don't eat wagashi by themselves, you have them with tea. The full tea ceremony, of course, is beyond most people, but we want them to at least get an idea of by having wagashi together with tea."
Wagashi are indeed a delight for all the senses, the embodiment of traditional craftsmanship and an important part of Japanese food culture of which we can rightly be proud.
Hanazono Saryo?a great place to relax in Tokyo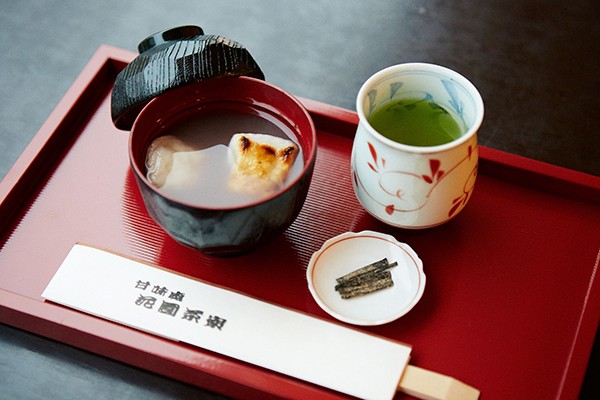 Hanazono Manjyu is located in the Shinjuku district of Tokyo, Japan's leading city. Level 2 is the "sweet parlor" Hanazono Saryo (teahouse) where you can enjoy sweets made with Nureamanatto and, in autumn and winter, Gozenshiruko, which is made from specially prepared an bean paste. It's a great place to stop in and find out more about wagashi Japanese sweets.