THE POWER OF SHUN (July 2018)
Encounter the Season: Japanese Summertime Confectionery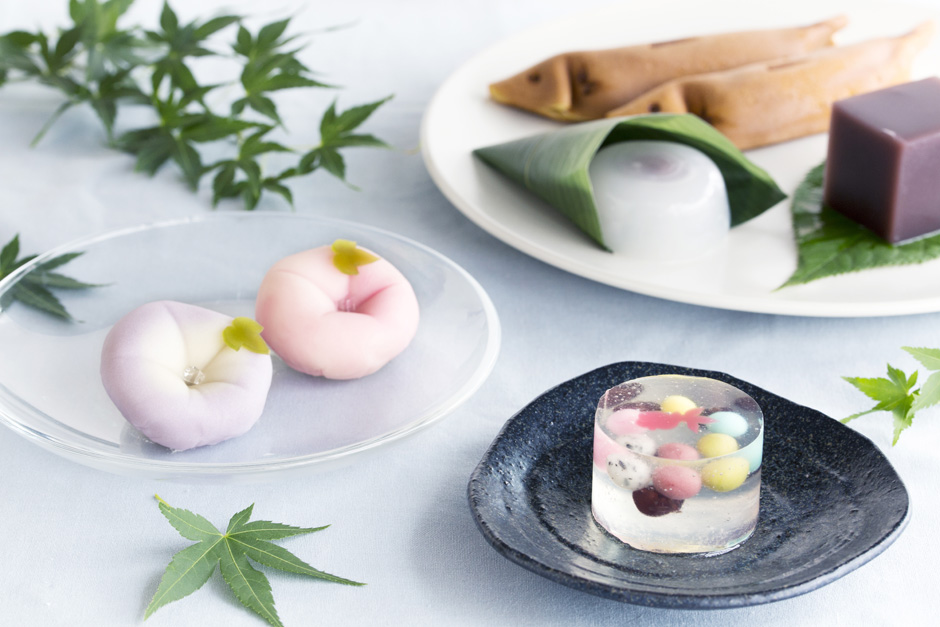 Japan's traditional confections embody seasonal landscape images, traditional events and people's wishes. Being extremely hot and humid, Japanese summers tend to make us lose our appetite, but traditional summer Japanese confections come with creative tricks to stop that happening, including their smooth texture and light flavor. Here are some examples of summer Japanese confections, as well as those from esteemed traditional confectioner Isuzu, from Kagurazaka, Tokyo.
Summertime Japanese confectionery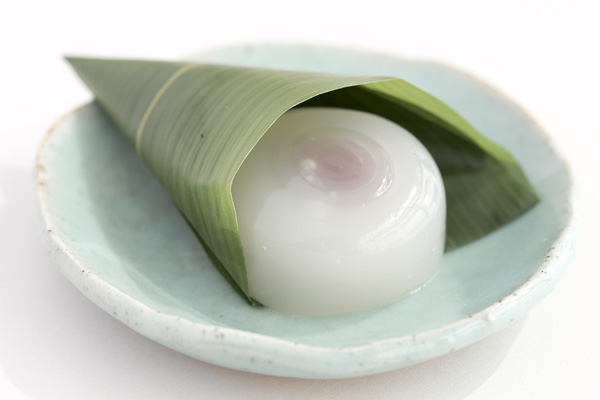 ●Water dumplings
Cool-looking summer dumplings with smooth arrowroot skin and moderately sweet bean paste inside. Best served thoroughly cooled. Isuzu sumptuously uses quality arrowroot from Yoshino and reduces it thoroughly to make the soft and elastic skin.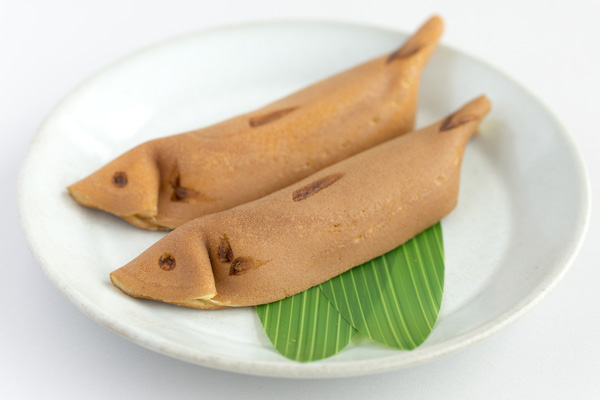 ●Ayu
Regular baked confection of the summer, made from late May to August, in time with the peak sweetfish ("ayu" in Japanese) season. The soft and smooth dough shaped like a sweetfish contains sweet red bean paste or a paste made with rice flour and syrup, with their character varying from store to store. Isuzu wraps moderately sweet paste of rice flour and syrup in a skin with ginger juice for a light taste.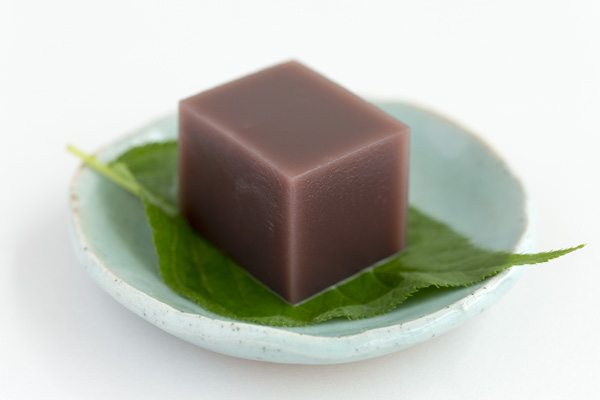 ●Watery bean jelly
Compared to the regular, thoroughly kneaded bean cake, this is a lighter and smoother cooled jelly with much more moisture and a light taste for the summer. Red beans are cooked carefully to maintain their flavor and sieved in a fine mesh, to make a smooth paste. Less sugar is added to the red beans by Isuzu than for the thoroughly kneaded bean cake variety, to make it less sweet and more appetizing for the summer.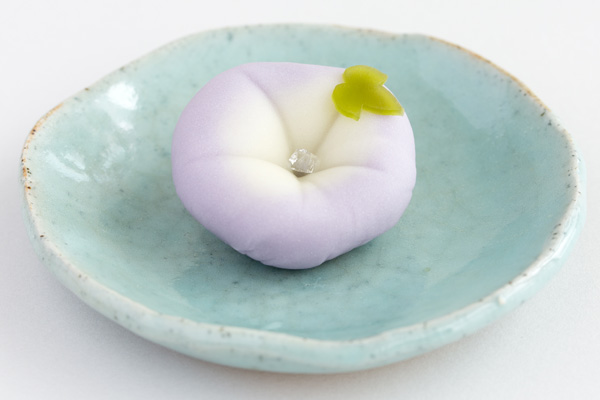 ●"Morning glory" nerikiri
Nerikiri is a confection made with a white bean paste base, in the shape of the season's symbols. It comes in many shapes but the popular motif for the summer is morning glory, one of the most popular plants of the summer. The slightly purple, cool look is perfect for hospitality in the summer.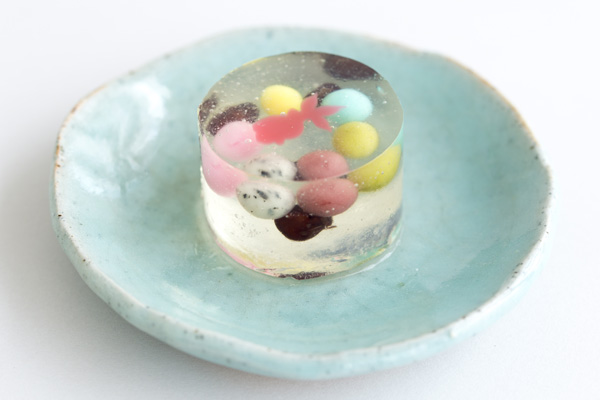 ●"Goldfish" kingyoku
Kingyoku is a Japanese confection made with agar sweetened with sugar or syrup, then solidified in a mold. The popular summer Kingyoku replicates a goldfish pot. Colorful stones made with nerikiri and bright goldfish made with bean cake float in the agar, which looks refreshing.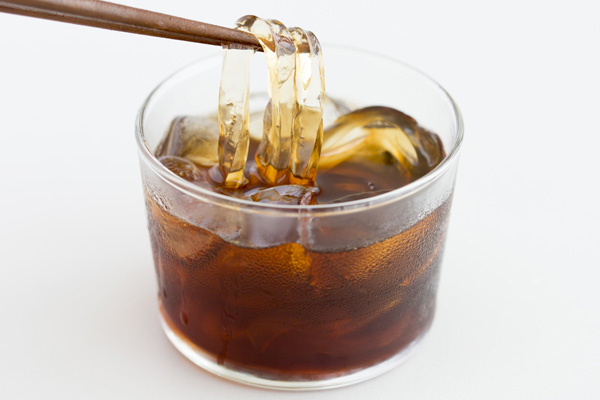 ●Kuzukiri
Kuzu (arrowroot) is the regular ingredient of Japanese confection for the summer, and is said to promote the perspiration. The smooth arrowroot noodles are cooled well and dipped in brown sugar syrup before serving. Isuzu uses quality arrowroot from Yoshino and reduces it well, so that the noodle is firm yet elastic.
*The names of the confectionery in this article are Isuzu's product names. They may have different names in other regions.
Appetizing Japanese confections for the nation's hot and steamy summer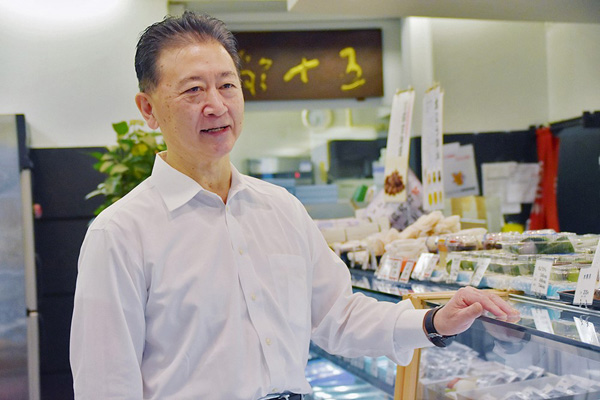 We interviewed Shigeru Aida, who runs Isuzu, to ask him about the unique characteristics of summer Japanese confections.
"When we make summer confections, we try to make it appetizing even on hot days. We use the red bean paste which is key to Japanese confections, but we try to make it light, adjusting its texture, sugar and salt level and sourness."
Many of the regular summer Japanese confections feature smooth ingredients such as arrowroot, agar and wheat paste. Used in traditional Chinese medicine, arrowroot is said to promote perspiration and is perfect to make oneself feel cool. According to Aida, sweet red bean paste for the summer is different from winter in texture or flavor, because they are sieved carefully in a fine mesh to make it smoother or feature more salt.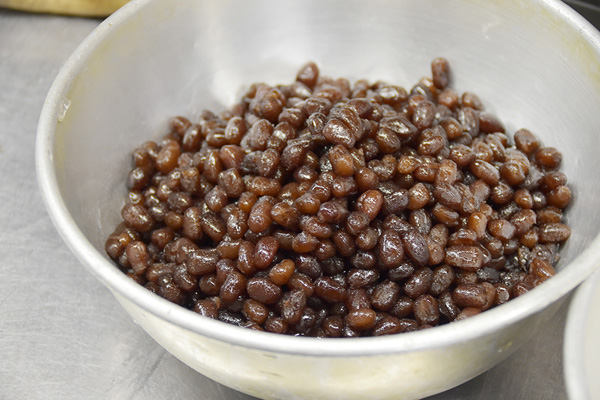 "I think people want different levels of sweetness depending on hot it is outside. The thoroughly kneaded bean cakes taste good during the cold season, and they have the sweetness level of about 70. But, that's a bit tough for the hot summer. Compared to what they were like previously, Japanese confections are getting much less sweet on the whole. The taste has been gradually changing according to the change in culture, environment and people's preference," says Aida.
Other ingredients are also summery. Sour ingredients like green plums and apricots reach their peak season in early summer, as well as crispy amanatsu citrus, are matched with sweet red bean paste and other smooth ingredients. These are all creative tricks to make them light and more appetizing in Japan's hot and humid summer. They are also wrapped in bamboo leaves, not just because of bamboo's preservative effect, but because they look refreshing.
Apparently, Isuzu's Japanese summer confection are a popular souvenir for the homecoming season in mid-August. Summer confections are light and look refreshing. Why not choose it for your summer souvenir?
 / 
Photographer
: CHIE MARUYAMA & KAORI NOZAWA