THE POWER OF SHUN (July 2016)
Kaki-Gori—the Deliciously Cool Treat of Summer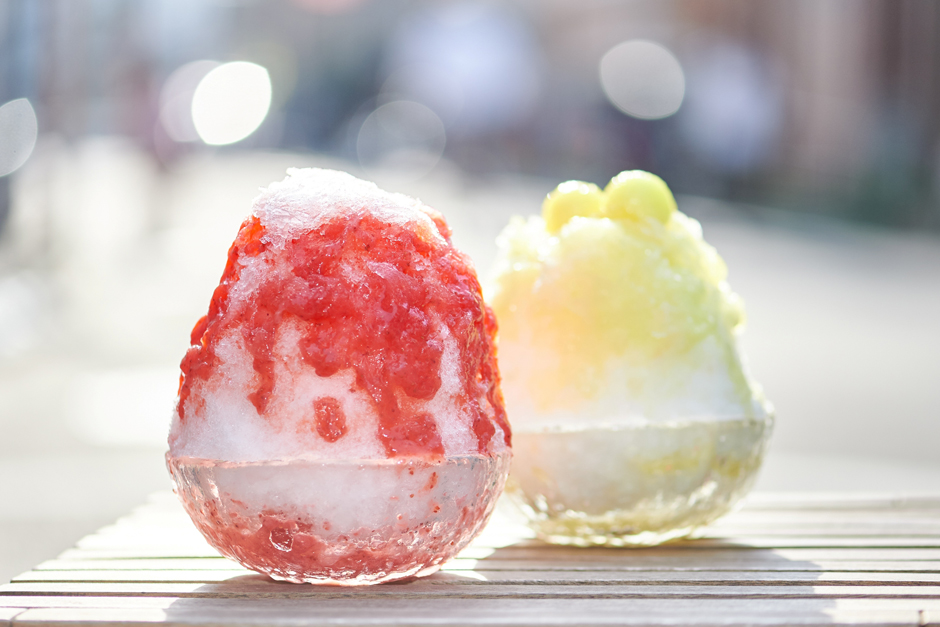 No summer in Japan would be complete without the exquisite delicacy that is shaved ice.
Shaved ice, or kaki-gori in Japanese, has been around since the Heian period, when it was called kezurihi. The celebrated work The Pillow Book by poet and writer Sei Shonagon describes kaki-gori as thing of great beauty.

So kaki-gori has been a popular sweet treat in Japan since ancient times. It is a deceptively simple dish that harbors great appeal, not least being its cooling effect during summer.
There is an increasing number of vendors introducing their own special ice-making techniques as well as new and different types of syrup, adding a new dimension to this traditional favorite. In this edition of Shungate we explore a selection of the finest kaki-gori venues in the Tokyo area.
Using only the finest ingredients ─Darumaya Mochigashi Ten in Jujo
Located in the Jujo Ginza shopping district in Tokyo's Kita ward, Darumaya Mochigashi Ten is an elegant establishment that was founded in 1947 and has a long and proud history. While mochigashi ten technically means "purveyor of bean-jam rice cakes," Darumaya is also famed for its summertime offering of kaki-gori treats, such as the popular Uji Kintoki topped with a delicately balanced mix of azuki (sweet red beans) and green tea.
The home-made azuki bean paste is a real work of art, with a deliciously soft texture and just a hint of sweetness. The green tea, meanwhile, is sourced from leading suppliers throughout Japan. To ensure that the green tea has optimum taste and aroma, it is prepared to order. For the same reason, no added sweetener is used; rather, the combination with azuki paste produces a superb flavor that perfectly complements the delicate snow of shaved ice.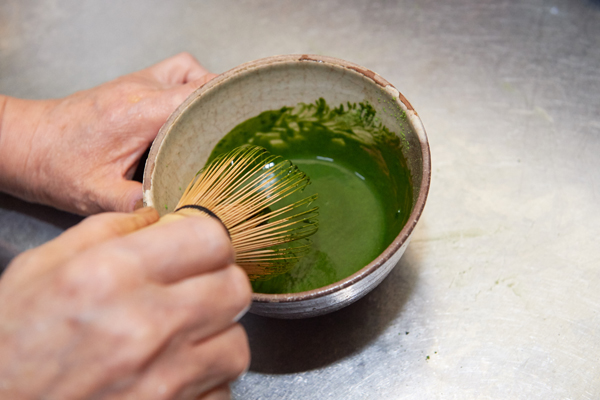 Uji Kintoki can be made in many variants depending on the type of green tea. These have been perfected by Kawada, third-generation owner of Darumaya. Kawada recommends Organic Uji Kintoki, where all ingredients are organically grown and produced:
the green tea, the azuki beans, and even the sugar used in the azuki cooking process.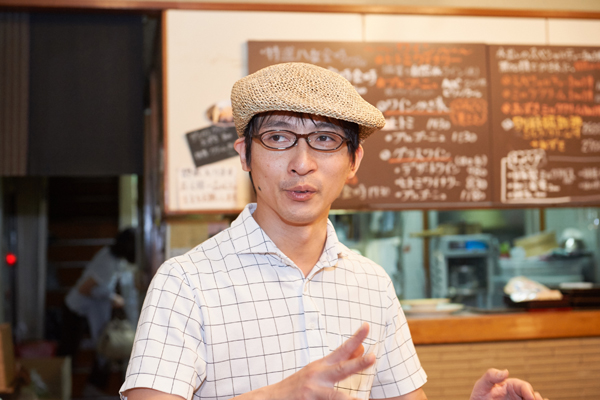 "We are what we eat," says Kawada. "If you want to stay healthy, it's important to make sure that what goes into your body is safe and good quality." This is the reasoning behind organic food; Kawada says that the organic option on the menu is the result of a longstanding search across the length and breadth of Japan to find the very best produce to use at Darumaya.Kawada believes that the topping should accentuate and enhance the bed of shaved ice on which it rests, and to this end is continually experimenting with new ideas and flavor combinations.
"Ultimately, what I want is for people to come in here and enjoy themselves eating the kaki-gori dishes that I create," he says.
More than just flavor—it's a fun experience ─Himitsudo in Yanaka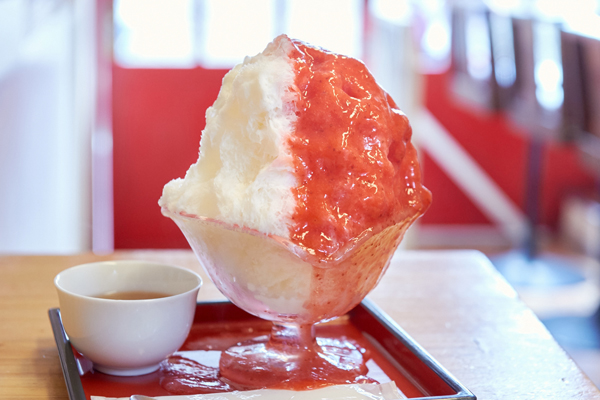 Located close to the old-style Yanaka Ginza shopping district in Tokyo's Taito ward, Himitsudo boasts a unique retro feel.
Here, the ice is beautifully soft because it is all natural and shaved by hand, while the delicious thick syrups are produced in-house from seasonal fruit juice concentrates. It's the authentic home-made feel that gets the customers in.
Himitsudo is a lively and bustling shop, with the animated shop staff calling out to one another as they work away. In the midst of this frenetic activity, the proprietor Koji Morinishi is busily working away shaving the ice.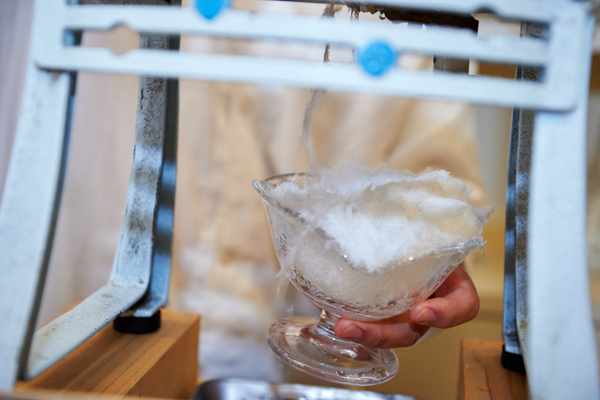 "We want to give people an experience to remember, as well as a tasty dessert treat," explains Morinishi. "That's why I insist on shaving the ice by hand—because it creates a spectacle that's adds to the overall experience. If we used an automated machine it would take away from the spectacle, absolutely." Surely this is why Himitsudo is so popular that people are willing to queue up around the block to get in.
Morinishi says that the inspiration behind Himitsudo, which started up as a simple food truck in 2009, was to do something that his own child would approve of. "Right from the start, I always wanted to use hand-shaved ice and home-made syrups," he says. And this commitment to authenticity permeates the permanent Himitsudo retail outlet that opened in 2011.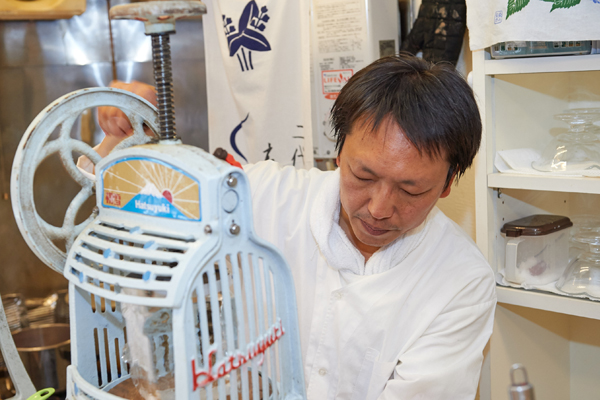 By far the most popular choice at Himitsudo is Himitsu-no-ichigo Milk ("secret strawberry milk").
The strawberries are sourced directly from a farmer in Shizuoka prefecture, and are carefully graded to ensure the right moisture content needed to produce the thick home-made syrup as well as the striking red hue that adds a splash of color to the final product. The syrup contains no additives other than sugar, so that the authentic flavor of strawberries is not compromised in any way. And there is no heating involved. The method is clearly a secret: when pressed, Morinishi simply laughs and says, "we use magic."
Kaki-gori is the taste of summer ─Haimuru Coffee in Musashi-koyama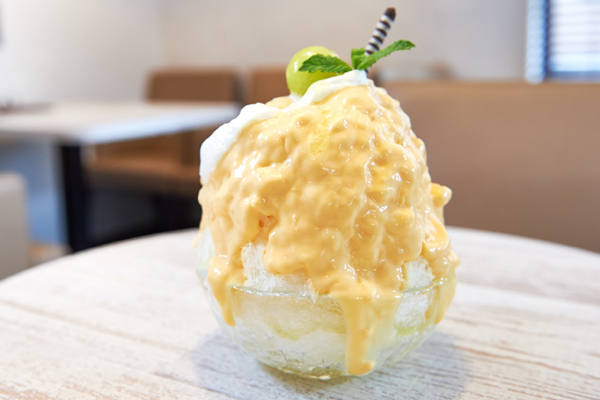 Opened in 2014, Haimuru Coffee is located just a short distance from the bustling shopping district of Musashi-koyama in Tokyo's Shinagawa ward.
At first glance it looks like any other café, but on closer inspection the signboards out the front are advertising a diverse range of offerings including kaki-gori and ramen noodle dishes.
The most popular menu is kaki-gori selections that are the unique and innovative seasonal offerings with tempting names such as ripe melon pudding a la mode, premium strawberry sparkling espuma and peach bouquet strawberry milk.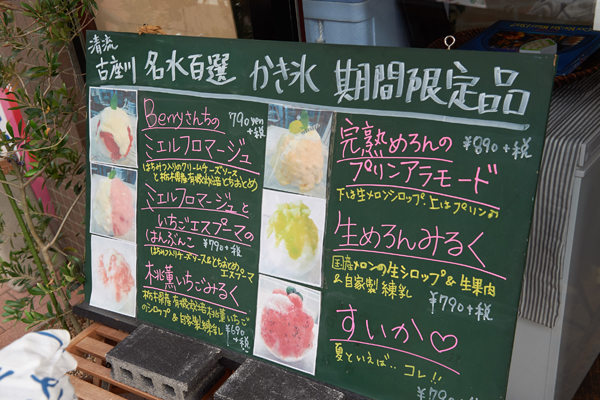 "Every year we try to come up with new topping ideas that incorporate seasonal ingredients," says Haimuru Coffee proprietor Koji Ibuchi. "Sometimes you discover a great one just by accident, at other times it's the result of painstaking trial and error. In the end, only about one in ten of our ideas actually makes it onto the menu."
The secret to inventing new syrup flavors for each season involves identifying the best seasonal fruits. A fruit that in season offers maximum benefits in terms of aroma, acidity and sweetness, and this in turn makes for the optimum syrup flavor.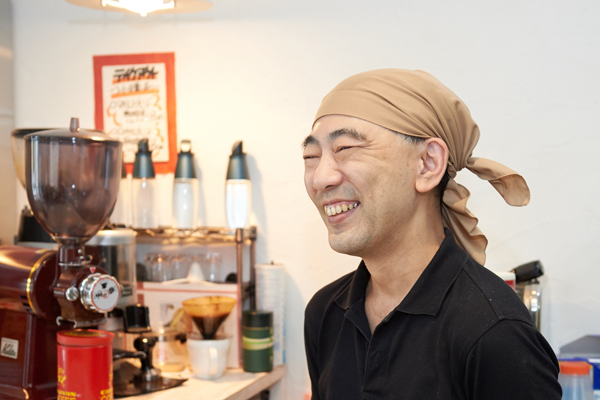 Ibuchi also has very exacting standards when it comes to the ice. He takes the time to visit suppliers and actually sample their ice to make sure that it is suitable for his innovative creations. Generally he uses natural ice made from the waters of Mt. Fuji or from the so-called "100 famed mineral waters" of Koza River in Wakayama prefecture, depending on availability.
"As well as flavor, I'm looking at the density of the ice," he explains. "Ice increases in density over time, and this makes it softer when you shave it and also slows the rate of melting."
In this way, Ibuchi is committed to sourcing the very best ingredients for his kaki-gori desserts, to make sure that each one is delicious right down to the last mouthful.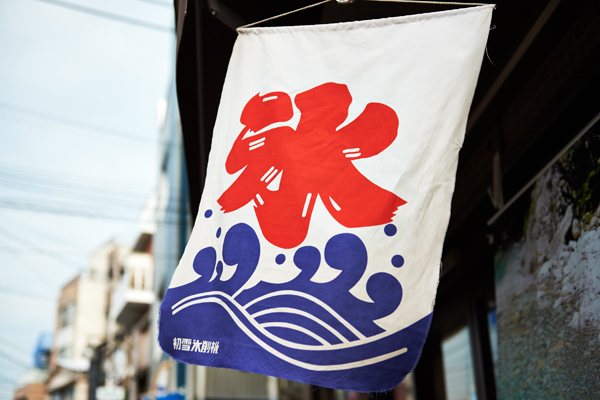 During the long hot humid summer months, be sure to keep an eye out for shops with this sign bearing the Japanese character for ice. That's your key to a cool delicious treat that will help get you through the day.
So make it a mission to try out a few different kaki-gori vendors this summer. Find out why this traditional dessert is so special, and work out which one is the flavor that's for you!
Writer
: AYAKO KOMATSU & MIO YAMASHITA
 / 
Photographer
: YUTA SUZUKI