OKURIMONO (December 2021)
Shiokatsuo, the Original Form of Katsuobushi Made Traditionally
Shiokatsuo from Kanesa Katsuobushi Shoten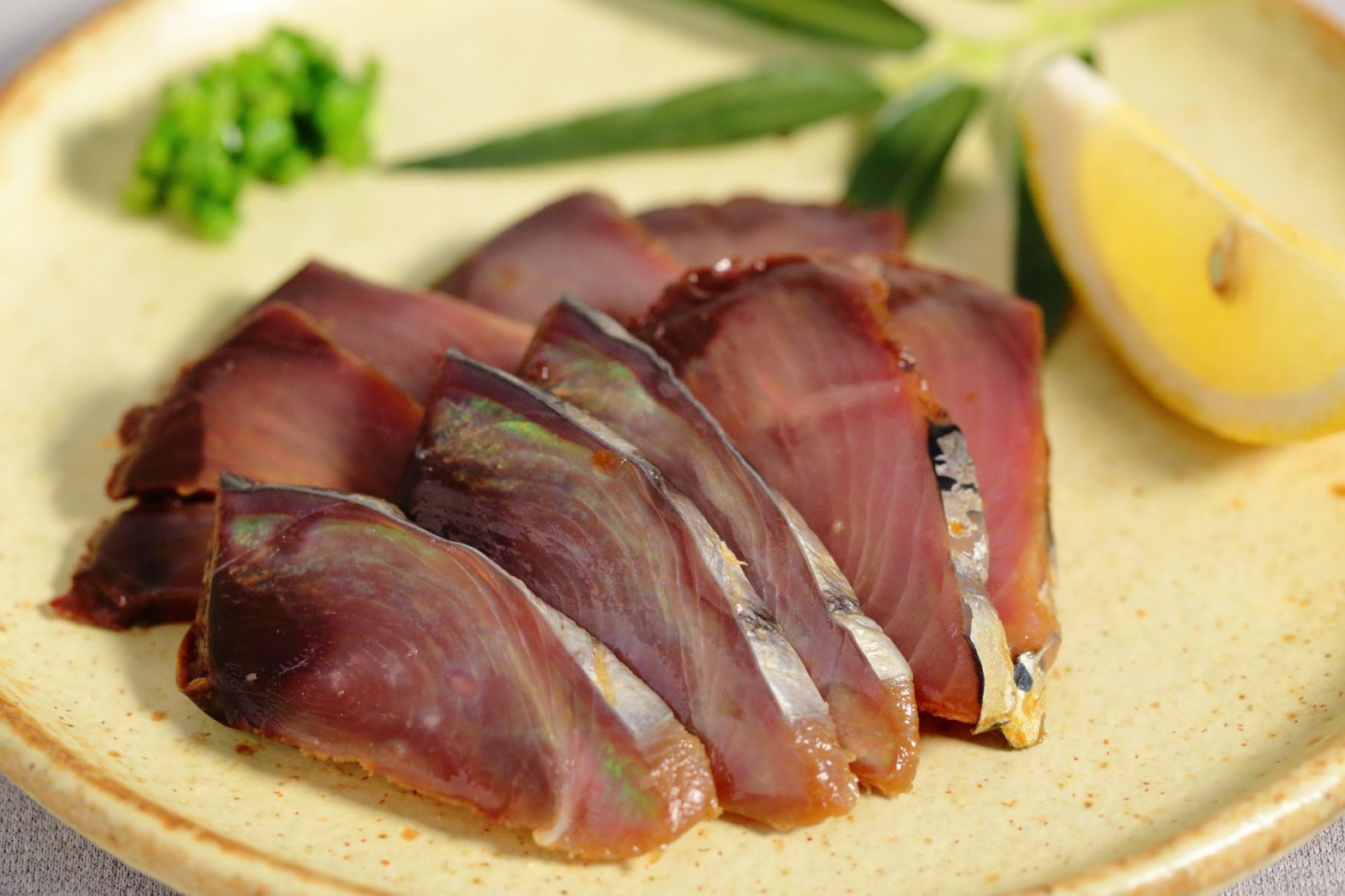 < PACKAGE >
Shiokatsuo (salted bonito) is believed to be the origin of katsuobushi (bonito flakes) and has been made according to a method that is over 1,000 years old. In the Tago district of Nishiizu, a shop specializing in katsuobushi continues to produce it as a good-luck talisman for the New Year. In this issue, we introduce shiokatsuo—a delicacy highly valued by the denizens of Nara—transformed to delight the modern palate.
Let's take a look at what makes Kanesa Katsuobushi Shoten's shiokatsuo worth trying.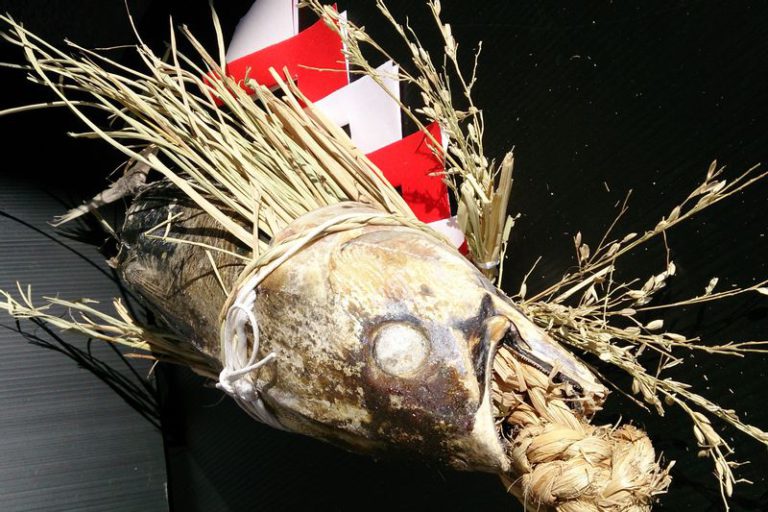 A lucky charm for celebrating the New Year
Shiokatsuo is a lucky charm that has been offered to the gods with hopes for prosperity, the well-being of one's family and fertility. One can choose shiokatsuo as a gift to wish for the recipient's happiness in the New Year.
A flavor created by salt and seasonal wind
The bonito is seasoned with salt and Tago's seasonal wind only. The fish is slowly dried, and the umami becomes condensed as the protein in the fish ages and ferments, producing a fish version of dry-cured ham.
The historical relationship between the Japanese people and bonito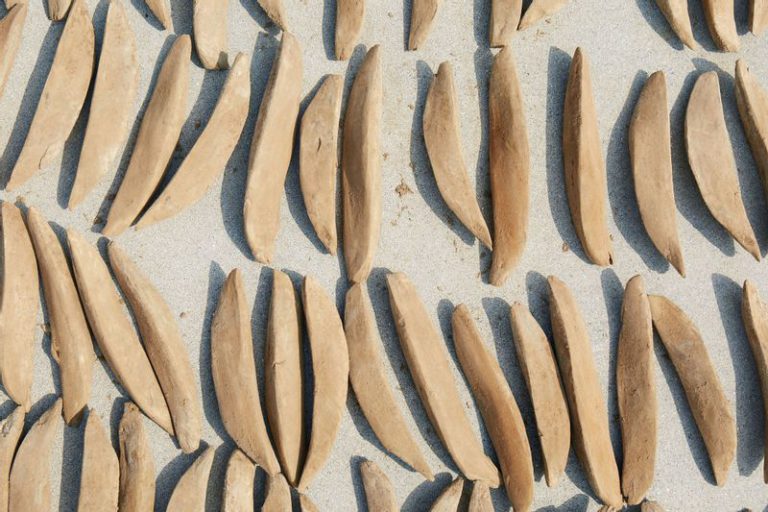 Bonito is a migratory fish that can be caught in a wide area, appearing on the southern coast of Japan in early spring. Since ancient times, the Japanese have eaten bonito so much that bonito bones have been unearthed from shell mounds in the Jomon period (c.14,000-300 BCE). Since bonito is available only during a certain time of the year due to its migratory nature, the techniques of salting, drying and fungating developed gradually to extend bonito's preservability for distribution so it could be eaten throughout the year.
Shiokatsuo is made using a processing method older than katsuobushi and is considered to be where katsuobushi originated from.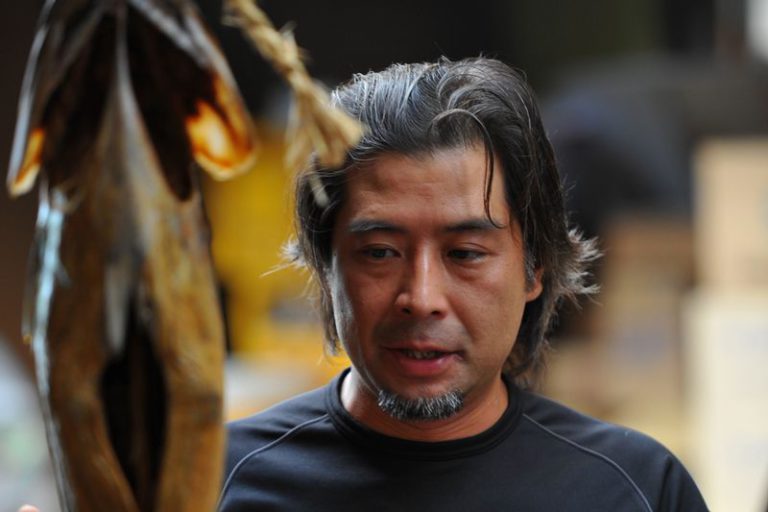 "The whole bonito is gutted and cut into slices, then marinated in water (drawn from 1,000 meters below ground) and salt for 10 days to 2 weeks and hung in the shade for 3 weeks to dry. Local residents call it shogatsuyo, a lucky charm to decorate the Shinto altar at New Year's, and we in the Tago district have kept the tradition from generation to generation," says Yasuhisa Serizawa, the fifth-generation proprietor of Kanesa Katsuobushi Shoten.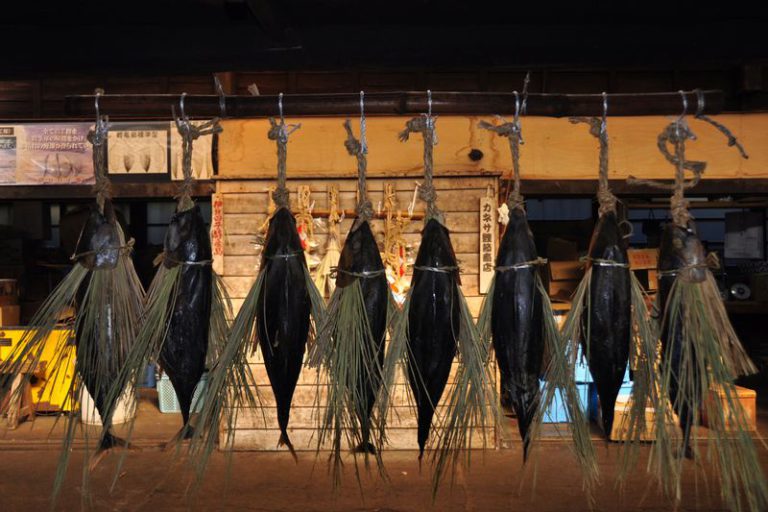 Salmon in eastern Japan and yellowtail in western Japan are typical "New Year's fish" that grace tables during the year-end and New Year holidays. Shiokatsuo is probably part of the same culture, along with aramakizake (salt-preserved salmon) and shioburi (salt-preserved yellowtail). Before freezing technology, fish were processed with salt and transported from the sea to distant lands, at which time the proteins aged and fermented, condensing the umami. Thus, like dry-cured ham and cheese, fish is also a food ladened with the wisdom of fermentation.
Tago's shiokatsuo has survived as a local custom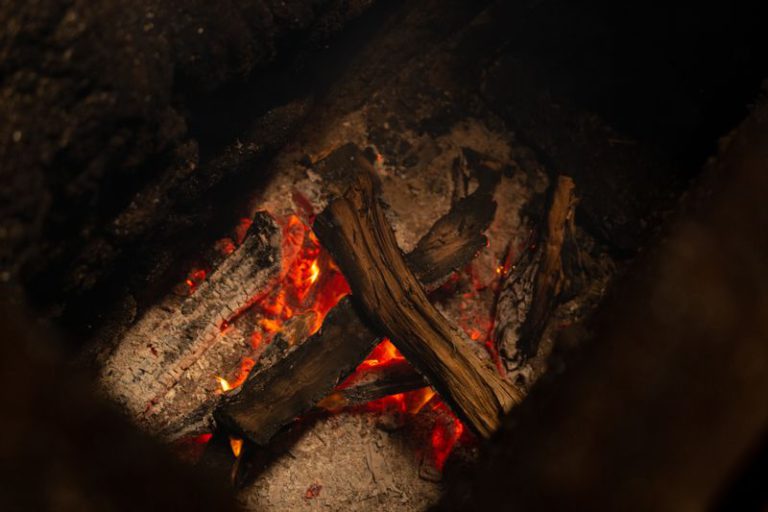 The history of bonito processing in the Tago district of Nishiizu is long, and there is a record of the delivery of aragatsuo, the original form of shiokatsuo, to the Imperial Court in the Nara period (710-794). The tebiyama-style drying method, the traditional method for making hongare katsuobushi, was established around the 1800s. This technique was so highly regarded that the riverside fish market in Edo "would buy all katsuobushi made by Tago's katsuobushi makers."
"While Tago-bushi sold like hotcakes, shiokatsuo took on a special significance in Tago. Owners of bonito boats began offering shiokatsuo to Shinto shrines and then grilled and served them to their crew at a feast to celebrate the first fishing trip of the New Year. It was a testimony to their commitment to guarantee their employment for another year, and an item symbolizing a strong bond pledged through god," comments Serizawa.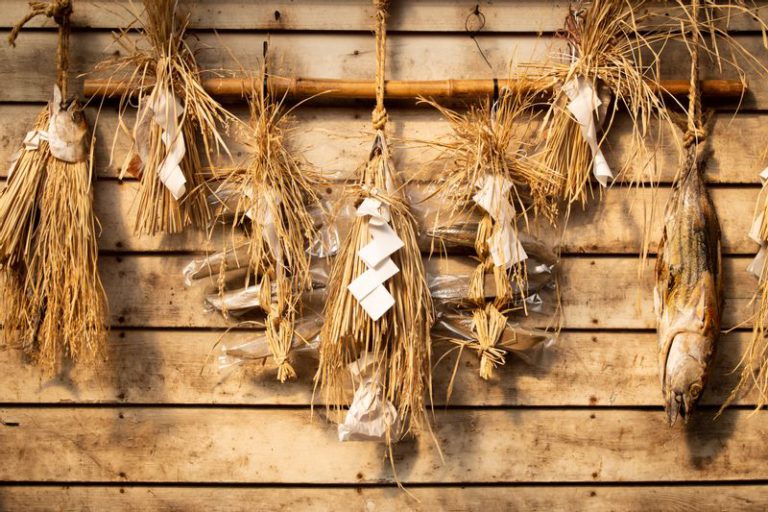 Thus, shiokatsuo is prepared by New Year's day, offered to the Shinto altar to be purified, and shared with families and neighbors after the third day. Serizawa analyzes that the salted bonito products made throughout Japan had survived only in the Tago district of Nishiizu because they had transformed from mere food into a "culture of purifying sins." Just as rice-making gave birth to the kagamimochi, which is offered when wishing for a bountiful harvest in regions where rice farming flourishes, shiokatsuo symbolizes people's hopes for a bountiful catch, the well-being of their families, and fertility.
Recommended ways of enjoying shiokatsuo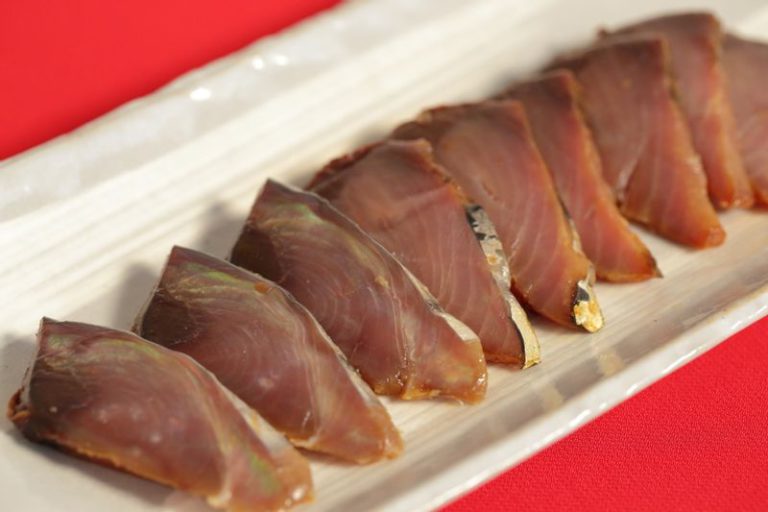 Shiokatsuo is produced only during November. Its production is limited to 400–500 a year, and most shiokatsuo has been consumed locally until now. Thanks to both the fifth generation of the business's wish to keep the tradition alive and the consumers' desire to know what it tastes like, the shop began selling not only the straw-decorated whole fish but also the half-size portions and the vacuum-packed, easy-to-eat slices.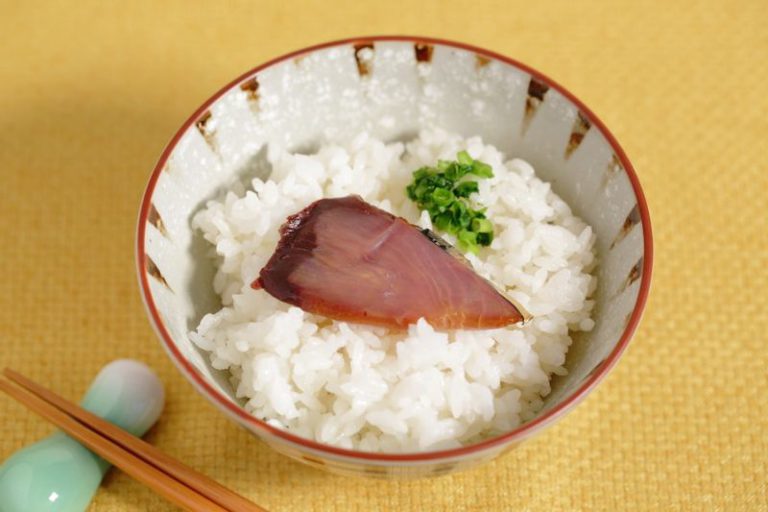 Serizawa gave us his recommendations on how to enjoy it.
"Since it's a preserved food that hasn't been desalted, its salt level is about 16%, and it's very salty. So, I think it's best to use it in place of soy sauce, umeboshi or umami seasoning. It pairs particularly well with rice and will accentuate the sweetness of rice," says Serizawa.
Japanese sake lovers can enjoy it as a thinly-sliced accompaniment, similar to prosciutto. The vinegar in salads and chirashizushi mellows it, making it more palatable. Serizawa also recommends adding shiokatsuo to ochazuke (tea over rice), rice ball, egg over rice and udon.
Salted bonito used to be made all over Japan, but now only a few shops make it in the Tago district. We hope you will try this delicacy of the olden days' food culture.
 / 
Photographer
: SATOSHI TACHIBANA
*Some of the images posted on our website have been provided by those whom we inter-viewed.