THE POWER OF SHUN (December 2017)
Ozoni Tells the History of Local Land and Ingredients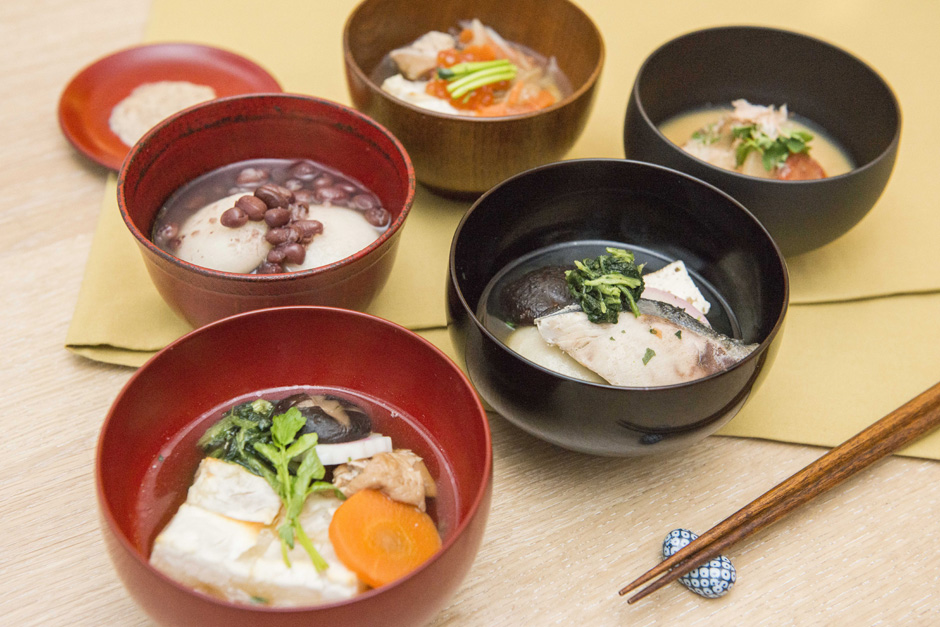 Ozoni is a dish made in Japanese homes in the New Year calling on wishes for good health in the upcoming year. It is something all Japanese people know, with rice cakes in warm soup, but few may know that ozoni features completely different ingredients and flavors, and is cooked in completely different styles.

In pursuit of the allure of ozoni we have not yet encountered, we interviewed Hiroko Kasuya, representative of Ozouniya Co.,Ltd.
The taste of the New Year collected, travelling across Japan collecting firsthand information on ozoni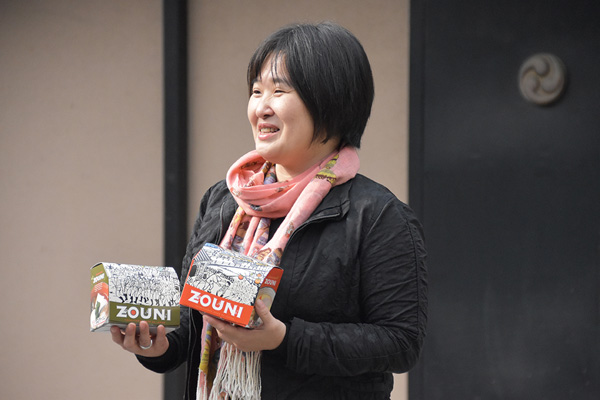 Kasuya loved the diversity of ozoni so much that she even launched Ozouni Institute to create a market. Being a home dish, there are not many official documents about ozoni. Kasuya travelled across Japan, talked to local mothers at bus stops and public baths, to meticulously collect information on ozoni.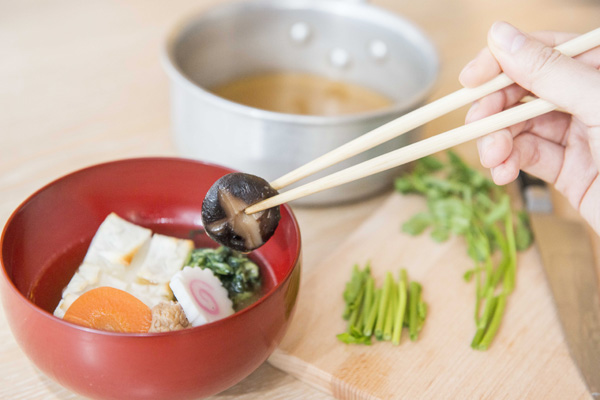 "When I talk to them with a smile they often tell me how they prepare their ozoni. Some people even cook it for me. Seasonings are different from region to region, which means each region has a subtle difference in flavor that can only be experienced locally. For instance, even if the ozoni is based on soy sauce, soy sauces in Kyushu are slightly sweet. If you just take a look at the recipe you will never know what the ozoni will taste like locally," says Kasuya.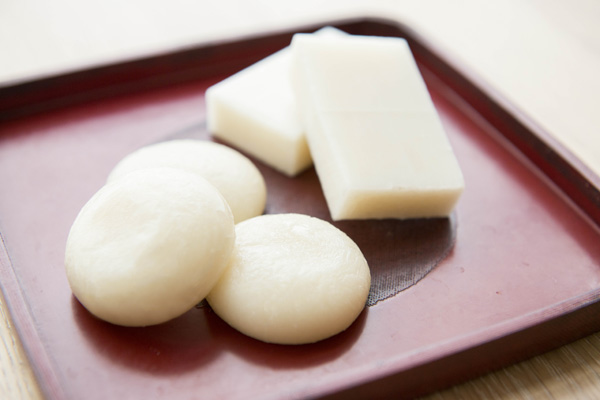 Rice cakes used to be an offering for festivals and Buddhist rituals. In the Edo period (1603-1868), rice cakes became available to ordinary people. Apparently, it is about this time that people started having rice cakes for the New Year. There are no set rules other than the rice cakes are served in soup. The soups and ingredients vary from region to region. Some regions feature sweet, red azuki bean soup.
According to Kasuya, the regional differences remained intact perhaps because it was a home dish that is shared only among family in the New Year.
The border for rice cakes is Sekigahara: Comparing ozoni from around Japan
Kasuya explained to us the distributions and characteristics of ozoni from around Japan. Let's take a look at the four most famous ozoni to see its regional features.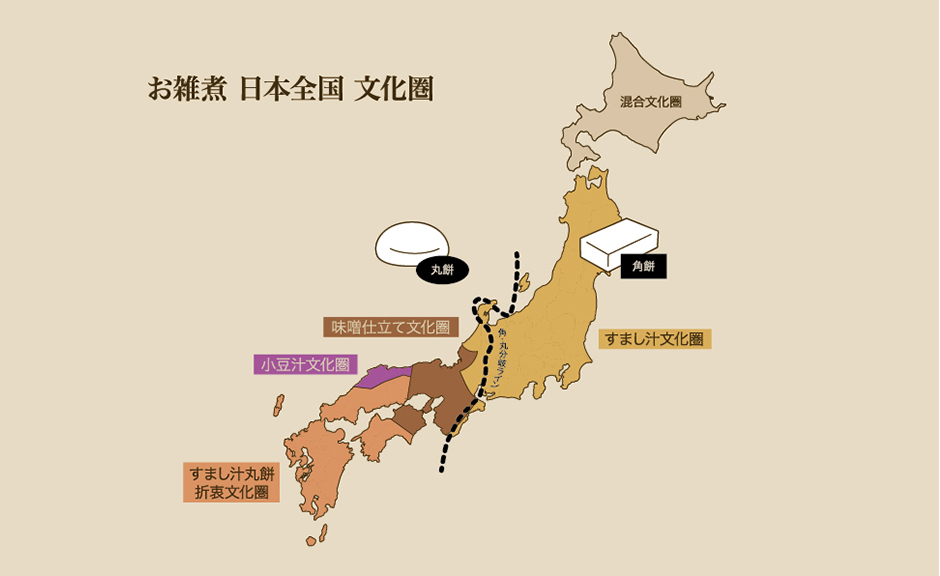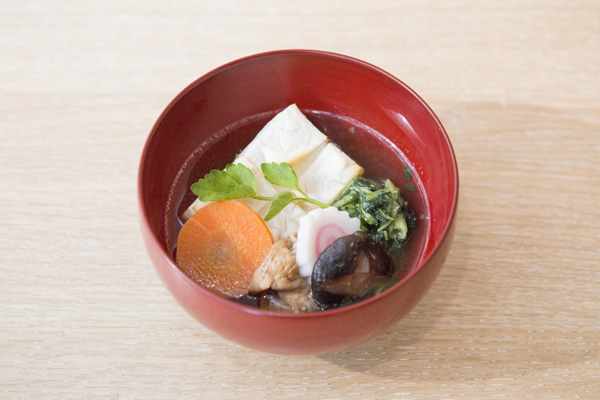 ●Square rice cakes with clear soup (e.g. Edo ozoni, Tokyo)
The north-to-south region from Aomori to Sekigahara, Gifu, is the zone of square rice cakes known as kaku-mochi, made by flattening and cutting pounded rice. Some say during the Edo period when rice cakes became popular among ordinary people, square rice cakes stayed on because in the city of Edo (now Tokyo) there were too many people and it was quicker to make square rice cakes than rounding them one by one. Soups and ingredients vary from region to region, but usually the ozoni in this region is prepared with a soy sauce based, clear soup.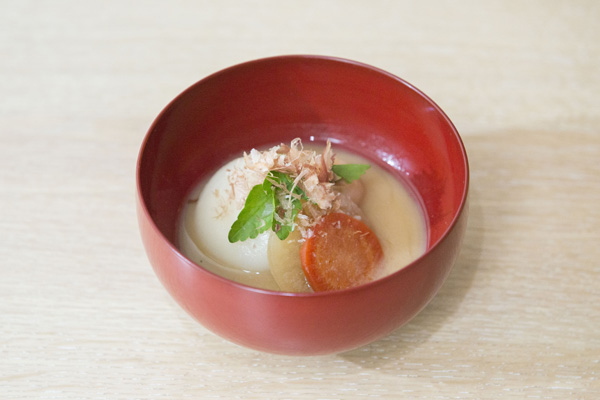 ●Round rice cakes with miso (e.g. ozoni with white miso, Kyoto)
The region west of Sekigahara is the area for round rice cakes. From Kansai to Kagawa and Tokushima in Shikoku, the soup is miso-based, and the taste of miso also varies subtly from region to region. As illustrated above, in Kyoto, the soup is usually made with white miso just like miso soup. Apparently the roundly chopped ingredients seen in these areas embody good wishes, like "family circle" and "keeping things without edges."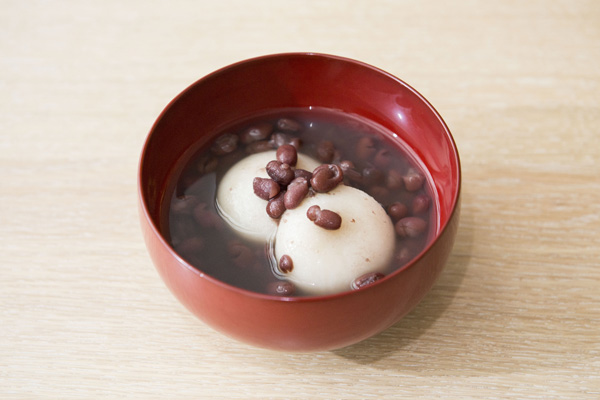 ●Round rice cakes with red bean soup (e.g. red bean ozoni, Tottori)
The ozoni in the Sanin region is mostly red-bean soup based, although this type is in the minority in the world of ozoni. The soup is resembles zenzai and shiruko (both are sweet red bean soups) from other regions. In this region, the red bean ozoni is served on New Year's morning. People used to put a little bit of salt in it, but now the red beans are usually cooked with sugar from the onset.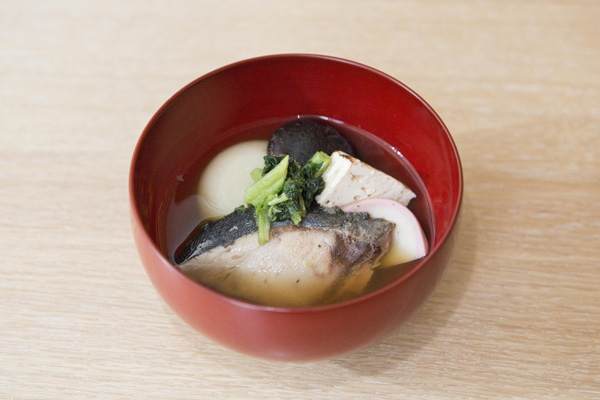 ●Varieties of round rice cakes with clear soup (e.g. yellowtail ozoni from Hakata, Fukuoka)
From the Chugoku region to Shikoku, Kyushu and Okinawa, the ozoni comes in many varieties of round rice cakes and clear soup. Just like Tohoku and Kanto, soups and ingredients vary from region to region. The ozoni from Fukuoka in this example features flying fish soup, using broth from dried flying fish, caught in the waters of the Goto Islands in Nagasaki, and largely consumed in Hakata. The Fukuoka style is to match flavorful soup with the flying fish broth and dried shiitake mushrooms, with yellowtail which is associated with good luck as its name changes the bigger it gets, which reminds people of getting a promotion at work.
Six recommended types of ozoni with various flavors from different regions
Kasuya has tasted ozoni from all over Japan. She picked ozoni of her choice that only she would know as an ozoni researcher.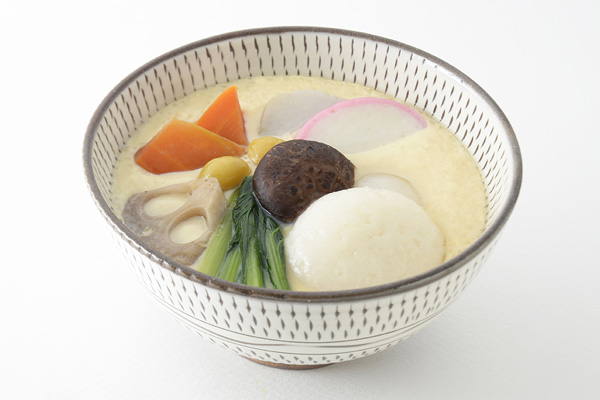 ●Steamed ozoni
This type of ozoni is found in some parts of Toho Village, Chikuzen Town, and Asakura, Fukuoka. It goes well with savory egg pudding with round rice cakes. Although Kasuya had seen countless types of ozoni, she was utterly surprised when she saw this ozoni for the first time. Steamed with the egg soup, the rice cakes become soft and smooth as if it has just been pounded.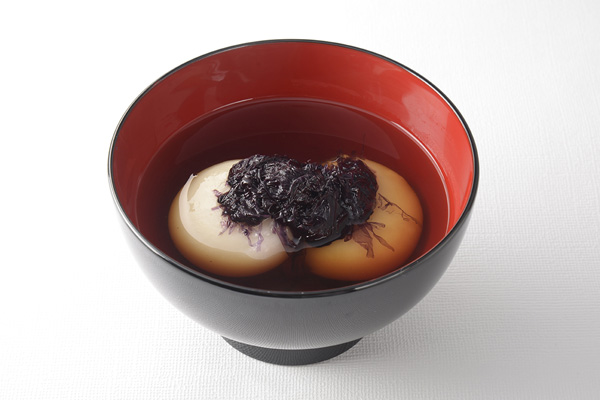 ●Ozoni with Iwami sweetfish and rock-grown nori seaweed
This type of ozoni is found in the riverside region of Takatsu River, Shimane. This simple ozoni is made with dried sweetfish broth soup with a refined aroma, matched only with round rice cakes and rock-grown nori seaweed restored with sake. The clear, quality taste is irresistible for those who enjoy alcohol.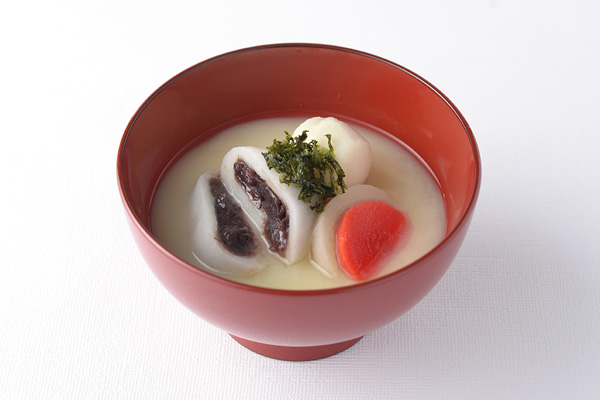 ●Ozoni with white miso and sweet red bean paste
Served in Kagawa, this ozoni is known as an oddity as it features round rice cakes with sweet bean paste inside, matched with white miso-based soup made with dried sardine broth. It is said to be addictive. Although it features white miso, the different broth gives it a totally different flavor from the ozoni from Kanwai.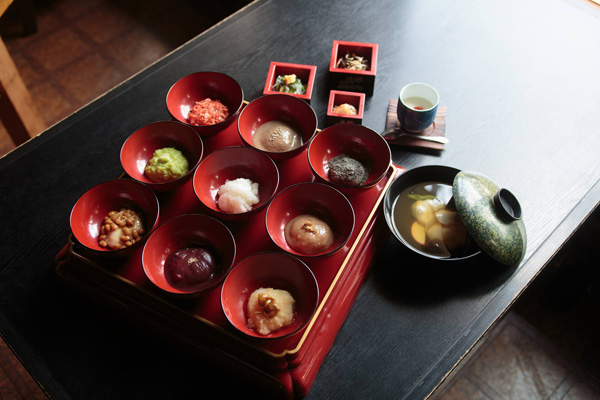 ●Rice cake platter
If you are taking the effort to visit the region to enjoy their ozoni, we recommend Mochi Zen (rice cake platter) from Ichinoseki, Iwate. In Ichinoseki, people enjoy freshly pound rice cakes for over 60 days a year, not just in the New Year, in a variety of ways. The platter allows you to enjoy many different flavors at once, including ground edamame bean paste and natto (fermented soy beans).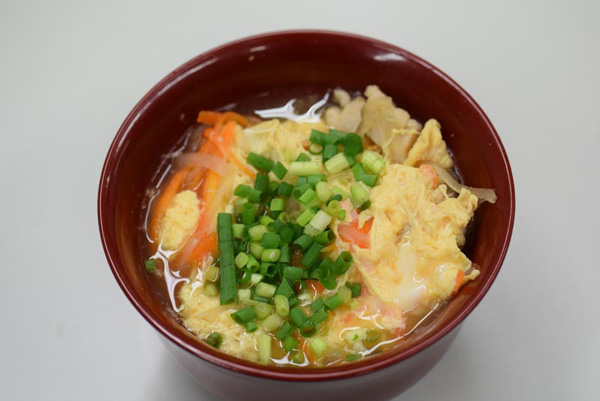 ●Egg zoni (Japanese style cafe in Kanto)
If you want to casually enjoy ozoni any time of the year, visit a Japanese cake café. Many of them serve ozoni throughout the year, next to menus like anmitsu (an assortment of agar jelly cubes and sweet bean paste with some other ingredients). Ingredients vary from café to café, but many of them use eggs as the main ingredient as they are available year-round.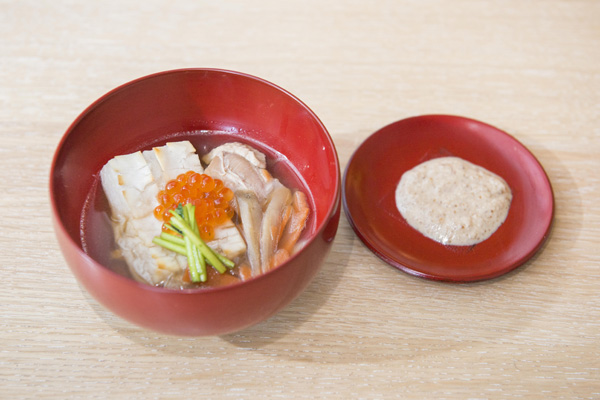 ●Walnut ozoni from Miyako, Iwate
This is a variant of the square rice cakes with clear soup version explained earlier. In Miyako, Iwate, people eat clear soup ozoni with sweet walnut sauce. There are more regions than we think that serve ozoni with a separate bowl of sauce for dipping, including soybean flour ozoni from Nara, and natto ozoni from Kumamoto.
Looking at ozoni of each region is looking at the foods grown in the region and its history. If you have a chance to visit these regions in Japan during the New Year, try enjoying their ozoni.
 / 
Photographer
: RUI YAMAZAKI / KAORI NOZAWA