THE POWER OF SHUN (April 2017)
Ekiben: Packed meals from the railway stations of Japan Reflects the taste, culture and passion of each region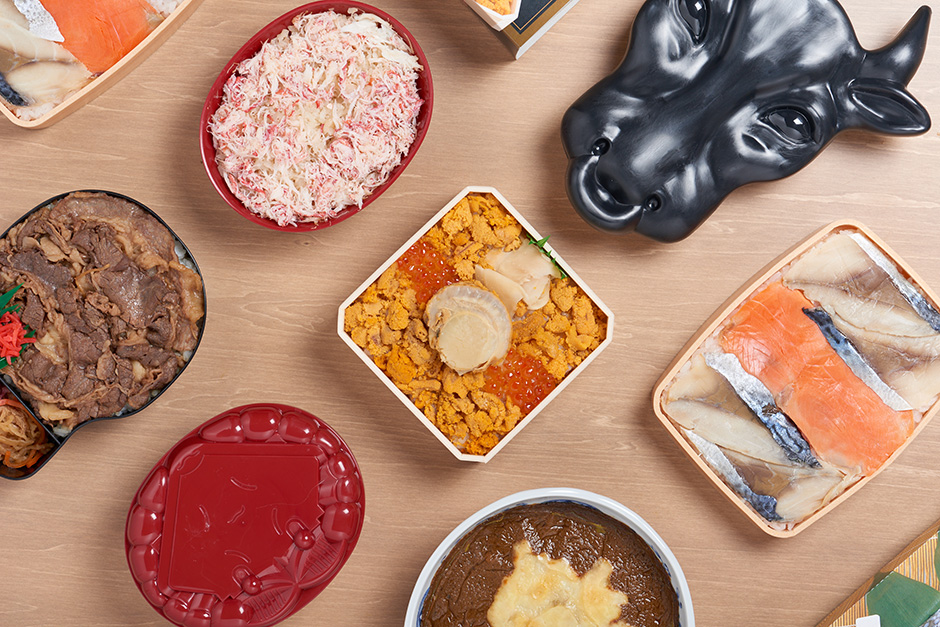 Taking a bite from an ekiben while absorbing the view from the window of the train as it rocks us back and forth;
Packed meals from railway stations (called ekiben) are something special, to be enjoyed while viewing the seasonal scenery, creating a journey of seasons that can only be experienced in that one fleeting moment.
There are unique ekiben in each region, which makes eating them one of the joys of travelling.
Enjoying your trip with ekiben that is unique to each region
Railway networks cover the entirety of Japan. Ekiben emerged in the Meiji period (1868–1912) when the railways first came into service. In the late Showa period (1926–1989), there was boom in personal travels by rail, and ekiben developed into something that was very regional, focusing on local ingredients, culture and cuisine.
The popularity of ekiben continues to grow, firmly established in people's minds as something that can only be enjoyed in a particular region, making it one of the joys of traveling.
This time, we will introduce some specially selected ekiben from various regions that will make travelling an even more enjoyable experience.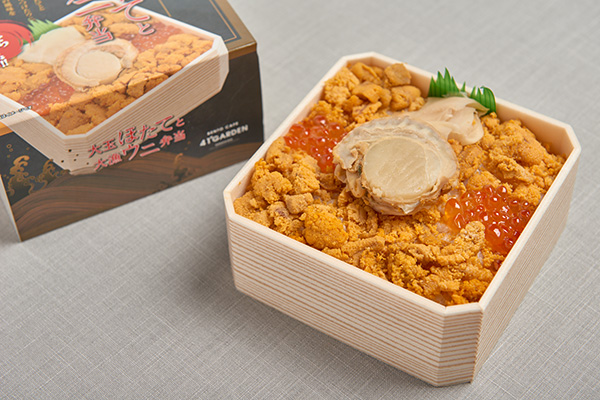 ●Hokkaido: Large scallop and urchin bento from Hakodate City, Hokkaido (by Yoshidaya)
An ekiben filled with a bounty from Hokkaido's ocean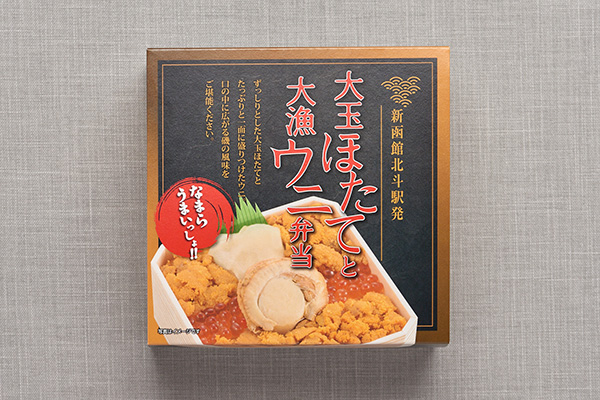 The most eye-catching thing about this ekiben is the large scallop right in the middle of the box. It is surrounded with loads of steamed urchin and shiny salmon roe. It is a true Hokkaido-style, luxury ekiben, packed with quality ingredients. The rice underneath is flavored with seafood broth. Stuffing your mouth with the rice, urchin and scallop, your mouth will be filled with the great smell and taste of the ocean. It is almost hard to imagine this is an ekiben—every ingredient is so fresh and meets our satisfaction.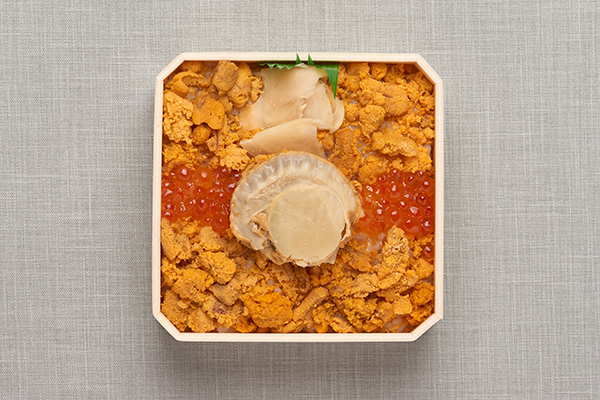 Yoshidaya, which produces this ekiben, opened BENTO CAFÉ 41° GARDEN in Shinhakodate Hokuto Station, when Hokkaido Shinkansen line began operations in 2016. Popular menu items include an ekiben where visitors can combine their favorite ingredients, and the new large scallop and urchin bento, which is served freshly prepared.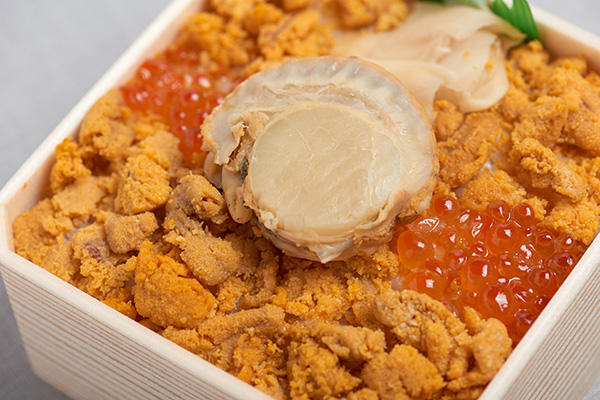 It would be an idea to take a trip on the Hokkaido Shinkansen to discover this new ekiben in pursuit of delicacies from Hokkaido.
Sold at: Shinhakodate Hokuto Station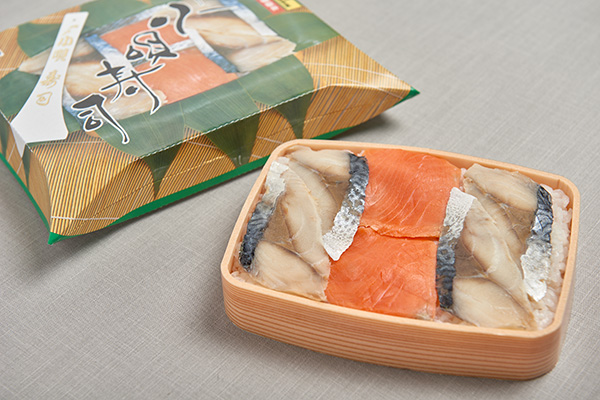 ●Tohoku: Hachinohe Kouta Sushi from Hachinohe City, Aomori Prefecture (by Yoshidaya)
Mackerel and sockeye salmon from the coastal waters of Hachinohe, carefully prepared as a pressed sushi ekiben.
When Hachinohe Station opened in 1953, local volunteers who wanted to create an ekiben unique to Hachinohe got together and prepared a bento using mackerel from the port of Hachinohe and rainbow trout from the Oirase River. Their work was passed onto the esteemed bento manufacturer Yoshidaya, which turned it into the Hachinohe Kouta Sushi ekiben, with sockeye salmon in place of rainbow trout.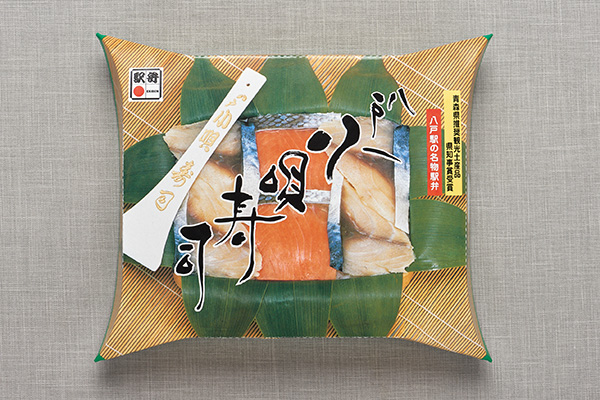 At first, Yoshidaya struggled to sell even one ekiben, but sales took off after it was displayed at an ekiben event in the Tokyo metropolitan area. The company continues to prepare each ekiben by hand and without using any chemical seasonings, preserving the tradition and sublime flavor of thoroughly vinegared, thick pieces of mackerel and salmon.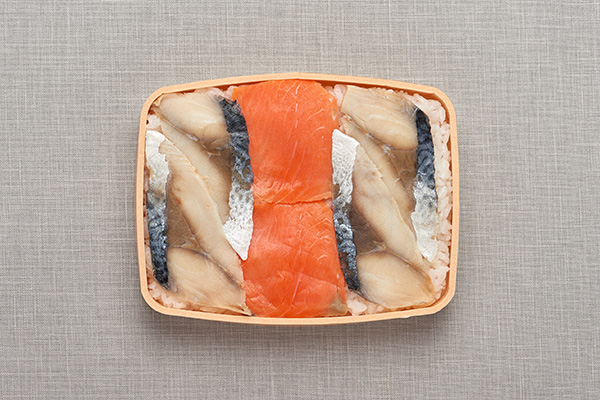 The name of this ekiben, Hachinohe Kouta, is the title of a local song, sung in accompaniment to a three-stringed musical instrument called a shamisen. The ekiben's box replicates the shape of a shamisen's body, and it also comes with a bit of fun; there is a pick-shaped knife for slicing the pressed sushi.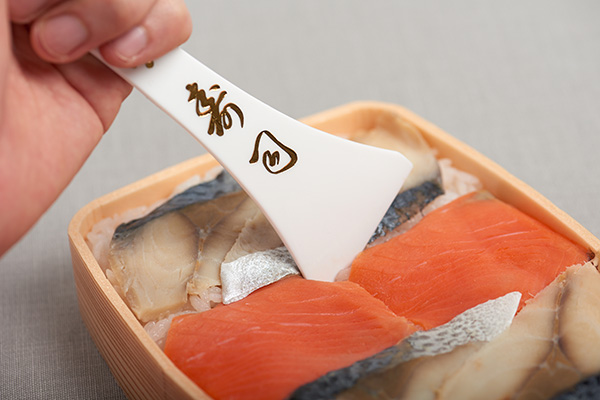 Hachinohe Kouta Sushi is preserved through time and delivered to you by Yoshidaya, whose history grew side by side with Hachinohe Station. We invite readers to savor the flavors of this ekiben.
Sold at: Railway stations including Hachinohe and Shin Aomori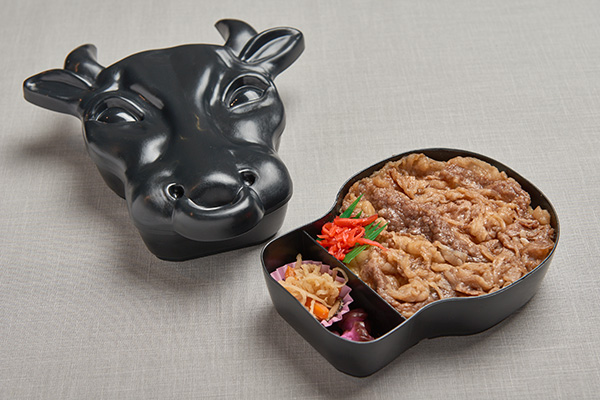 ●Kansai: Moo Taro Bento, from Matsusaka City, Mie Prefecture (by Ekiben No Aratake)
An ekiben with sumptuous black-haired wagyu, the signature Japanese beef from Matsusaka City
The cow's face on the box is what catches our eye first, and when we opened the lid, the box starts playing the melody to the children's song "Furusato". This ekiben not only gives a strong first impression with its visual and audio effects, but its taste is undoubtedly that of the famous Matsusaka beef.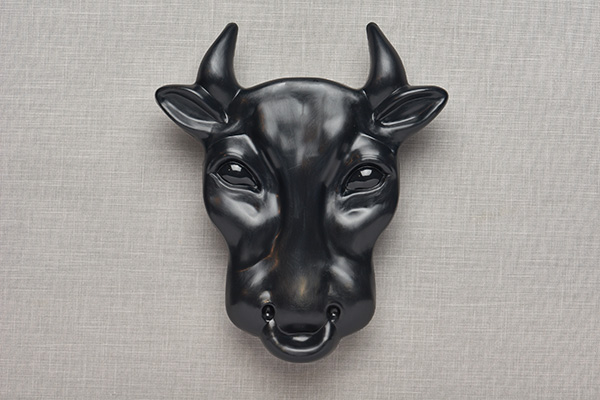 The ekiben only uses selected black-haired wagyu delivered every morning from a local black-haired wagyu specialty store. The meat is then cooked in a home-made sauce with finely chopped strips of ginger. A single bite fills the mouth with its aroma and flavor.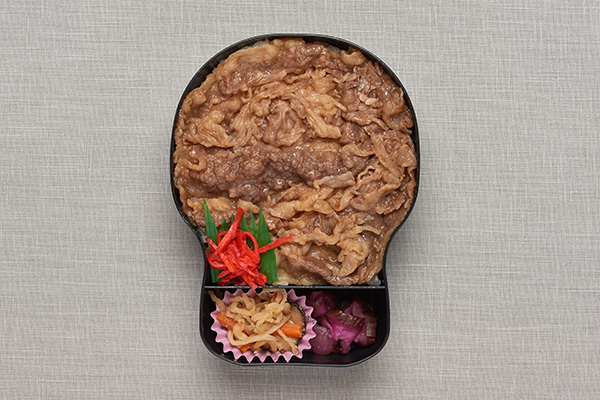 The original creator of Moo Taro Bento, Hiroko Aratake (the President of Ekiben No Aratake), says "We wanted to create a mind-blowing ekiben that we could serve to guests as the pride of our hometown. Ekiben is an important factor in making a trip enjoyable. My belief is the ekiben should build your anticipation until you open the lid, and when you eat it, it always tastes great."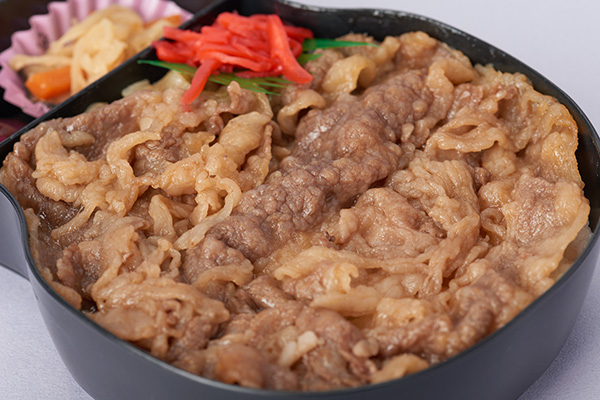 If we listen to "Furusato", we can immerse ourselves in a sense of nostalgia, one of the original ideas behind the ekiben, and enjoy the great flavor of the renowned Matsusaka beef, turning the trip into nothing short of a luxurious experience.
Sold at: Matsusaka Station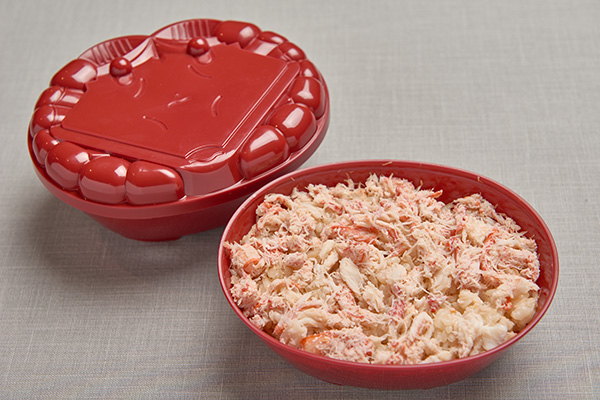 ●Hokuriku: Echizen Crab Rice, from Fukui Prefecture (by Bansho Honten)
This ekiben came into being in 1961, as the ekiben company for Fukui Station wished to make an ekiben using local Echizen crabs.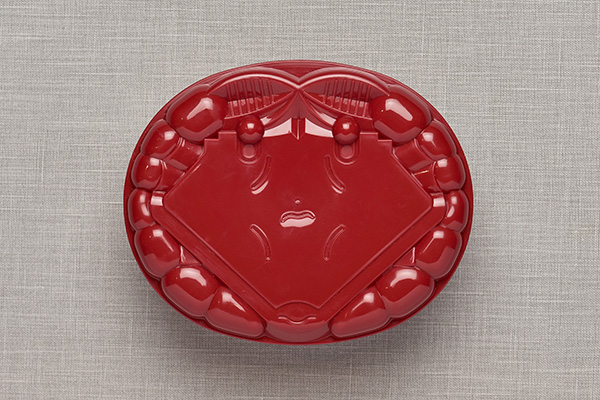 Currently, the ekiben features the red meat, roe and innards of female snow crabs instead of Echizen crabs. The ingredients are separated from the shell and cooked with rice, which is then topped with snow crab and red snow crab meat, creating an ekiben jam-packed with crab. Male snow crabs are small, but their innards are a popular delicacy and have a unique flavor. Crab meat is usually quite watery so it is treated with vinegar to tighten it up, but the company prepares it with a special technique so the crab's unique aroma and flavor can be imparted to the cooked rice.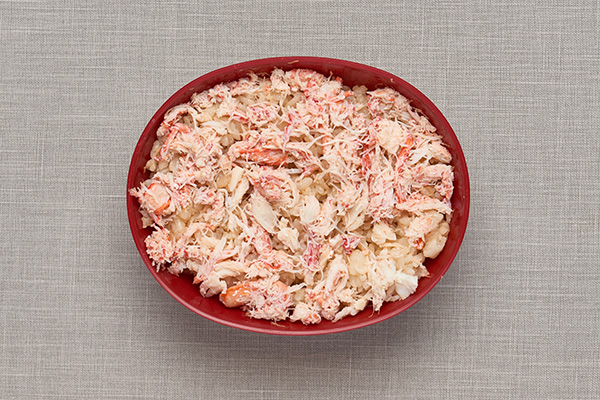 The company focused on creating packaging that would instantly be recognizable as Echizen crab rice. When it was first sold, this ekiben used a brown ceramic container, but in the late Showa period it was changed to a red plastic container. The package was redesigned a few more times after that. It can be enjoyed on the spot, or it can be microwaved at home, which will enhance its aroma and make it even tastier.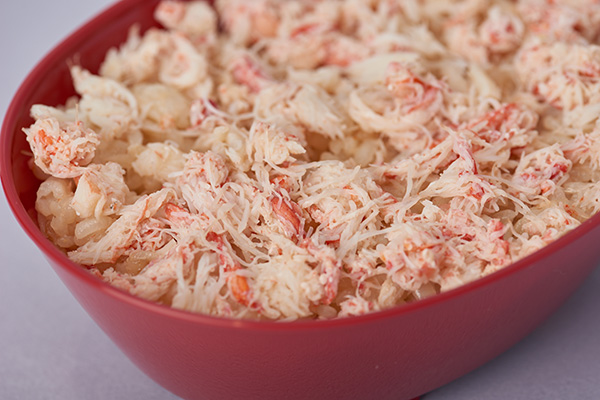 Why not get some Echizen Crab Rice as a memory of your trip in Fukui and enjoy the lingering taste of your travels from home?
Sold at stations including: Fukui and Kanazawa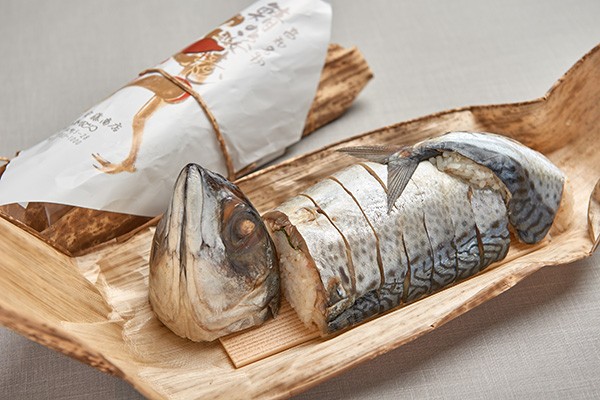 ●Chugoku and Shikoku: Whole Mackerel Sushi, from Kochi Prefecture (by Ando Shoten)
The ekiben features a whole mackerel, complete with both the head and tail.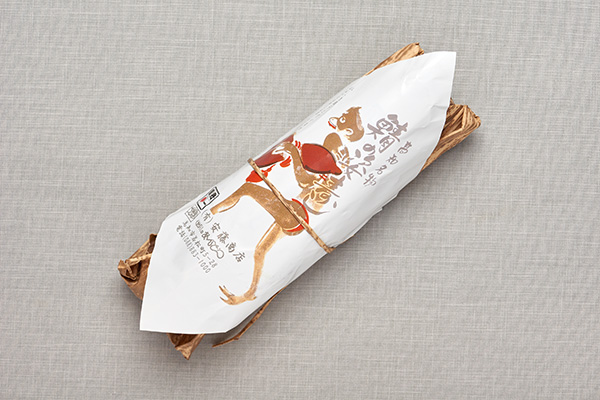 The whole mackerel sushi is one of the dishes from Sawachi cuisine, the local cuisine of Kochi. Sawachi cuisine is a banquet style of cuisine, combining the whole mackerel sushi, nigiri sushi, solidified red azuki bean cake, deep-fried foods and other dishes onto one large plate. Even to this day, homes in Kochi prepare Sawachi cuisine for the New Year and other festive occasions, including the whole mackerel sushi, which has long settled in the region as a local dish.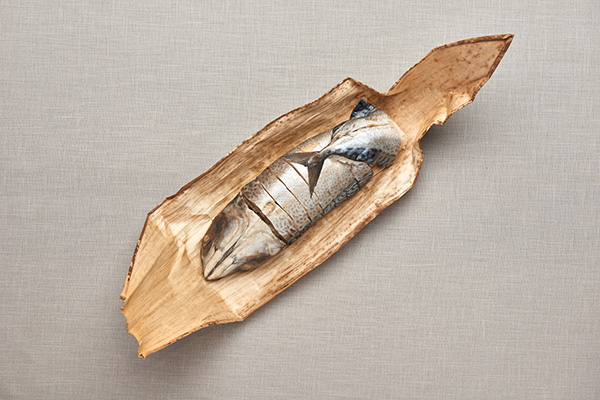 The ekiben version of the whole mackerel sushi is based on the traditional cuisine from the olden days, and reveals a whole mackerel when the bamboo skin wrapper is peeled off. It looks so dramatic, to the point of making us gulp.
The mackerel caught in the coastal sea of Kochi is split open at the back, and filled from the body to the head with vinegared rice. The vinegared rice uses sticky rice, giving it a sticky, chewy texture. The rice tastes quite light as it is also mixed with the yuzu citrus vinegar produced in Kochi, as well as perilla leaves and sesame seeds to give a taste that you won't get bored of.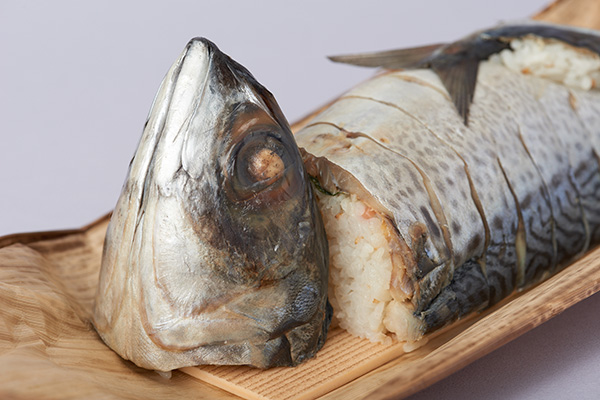 It is an ekiben that will be deeply etched in one's memory, not only because of its local Kochi flavor, but also because of its visual impact and the large portions.
Sold at: Kochi Station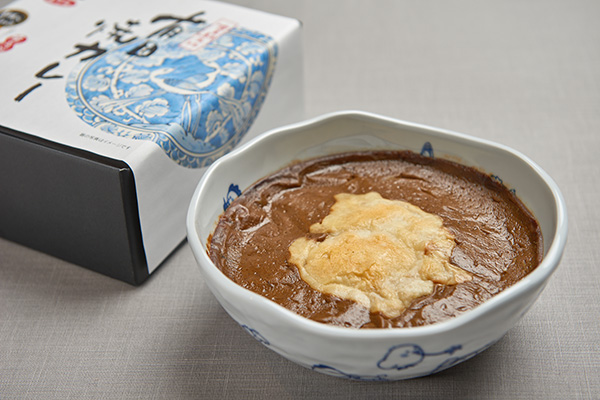 ●Kyushu: Arita-ware Curry, from Arita Town, Saga Prefecture (by So Ota Gallery)
This ekiben features baked curry with rice inside an Arita-ware bowl, a ceramic container with over 400 years of history in the local town of Arita.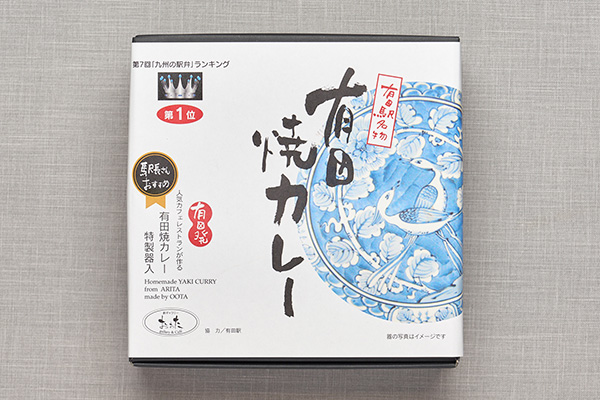 In 2007, the director of Arita Station Nishida, and Ota, owner of an Arita-ware gallery and café restaurant "So Gallery Ota", packaged the café's popular curry with rice dish in an Arita-ware bowl and started selling it as an ekiben, in attempt to revive the declining sales of Arita-ware.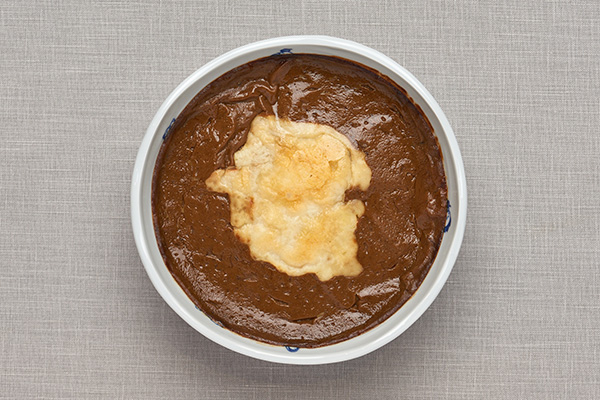 Arita-ware Curry became the first baked curry ekiben. It features local rice from Saga Prefecture and Saga Beef (also from Saga Prefecture). The beef and onions are slow-cooked using 28 spices in an original recipe that enables travelers to carry it for many hours.
Ota, who devised the ekiben, said "Arita-ware Curry was born because this is the historic land of Arita-made porcelainware and because we have great water in Arita. We would be delighted if visitors could know more about our region and the wonders of Arita-ware. We would like to encourage everyone to visit Arita."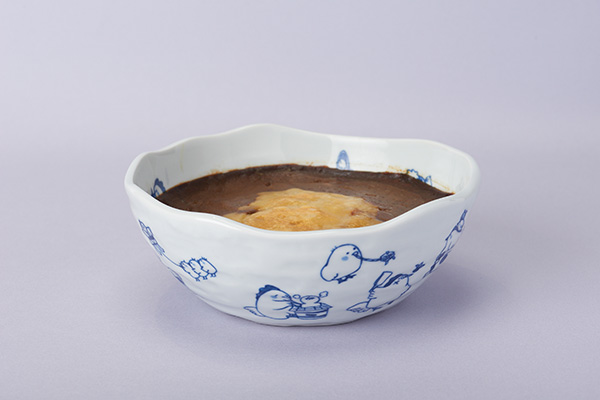 After the curry and rice is eaten, the Arita-ware bowl can be used in many ways, for example, as a noodle bowl, rice bowl or for stews. It is an ekiben that will forever preserve the memory of your visit to Arita.
Sold at: Arita Station
Ekiben conveys the passion of their makers and their pride in their regions
There are a countless number of ekiben today, showing us the local ingredients and a taste of each region. Every one of them was born from the passion of their creators, who are proud of their region and thankful of their local cuisine.
If you have a day off, why not go a bit further than usual and enjoy an ekiben from a different region? As you struggle to decide from the countless choices which ekiben to eat, you will learn more about the region's food and culture, and will probably understand the passion of local manufacturers. It will turn your trip into something special.
 / 
Photographer
: YUTA SUZUKI