THE ROOTS OF SHUN (October 2019)
The Ultimate Ramen Featuring Flavors of Kawajima
Kawajima, Saitama Prefecture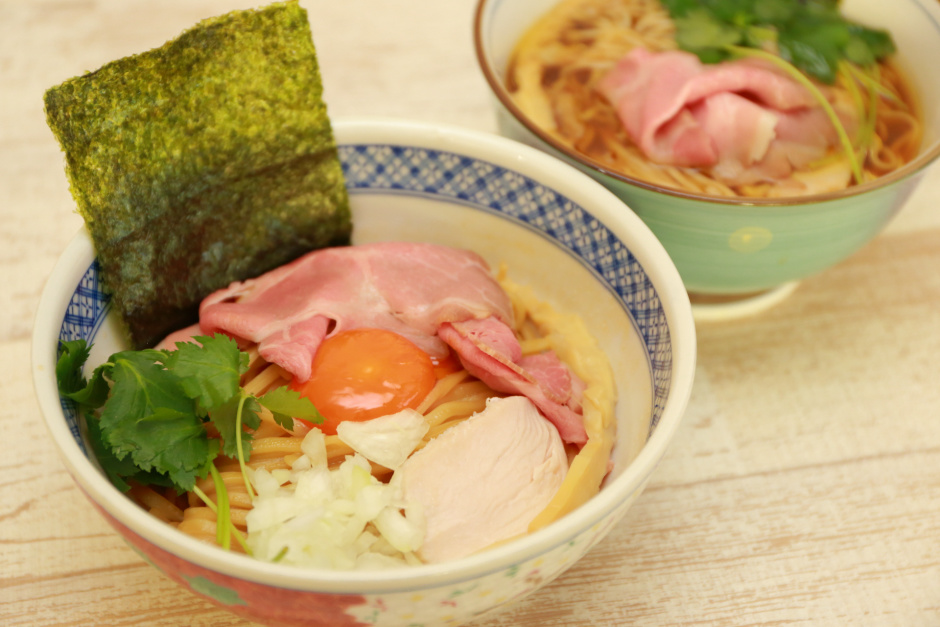 In 2013, a ramen shop opened in Kawajima, Saitama Prefecture, a town 45 kilometers from Tokyo. This unique ramen shop, which also features a sushi restaurant, instantly became famous, with customers across the country lining up for a taste. The name of the ramen shop is Chuka Soba Yotsuba, and it is run by Kazuto Iwamoto.

The ramen shop became renowned throughout Japan after receiving the top spot in the Saitama Ramen Walker ranking for 2017 and 2018 before entering the hall of fame, and also placing in the Tokyo Ramen of the Year, which is said to be the most prestigious award in the industry. The ramen at Yotsuba has captured the hearts of many fans within the prefecture and out—it showcases Iwamoto's relentless pursuit for ramen and the various flavors of Kawajima.
A bowl of ramen full of love for the region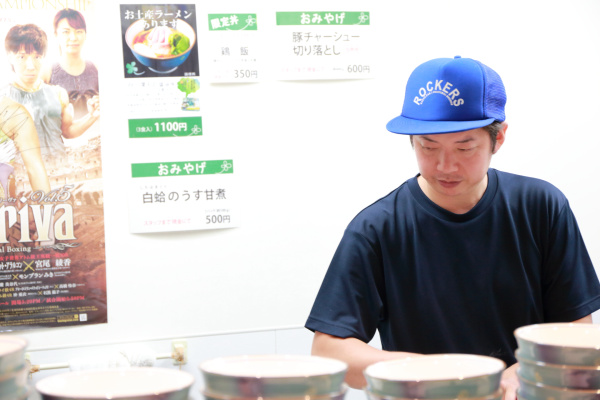 Iwamoto was born the son of the sushi restaurant Takarabune, which was popular among local residents. He vaguely imagined that he would take over his family business, but had a crushing disadvantage as a sushi restaurant owner's son—he disliked raw seafood.
However, Iwamoto could not brush off his dreams to create food, and decided to advance into the world of his favorite dish, ramen. He started a long apprenticeship at a famous tsukemen (noodles with soup for dipping) restaurant. After 12 years of perfecting his skills, Iwamoto opened his own ramen shop, the long-awaited Chuka Soba Yotsuba.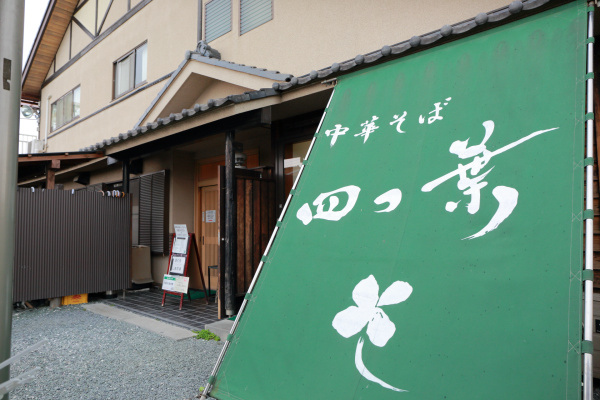 Popular dishes here are Yotsuba Soba and Maze-soba (mixed noodles) with rich-tasting egg. The soup for Yotsuba Soba is created from local Hinai chicken and Amakusa Daio chicken soup stock, five different types of soy sauce and chicken oil. The taste is simple but rich, with an elegant flavor without being too greasy, making it popular with customers of any age, both men and women.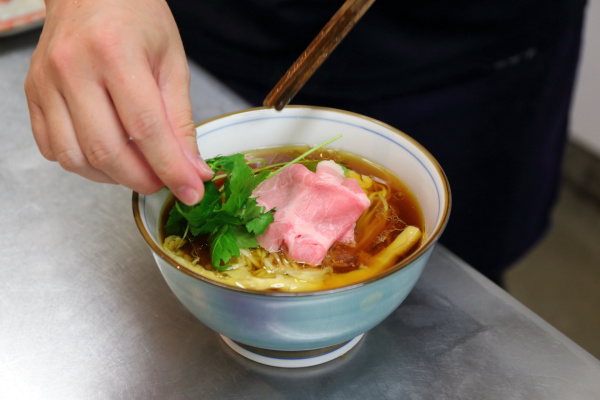 Popular dishes here are Yotsuba Soba and Maze-soba (mixed noodles) with rich-tasting egg. The soup for Yotsuba Soba is created from local Hinai chicken and Amakusa Daio chicken soup stock, five different types of soy sauce and chicken oil. The taste is simple but rich, with an elegant flavor without being too greasy, making it popular with customers of any age, both men and women.
"Even before I opened my shop and was developing the menu, I decided to make my mark with simple ramen dishes. The ideal flavor is one that delights customers while they are eating, but also lingers after they are done. To achieve this, there was a need to bring out the best of the ingredients' flavors," says Iwamoto, reflecting upon the past.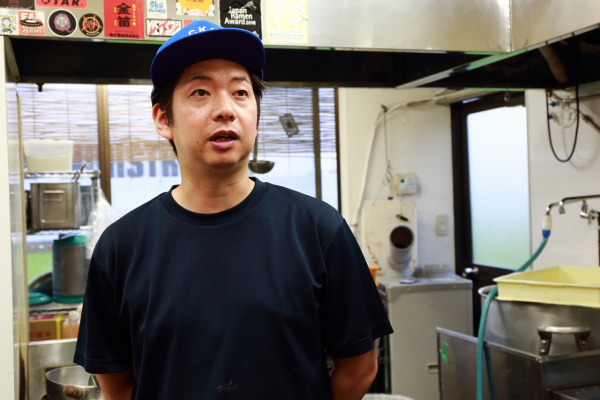 His pursuit toward ingredients and flavor still continues, and he never hesitates to change menus or incorporate new ingredients.
However, there are some ingredients that are vital to these two signature noodles. One is the regular soy sauce Kinbue Saisikomi Namashoyu from Fueki Shoyu, and another is Topran eggs from the Yabe Poultry Farm. Both manufacturers of these ingredients have been based in the same Kawajima for many years, and have a close relationship with Iwamoto.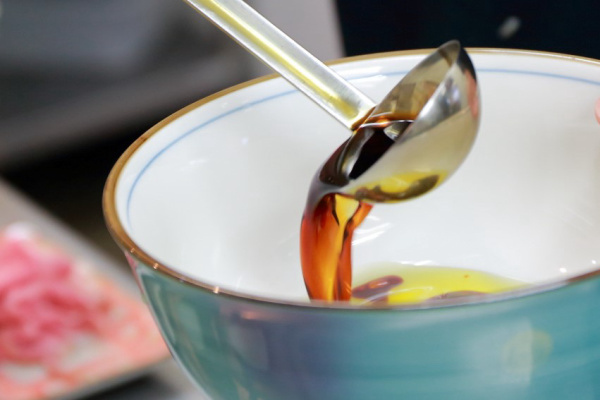 "I decided to use local ingredients, since I was going to open shop locally. I wanted to promote the tastes of Kawajima in my own way. When developing the menu, I visited many local manufacturers, and came across Kinbue Saisikomi Namashoyu and Topran in my travels. The Kinbue Saisikomi Namashoyu is absolutely necessary for creating the flavor of my ramen, and Maze-soba was developed to maximize the wonderful taste of the Topran eggs as well."
What kind of manufacturers are Fueki Shoyu and Yabe Poultry Farm, which have captured the heart of Iwamoto? We went over to visit them.
Manufacturers of soy sauce for over 200 years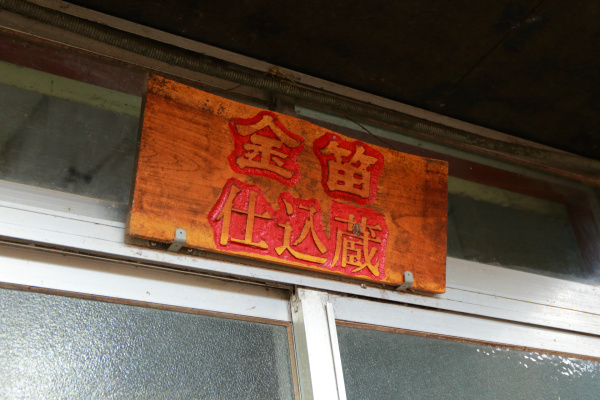 Going north up Route 254, which goes through Kawajima from the north to south, and going off on an alleyway took us to an enormous storehouse. This is the main store for Fueki Shoyu, which was established in 1789 and has more than 200 years of history. We visited the brewery behind the main store where the 12th generation head of the brewery, Kichigoro Fueki, greeted us with a beaming smile.
Fueki showed us around the brewing facilities, in which more than thirty large wooden vessels are situated. The vessels contain moromi, which is the raw ingredient for soy sauce. Moromi is fermented and matured in this room.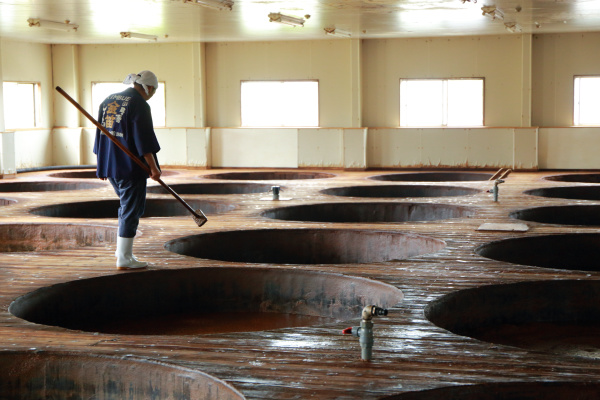 "Raw materials only contain soybeans, wheat and sun-dried salt. The soy sauce is created in an old-fashioned way, without any excess ingredients. Fermentation and maturing in wooden vessels take time, but during this period, the activity of microorganisms is heightened."
Fueki took his time to offer us an in-depth explanation between his kaiire (stirring the moromi mixture) tasks. While major soy sauce manufacturers have embraced automation in their businesses, the reason why this brewery persists in using old-fashioned methods is because, "Ultimately, the taste is defined by the people creating it."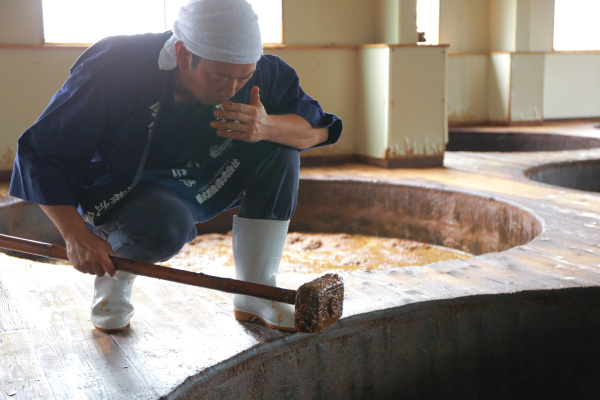 Fueki is very confident in recommending his Kinbue Saisikomi Namashoyu. It is standard practice to use saltwater when brewing regular soy sauce. However, Kinbue Saisikomi Namashoyu extravagantly uses the Kinbue Shoyu, brewed over a course of one year, in place of saltwater. This creates a rich body and flavor for the soy sauce.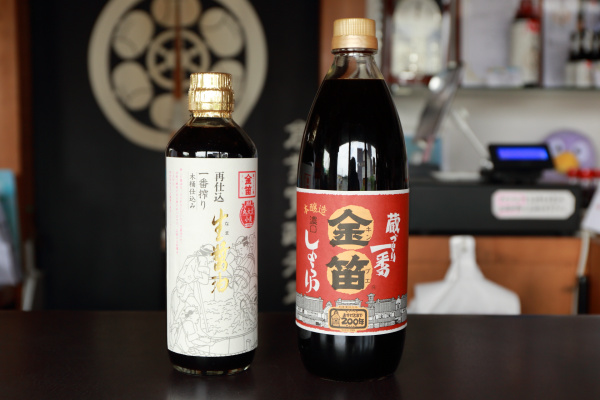 Iwamoto of the Yotsuba ramen shop noted the rich flavor of this soy sauce. However, to Fueki, having this soy sauce used in ramen was something he did not expect.
"Up to that point, this soy sauce was mostly used for dipping sashimi or other foods in restaurants. Ever since Yotsuba discovered new possibilities for this soy sauce, other restaurants have started to purchase it for cooking as well."
50 yen-each luxury eggs that sell out instantly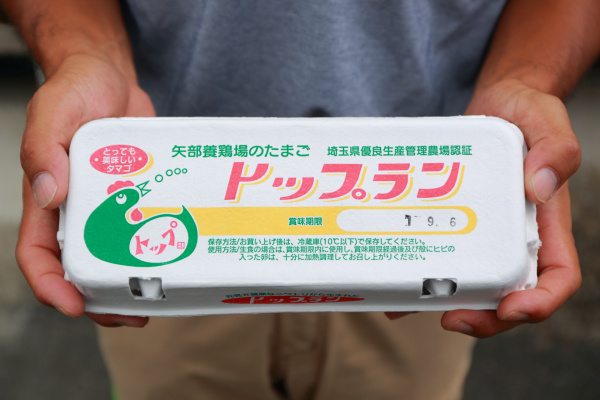 Yabe Poultry Farm provides approximately 10,000 Topran eggs per day. The price is 50 yen per egg, making it quite pricey, but the direct-sales store is full of customers every day, and it is not rare to sell out all eggs in the morning. Customers range from the general public to professional cooks. The client list for this poultry farm includes three-starred restaurants in Paris, and other famous locations.
The representative of Yabe Poultry Farm, Kazuhito Yabe, told us why the eggs are so popular.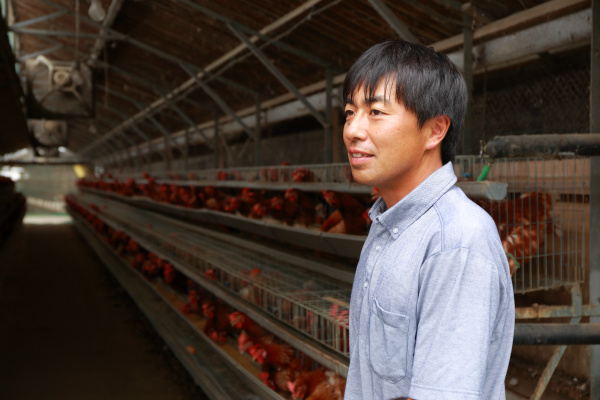 "Unlike standard eggs, these eggs have a mellow and rich flavor, which makes it so popular with customers. The eggs have no unwanted scent to it, and many customers say they enjoy these eggs raw."
One element Yabe especially focuses on is the feed offered to the poultry. The feed is mainly corn and defatted soybean meal, with some amino acids, seaweed and powdered fish. The egg-laying facilities were designed to incorporate natural light and wind. Due to this, the chickens here are able to spend their days according to a natural cycle from morning to night. The chickens are very lively, chattering away in their spacious cages.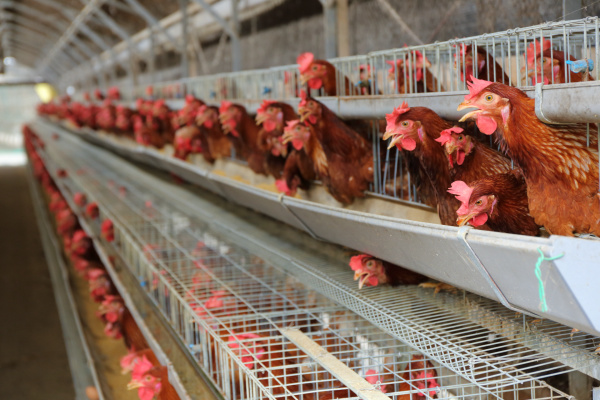 "We have fewer chickens per cage at our farm. The more space the chickens can move within their cages, the stronger their bone structure and leg muscles become. This also alleviates stress and results in better eggs."
Although the Yabe Poultry Farm used to specialize in wholesale eggs, they started focusing only on retail sales of Topran about 30 years ago. Through trial-and-error Yabe and his father achieved a steady supply of Topran. What spurred their motivation for doing so?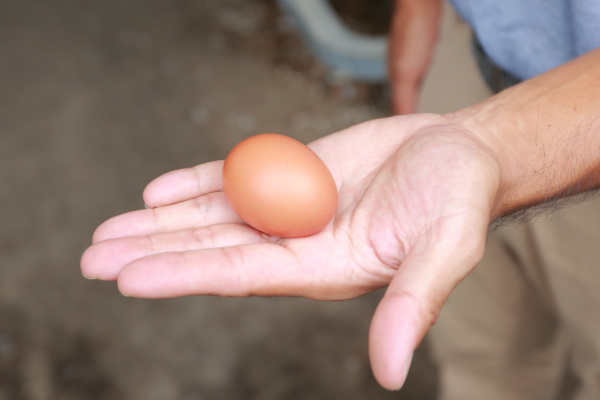 "When labor is taken into consideration, we are not able to produce more than the current amount. The reason we focus on this egg is because the customers tell us how delicious it is. As long as we work earnestly, there will come a time when somebody will notice and support us."
It seems that Iwamoto was also touched by the passionate poultry farm and became a supporter.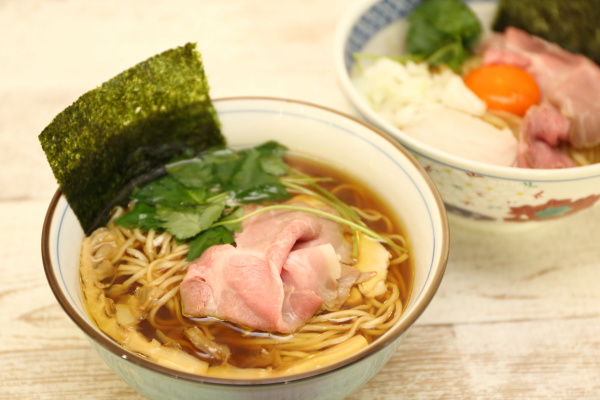 Ramen, soy sauce and eggs—although the industry differs for each product, the passion each operation has toward their products are the same. It is surely not a coincidence that three manufacturers, who spare no effort in their products, have discovered each other in Kawajima.
Why not experience this ramen, which is full of local goodness, to the last drop?
 / 
Photographer
: SATOSHI TACHIBANA