OKURIMONO (November 2014)
Made the traditional way—with nothing added
Kanezaki Sasa-kamaboko Tairyobata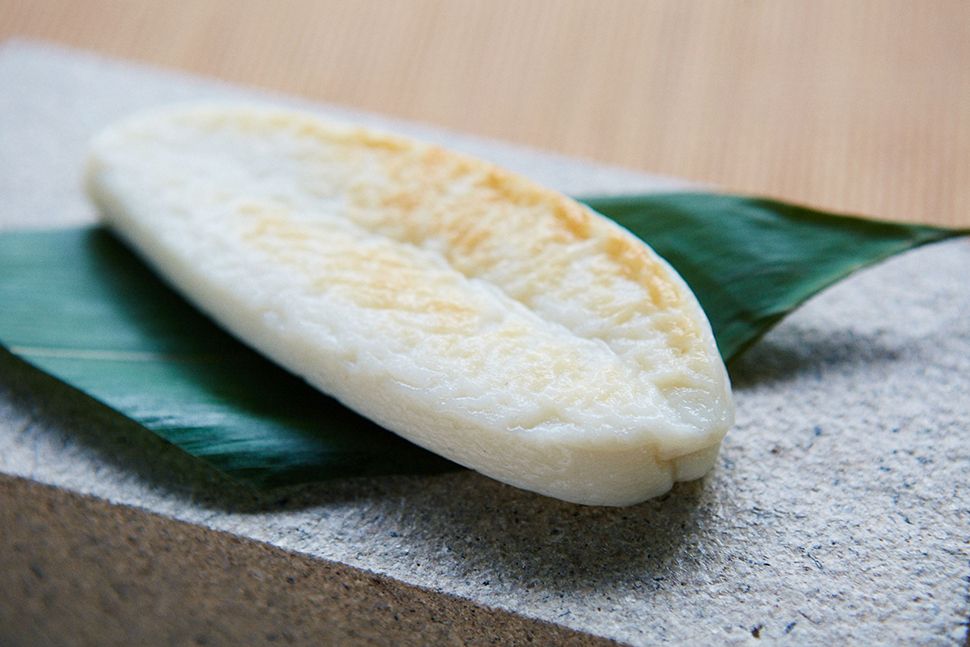 < PACKAGE >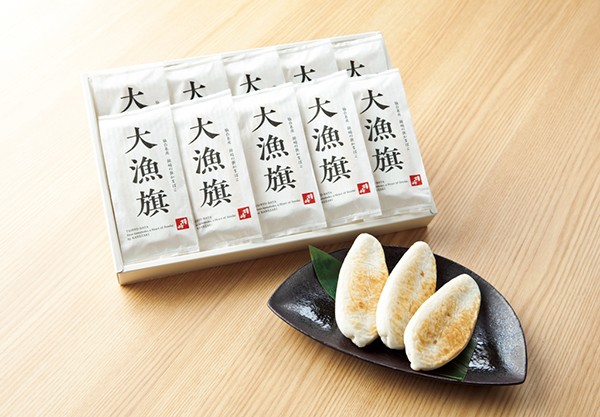 *Package shape varies according to price.
*Packaging design may vary depending on the season.
Kamaboko is a popular gift and also features in traditional osechi-ryori New Year's dishes. It is a distinctively Japanese creation made from the seafood that is so beloved to the Japanese. Kamaboko dates back to the Heian period over 1,000 years ago, when fish paste was typically wrapped around bamboo sticks and formed into cylindrical shapes. Kamaboko remains popular today throughout Japan, and takes a variety of forms such as ita-kamaboko (shaped on a flat plate) and saiku-kamaboko (created with traditional art techniques).
In this edition of SHUN GATE we take a closer look at sasa-kamaboko, a specialty of Sendai, and in particular the Tairyobata product from Kanezaki. This kamaboko product is thick and generously proportioned. It boasts the authentic taste of kamaboko, free from additives such as preservatives and artificial colors. Even common binders such as starch and egg whites are not used. Kanezaki kamaboko is made from the finest selected quality ingredients using great attention to detail in order to preserve the pure and unadulterated flavor of the fish with a firm yet delicate texture. Tairyobata sasa-kamaboko is the perfect gift.
The editorial team here at SHUN GATE was lucky enough to receive a box of Tairyobata sasa-kamaboko to try. In this article, we give you our impressions of this product, including taste, appearance and other important considerations.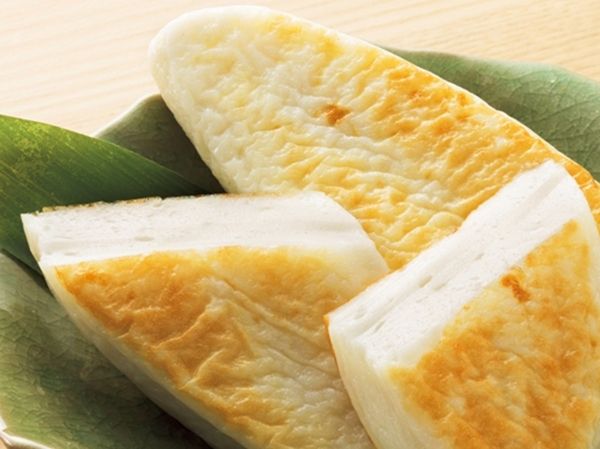 Giant sasa-kamaboko with great taste and superlative texture
The first thing you notice when you open the handsomely adorned Tairyobata wrapping is the sheer size of the product. It's so big that you can barely pick it up with your chopsticks!
This product is light, tender and chewy. The lightly grilled skin gives off a wonderful fragrance, while the flesh both preserves and accentuates the taste of the sea. And it's a very substantial size. It is delicious without any accompaniments, or you can have it as a snack with drinks, dipped in a mix of soy sauce and wasabi. And of course, kamaboko is a great addition to any number of dishes. In this way, it is the perfect gift that is enjoyed by all ages.
Kamaboko with no added bindings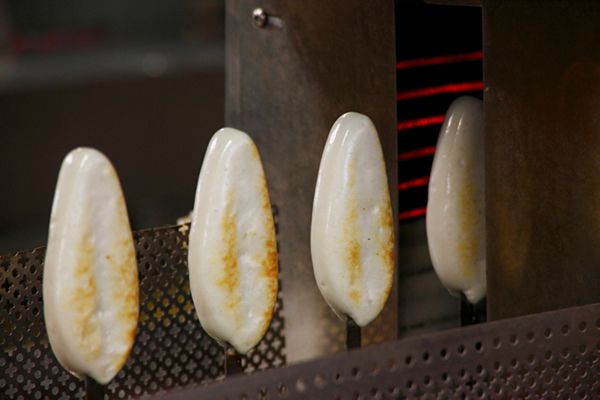 "We take great care in selecting the fish," says Ono, "since obviously it can vary depend on the season and this in turn will influence the final product. Next we grind the fish. The room temperature and the water temperature have a significant bearing on how it turns out, so we are constantly adjusting the mix for best results. Then we cook it, using a special method that ensures that the heat gets all the way through while at the same time keeping it nice and soft without letting the outer skin become too tough."
Ono notes that the Tairyobata product is still evolving. "We have recently changed the type of fish we use in order to bring out the flavor a bit more," he explains. "At the moment we're using a premium grade variety called kichiji, together with Date no Umashio salt from Miyagi prefecture. Kichiji has a nice strong flavor that is consistent all year round. Some people say that kichiji is hard to make into kamaboko, but we think it's worth the effort because it tastes so good. The Date no Umashio salt, meanwhile, is rich in minerals and really enhances the natural flavor of the fish."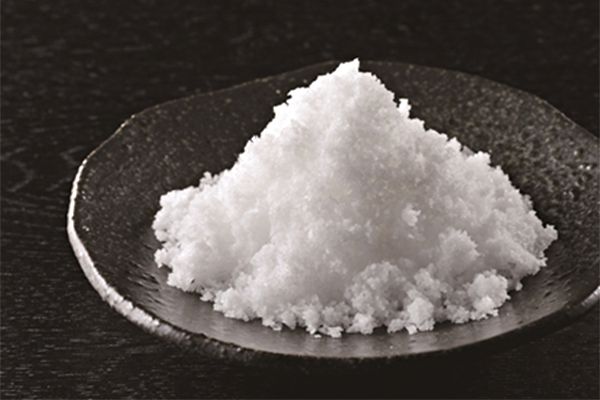 Kanezaki is always striving to improve its products, as evidenced by the total absence of preservatives and colors. Kanezaki even eschews the use of common binders such as starch and egg white. "Kamaboko is meant to be a very simple baked product consisting of nothing more than ground fish and salt," explains Ono. "Using starch or egg whites makes it easier to shape and prepare, but at Kanezaki we are committed to making it the traditional way with nothing added."
As you can see, Tairyobata is prepared with great care from the finest ingredients by true kamaboko artisans. In addition to the great taste it is free of allergens. Tairyobata sasa-kamaboko from Kanezaki makes the perfect gift that is sure to please anyone and everyone.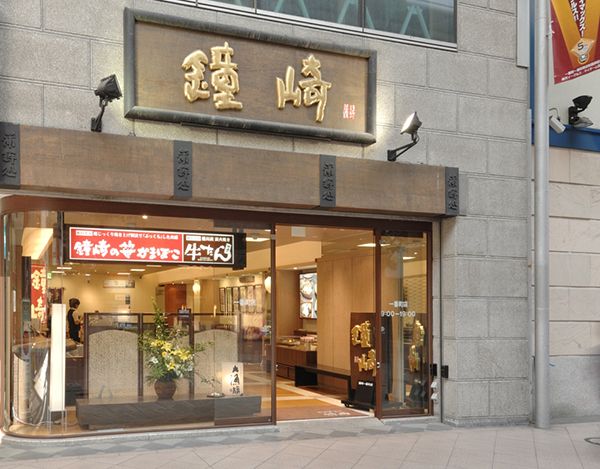 Kanezaki Kamaboko store at Ichibancho
Once the flourishing castle town of the Date clan, Sendai is today the largest city in Miyagi prefecture, famed for its boulevards lined with native keyaki trees and non-stop cultural attractions set against a stunning natural backdrop. Festivals and events are held all year round, including the Sendai Aoba Matsuri in spring, the Sendai Tanabata Matsuri in summer and the spectacular Sendai Pageant of Starlight in winter. The Kanezaki Kamaboko store at Ichibancho is situated in the heart of Sendai and stocks a wide range of Kanezaki products including sasa-kamaboko not least our featured product Tairyobata as well as other varieties featuring seasonal ingredients along with other delicacies such as Sendai beef tongue.
Writer
: TOSHIFUMI KIUCHI
 / 
Photographer
: KOJI TSUCHIYA