OKURIMONO (March 2022)
Himi's Fish Wholesaler Aims for a New Frontier for Firefly Squid Okizuke
Matsumoto Uodonya Firefly Squid Okizuke Trio Gift Set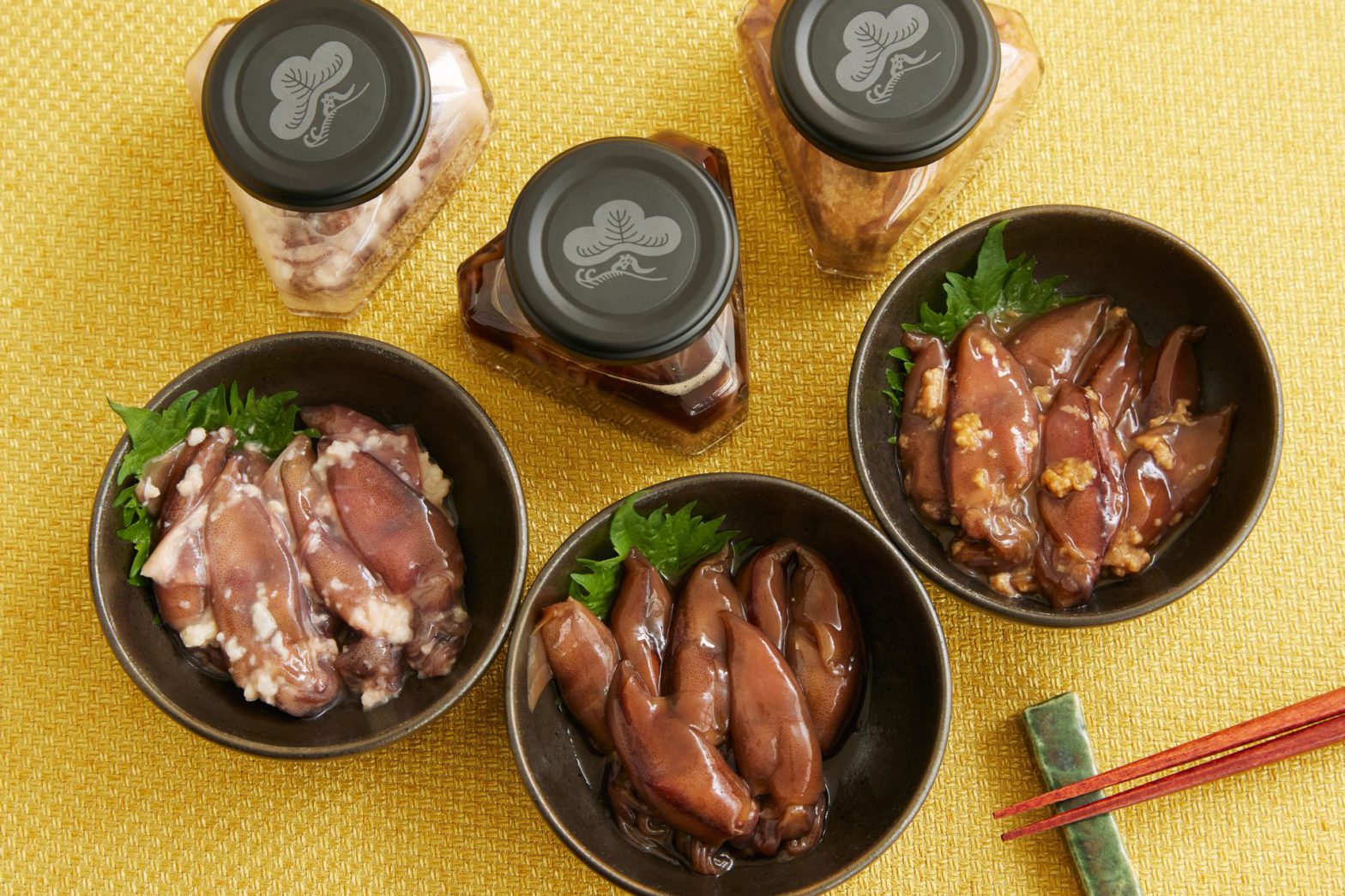 < PACKAGE >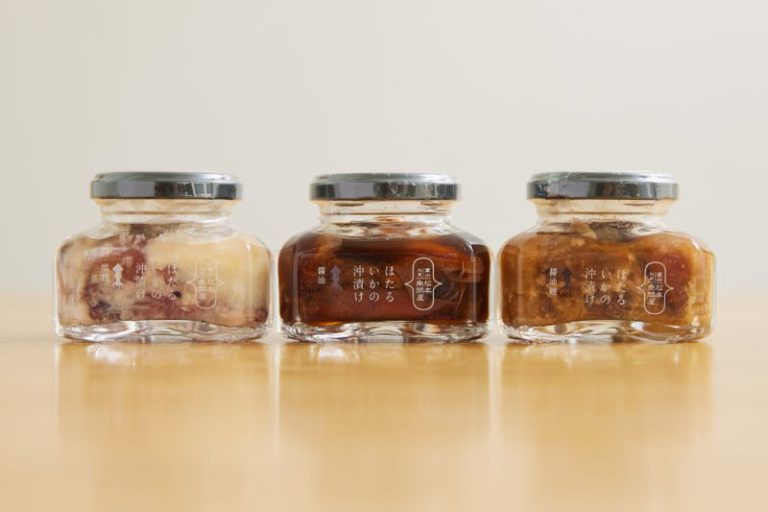 Firefly squid fishing heralds the arrival of spring in Toyama Bay. The Hotaruika Gunyu Kaimen, where firefly squid comes to the shore to spawn, is designated a special natural treasure by the government.

Matsumoto Uodonya, a fish wholesaler in Himi, Toyama Prefecture, sells firefly squid okizuke (marinated). With a desire to give "a morsel of fish every day," it has been delivering the flavor of Toyama Bay across the country.
Here are the key points that make Matsumoto Uodonya's firefly squid okizuke worth buying.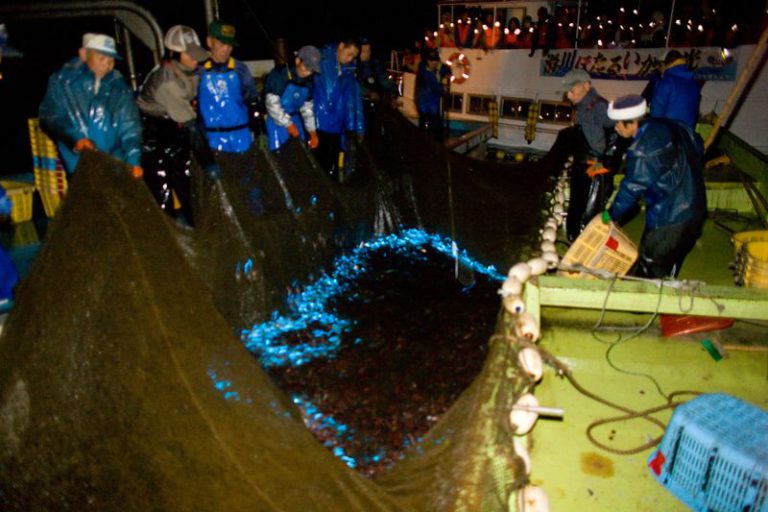 ©(公社)とやま観光推進機構
Sustainable, traditional fishing method
Firefly squid is caught using a fixed net fishing method, handed down for about 400 years. In recent years, fixed net fishing has gained attention as a sustainable fishing method, which causes less damage to the firefly squid's flesh.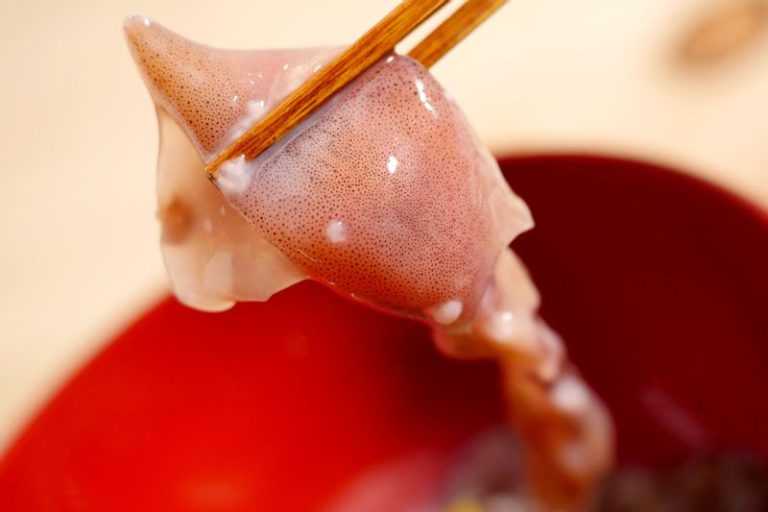 The mild seasoning is enjoyable to people of all ages.
The seasoning with less salt makes it delicious for children and adults alike. Concerned about consumers' loss of interest in fish, the shop proactively promotes recipes that require little effort to prepare.
A "natural fishpond" created by Toyama Bay's complex topography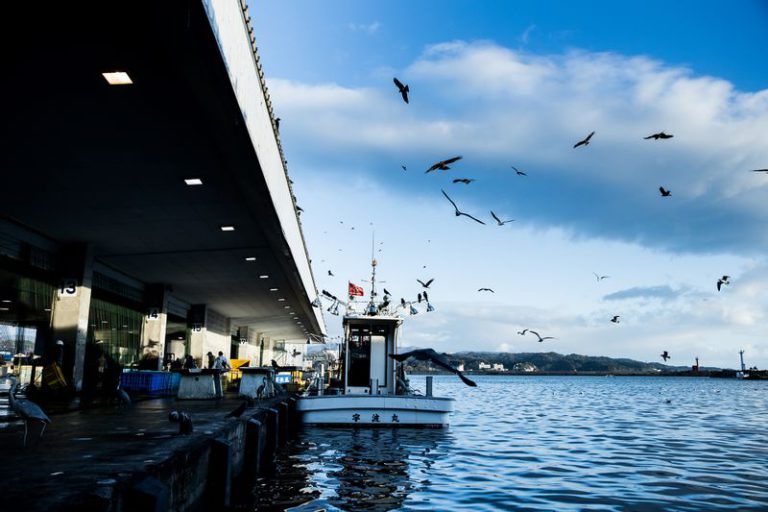 Located at the center of the Sea of Japan, Toyama Bay is embraced by the Noto Peninsula. Also known as the "natural fishpond," about 300 species of fish and shellfish are caught, including winter yellowtails in the winter, sardines in the spring, and tuna in the summer.
The abundance of fish species is linked to the rugged seafloor. A steep slope drops into the deep sea from near the coast, reaching over 1,000 meters at the deepest point. The warm Tsushima Current and the cold deep water form a layer that both warm and cold-water fish and shellfish inhabit. The river water from the Tateyama Mountain Range flows into the submarine valleys, cultivating plankton that becomes fish food.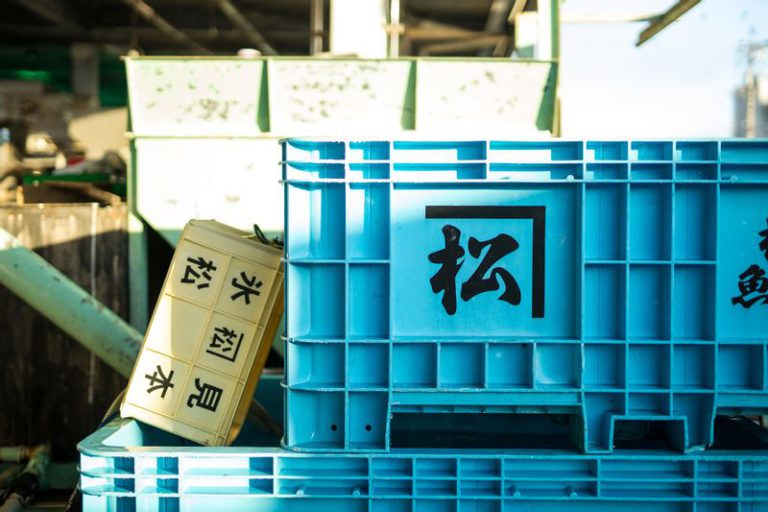 Matsumoto Uodonya is a seafood wholesaler with a proud history of over 100 years in Himi, Toyama Prefecture, overlooking Toyama Bay. Of the numerous fish wholesalers in Himi, it is one of the best, dealing in a variety of fish. In recent years, it has been on a quest to offer delicious fish from every position, not only as a wholesaler but also by operating a restaurant and producing processed goods.
A new kind of okizuke made of firefly squid caught by a traditional fishing method
Firefly squid okizuke is one of the processed food products made by Matsumoto Uodonya. Firefly squid is a specialty of Toyama Bay, along with winter yellowtail. Large shoals of female squid surge into the offshore waters during the spawning season from March to June. When that happens, the firefly squids emit a pale blue light. Fantastical ribbons of light appear on the sea's surface. The magical phenomenon is only seen in Toyama Bay and is a popular spring attraction.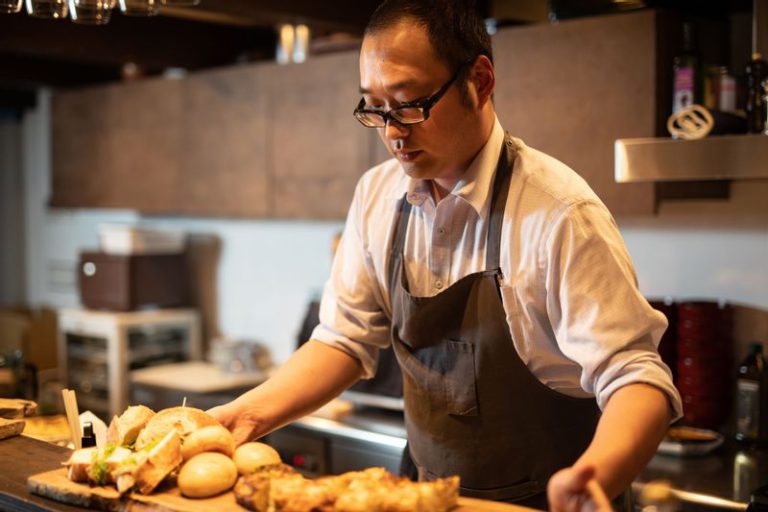 "The firefly squid caught in Toyama Bay is very large," says Chef Yoshihito Yamashita, who develops processed food products at Matsumoto Uodonya. Large firefly squid from Toyama Bay is about seven centimeters long. When they store nutrients during the spawning season, they fatten so much that their flesh almost bursts.
"Their clean flesh is one of the selling points. The reason for this is the fixed net fishing that has lasted over 400 years in Toyama Bay. Fixed net fishing is a method that involves fixing the net to the seabed, so it's less damaging to the firefly squid than trawl fishing. And because fixed nets are designed to allow fish to escape after entering the net, they have attracted attention in recent years as a sustainable fishing method that doesn't exhaust marine resources," says Chef Yamashita.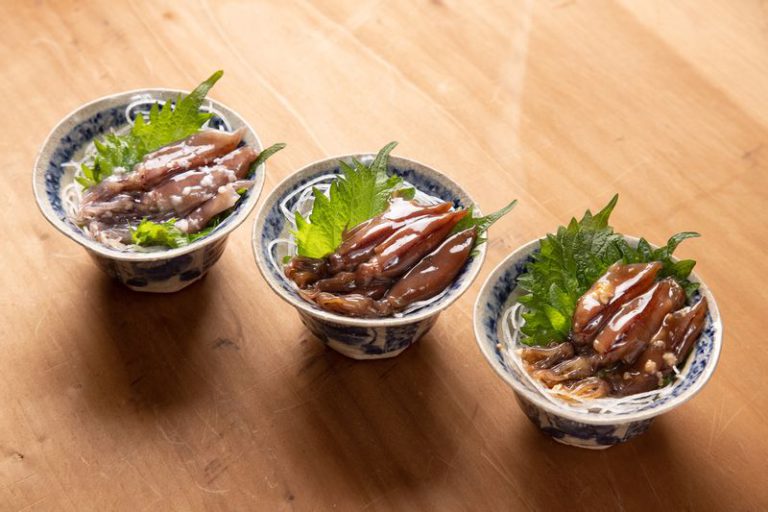 Matsumoto Uodonya's okizuke comes in three flavors: soy sauce, soy sauce and koji (malted rice), shio koji (malted rice seasoned with salt). It uses firefly squid that is rapidly frozen after it is caught, and while processing, it is half defrosted to maintain its freshness. The eyeballs are removed by hand, one by one. It is a painstaking process, but it is difficult to mechanize due to firefly squid's delicate flesh.
The product is done after the prepared firefly squid has been bottled with the marinating sauce. It is a sign of confidence in the ingredients that nothing more than necessary is added. The claim that "it has a texture similar to sashimi" makes sense.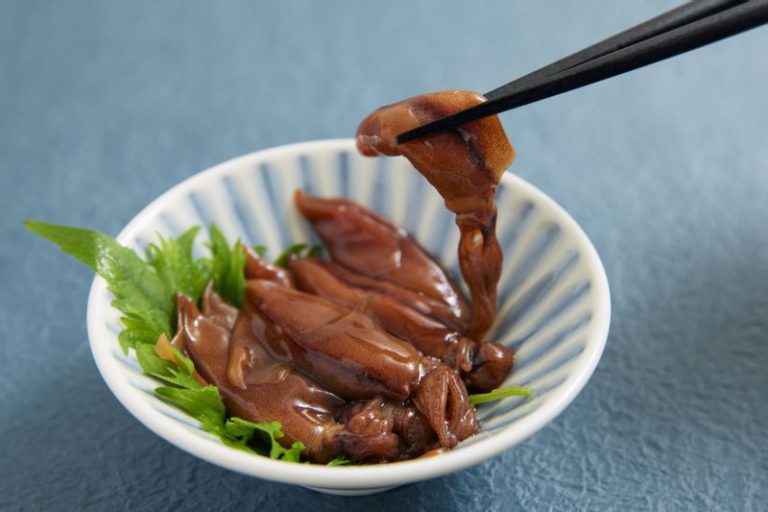 When we think of okizuke, a strong, salty taste usually comes to mind, but this firefly squid okizuke is slightly different. For instance, the soy sauce-flavored marinade is made with only boiled sake and soy sauce for a mellow finish. The moderate saltiness accentuates the firefly squid's umami flavor and the richness of the gut.
The marinade's perfect blend gives the okizuke its flavor. If the saltiness is accentuated, it turns out too salty, and if the salt is reduced, it loses what makes okizuke unique. Chef Yamashita pursued the ideal taste through trial and error.
"Many okizuke commonly sold have a strong salty taste. It makes a perfect snack, but I'm not a fan of that salty seasoning. I came up with a mellow-tasting okizuke as a result of pursuing a flavor that will be popular among everyone, including people like me. I think its image as food is similar to marinated tuna. Of course, we can produce salty okizuke, but we can't place ourselves between existing manufacturers who have already established their sales channels. I think we've differentiated ourselves well, as a result," recalls Chef Yamashita.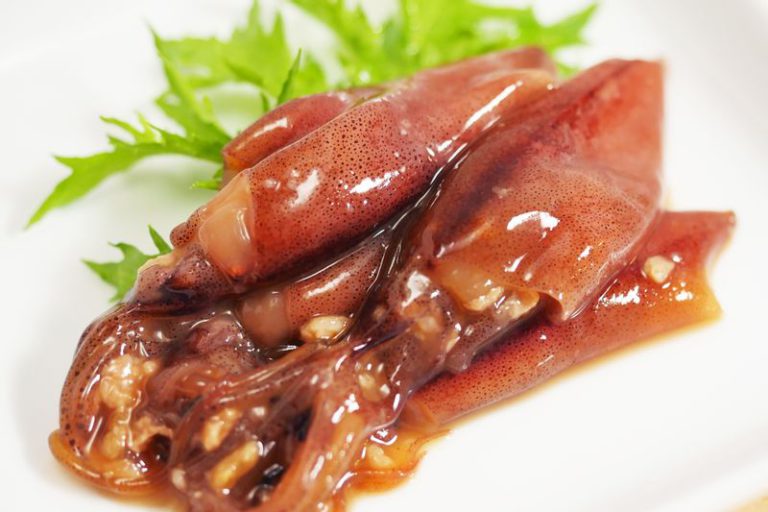 The soy sauce and koji and shio koji flavors are also unprecedented. The former tastes like soy sauce infused with the mellow aroma of koji. With the latter, the elegant aroma derived from koji fills the nose, and a subtle sweetness lingers.
To produce koji in-house, they used koji seeds from the Ishikuro xxxexcludexxxTanekojixxxexcludexxx store, which has been in business for over 100 years in Nanto in the same prefecture. They throw the koji seeds into cooked rice and allow them to ferment while they adjust the humidity and temperature. They are especially careful with shio koji because the quality of the fermentation directly affects the flavor.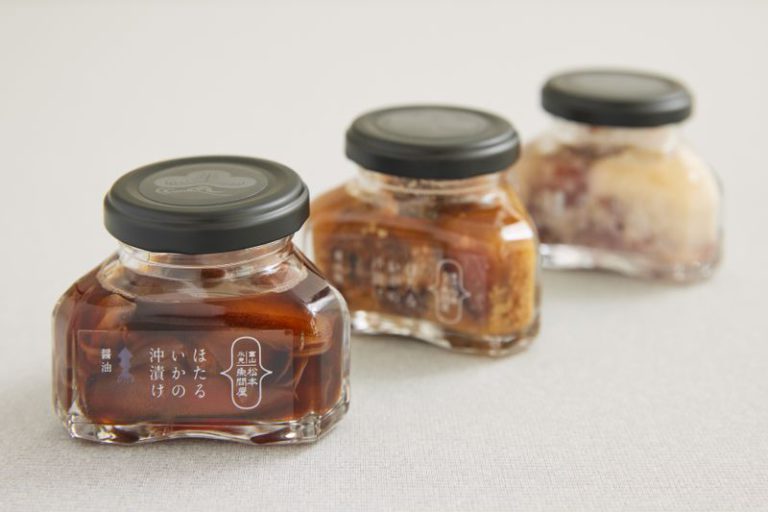 "We had the Ishikuro xxxexcludexxxTanekojixxxexcludexxx store taste it to bring it closer to perfection. Koji also helps remove the fishy odor of firefly squid and makes it even more palatable," says Chef Yamashita contentedly.
The sandwich generation was established as the target buyers, and the packaging design was subcontracted to an outside designer. The ink-bottle design of the packaging is an eye-catcher at both the directly-managed store and satellite stores.
The recipes fulfill the desire for a "morsel of fish every day."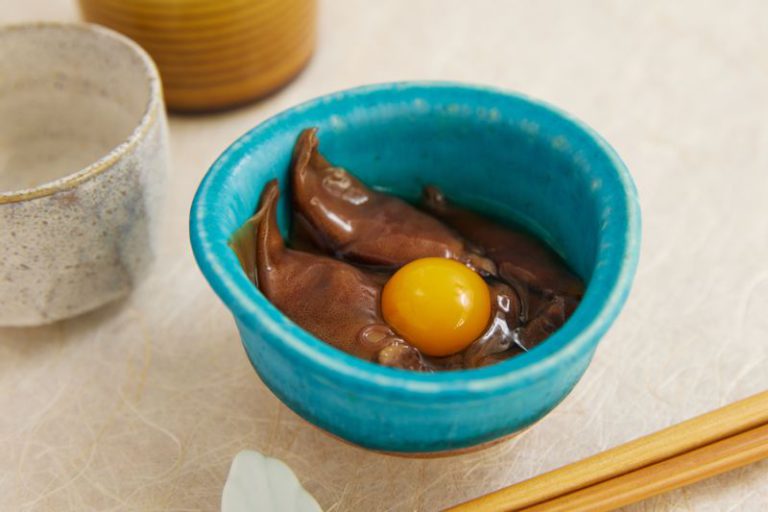 The three types of firefly squid okizuke can be used any way you like, and they make excellent cooking ingredients. We asked Chef Yamashita for his recommendation about ways to eat them.
"For a simple dish, how about tossing it with egg yolk? The richness of the squid guts and egg yolk pair well, making it a perfect accompaniment to rice and drinks. I also recommend stir-frying it with pasta. You can also use the firefly squid's umami-imbued marinade as a seasoning, " says Chef Yamashita.
In addition, Chef Yamashita has been sharing his original recipes such as new season wakame tossed in mustard-miso sauce, rice cooked with canola blossoms, and new season wakame soup on Matsumoto Uodonya's online shop and video streaming sites. He also offers a variety of recipes that allow you to fully enjoy the company's products, including marinated Himi winter yellowtail, Himi sardine anchovies, and sea bream karaage.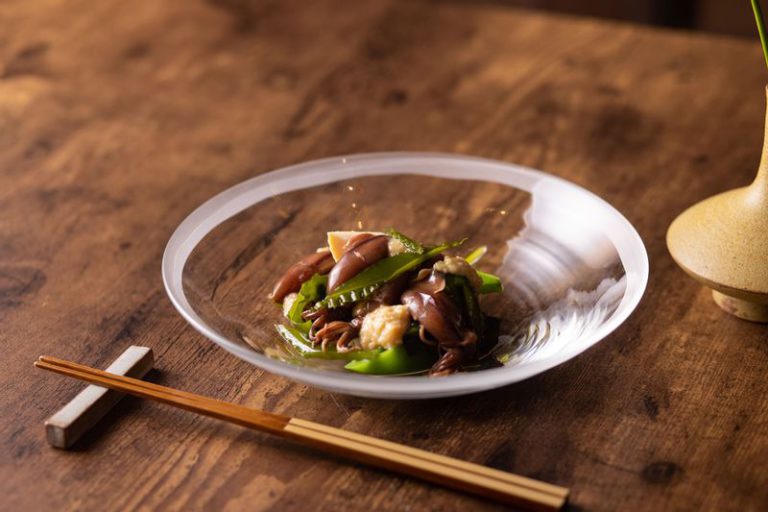 The point of the recipes is that they can transform the products into tasty dishes with a bit of effort. Matsumoto Uodonya's slogan, "a morsel of fish every day," is alive at the root of it all. There has been much talk of a shift away from fish in recent years, and Matsumoto Uodonya attributes it partly to the time and effort required for cooking. "How can we preserve our fish culture?" "How can we make it easier for people to enjoy fish?" The ultimate conclusion was processed products that can be enjoyed even when cooked simply.
"Of course, they are all ready to eat out of the jar, but that's a bit boring. Some people may be reluctant to serve processed foods just as they are on the table. We have recipe suggestions based on that. I hope people will visit the area once they have experienced the flavors of Toyama Bay. Firefly squid lighting up the sea surface is a sight to behold," says Chef Yamashita.
We want as many people as possible to taste the bounty of Toyama Bay. These new kinds of okizuke were born out of such a desire. The first thing we want you to do is to pop one straight into your mouth and savor the pride of a fish wholesaler.
 / 
Photographer
: KOJI TSUCHIYA
*Some of the images posted on our website have been provided by those whom we inter-viewed.