THE ROOTS OF SHUN (December 2014)
A unique and delicious way to enjoy the fruits of the ocean Sasa-kamaboko, invented in the city of Sendai
Sendai, Miyagi prefecture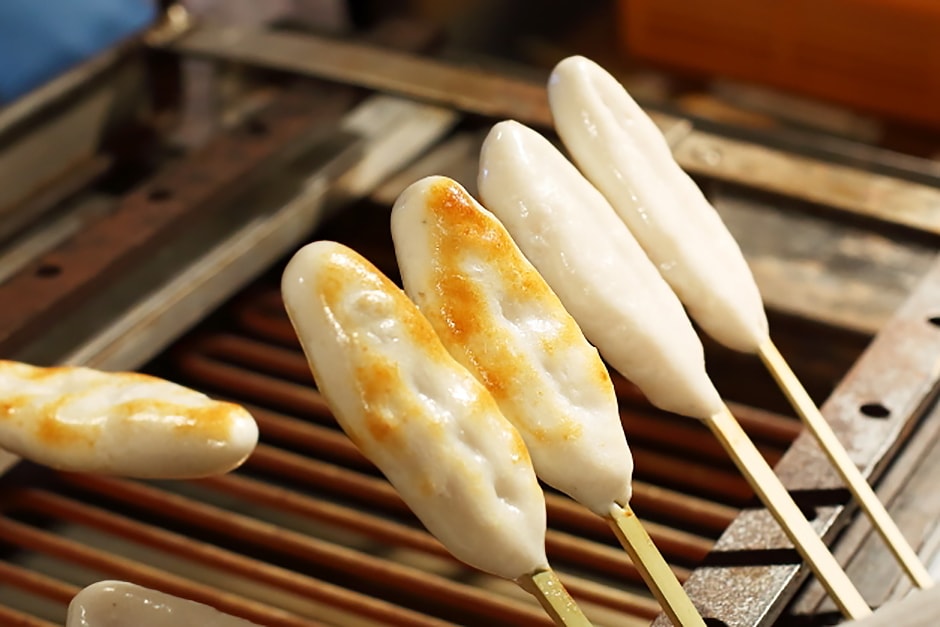 (Month information was collected: November 2014)
The city of Sendai in Miyagi prefecture boasts two major fishing grounds in Sanriku Oki bay and Sendai-wan bay that have provided bountiful harvests since ancient times. The original people of Sendai developed a range of ingenious techniques for preparing seafood that have contributed to the unique diet of this region.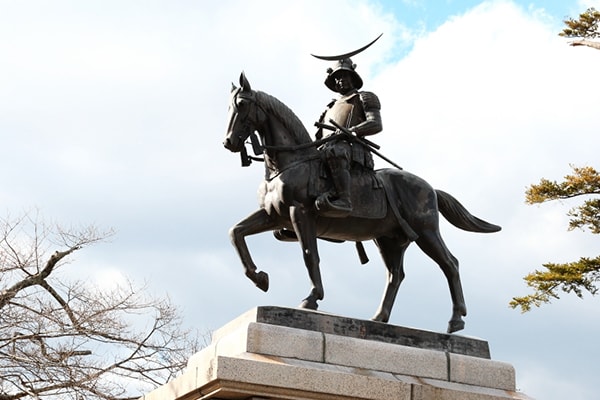 The city of Sendai in Miyagi prefecture boasts two major fishing grounds in Sanriku Oki bay and Sendai-wan bay that have provided bountiful harvests since ancient times. The original people of Sendai developed a range of ingenious techniques for preparing seafood that have contributed to the unique diet of this region. One of these is sasa-kamaboko, famed throughout Japan. There are several theories around the origin of sasa-kamaboko, which is traditionally shaped like a leaf. It is generally thought to have been inspired by the leaf on the "bamboo and sparrow" family crest of Masamune Date, the first feudal lord of Sendai, whose statue today gazes down over the town from the grounds of the former Sendai Castle. Sasa-kamaboko has remained popular to this day, in Sendai and throughout Japan.
Sendai has ready access to fresh seafood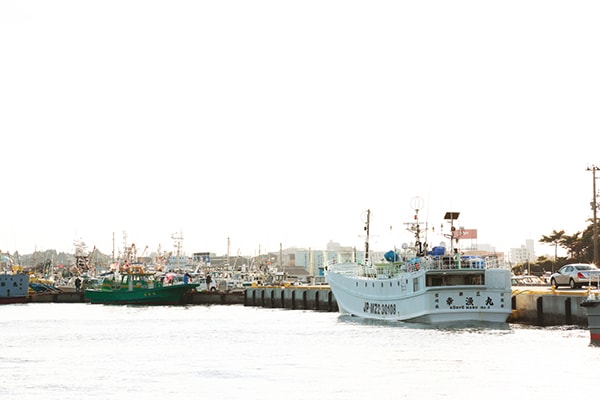 Sasa-kamaboko was invented in the early Meiji period as a way to make use of surplus flounder harvested from Sendai-wan bay. The fish was ground into a paste, beaten with the palm of the hand then formed into a leaf shape and grilled. Thus the primary motivation was to avoid wasting the precious bounty from the local fishing grounds. Today, the city of Sendai has a number of manufacturers who continue to produce sasa-kamaboko in the tradition begun by their ancestors.
Itaru Ono is head of the Sales Group at Kanezaki, which has been making kamaboko in Sendai since 1947. He is keen to promote the fact that sasa-kamaboko is made from the finest quality fish from the waters of Sendai. Ono tells us that sasa-kamaboko is a fantastic way to enjoy seafood.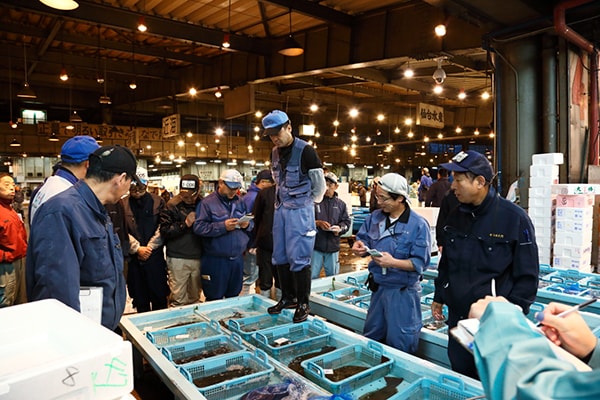 There is plenty of flounder at Sendai Central Wholesale Market, where Kanezaki sources fish for its kamaboko products. That's because winter is flounder season. The auctions begin as soon as the bell sounds at six o'clock in the morning. The market reverberates with the din of buyers frantically trying to outbid each other for the best flounder. We ask Shuichi Okubo from Sendai Suisan, one of Kanezaki's suppliers, how to spot the best flounder for making sasa-kamaboko.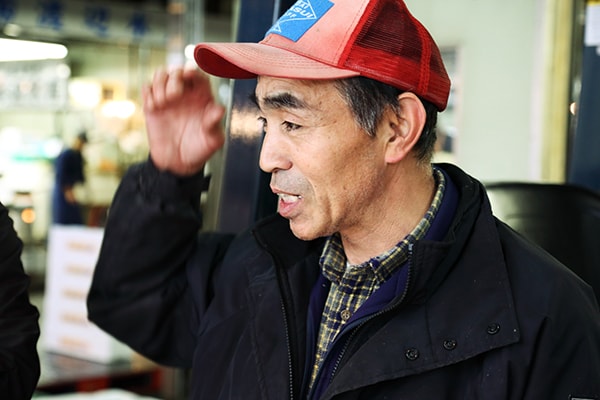 "First you look at the color of the eyes," explains Okubo. "Then you make sure the tail and fins are nice and firm. Flounder with too much fat in it doesn't make good sasa-kamaboko."
The end of the year sees increased demand for flounder, so Sendai Suisan is busy finding sufficient volumes that meet the exacting standards of Kanezaki. Next, we pay a visit to the factory to see just how the specially selected flounder is transformed into delicious sasa-kamaboko.
Sasa-kamaboko is the taste of Sendai in season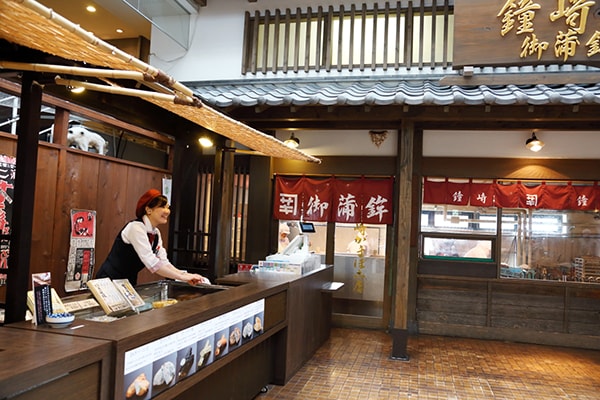 Kanezaki normally makes sasa-kamaboko from selected varieties such as itoyoridai and Alaskan pollack sourced from both Japan and overseas. But there is a special restaurant in Sendai where you can eat fresh sasa-kamaboko made from seasonal fish.
The restaurant is called Sasakamakan?Kamaboko no Kuni (Land of Kamaboko). Located right next door to the Kanezaki factory in Wakabayashi-ku, it features a section called Kamaboko-juku (Kamaboko School) where you can watch the process of making kamaboko by hand. There is a shop where you can buy freshly made sasa-kamaboko and age-kamaboko pieces. This is the perfect opportunity to see how the flounder purchased earlier is transformed into delicious sasa-kamaboko.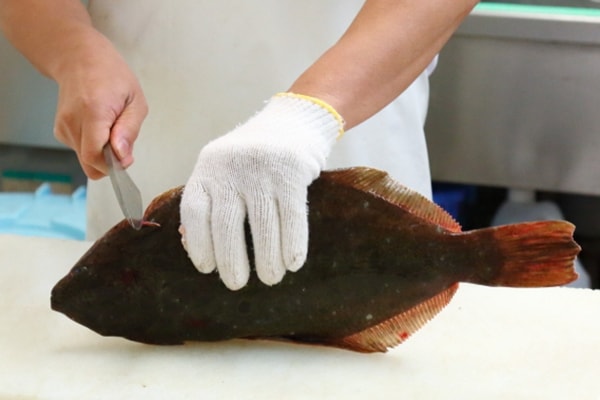 First the head and entrails are removed, and the fish is sliced into two. Next it is fed through a machine to remove the skin and bones and dice the flesh into a coarse mince. After removing fat and impurities, the mince is soaked briefly in water then drained using a special-purpose bag. This requires considerable experience and expertise: soaking for too long can weaken the flavor, while draining too much of the water off can cause the flesh to harden. Kanezaki insists on using specially purified water for soaking. This is typical of the exacting quality standards that make the end product so delicious.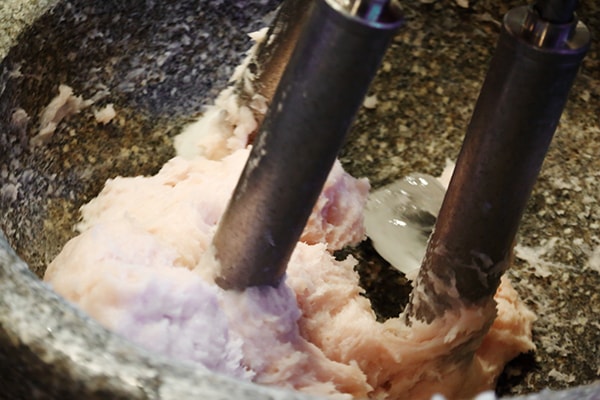 The coarsely diced flesh is minced finely in a second machine, then transferred to a mortar machine for grinding into paste. We are surprised to hear that ice is added in at this stage. Apparently this helps to regulate the stiffness of the flesh. According to one of the workers, the quantity of ice added in has a major bearing on the texture of the final product. Even 100 g too much or too little can have a significant effect.
Seasonings such as mirin (sweet sake) and salt are added at the final stage to get the required firmness.
Kanezaki is proud to make sasa-kamaboko without the use of common binders such as starch or egg whites that can cause allergic reactions. Kanezaki has developed a special process that produces a wonderful soft texture without the need for binders. As Ono points out, sasa-kamaboko has a long history and tradition in Sendai, and it's important to preserve this as much as possible while also making refinements and improvements to ensure that the product retains its popularity.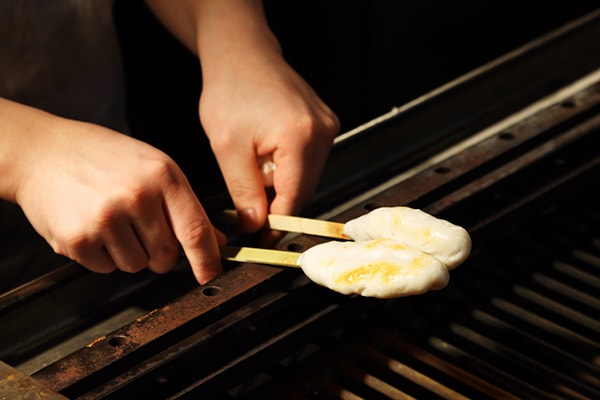 The grilling process also requires the skills and expertise of the experienced workers at Kanezaki. First they take a portion of fish paste and knead it by hand. Then they form it into the classic leaf shape, which is mounted on a skewer. Kanezaki tends to make slightly thicker portions, as this accentuates the wonderful texture. Workers carefully inspect the skewers lined up on the hotplate and adjust the heat for best results. If the grilling time is too long or too short, the sasa-kamaboko won't develop the distinctive firm yet fluffy texture that is a hallmark of the Kanezaki product. According to worker Hideki Otomo, the very best way to enjoy sasa-kamaboko is straight from the oven.
"We pay great attention to detail every step of the way," says Otomo proudly. "We make sure to take the time and effort to get it right so that the finished product is the best you can get. We use only the finest ingredients. Right now it's flounder season, but in the spring we'll use cherry bass, for instance. So when you come here you know that you're getting the very best seasonal fish. Freshly made sasa-kamaboko really tastes fantastic. Everyone should try at least one."
There can be no doubt that freshly grilled sasa-kamaboko is a very special treat. It has a wonderfully firm yet fluffy texture, and the rich flavor of seasonal flounder lingers delightfully on the palate. There's nothing quite like it.
Learn how to make sasa-kamaboko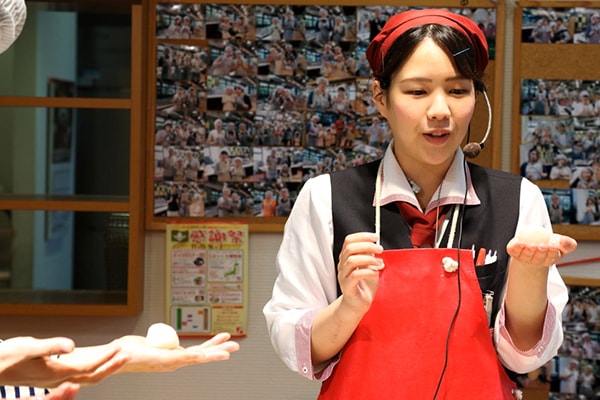 At Sasakamakan?Kamaboko no Kuni you can take lessons on making sasa-kamaboko. It turns out that trying to fashion the soft fish paste into a leaf shape is not as easy as it looks. This experience serves to reinforce our admiration for the Kanezaki workers.
Once shaped, the sasa-kamaboko are put into the oven for grilling. You can see them slowly puffing up and turning a wonderful shade of golden brown before your very eyes. It's a sight to transfix young and old alike. And when it finally emerges from the oven?well, nothing beats eating a sasa-kamaboko that you've made yourself.
Next door to Sasakamakan is Pukuchan Kitchen restaurant where you can sample a range of local Sendai dishes including beef tongue, another Kanezaki specialty.
Sasa-kamaboko was invented in Sendai as a way to make good use of bountiful ocean harvests. Kanezaki has helped to maintain this important tradition while continuing to improve the product. Today, sasa-kamaboko is popular throughout Japan. So when you're next in Sendai, be sure to drop in and enjoy a freshly grilled sasa-kamaboko and get a taste of the local food culture.
 / 
Photographer
: CHIZU TAKAKURA