【AREA_PR】THE ROOTS OF SHUN (September 2020)
Iwate-Machi Specialties That Deliver a Rich Taste of Nature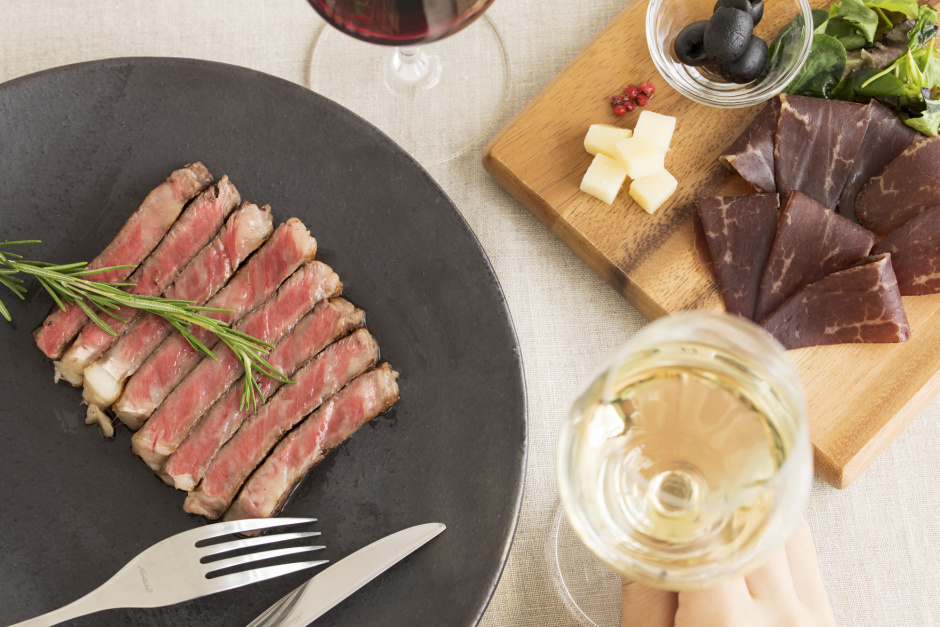 Surrounded by a rich natural environment, Iwate-machi, Iwate-gun of Iwate Prefecture has long flourished through agriculture and animal husbandry. The source of the great Kitakami River that carries water across the prefecture is also located in this town, which produces the prefecture's highest volume of vegetables. The high altitude of the mountainous areas creates a difference in temperatures between day and night, making it easier to grow sweet crops. The town's vast expanse of land is also home to cows that are bred and grazed naturally.
Producers in Iwate-machi work to develop new products that showcase the region's blessings while maintaining traditional production methods. The following are some of Iwate-machi's specialties. * The products made in Iwate-machi we introduce here are listed as return gifts for the Furusato Nozei (Hometown Tax). For more information, visit the websites of Satofull, Rakuten Furusato Nozei, Furunavi, and ANA's Furusato Nozei.
Iwate Menkoi Black Beef raised in Iwate's great nature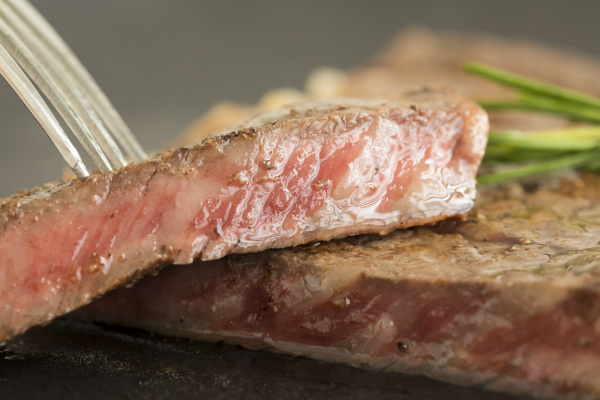 Iwate Menkoi Black Beef is raised on brown rice at Kirosa Farm in Iwate-machi. Its feed contains at least 5% brown rice, which makes the meat high in oleic acid with a low melting point of fat and achieves a smooth texture. The cows are a cross-breed between a Japanese Black and a Holstein.
The proprietary feed formula offers a taste comparable to that of the Japanese Black, with high levels of umami, including glutamate. The meat has just the right amount of marbling, making it both tasty and healthy.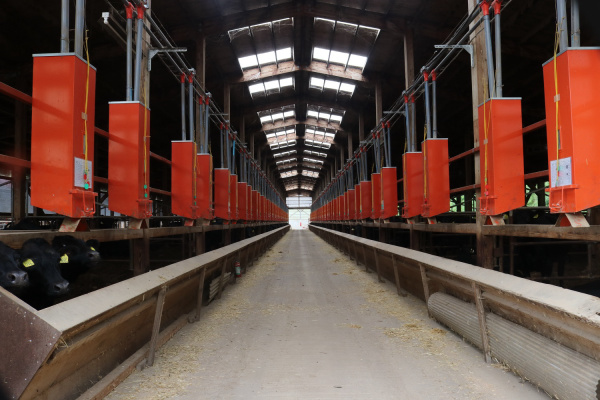 At Kirosa Farm, cows are raised in an environment that minimizes stress and housed in a large barn that provides 2.5 square meters per head, with fluffy sawdust on the floor so that they may rest with comfort.
The farm is very particular about the feed it uses. No antibiotics or growth hormones are added, and staff members inspect the coarse feed using domestic rice straw and American hay directly on-site.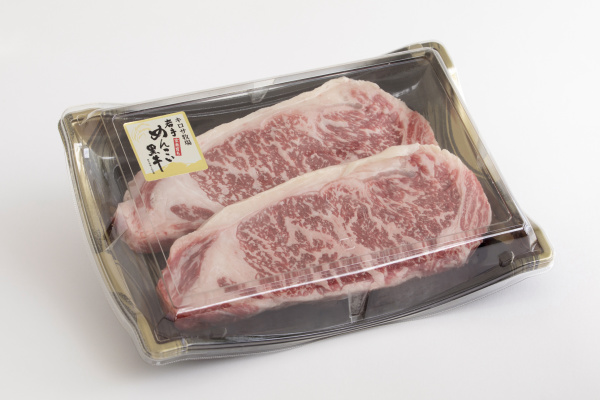 In addition, waste from raising the cows is turned into fully ripened compost after about half a year and used to fertilize paddy fields and cabbage fields. Meanwhile, the brown rice grown in the paddy fields is fed to the cows. The farm also engages in recycling-oriented agriculture that connects to the area's other agriculture.
Kirosa Farm
| | |
| --- | --- |
| Location | 80-38 Dai 22 Chiwari, Kawaguchi, Iwate-machi, Iwate-gun, Iwate |
| TEL | 0195-68-7766 |
| URL | https://kirosa.jp/ |
Cecina, a greatly aged dry-cured beef ham crafted entirely in Iwate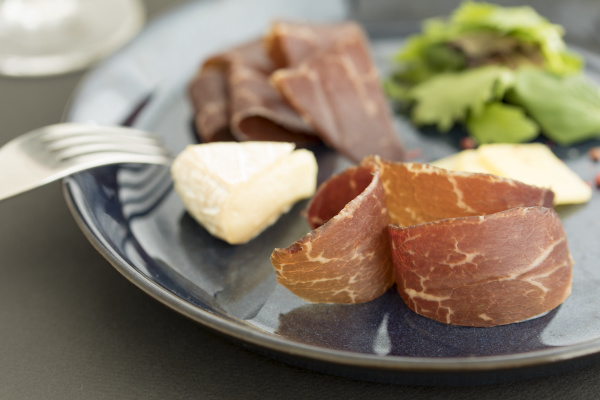 Iwate-machi meat retailer "Niku no Fugane" produces "Cecina," a greatly aged dry-cured beef ham made with select ingredients grown in the prefecture.
Cecina is a dry-cured beef ham that originated in the province of León in northern Spain. The ingredients are only beef and salt. Niku no Fugane uses only Iwate Shorthorn brand beef and "Nodashio" natural salt from Noda, Iwate. The beef is aged slowly for a year.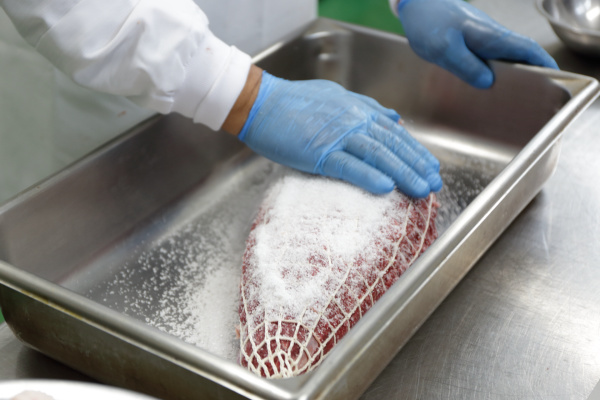 Iwate Shorthorn lean meat is rich in umami, including inosinic acid and glutamic acid, which makes it healthy and rich in flavor. The cows are naturally bred and grazed on vast pastures, where they are exposed to cold winds from the sea and eat plenty of grass rich in minerals.
The other ingredient, Nodashio, is made by a traditional method called Jikini-dashi in which seawater is gradually boiled down in a wood-fired oven. Though it takes much time and effort, the salt, which is mellow in flavor with minerals from the seawater, can be extracted.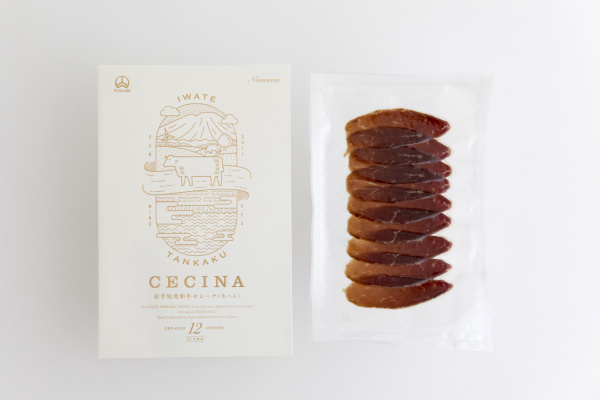 In fact, the Iwate Shorthorn and Nodashio have a long history together. In ancient times, salt made in this area was traded for rice and grain, and Nambu cattle, which are said to be the origin of the Iwate Shorthorn, were used to bring the salt to the area.
Nodashio's mellow saltiness accentuates the Iwate Shorthorn's flavor. The cecina is a product crafted by Iwate's natural features built by centuries of history.
Niku no Fugane
Fruit wine "Lulu and Lili" made entirely of fruits grown in Iwate-machi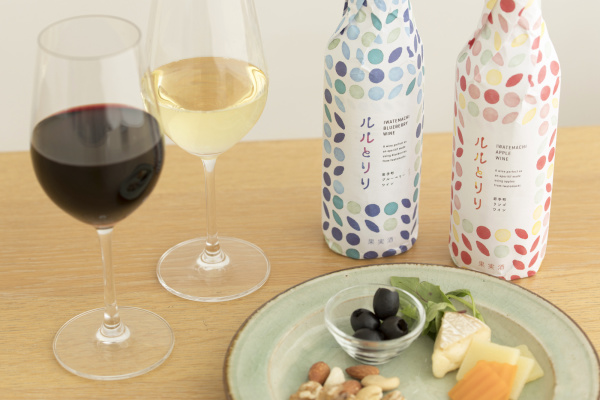 Fruits too are actively cultivated in Iwate-machi, with blueberries harvested in summer and apples in autumn. "Lulu and Lili," a fruit wine produced by Iwate-machi Furusato Shinko Kosha, is one of the town's representative products made from the fruitful harvest.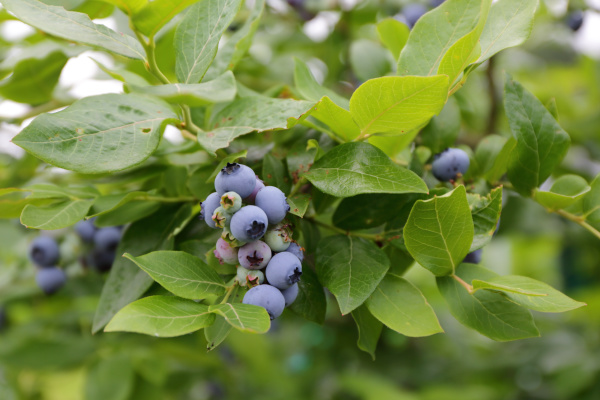 The blueberry wine has a slightly sweet, refreshing finish harmonized through the light tanginess and gentle sweetness of the blueberries grown in Iwate-machi. The apple wine is made from fresh Fuji apples grown in town that can be eaten raw, with juices frozen for brewing in what is called a freezing and concentrating method in which only high-sugar content juice is used. The alcohol content of both wines is kept at a low 7.5% so that everyone can enjoy sipping the wine without worry.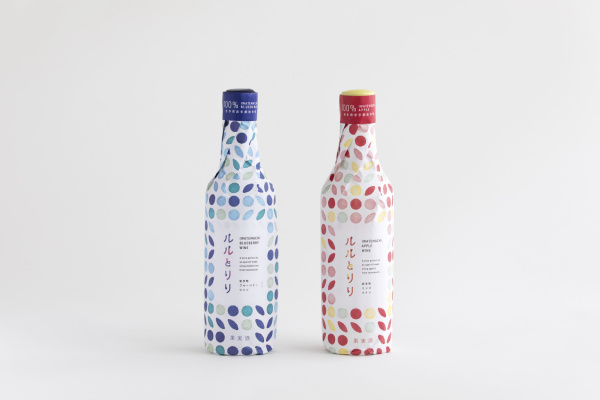 This product was developed to publicize the town's specialties. The packaging was designed under the concept of "making special occasions more enjoyable." The bottle itself is wrapped in wrapping paper, making it a perfect gift.
Roadside Station Ishigami-no-Oka
With many rich flavors born of nature available, we are sure that more new specialties will be created by combining the region's bounties.
Other Iwate-machi Specialty/Local Products