THE ROOTS OF SHUN (February / BACK NUMBER 2020)
A History of over 400 Years Izu-grown Water Wasabi Farming in Clear Mountain Streams
Shimoda, Izu Prefecture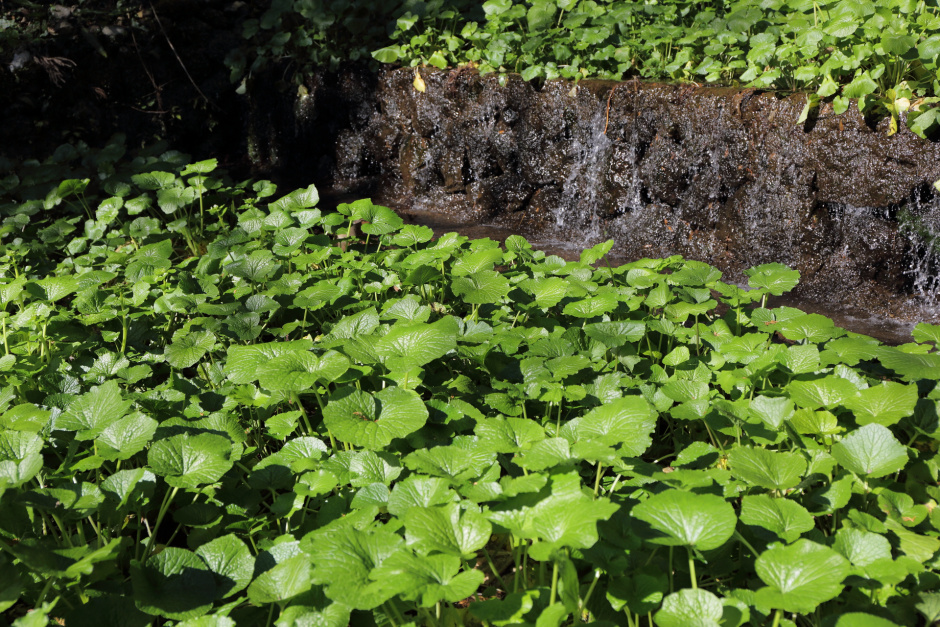 (Month information was collected: February 2020)
Wasabi (Japanese horseradish) is a Japanese perennial of the family Brassicaceae. Its sharp, spicy root is a condiment essential for dishes such as sushi, sashimi or soba. There are many types of processed wasabi, from casual tube-type wasabi paste, powdered wasabi and even wasabi-flavored snacks. It is deeply rooted in the dietary life of Japan, as a spice unique to the country.
Shizuoka's water wasabi is grown with spring water from Mt. Fuji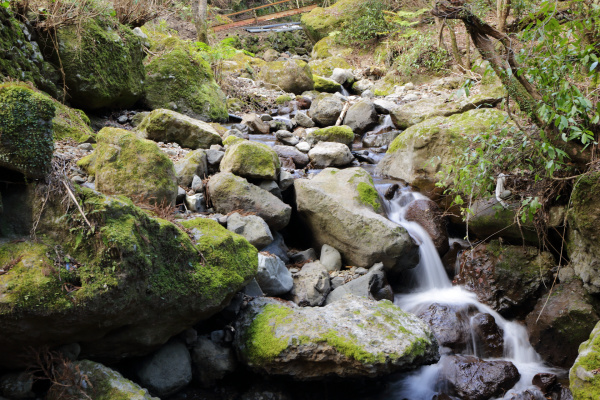 Shizuoka is said to be the birthplace of wasabi farming. It boasts the largest area in Japan for wasabi cultivation, and production areas can be found all around the prefecture, with Shizuoka City at its core.
Methods for harvesting wasabi can be categorized as field wasabi and water wasabi. Field wasabi, as its name suggests, is wasabi grown in fields and greenhouses. This type is mostly used as ingredients for processed wasabi products. Although the methods of growing differ, the type of wasabi grown are the same for these two methods.
On the other hand, water wasabi is grown in mountain streams and in spring water. Shizuoka is blessed with clear streams flowing from Mt. Fuji, Mt. Amagi and the Minami-Alps, enabling the area to focus mainly on water-grown wasabi.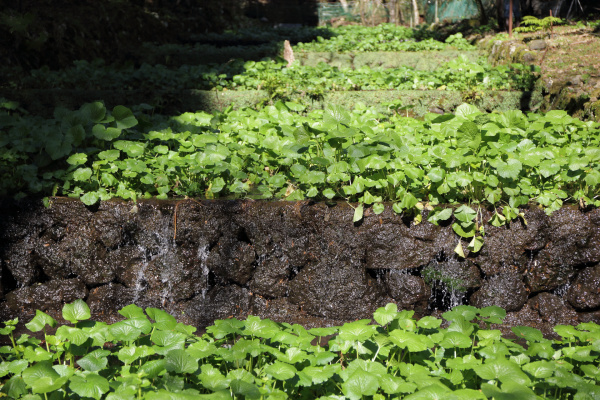 The world's first history of harvesting wasabi started approximately 400 years ago, in the Keicho era (1596–1615). Villagers used to gather wild wasabi growing in the Utougi district of Shizuoka. It is said that water wasabi harvesting started when these villagers started growing this gathered wasabi in streams.
Utougi wasabi became known throughout the land, and was even used as offerings to Tokugawa Ieyasu, who had retired to the Sunpu Castle. Legend says that Ieyasu enjoyed wasabi so much, he had its farming methods kept under wraps.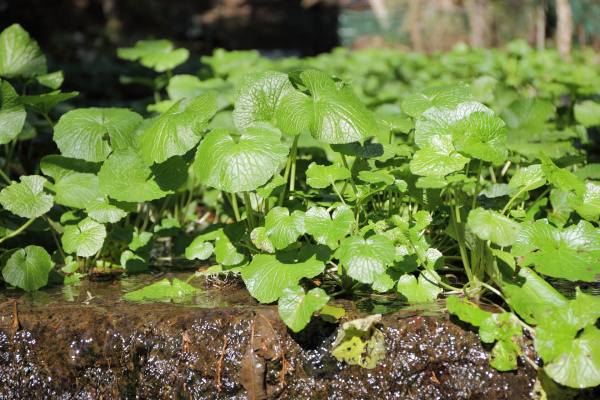 Before long, wasabi made its way to Edo via Ito Harbor in Ito. It became a condiment for sushi after the Bunka Bunsei era (1804–1830) started. It is said that sandwiching wasabi between sushi rice and toppings became popular among the commoners, resulting in wasabi instantly establishing itself in the food culture.
The tatamiishi (paving stone) style wasabi fields farming method originated in Izu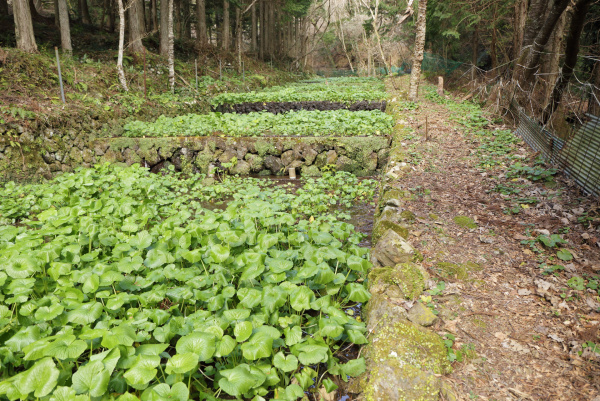 Kanshiro Itagaki, who served as the guardian of Mt. Amagi, played a part in the wasabi cultivation of Shizuoka Prefecture. In 1744, Kanshiro Itagaki passed on the harvesting methods of Utougi to the Izu area. This was the start of the Izu area's wasabi production.
Shimoda, which is located at the tip of the Izu Peninsula, is also a city famous for its wasabi. The city boasts nine beaches for swimming, and many visitors from inside and outside Shizuoka Prefecture come during summer months to enjoy the ocean. Approximately 15 minutes by car from the city center, where many souvenir shops and restaurants are located, is the mountainous region with many wasabi farmers.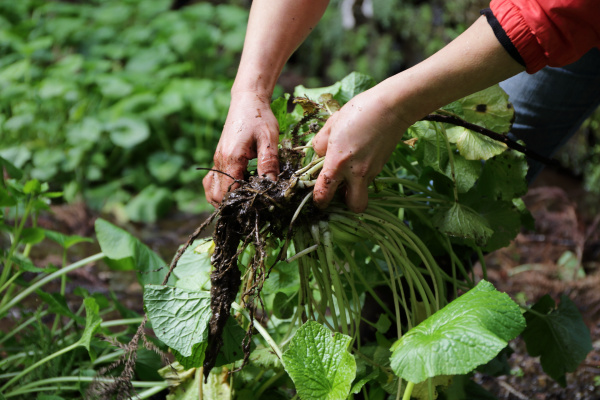 Many wasabi farmers in this area incorporate the tatamiishi style for harvesting. The tatamiishi style of harvesting was developed in Nakaizu around 1892. Its main characteristic is the wasabi fields that look terraced rice paddies. Rocks of many sizes are piled to make terraced fields, to which water from streams are directed to.
The footboard area of the staircase-shaped fields is filled with sand and pebbles. Seedlings are planted in this area, which usually has a depth of one to two centimeters. The sand and pebbles act as a filter to ensure clean water flowing from the upper tiers down. The best temperature for producing wasabi is around 10℃. This temperature is maintained better upstream, resulting in more wasabi harvested.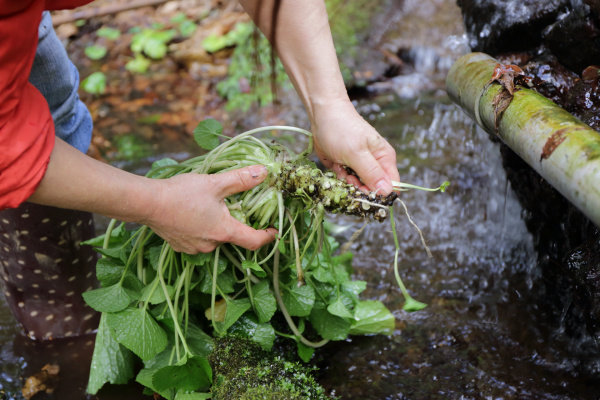 Seedlings are planted each year in April. The seedlings are planted for different harvest times, and the first harvest is around May the next year. By this time, the roots of the wasabi plant will have grown to 15 centimeters, which is the standard size for harvesting. The amount harvested has been tweaked to enable wasabi harvesting throughout the years.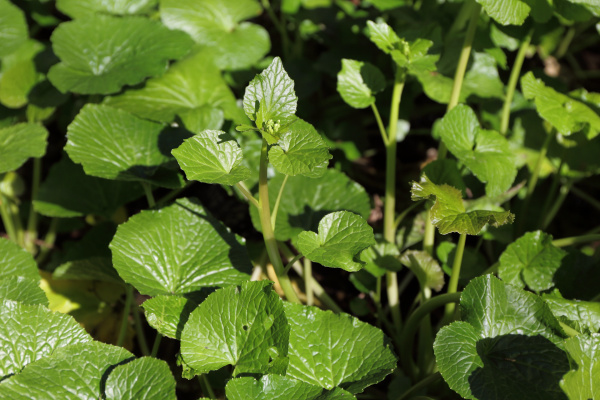 The Shimoda farmers we visited in early February, during a cold spell at the beginning of spring, were busy harvesting. Unlike the naked trees around the fields, the wasabi paddies were full of lush leaves. The farmers push aside these leaves to carefully dig up each root. These wasabi roots are immediately washed—mud is removed and any bumps on the surface are whittled off.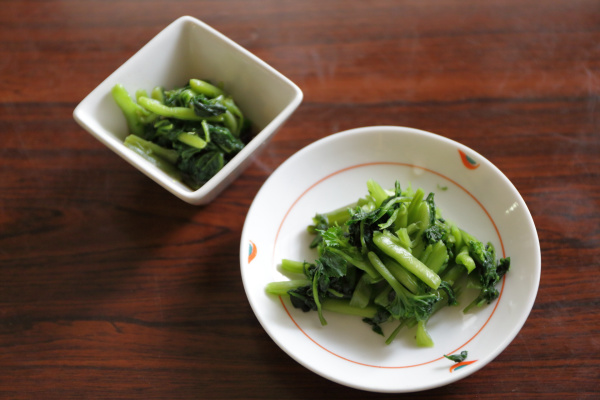 The leaves cut off from the root and stems with flower buds do not go to waste. Leaves and stems are used as leafy wasabi for processed foods such as boiled dishes or pickled wasabi. Flower wasabi, which has wasabi flowers and buds for consumption, is a seasonal delicacy that can be had only once a year, during this period. Local residents parboil the flowers before dressing them with a mix of vinegar, soy sauce and sweet sake, or enjoy the flowers as tempura.
Freshly grated wasabi with handmade soba noodles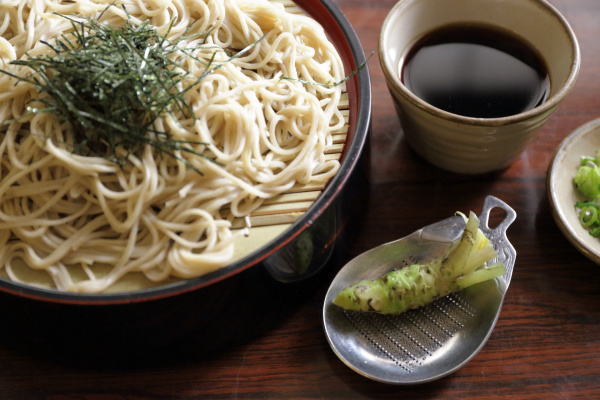 There is a restaurant located in the center of Shimoda that offers fresh raw wasabi. It is a handmade udon (wheat noodles) and soba (buckwheat noodles) restaurant called Musashi, located a few minutes away from Izukyu Shimoda Station. The restaurant started in the fourth year of the Taisho era (1915), and since then three generations have provided handmade udon and soba noodles. Its signature dish is the 750 yen Amagi, named after Mt. Amagi. The dish features soba served on a zaru bamboo tray, with tempura and raw wasabi with a grater.
"It is said that grating wasabi in a circular motion exposes it to more air and boosts its spiciness. The part near the leaves has a stronger fragrance, and the tips are much spicier, so we recommend grating to your preference."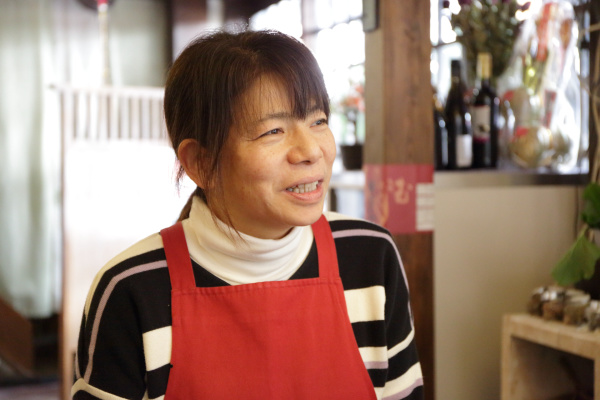 Giving us tips on wasabi is the proprietress of the restaurant, Mariko Masaki. We grated the wasabi root near the leaves, according to the words of Masaki, who grew up on a wasabi farm. The grated wasabi was smooth at first, but gradually took on a thicker consistency as we grated, and started to give off its characteristic fragrance. As the spicy components of wasabi are highly volatile, freshly grated wasabi has the most fragrance.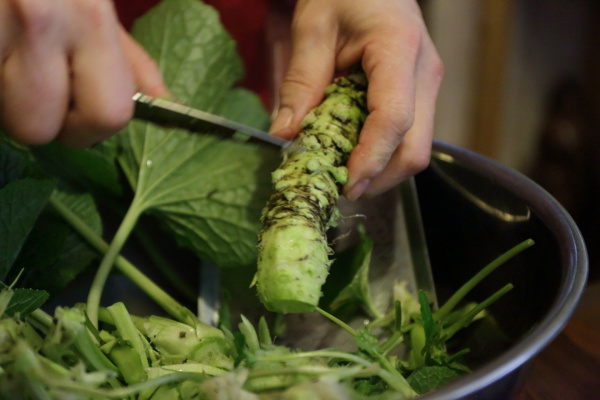 Masaki recommends placing grated wasabi on soba when eating. The fragrance of the soba noodles and wasabi mix together for a glorious harmony when put into the mouth. The pungent and sharp flavor goes through one's nose and leaves a mellow sweetness behind. This addictive flavor has many people hooked.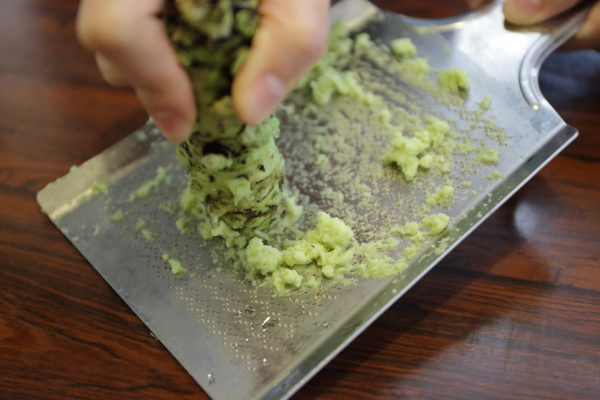 "In recent years, there has been a surge in restaurants offering raw wasabi on rice, 'wasabi rice bowls.' Wasabi farming is a traditional culture for the Izu region and Shizuoka Prefecture. The local government, and also the farmers and restaurants have been making creative efforts to communicate the appeal of wasabi."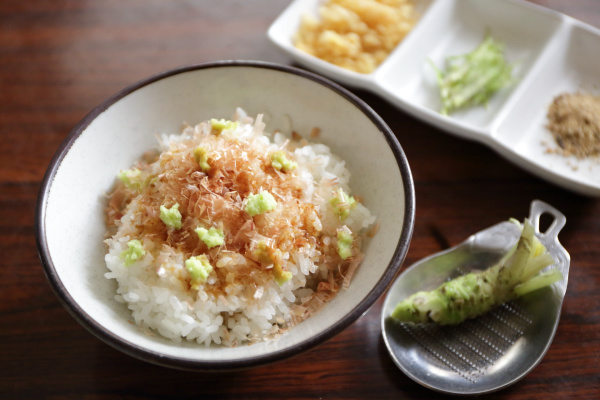 Currently, the lack of successors for wasabi farms is a pressing issue. It can be said that the techniques for tatamiishi style wasabi fields have also not been handed down successfully. However, there is some good news as well. In 2018, Traditional Wasabi Cultivation in Shizuoka has been certified as a Globally Important Agricultural Heritage System by the Food and Agriculture Organization of the United Nations. The Washoku (Japanese food) culture, which has been garnering global attention, has also given wasabi a great boost. Shizuoka wasabi cultivation has been venturing into a new phase after its 400 years of history.
 / 
Photographer
: SATOSHI TACHIBANA