RECIPE (November 2022)
Autumn Washoku Recipe : Bowl of Simmered Green Eggplant and Mushrooms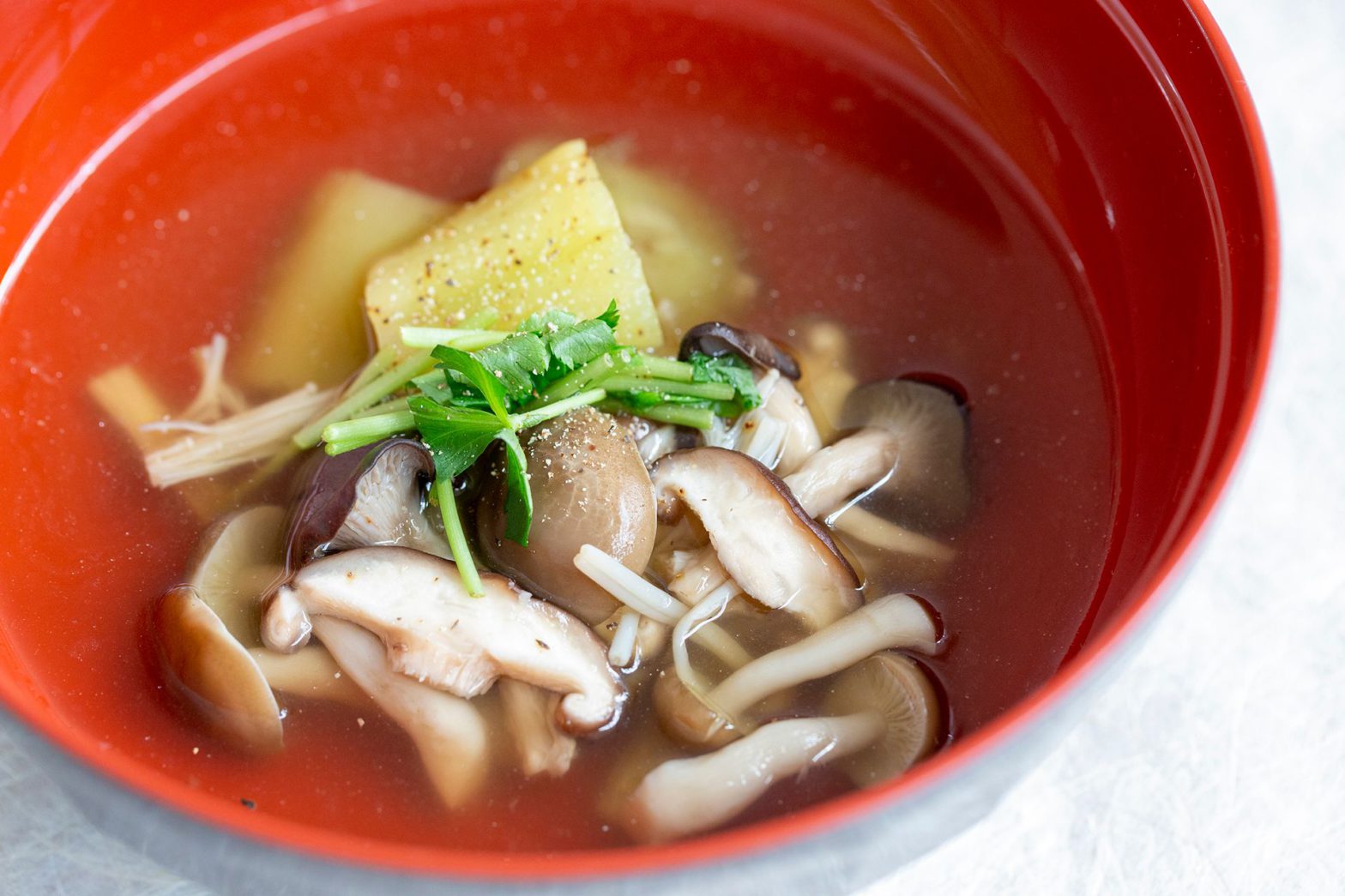 A classic dish prepared with ichiban dashi. The key is to use eggplant, which absorbs the flavor well.
Ingredients (Serves: 2)
Eggplant

1/2

Shimeji mushrooms

20g

Oyster mushrooms

20g

Enoki mushrooms

20g

Shiitake mushrooms

20g

Japanese parsley

4 sprigs

Oil for deep frying

As desired

Ichiban dashi (bonito and kelp dashi combined)

300cc

Light soy sauce

2 teaspoons

Salt

As needed

Black pepper

As needed
(Sauce for marinating the eggplant)
Ichiban dashi

180㏄

Light soy sauce

2 teaspoons
Directions
Trim off the stem at the top of the eggplant and pierce vents with a bamboo skewer vertically through the cut end. Deep fry in oil at about 180°C, rolling it with chopsticks to ensure even frying. When cooked, plunge into ice water. Once cooled, peel the skin quickly and place in the marinating dashi (at least 30 minutes) to let the flavors infuse. Cut into bite-sized pieces.

Separate shimeji, oyster, and enoki mushrooms. Slice shiitake mushrooms. Chop Japanese parsley into 1 cm pieces.

Pour the dashi broth into a pot and heat. When it comes to a boil, add eggplant and mushrooms. When it starts to cook, add seasonings to taste.

Arrange the ingredients in a bowl, garnish with Japanese parsley, pour in the dashi, sprinkle pepper, and serve.
Recipe from : 「Japanese restaurant Itto」Hayahisa Osada