THE ROOTS OF SHUN (December / BACK NUMBER 2016)
The Yellow Apples that Connect a Mountainous Region with Consumers
Higashiagatsuma, Gunma Prefecture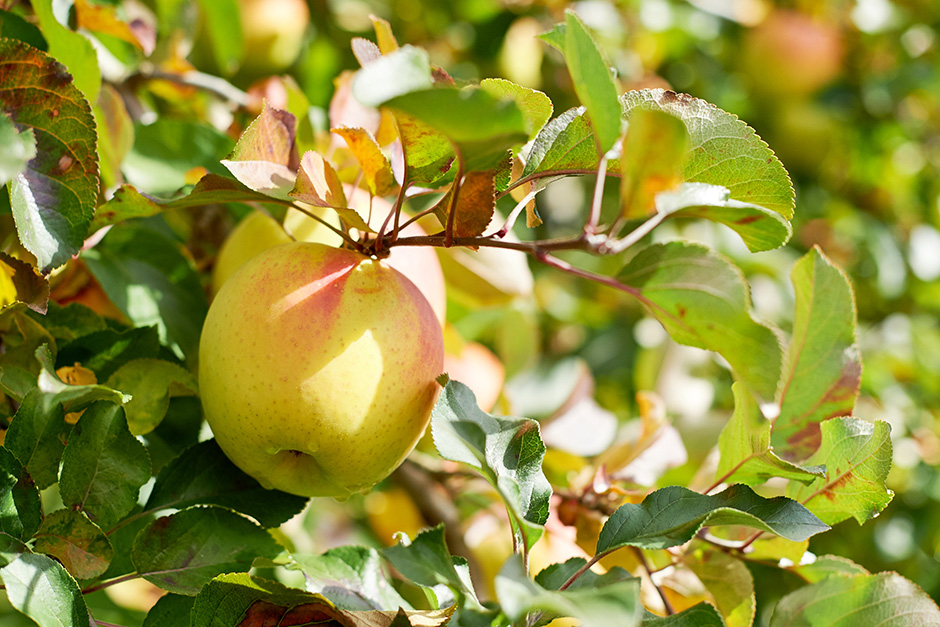 (Month information was collected: November 2016)
Gunma, located almost in the center of the Japanese islands, is an inland prefecture with mountains stretching from the west to the north, and the Kanto Plain to the south. It is well known for its konjac potatoes, but did you know that Gunma also produces apples?

It is especially known for the Gunma Meigetsu, a variety created in Gunma. They contain a lot of nectar, are very sweet, and the sugar content of the fruit is about 15%, almost the same level as mangoes and Yubari melons. These apples are rarely seen in the market and are also called "the legendary yellow apples" because of their color. We journeyed to Higashiagatsuma in search of this Gunma Meigetsu apple.
Apple growing that started in an area used to grow konjac potatoes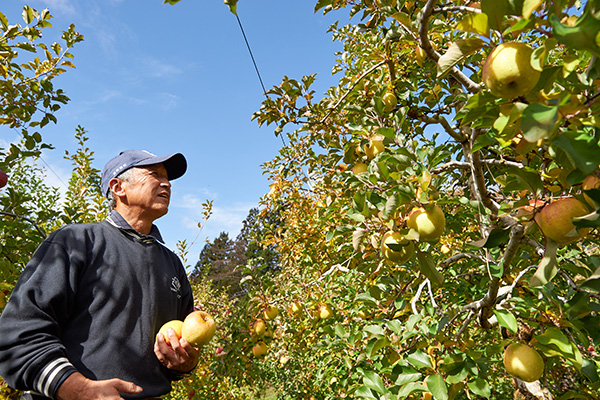 Nishiyama Apple Orchard, run by Takeshi Nishiyama, is located at a high altitude in the mountainous area. Nishiyama has been growing apples for more than 30 years. We visited him in early November for an interview, and it just happened to be apple harvesting season. The side of the mountain was covered in trees dotted with countless apples.
A long time ago, this area was used to grow konjac potatoes. But the price of the potatoes decreased to as much as one-eighth of its peak price, because of declining consumption and imports from overseas.
While many people ended their careers in agriculture because of these circumstances, the farmers in the area came together and started growing apples instead of konjac potatoes. This was because apples were relatively easy to grow, even in mountainous area where there are not enough hands to do the work.
The area is set at a higher altitude than the Tokyo Skytree. It also apparently has an inland climate, where differences in temperatures are large between the days and nights, as well as the summer and winter. This is perfect for growing apples, as they grow better in cooler climates.
"It takes almost 10 years, after being planted, for apple trees to start bearing fruit regularly. This is why we started growing apples alongside myoga ginger and konjac potatoes, as a trial. But because we knew the results wouldn't come until 10 years later, it was hard work until things started to run smoothly," says Nishiyama.
Today the farm enjoys a stable production and the only thing they grow now are apples—the orchard produces 10 varieties, from Gunma Meigetsu to Fuji and Yoko. The Gunma Meigetsu is said to be especially popular. People order them before the season starts every year and by harvest time, the orchard is mostly sold out.
Special attention is paid to deliver ripe apples, because he delivers them directly to customers.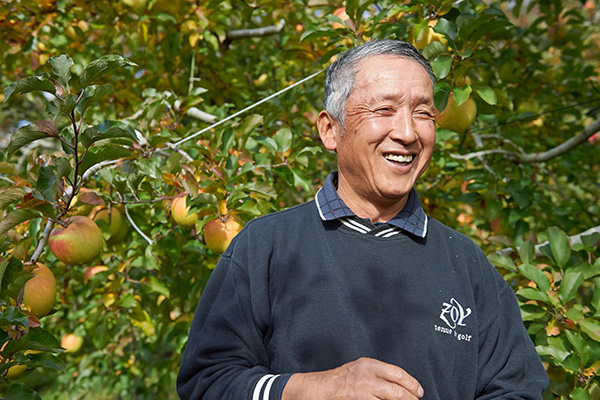 Apple growing comes in one-year cycles. Once the apples are harvested, the foliage is cleared away immediately and the branches are pruned to prepare for the next year.
"We prune the branches to make sure the apples get ample sun and nutrition. It is the most important part of apple growing. I actually attend pruning lectures every year held by the prefecture and the town. The basics are important, and it is good to be able to exchange ideas with others," says Nishiyama.
Even if he has been growing apples for decades, apple growing is not a straight forward ordeal, as the elements and the climate can affect his harvest. We felt Nishiyama's unyielding passion towards apple growing.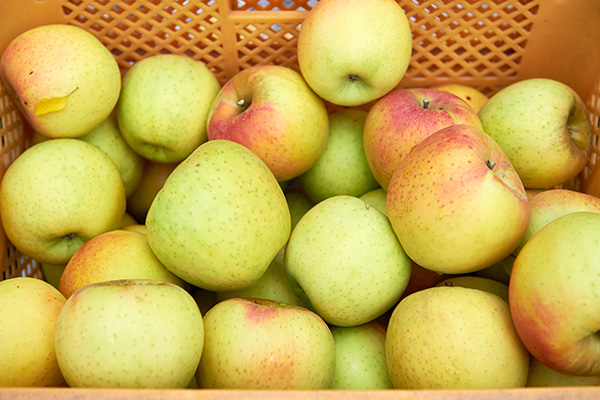 When the apple flowers bloom in May, they are culled just enough to leave good-quality fruit and to narrow down the number that come to fruition. In the summer, the apples begin to grow larger, and some more culling takes place in order to promote growth. When they are ready for harvest in the autumn, their skins begin to turn yellow, but Nishiyama waits a little longer, to let them ripen before they are shipped.
"The apples you see in supermarkets are picked before they are fully ripe, taking into account the journey to the supermarket. However, they are really at their best when they are fully sweet and ripe. I can deliver my apples when they are tastiest, because I sell them directly to my customers."
The signature yellow color of Gunma Meigetsu was not very familiar for consumers who were used to red apples. So in the beginning, Nishiyama introduced Gunma Meigetsu to consumers along with other varieties.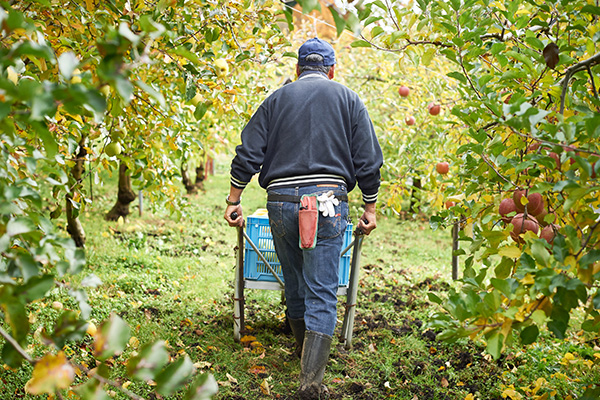 The years went by, and more requests for the yellow apples came in. Now, Gunma Meigetsu manages to be sold out every year. Today some customers even come to the orchard during harvest time to pick the apples themselves.
"The customers excitedly waiting for our apples are our greatest support. We have known them for 10, 20 years. When I think of their happy faces, I cannot make compromises in growing my apples."
When he ships his apples to faraway destinations, he handwrites address labels by himself. For Nishiyama, these interactions with the customers are the reason why he grows apples.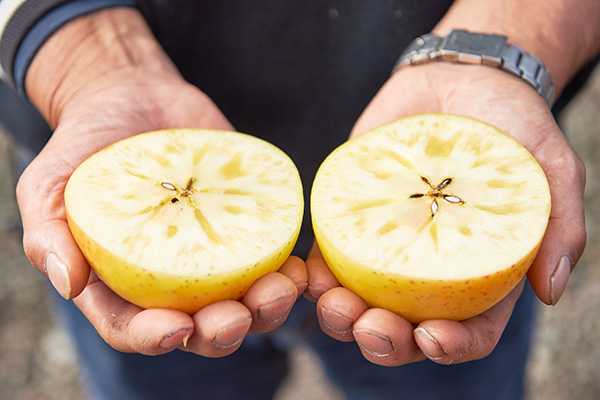 He let us taste a freshly picked Gunma Meigetsu. When we put the fruit in our mouth, it was overflowing with nectar to its skin, and its juice spread throughout our mouths. It is not sour at all, but incredibly sweet.
"Gunma Meigetsu has a high sugar content, so they are not fit for apple pies or other processed products. It is best to eat them as they are," says Nishiyama.
Joys of Gunma's autumn: autumn leaves in scenic spots and Gunma Meigetsu apples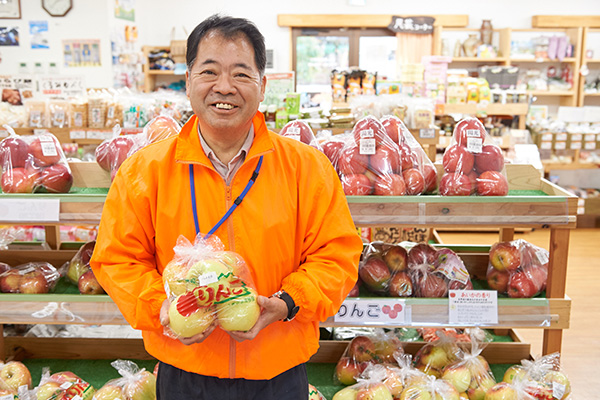 Gunma Meigetsu is mostly consumed locally and is rarely seen in markets. However, only during the harvest season, they can be purchased at limited outlets like Michi No Eki (roadside rest areas for those driving across Japan).
We visited Agatsumakyo, one of the Michi No Ekis, at the entrance to one of Japan's designated scenic spots, Agatsuma Valley. The store carries Gunma Meigetsu from early to mid-November, when the trees become their most colorful.
"Around this time every year, many people from Gunma and other prefectures visit this area. Many producers bring in Gunma Meigetsu daily, but they are quickly sold out," says Kenichi Muto, the manager of this particular Michi No Eki.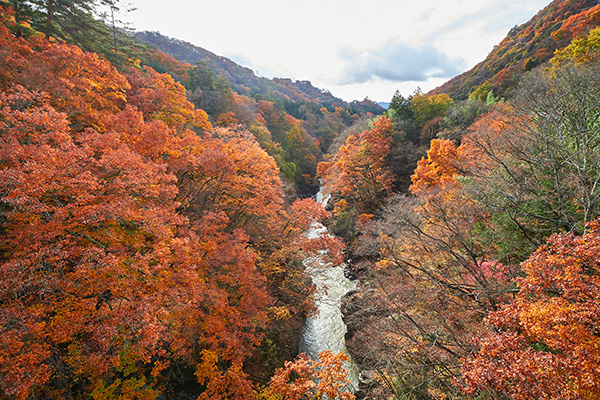 Muto used to work in the municipal office. We asked him about the attractive points of Agatsuma Valley.
Agatsuma Valley spans 3.5 km, from Gangazawa Stream to Yanba Bridge, with 10 designated national scenic spots. They are a great place to visit, especially during the autumn leaves season."
Along with some of Japan's greatest scenic spots, Gunma Meigetsu, adored by those from Gunma and beyond, is attracting a lot of people as a new famous local product, livening up the mountainous region of Gunma.
Gunma Meigetsu from Higashiagatsuma
Source:Takeshi Nishiyama, Nishiyama Apple Orchard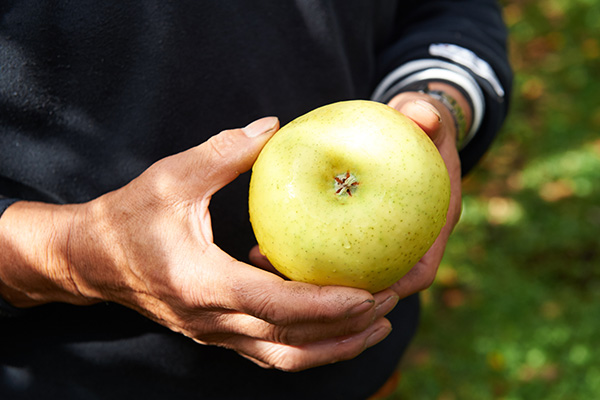 Peak Season
They ripen around mid-November.
Tips
Ripe apples have a clean, star-shaped sepal on the bottom, and clear yellow skin.
 / 
Photographer
: YUTA SUZUKI