THE ROOTS OF SHUN (December 2014)
Traditional nigai (boiled abalone) —revisiting the source of culture
Koshu, Yamanashi Prefecture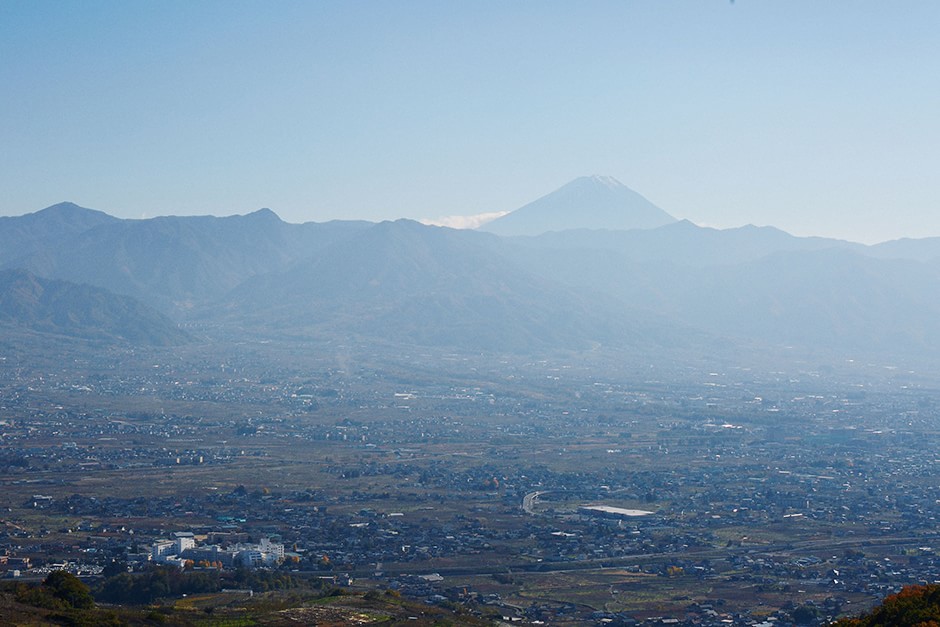 (Month information was collected: November 2014)
Yamanashi prefecture is located roughly in the center of the Japan archipelago. One of only a handful of landlocked prefectures, it is encircled by mountains on all sides: Yatsugatake to the north, Mt. Fuji to the south, Oku-Chichibu range to the east and the Southern Alps to the west. Yamanashi is famed for its delicious fruit, particularly peaches and grapes. Perhaps less well known is the Yamanashi delicacy that goes by the name awabi no nigai (abalone steamed in soy sauce).
Awabi no nigai started out as an ingenious technique for preserving freshly caught abalone. It was found that steaming it gently in soy sauce enabled it to be transported on horseback all the way from the coast to distant Kai (now Yamanashi). Today, awabi no nigai is commonly served at celebrations such as weddings, births and academic milestones. To find out more, the SHUN GATE team visits Shingen Foods, a manufacturer and retailer dedicated to maintaining this wonderful culinary tradition in Yamanashi.
The finest abalone selected by discerning buyers at the world-famous Tsukiji fish market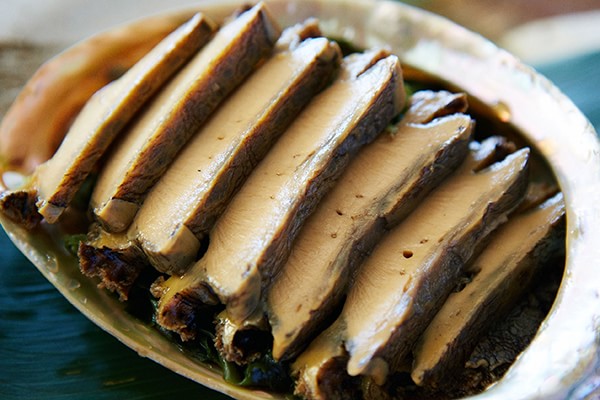 Shingen Foods has recently released a new product called Hon Nigai, which is predicated on the use of traditional techniques at all stages, from purchasing the abalone and other ingredients to processing and even how it is sold, in line with the original approach to awabi no nigai.
Hon Nigai is made from natural Japanese abalone sourced from the enormous Tsukiji fish market in Tokyo. Shingen Foods buys only well-proportioned abalone in good condition.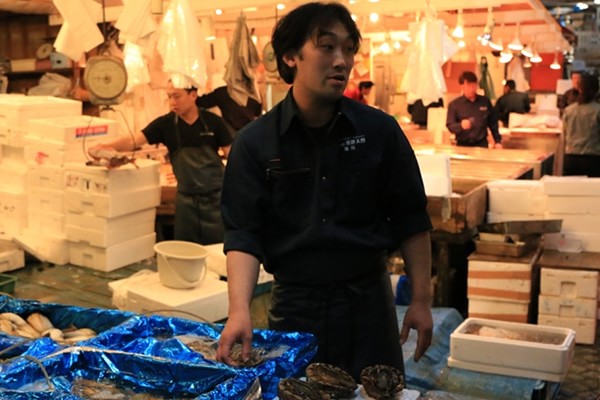 Mr. Horikawa works for Yamayuki, a buyer acting for Shingen. His job is to identify the very best abalone to be used in Hon Nigai.
"There are abalone from all over Japan here at Tsukiji," says Horikawa. "You can find imported abalone here too, but the domestic ones are much bigger and they definitely taste better. The harvest season varies from region to region. The largest abalone this year were the madaka abalone from Ohara in Chiba prefecture, weighing in at around 1.3 kg with the shell on. That's more than three times the size of what's normally considered a big abalone."
While size is easy to judge, quality requires a little more experience. So how does Horikawa assess an abalone? "You give it a poke in the middle with your finger," he explains. "Abalone shrink when you cook them, so you want ones that are quite thick and firm to start off with. When I'm buying for Shingen Foods I try to find really enormous ones that I know are good quality." Horikawa, who has lived almost all his life on the coast, certainly sounds like he knows what he's talking about.
Every process reappraised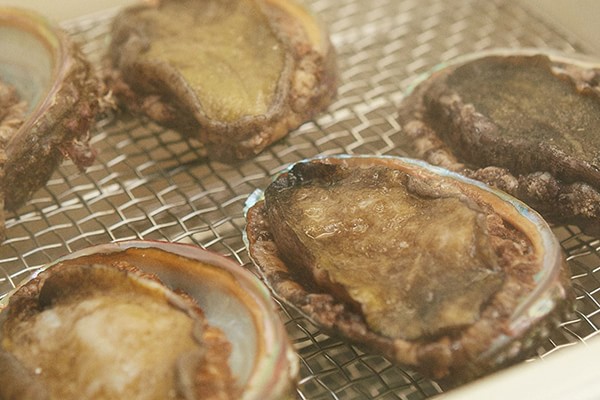 The fresh abalone from Tsukiji are packed in containers of sterilized sea water to be sent to the factory at Yamanashi. At the factory they are transferred to steamers. The steaming process was inspired by a one-star sushi restaurant in Ginza. Up until the advent of Hon Nigai, the time spent in the steamer was essentially fixed. For Hon Nigai, however, the time is carefully tailored to the size and condition of the abalone to ensure optimum results. Apparently the factory foreman went to the Ginza sushi restaurant to master the art of tailored steaming.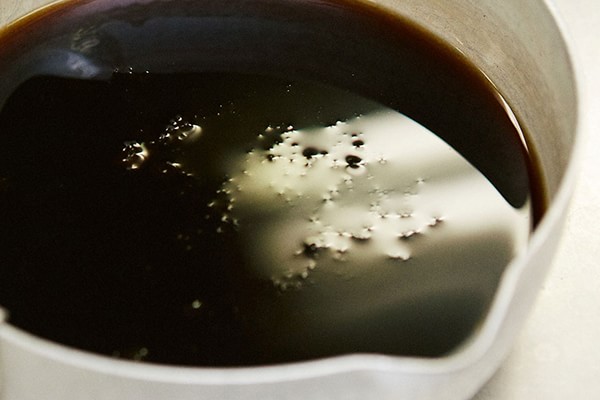 Next, the shells are removed and the abalone are rinsed under running water. Steamed abalone is quite soft, so each one has to be washed separately by hand to avoid damaging the liver. Now it is time to add the flavorings. Hon Nigai demands the very best ingredients. Thick strips of kombu seaweed from Rishiri in Hokkaido prefecture are steeped overnight to make the base. Water is brought to the boil in a large stock pot, then flavored with a generous quantity of katsuobushi (shaved bonito) from Makurazaki in Kagoshima prefecture. The sake is a special type called Daiginjo, sourced from established Yamanashi brewers Shichiken. The top-grade double-brewed rich soy sauce is made with clear spring waters from Mt. Fuji, known as ginmeisui. The choice of soy sauce is particularly important. Great care has been taken to select the right soy sauce for Hon Nigai, with a large number of candidates initially in the frame. Once all the ingredients have been assembled, the broth is allowed to cool slightly, then poured into bags containing the abalone pieces. The bags are held at a temperature just below boiling point and simmered gently to let the flavor soak through in a sterilized environment.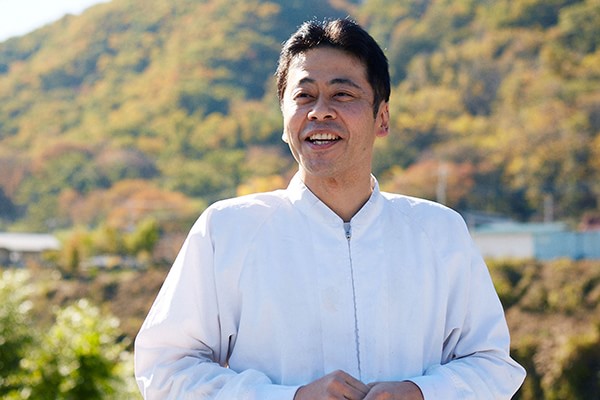 Foreman Mr. Uchida has been making nigai for 26 years, and he takes great pride in describing the stringent quality standards applied throughout the Hon Nigai production process. "We're incredibly strict in every aspect," he enthuses, "from the source materials through to the cooking process. We insist on using the finest ingredients available, and we take great care in selecting seasonings and flavorings that we believed are best suited to abalone."
Delicious nigai is the quintessential essence of Yamanashi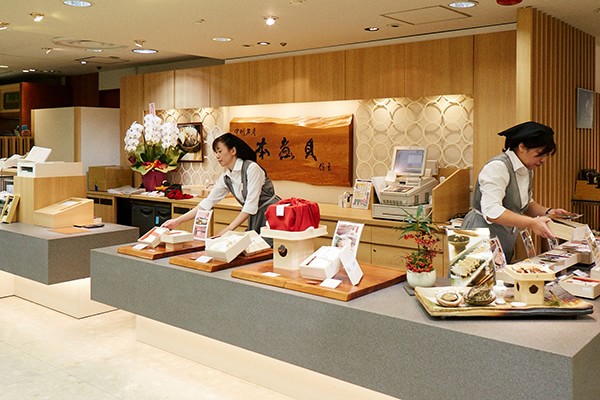 Shingen Foods has recently opened a dedicated store within the Okajima department store near Kofu station, offering a wide range of products including Hon Nigai, which is made from the finest selected abalone and sold by weight like in the old days.
According to Mr. Hosaka, sales director at Shingen Foods, abalone is a special delicacy that has traditionally featured in Shinto rituals. "The dish awabi no nigai has long had a special place in Yamanashi homes. When guests were coming to visit, it was common practice to head off to the fishmonger and order enough nigai to feed everyone. Sadly, that doesn't seem to happen so much these days. Shingen Foods has been making nigai for 50 years now. With Hon Nigai, we went back to the drawing board and decided that we wanted to make a really top-quality product, without compromise, and then sell it by weight like they used to do. After all, awabi no nigai is our flagship product. We take seriously our responsibility to maintaining the culinary traditions of Yamanashi prefecture. And at the same time, we want to promote our abalone to markets throughout Japan, not just to the local area."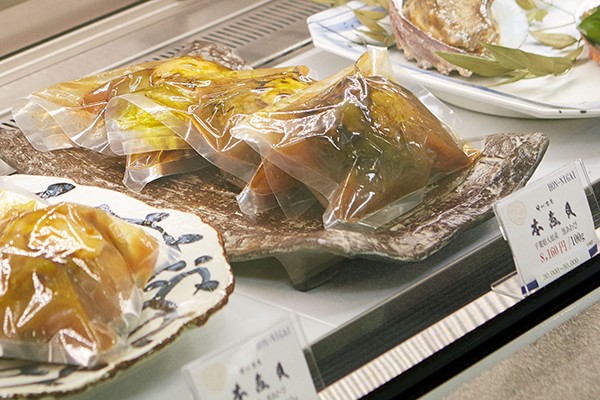 Hon Nigai is sold by weight, which means of course that the price you pay depends on the size of the abalone, and also the market price on the day. The most expensive products can cost as much as \70,000 or \80,000 each. So maybe this has turned some people off.
"A while back, we held a corporate function where we gave all the guests gifts of abalone," recalls Hosaka. "They were obviously impressed because within a few days, they were ringing us up with orders. Surprisingly, most of them were asking for the most expensive product. This made us realize that people are willing to pay a good price for really high quality produce. Our nigai products may not be cheap, but rest assured that they're the absolute best you can get."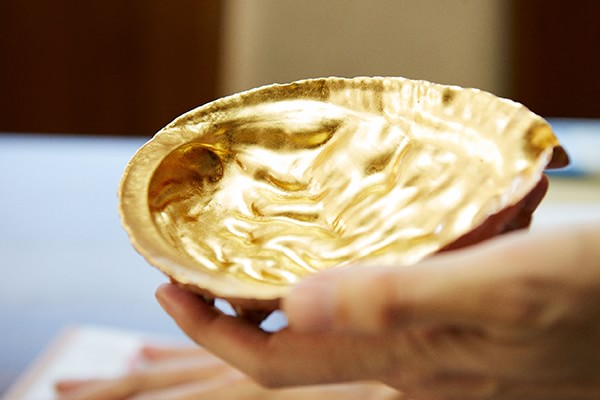 Shingen Foods has recently created an entirely new gift product. "We coat the inside of abalone shells with gold leaf," says Hosaka, "and market them as special dishes. We can even make custom versions in pure gold leaf. We get them polished by crystal polishers right here in Yamanashi, where crystal ware has a long tradition stretching back many years. They come up beautifully, and are perfectly good as a display piece. For extra effect we present the shell in a handsome box of paulownia wood wrapped up in a traditional furoshiki cloth. So you have to go through two layers of wrapping to get to the shell, which makes it feel more like a luxury gift."
These products exemplify the pursuit of perfection, and one can appreciate that they represent more than just a delicious delicacy. Shingen Foods is clearly committed to promoting the culinary phenomenon that is nigai, and in turn making a lasting contribution to the prosperity of Yamanashi prefecture.
A unique type of food borne of the unique climate and local ingenuity of the landlocked prefecture of Yamanashi. The passion of Shingen Foods in delivering an authentic and genuine product made the traditional way using the finest ingredients. A strong commitment to the local region. Shingen Foods has a philosophy of aiming for the best and pricing their products accordingly, a philosophy which demonstrates their pride and belief in Yamanashi. These products have the potential to take Japanese cuisine to a whole new level.
 / 
Photographer
: KOJI TSUCHIYA