RECIPE (April 2018)
Spaghetti aglio e olio with bamboo shoots, canola flowers and sakura shrimps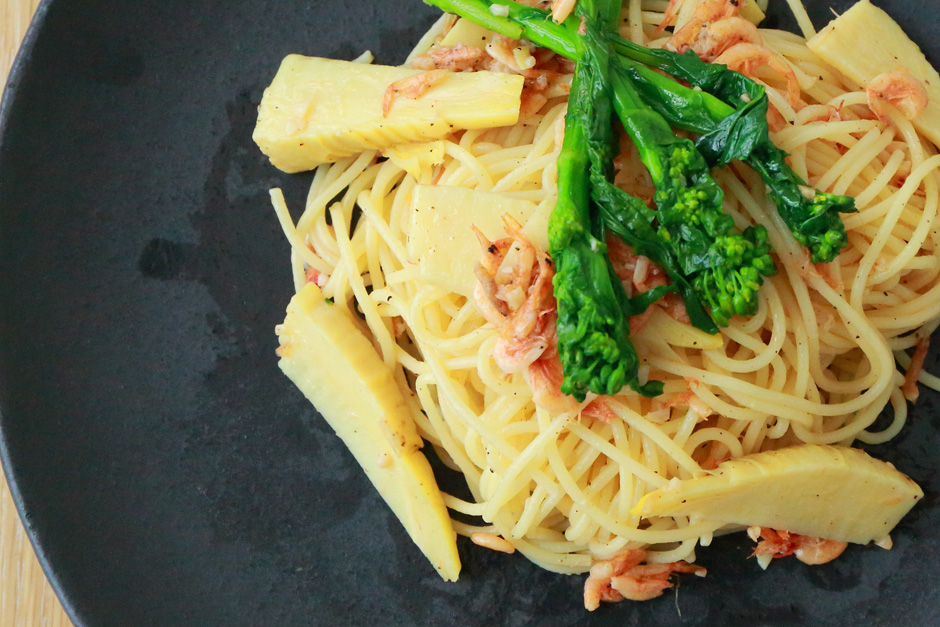 Spaghetti aglio e olio with bamboo shoots, canola flowers and sakura shrimps
Ingredients (Serves: 1)
Bamboo shoots (pre-cooked)

40g

Canola flowers

3 stems

Sakura shrimps

20g

Garlic (finely-chopped)

half a clove

Chili

1

Olive oil

15 cc

White wine

10 cc

Water

10 cc

Pasta

90g

Salt

small amount

Pepper

small amount
Directions
Chop off the tip and the hard part around the root of the bamboo shoots.

Make a vertical incision in the bamboo shoots so that it will be cooked thoroughly.

Boil the bamboo shoots in a saucepan, with water just covering the bamboo shoots and a handful of rice husk powder.

After boiling for about an hour, turn off the heat and let it cool.

Heat olive oil, garlic and chili in a frying pan.

When the garlic gets brown and aromatic, add the sakura shrimp and sautee lightly.

When the sakura shrimps start to get aromatic, add white wine and water and reduce a little.

Heat water in a large saucepan. When it starts to boil, add pasta and cook.

About a minute before the pasta is ready, add the bamboo shoots and canola blossoms in the saucepan that is being used to cook the pasta.

Mix the cooked pasta, bamboo shoots and canola flowers with the sauce in the frying pan. Heat the pan and mix so that the sauce covers the pasta and other ingredients thoroughly. Season with salt and pepper.