RECIPE (February 2018)
Steamed spinach buns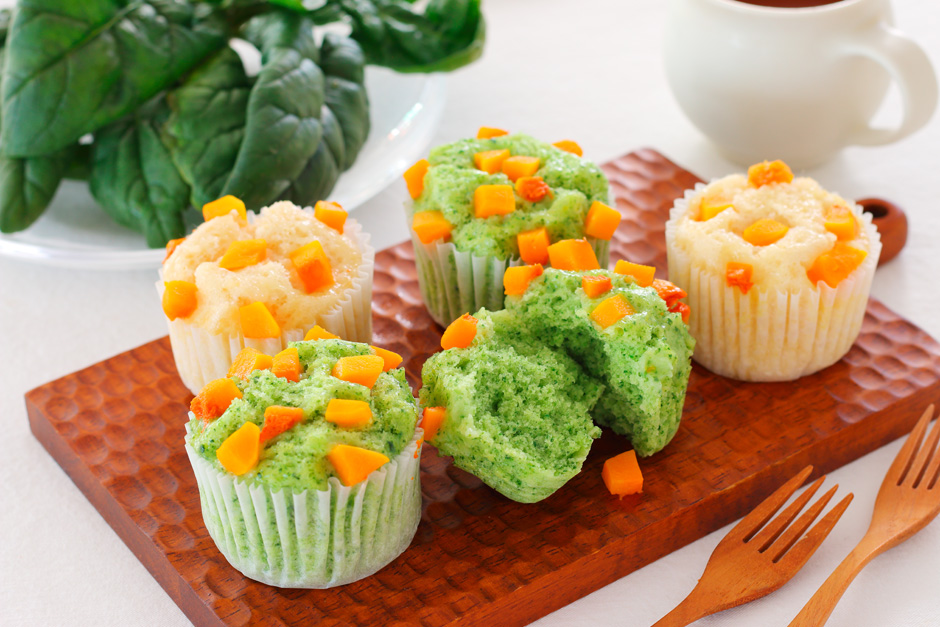 Steamed spinach buns
Ingredients
<Steamed spinach buns>
Boiled curly spinach

30g

Milk

50ml

Granulated sugar

30g

Cooking oil

3 teaspoons

Low-gluten flour

65g

Baking powder

1 teaspoon

Butternut squash ※ as a topping

40g
<Plain steamed buns with cane sugar>
Milk

65ml

Cane sugar

40g

Cooking oil

3 teaspoons

Low-gluten flour

65g

Baking powder

1 teaspoon

Butternut squash ※ as a topping

40g
Directions
Place a steamer in a saucepan. Boil water and keep the pan warm.

Wrap the lid with a piece of cloth, so that water does not drip off of the lid.

Boil water in a pan and cook curly spinach quickly for about 30 seconds.

Drain the spinach lightly and put it in a food processor with milk. Run the processor until pureed.

Transfer to a bowl. Add granulated sugar and stir with an eggbeater until the sugar is dissolved.

Add cooking oil and stir until even.

Combine low-gluten flour and baking powder. Sieve and add to ⑥. Stir with an eggbeater until even.

Line cocotte dishes with glassine cups and pour the dough in. Top with peeled butternut squash cut into 1 cm cubes.

Put the cocotte dishes in a steamer. Put the lid on and steam on medium heat for 15 minutes.

Steaming is completed when the buns are soft and raised.
A useful tips
・Spinach can be easily pureed when put into a food processor with milk. The puree can be easi-ly mixed into the dough. ・In step 5, make sure not to stir too much or the dough will get hard. ・Do not lift the lid too often while the buns are steamed, or the temperature inside the steamer will drop. It is best to wait patiently. ・Plain steamed buns with cane sugar and spinach buns will look good and colorful together. ※To make plain steamed buns with cane sugar, mix milk and sugar. Follow the same steps as the spinach bun from step 4 onward.
Recipe from : con-fectionery researcher marimo