RECIPE (November 2015)
Yellowtail with Daikon Radish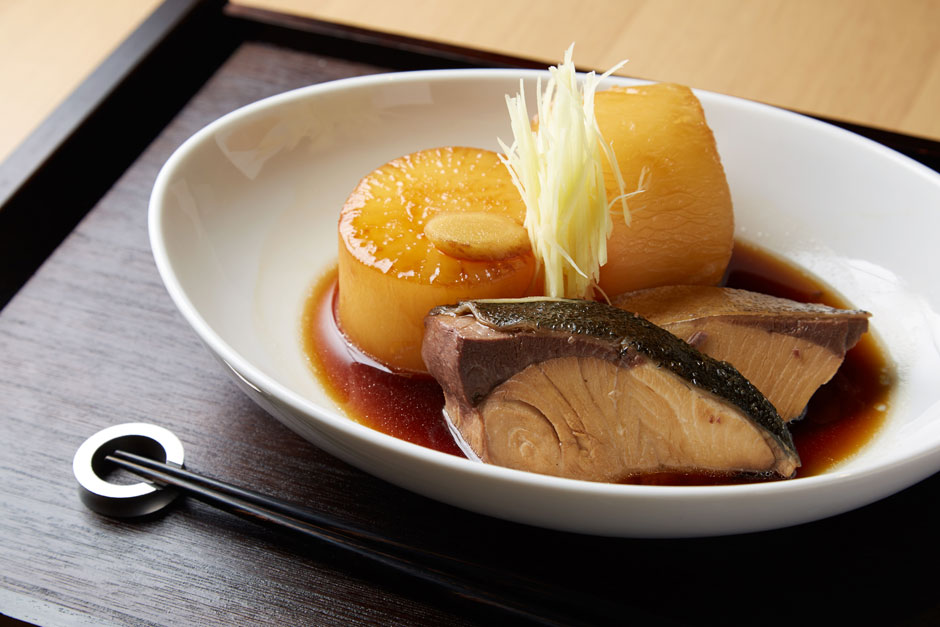 Yellowtail with Daikon Radish
※The photo shows two servings.
Yellowtail with Daikon Radish
Ingredients (Serves: 4)
fillets of yellowtail

4

Ginger

50g

daikon radish

1/2

Japanese rice wine (mirin)

2 tbsp

Sugar

4 tbsp

soy sauce

5 tbsp

Japanese soup stock

450ml
Directions
Blanch the yellowtail and put it in a bowl of cold water. Remove from the bowl and pat dry, removing moisture and sliminess.

Cut the daikon radish into whatever size you like and cook it quickly in boiling water. Peel the ginger and slice it into 5 mm pieces.

Put the soup stock, rice wine, sugar, soy sauce and ginger in a saucepan. When comes to the boil, add the yellowtail and daikon radish and let it simmer on high heat. When it comes to the boil again, remove all the grey froth that floats to the surface.

When the yellowtail is about 80% cooked, take it out. Continue to cook the daikon radish at a high heat.

When the daikon radish is thoroughly cooked and the soup stock is reduced by about 20%, put the yellowtail back in. Do not turn down the heat, but let the yellowtail simmer, making sure it does not crumble. When the soup stock begins to shine, it is ready to serve.
A useful tips
The key to success is step (1), which removes the yellowtail's strong odor. Make sure to take the yellowtail out and only leave the daikon radish in the saucepan to simmer on high heat, because if the yellowtail and daikon radish are cooked for the same length of time, the yellowtail tends to get puffy. Make sure to keep the heat high because the yellowtail tends to keep its unwanted raw odor if cooked at a low heat.
Recipe from : Koishikawa Terrace