SHUN CURATORS (October 2014)
Even the izakayas under the railway bridges are an important part of Japanese food culture
- Damien Dome Director, Japan branch of the Belgian Tourist Office for Brussels and Wallonia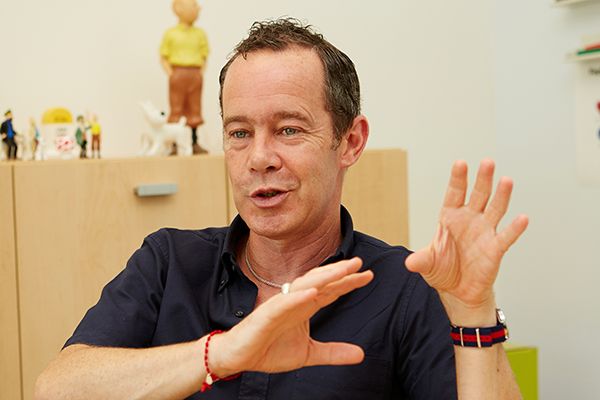 Popular among those in the know as one of the finest gourmet destinations on the planet, Belgium is famed for a plethora of mouth-watering delicacies from the oceans and the land, including pommes frites, wild game and mussels. With its long-established culture of eating out?as reflected in its extraordinarily high ratio of restaurants per capita?Belgium attracts food buffs from all over Europe. Damien Dome, director of the Japan branch of the Belgian Tourist Office for Brussels and Wallonia, has spent over 20 years living in Japan on a mission to promote the delights of Belgium to the Japanese. Through a wide range of tourism programs and events, Dome has worked tirelessly to forge links between the cultures of Japan and Belgium. We asked him for his views on how Belgian people perceive Japanese culture and the associated tourism potential.
The evolving nature of travel: The shift from simple tourism to a more immersive experience
What are your key roles in the Belgian Tourist Office?
I was appointed director of the Belgian Tourist Office in 2007, and this role encompasses a range of duties. These include visiting travel agencies to present seminars and information sessions designed to boost visitor numbers to Belgium, as well as working with them to develop travel packages. I also coordinate Belgian beer promotions and other events designed to introduce ordinary consumers to some of our culinary delights, and work closely with the media to promote Belgium in general. I see B2C strategies as vitally important?even though many national tourism bureaus avoid this approach?because Japanese consumers are precisely the sort of people who will want to visit Belgium.
What are the key considerations in your tourism strategies?
People typically associate Belgium with beer, waffles and chocolate. These stereotypes are pervasive worldwide, but particularly in Japan and the United States. Given that imported beer, waffles and chocolates are already available in Japan, there is little point in trying to use these as a selling point to lure visitors to Belgium. Instead, I try to fill in the background, talking about the people responsible for producing our excellent food, the climate of our country and the wonderful lifestyle. I hope that people will be inspired to visit Belgium if they know a bit more about our country, particularly our historical streetscapes, great cities, art, and lifestyle. The main focus of travel these days has shifted from simple tourism to a more immersive experience.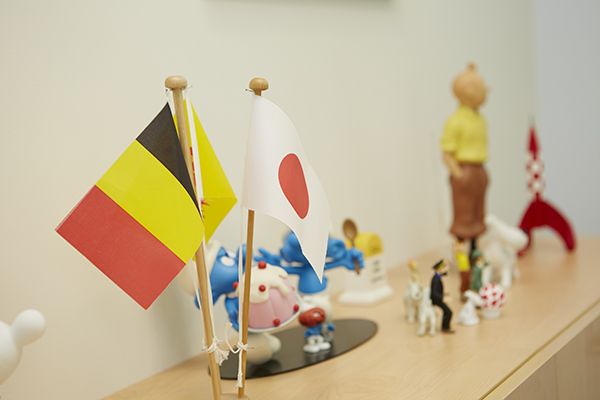 Food is all about communication
You've been living in Japan for many years now. What is your impression of Japanese food?
It's all great! Tempura, sashimi, sushi, wagashi sweets, oden-I love them all. Although I'm still not quite used to the idea of grilled fish for breakfast… My standout favorite is one-pot nabe meals, because they are easy to cook at home and great for sharing with friends. You can chat while you eat?good food really brings people together. Europeans consider meals to be a place for talking; lunchtime meetings, for instance, are common in Europe. So nabe would be popular with Europeans. Even the normally reserved Japanese are more inclined to let their hair down at a nabe-type meal such as sukiyaki, shabu-shabu, kimchi nabe or chanko nabe. Whether it's at home with your family or at a friend's place, a nabe dish always gets everyone talking. [laughs] This makes for a long and enjoyable meal. By way of contrast, Japanese people tend to be a little quieter when eating sushi. And they are quieter still when eating kaiseki ryori (a traditional multi-course Japanese banquet). While these are clearly also an important part of Japanese culture, I don't think they resonate as strongly with Europeans. Perhaps the Japanese are a little too respectful of the art of cooking. Personally, I think there should be more emphasis on the nabe approach and the simple enjoyment of sharing a meal together.
So would it be true to say that Westerners see meals as an important way of bringing people together?
Yes, I was surprised to discover those tachigui food stalls where you stand on your own and eat your soba noodles on the go. In Europe, you almost never eat breakfast on your own, so the idea of dashing into a tachigui-soba stall at the railway station and slurping down soba or ramen noodles (for breakfast no less!) on my own came as a bit of a shock at first. I now recognize them as an integral part of Japanese food culture, though.
Izakayas showcase the best of Japanese food culture
Aside from your favorite nabe meals, what other aspects of Japanese food culture do you think the world should know about?
That would have to be the Japanese izakaya experience, where you get to enjoy delicious small dishes as you drink. People visiting Japan for the first time may well feel uncomfortable dining at expensive restaurants that charge hundreds of dollars for sushi, tempura or kaiseki ryori banquets, especially with all the procedures and etiquette that you have to learn beforehand. And we find that European visitors consistently nominate meeting and talking to locals as the thing they most want to do on holiday. So tiny little izakayas, like the ones that you find under the railway arches at Shinbashi, for instance, are the perfect place to go. They may be loud, smelly, and full of cigarette smoke, but some French friends of mine who were here on holiday absolutely loved them. The reason they're so enjoyable is that they're the kind of place you can strike up a rudimentary conversation with the businessman sitting next to you, something that would seem odd at an ordinary restaurant. In Europe you might exchange glances with the people on the next table and that may lead to a conversation, or maybe you'll have a few words about how the waiter got your order wrong. But that sort of thing rarely seems to happen in Japan-except, that is, at a railway izakaya. And I think the standard of the food at izakayas is really good. They offer lots of seasonal items such as soramame and edamame, corn on the cob, and various types of rapeseed plants. Just because an izakaya is a little similar to a pub doesn't mean that the food is poor.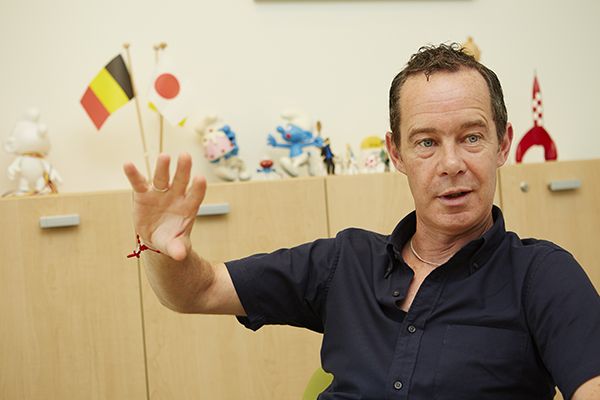 The notion of seasonality is an important aspect of food culture in Japan. Is it the same in Belgium?
Yes, the idea of using foods in season is an important part of Belgium's dietary culture too. May is the season for white asparagus, for example, and mussels, which are very popular in Europe, come into season from late July. Fruits such as strawberries and persimmon often appear in seasonal dishes. Our much-loved wild game can be frozen for use all year round, but there is no substitute for the fresh product, which is only available from October through to the end of January. So in this respect, Belgian and Japanese food cultures have much in common. In early May, you can come home from work, sit outside on the terrace while it is still light and dine on a meal of white asparagus. It is this moment that signals the end of spring and the onset of summer. When mussels are no longer available and wild game starts to appear in the shops, you know that winter is just around the corner and that the warm summer sun has departed. In Belgium, the food we eat is a direct reflection of the seasons. I love the way the same thing happens in Japan. You can find high-quality seasonal cooking everywhere, from hearty home cooking through to the very public izakaya experience. Respect for the seasons is indeed a wonderful thing.
 / 
Photographer
: KOJI TSUCHIYA