RECIPE (October 2017)
Omi shamo chicken diavola with hinona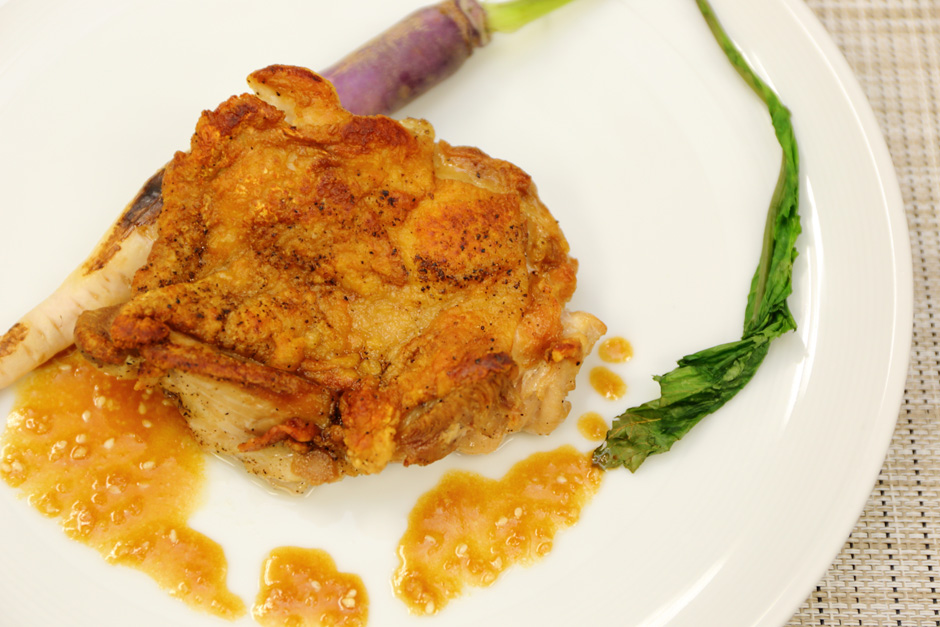 Omi shamo chicken diavola with hinona
Ingredients (Serves: 1)
Omi shamo chicken ※Can be replaced by chicken leg

120g

Hinona ※Can be replaced by radish or other vegetables

1

Pure olive oil

as needed

Salt and black pepper

as needed

Sesame oil

30cc

Dark soy sauce

10cc

Ground sesame seeds

as needed

Japanese mustard

as needed
Directions
Salt and pepper the Omi Shamo chicken. Pour olive oil in a heated frypan, and bake the chicken on low heat until the skin is crispy and nicely brown.

Put a piece of aluminum foil around the leaf of hinona so that it does not burn, and bake the hinona in a frypan until it looks baked. Grill further in an oven for five minutes at 180°C.

Mix sesame oil, dark soy sauce, ground sesame seeds and mustard (A).

Assort Omi Shamo chicken and hinona on a plate and pour (A) on top.
A useful tips
It is best to bake the chicken on low heat, just on the skin side, until it is thoroughly heated to the other side. That way, the skin will be crispy and the meat will be juicy.
Recipe from : Koishikawa Terrace